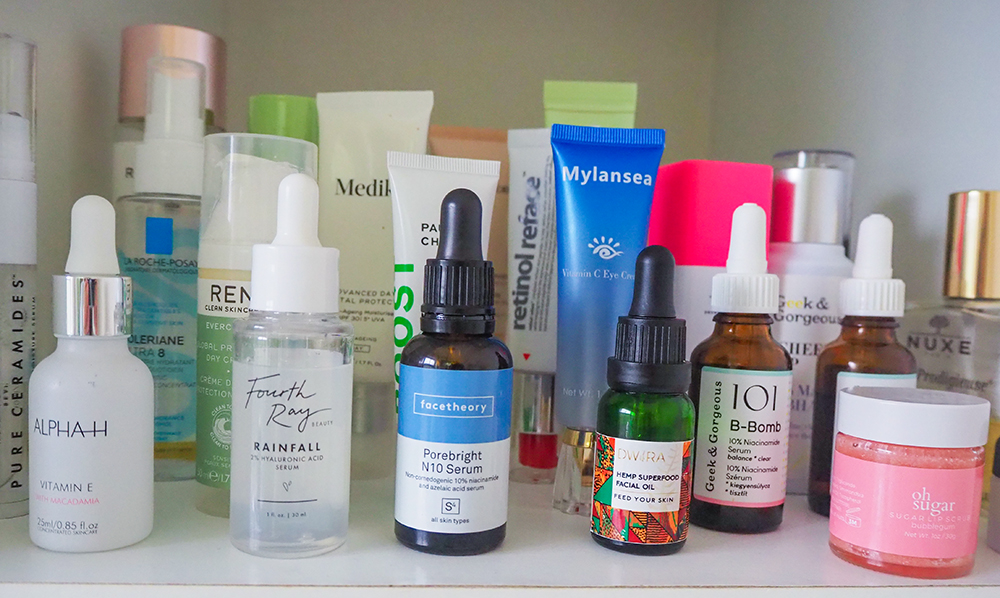 Navigating the world of skincare can feel like a minefield. When do you apply a toner? What on earth is retinol? Do I really a need a night cream?
But, undoubtedly, one of the most confusing aspects of skincare is knowing what order to apply products. Even more confusing is the fact that your morning and night-time skincare routines are going to be different, too.
Don't worry, though, I've got your back. In this blog post, I tell you the correct order to apply your skincare routine for both morning and night. This post will help you get to grips with your skincare routine order in no time.
But for now, let's delve into some skincare 101s…
** This post contains some affiliate links. This means at no extra cost to you, I earn some commission if you purchase a product through my link. All thoughts are my own, though, as always. If you want to find out more, visit my affiliate disclosure page **
Skincare routine order foundations
Here are some basic skincare tips that you should know before we dive into layering your skincare products. You might already know all of these, but it's good to mention these skincare 101s before discussing the order of applying your skincare products.
Start with the most watery products in your routine first: As a general rule of thumb, you start with the most watery products in your skincare routine and move towards creamier products at the end of your routine. For instance, a toner would come before a moisturiser. There are exceptions to this rule, but this is a good rule to go by.
Hyaluronic acid should be the first serum you apply: To lock in that hydration, hyaluronic acid serums should be the first serum you apply in your skincare routine.
Retinol should be applied to dry skin at night-time: Retinols should always be applied to dry skin as part of your night-time routine. This should always be the first product you apply after cleansing and toning.
Always double cleanse at night if you've worn SPF/makeup in the day: This is non-negotiable. SPF and makeup cling to your skin, so you use a cleanser to break down these parts of your first, then you use a second cleanser to remove the first cleanser and any dirt or oil that may be lingering on your skin. Read more about important steps to incorporate into your skincare routine here.
Use muslin cloths/flannels: These are especially useful when removing makeup/SPF as you can see all the dirt you're removing from your face.
Don't use makeup wipes: They're bad for your skin and the environment. It's time to start double cleansing and if you're using makeup wipes at the minute, throw them out.
Now we've got some of the basics down, we can now move onto the correct order to apply your skincare routine. I've created a handy pin for you below to save later as a simple guide for layering your skincare products.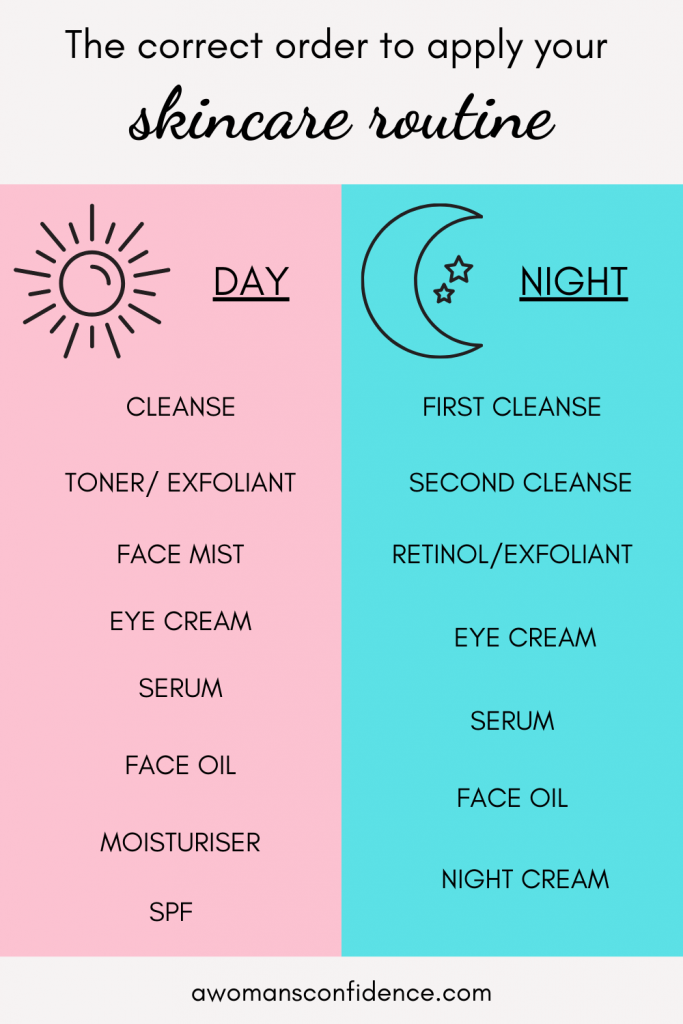 Morning skincare routine order
You don't need to incorporate all of these steps into your morning skincare routine, but if you want to, then this is the correct order for laying products.
Cleanse
First up is cleansing. You should wash your face every morning to get rid of any dirt or sweat on your face from sleeping. Try to avoid any cleansers that 'foam' too much, as they might be too harsh or stripping for your skin.
For my morning cleanse, I typically like gel cleansers. Some of my favourites include Tatcha The Deep Cleanse, Dermalogica Special Cleansing Gel and Kiehl's Ultra Facial Wash.
Toner/exfoliant
Now's the time to use a toner or exfoliant. When I'm talking about toners here, I specifically mean exfoliating toners. A word of caution, though, if use a toner/exfoliant in the morning, don't use one in the evening as it will be too harsh on your skin.
Exfoliants and toners are great at removing dead skin cells and keeping your skin looking bright and feeling smooth. Some of my favourites include the Pixi Glow Tonic and Geek & Gorgeous Cheer Up.
Face mist
After using a toner/exfoliant, you can use a facial spray. I personally like hydrating mists to lock in extra hydration, but if you prefer something else, then go for it. I'm currently using La Roche-Posay Toleriane Ultra 8 Soothing Spray, which is a soothing and hydrating facial spritz.
Eye cream
One of the biggest mistakes I see across the internet – particularly Pinterest – is where people tell you to put on eye creams. As Caroline Hirons famously said:
Don't apply your eye cream last. No matter how careful you apply your serums/moisturisers you will always get some in the eye area and then your eye cream won't absorb where you want it to. Pointless.

Caroline Hirons
Your eye cream should be applied after cleansing and toning, but before other steps in your skincare routine to ensure they're thoroughly absorbed into the skin.
The Sunday Riley Autocorrect Brightening and Depuffing Eye Contour Cream is my all-time favourite eye cream because it's instantly brightening and depuffing, making it great for days where you look less-than-awake.
Serum
Here's the treatment stage of your routine. This is where you apply targeted skin treatments, based on your skin's wants and needs. As I mentioned above, if you're using a hyaluronic acid serum, you should apply this before any other serum.
You can layer several serums on top of one another. Generally, the watery serums should come before the heavier serums. A particular combination I enjoy is applying a hyaluronic acid serum, followed by a vitamin C serum. Hydrated and glowy? Hell yeah.
Here are some of my favourite serums: NIOD Multi-Molecular Hyaluronic Complex, OSKIA Super-C Capsules, Paula's Choice 10% Azelaic Acid Booster and Maysama Green Rooibos Pressed Serum.
Face oil
I love applying face oils. People with particularly oily skin might not feel as though they want or need facial oils, but I get on really well with them. This is more of an optional step, but oils should be applied after serums as they've got a thicker and gloopier texture. They're particularly nice in winter when your skin is a bit drier.
Nuxe Huile Prodigieuse is a lovely, affordable multi-purpose dry oil, which can be used on the face, body and hair. Beware, though, it does contain fragrance.
Moisturiser
Now's the time for moisturiser. You don't have to spend loads on a hydrating moisturiser to get good results, but if you want to splurge, then go for it.
e.l.f. Cosmetics' Holy Hydration! Face Cream is a brilliant drugstore option but the REN Skincare Evercalm™ Global Protection Day Cream has a special place in my heart.
SPF
SPF is the most important step in your skincare routine. Even in the winter, you should be wearing SPF to protect your skin from harmful UV rays. DO NOT SKIP SPF. This step is even more important if you're using exfoliants or retinol as they make your skin more sensitive to UV rays.
Some of my favourite lightweight and non-greasy SPFs include The Body Shop Skin Defence Multi-Protection Lotion and Fenty Skin Hydra Vizor.
Night-time skincare routine order
Your night-time skincare routine order is going to be slightly different from your morning skincare routine, but the basic concepts still apply: start with the most watery products and work towards heavier products. The key differences include the integration of retinols and not wearing an SPF.
First cleanse
Your first cleanse is designed to remove any traces of makeup, dirt, oil and SPF. Cleansing balms, butters and oils do a great job at removing makeup and SPF as they break down the products on your skin far easier. This is one of my favourite steps in my entire skincare routine as I love the feeling of cleansing balms and butters.
My favourite first cleanse products are the OG Emma Hardie Moringa Cleansing Balm and The Body Shop Camomile Sumptuous Cleansing Butter.
Second cleanse
Now it's time for your second cleanse. Traditionally, this cleanser would be similar to your morning cleanser – something more lightweight. Although, technically, you can use whatever combination of cleansers you want to.
The ARK Skincare Age Protect Skin Clear Cleanser and Drunk Elephant Drunk Elephant Beste No. 9 Jelly Cleanser are both really nice, lightweight gel cleansers.
Retinol/exfoliant
For this step, you should use a retinol or an exfoliant. Never use both at the same time as it will be too overpowering for your skin.
When using a retinol, you should always apply it to dry and skin and, if possible, leave it on your skin for at least 20 minutes before applying the rest of your skincare products. This is to give the retinol (AKA vitamin A) time to fully absorb into your skin.
Again, if you're applying an exfoliant, follow the same steps as the morning skincare routine order. Only apply an exfoliant at night if you've not used one in the morning.
One of my favourite night-time exfoliants is the Drunk Elephant Glycolic Night Serum. It's outstanding.
Eye cream
Here, you apply an eye cream. For night-time, I quite like a soothing eye cream.
Serum
As per your morning skincare routine, you can apply several serums together as part of your night-time routine. Try to opt for some different serums from your morning routine to give your skin some extra loving at night.
I love applying vitamin E serums at night-time, as they make my skin feel wonderfully soft and smooth in the morning. Niacinamide is another ingredient I sometimes apply at night-time if I've used hyaluronic acid and vitamin C in the morning.
I adore The Body Shop Vitamin E Overnight Serum-In-Oil. I'm using the Alpha-H vitamin E serum at the minute and that's also gorgeous on the skin.
Face oil
Again, facial oils are an optional step in your skincare routine, but they can make your skin feel wonderfully nourished.
Recently, I've been applying the DWIRA Hemp Superfood Face Oil to my skin at night, which makes my skin super soft when I wake up. DWIRA is also a black-owned beauty brand that is well worth checking out.
Night cream
For the final step in your night-time skincare routine, it's time to apply a night cream. You could just use a moisturiser for this step, but night creams can feel creamier and more luxurious.
One of my favourite night creams is the Mario Badescu Seaweed Night Cream; it's got quite a balmy, silky texture, but makes my skin feel very smooth by the time I wake up.
Final thoughts on the correct order to apply your skincare routine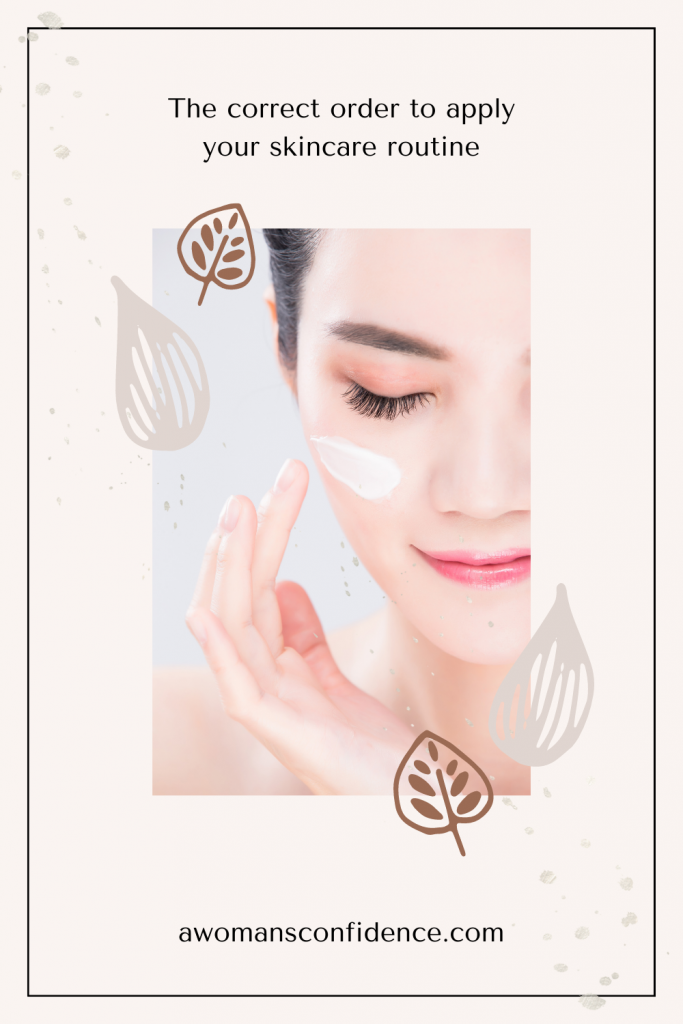 I hope you found my blog post on the correct order to apply your skincare routine helpful. This should serve as a quick and handy guide for those of you who are just getting into skincare or are a bit unsure of how to layer your skincare products.
Got any questions? Shoot me an email at sarah@awomansconfidence.com and I'll be more than happy to help