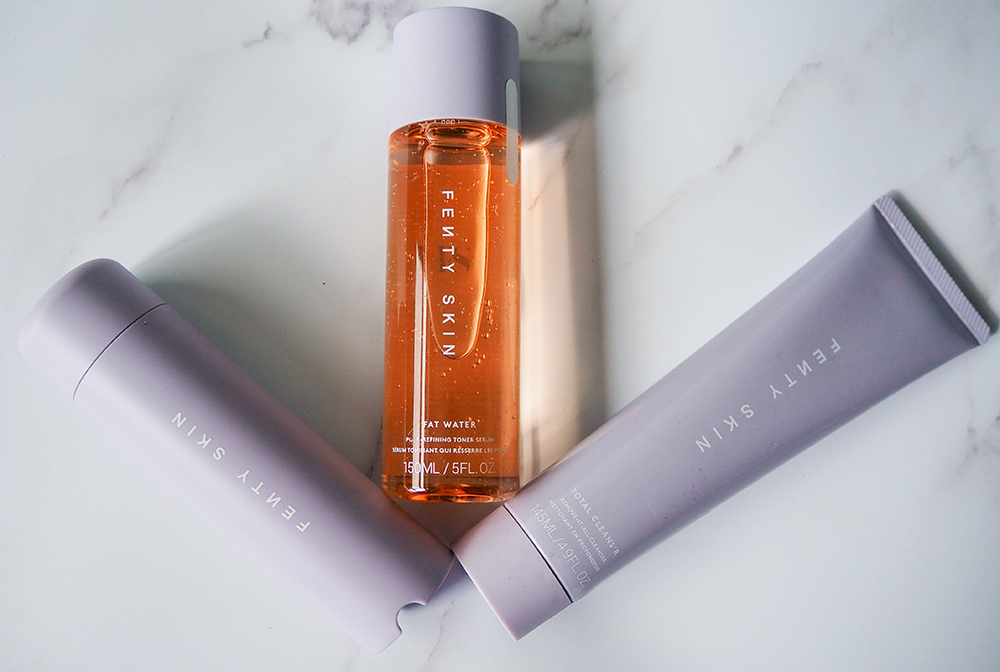 If you've not heard of Fenty Skin already, have you been living under a rock? Fenty Skin is the hottest new skincare range from pop icon Rihanna. Building on the success of her popular Fenty Beauty makeup line, Rihanna has now launched a new skincare line, which I will review in this blog post.
I'm a huge fan of Fenty Beauty. The Fenty Beauty Gloss Bomb is my favourite lip gloss of all time, with the matte foundation, beautiful cream blushers and lip paints all delivering serious quality too.
When I heard that Rihanna was launching Fenty Skin, I knew I had to try it. However, would the new skincare line be another cash cow and similar to so many other celebrity skincare lines that are nondescript and overpriced? Or is Fenty Skin another string to Rihanna's bow that delivers results? Keep on reading to hear my review of the new skincare line.
What is Fenty Skin?
Fenty Skin aims to be an uncomplicated, thorough 3-step skincare routine for all skin types and tones. Each product claims to: be multi-tasking, easy to use and work well underneath Fenty Beauty makeup.
It's for everyone, even the fellas.

Fenty Skin
The new skincare line consists of a cleanser, toner-serum hybrid, and moisturiser/SPF combo. Each product is vegan, gluten-free and fragranced.
Although the brand says that Fenty Skin is suitable for all skin tones, this line was 100% created with black people in mind as the SPF promises not to leave a chalky cast that so often shows up on darker skins with other SPFS.
Fenty Skin Total Cleans'r
$25 / £19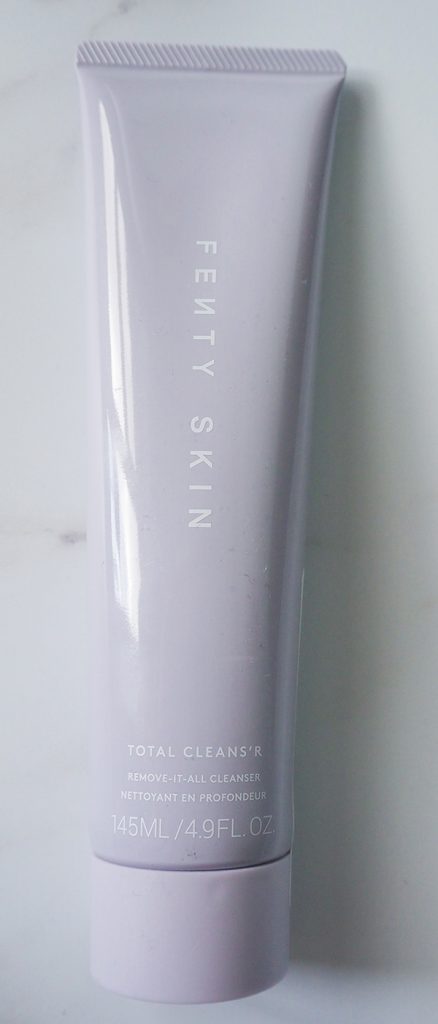 First up in my Fenty Skin review is the total Total Cleans'r. This product claims to be a 2-in-1 cleanser and makeup remover that leaves the skin feeling clean and soft, without being stripping or drying.
Its creamy lather removes dirt, oil, and longwear makeup without stripping or drying.

Fenty Skin
The Fenty Skin cleanser smells like cherries and coconuts and has a distinct pink shade. Personally, I LOVE the smell. I know some people hate fragrance in skincare or are sensitive to it, but I honestly adore the sweet scent.
If you're worried about the fragrance aspect, it doesn't matter so much if cleansers are fragranced, as you only put them on your face for a short amount of time before washing them off.
The Total Cleans'r is very creamy and even just a little bit of water really turns this product into a lather. It's not a traditional foaming cleanser but instead feels gentle and hydrating on the skin.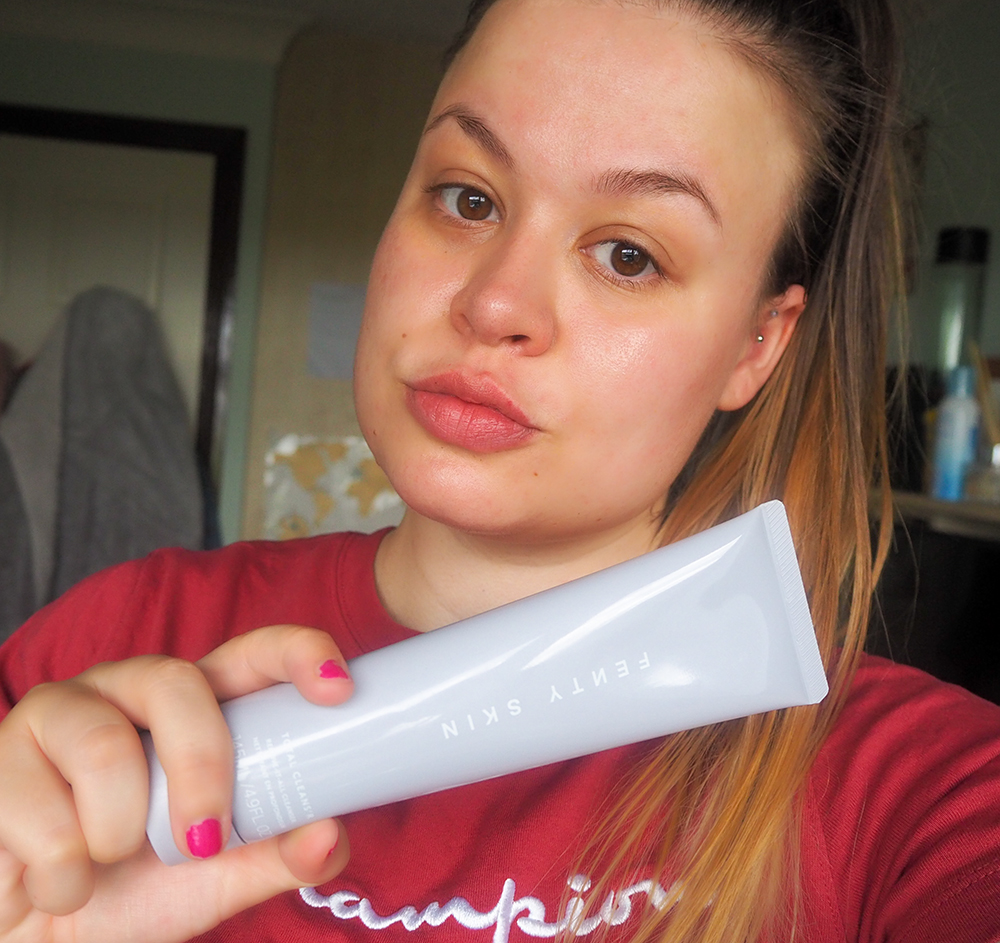 Although Fenty Skin says the Total Cleans'r can be used day and night, I'd use this more as a morning cleanser or as the second cleanse in my double cleanse routine. I find cleansing oils, butters and balms easier to use to remove makeup, SPF and dirt. I think you'd need to work too hard with this cleanser to properly remove makeup.
Twist and squeeze to use: Remove the seal, twist the cap to the right, turn over and squeeze. Twist again to close.

Fenty Skin
Overall, I've really enjoyed using this cleanser in the morning and as the second step in my double cleanse routine. It's not my favourite cleanser ever, but I love the sweet scent, creamy lather and how it never leaves my skin feeling tight or dry.
Rating: 4 stars
Fenty Skin Fat Water
$28 / £21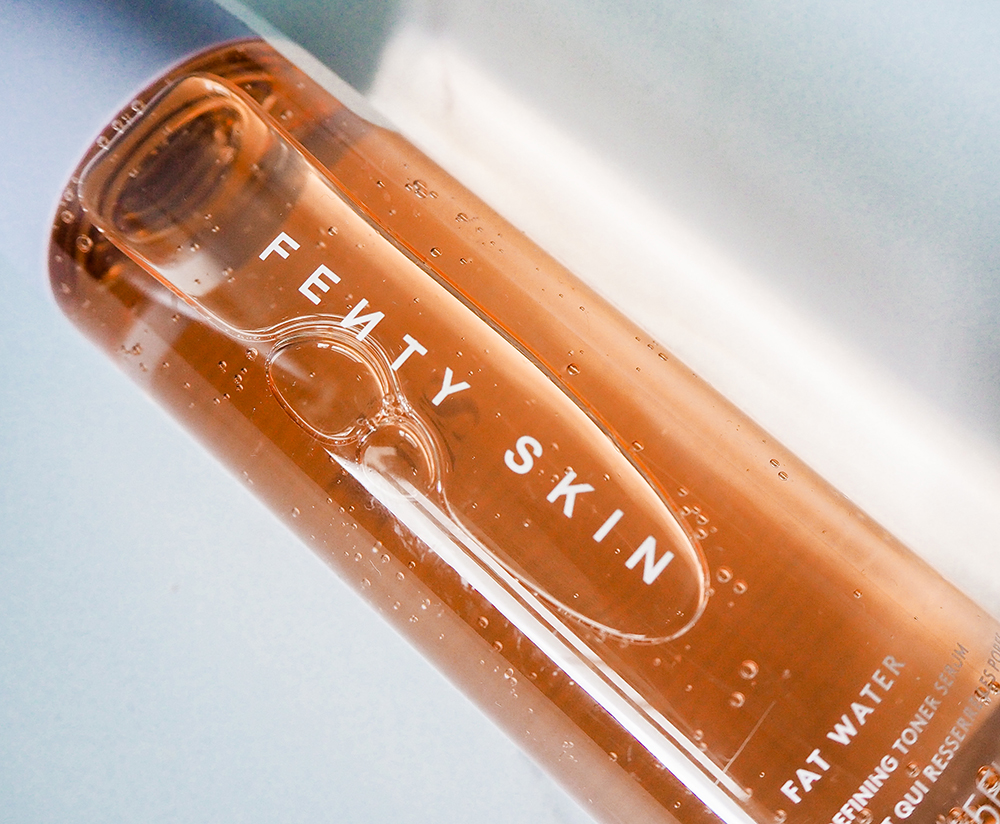 The second product I'm reviewing from the Fenty Skin line is the Fat Water. This is a toner-serum hybrid that claims to improve the look of dark spots, brighten, smooth and fight shine, without stripping skin.
As well as refining the look of pores, Fat Water is supposed to help with oil control and even out the skin's tone and texture. This will be down to niacinamide being high up the inci list, which is a powerhouse ingredient that helps reduce the look of dark spots, even skin tone, and fight excess shine.
In my opinion, this product is the most interesting-looking from the new Fenty Skin line. I love the orange shade of the toner-serum hybrid.
This product definitely lives up to the name 'Fat Water', too. The consistency is like a thick gel, which isn't as runny as traditional toners or serums.
Its unique thick texture absorbs instantly; just pour it into your hand to apply. No cotton pads needed = less waste.

Fenty Skin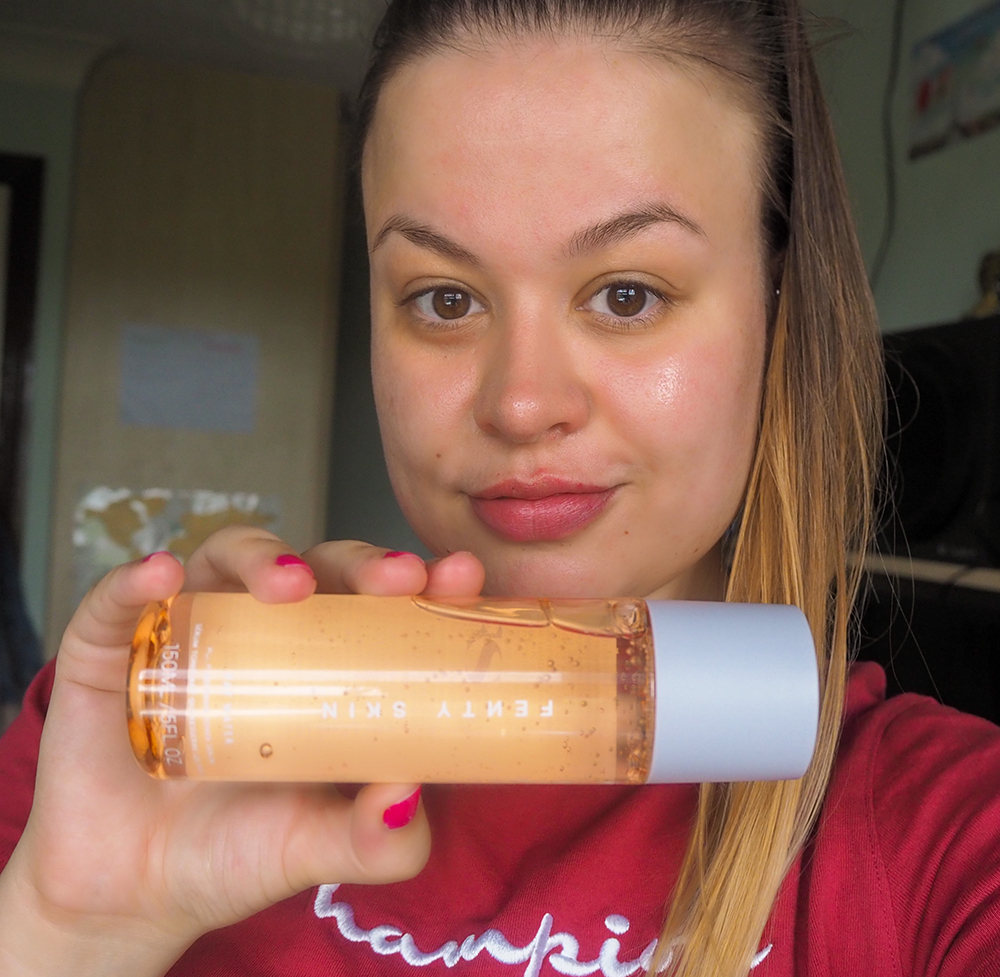 It's extremely satisfying to use as it's very cooling on the skin. Although it contains fragrance – cherries and figs – it's the weakest scent out of the entire skincare line and disappears almost immediately after applying it.
So far, Fat Water hasn't improved the appearance of my pores. Maybe I will see these benefits with continued long-term use, though. I think it's slightly helped with oil control overall and maybe a bit with my skin's brightness too.
Interestingly, I actually find this product to be more hydrating than anything else. It's nowhere near as hydrating as the NIOD Multi-Molecular Hyaluronic Complex MMHC2, for comparison, but I do like how it feels on my skin.
Overall, I think Fat Water is reasonable, but nothing ground-breaking. I might see more results with sustained use, but I think this product would definitely be more beneficial for people with particularly oily skin or black people as it helps target dark spots.
Rating: 3.5 stars
Fenty Skin Hydra Vizor
$35 / £26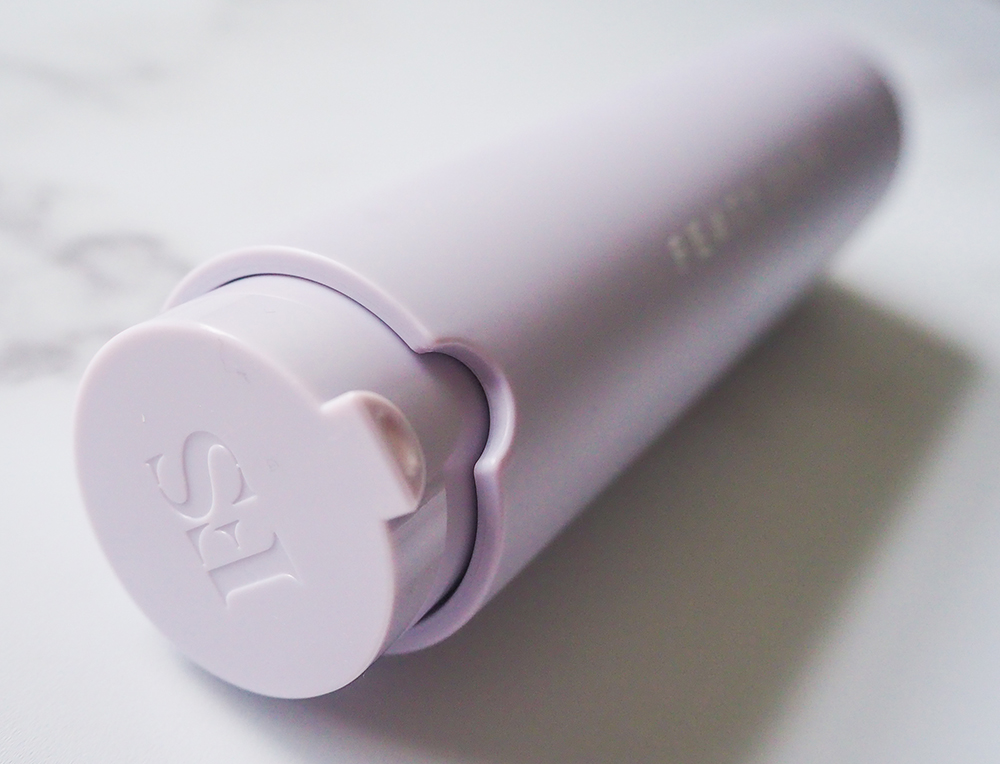 The final product I will be reviewing from the skincare line is the Fenty Skin Hydra Vizor.
This product is a moisturiser and broad-spectrum SPF 30 sunscreen in one, which promises to be lightweight and truly invisible on all skin tones. Hydra Vizor is also oil-free and claims to leave zero flashback while delivering hydration to the skin.
Pink-tinted cream applies invisibly on all skin tones—we're talking zero chalkiness

Fenty Skin
Importantly, this SPF/moisturiser combo also promises to work well underneath makeup, allowing for effortless application.
I've got to say, I LOVE the Hydra Vizor. It's truly lightweight on the skin and after you've applied it, you'd hardly know it was there. Although it's lightweight and non-greasy, I still find it delivers enough hydration to the skin to stop me for reaching for another moisturiser.
I can confirm it works well underneath makeup, too. It's so lightweight that makeup glides over the top effortlessly.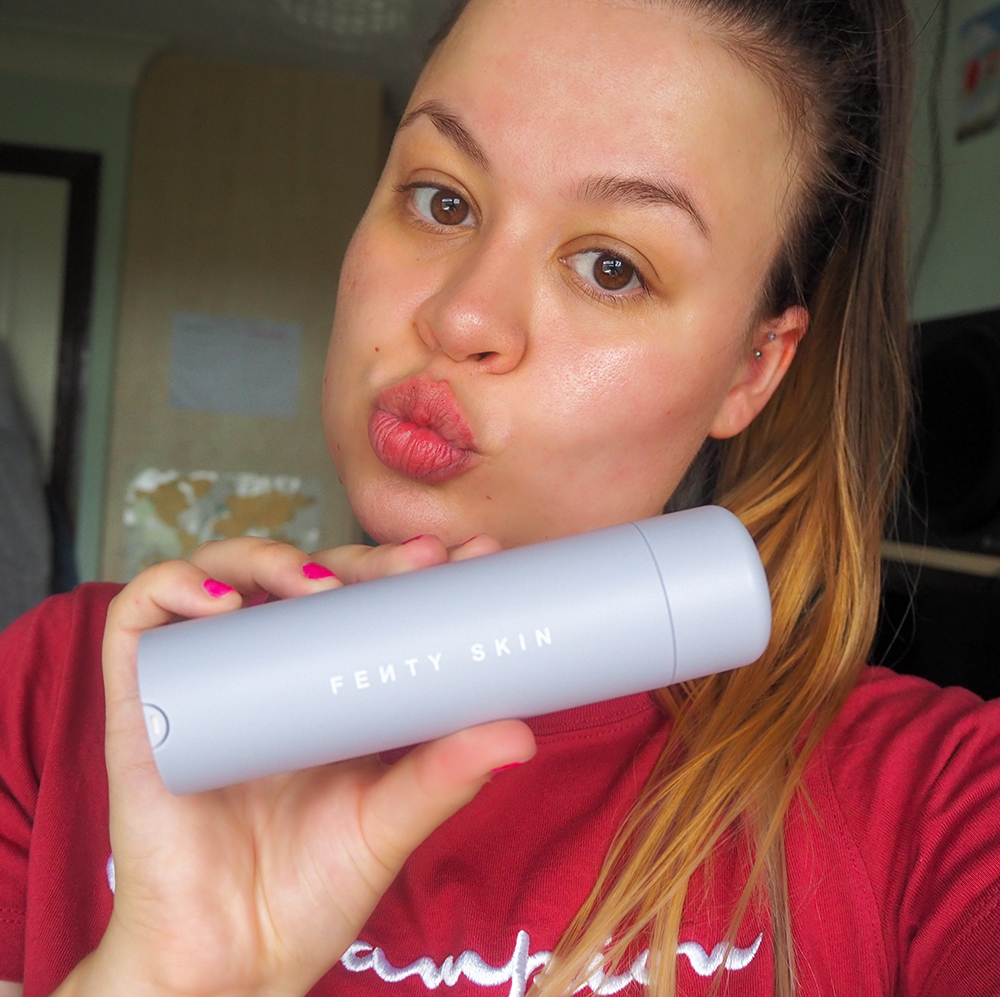 Hydra Vizor 100% doesn't leave a chalky cast. Obviously I'm very fair, so I don't have the same struggle that people with darker skin tones have with trying to find an SPF that doesn't leave a horrible cast.
Finally, a mainstream SPF has addressed this issue. I've seen multiple videos of black people using this SPF and it leaves NO cast on their skin. Instead, it leaves you protected from the sun while looking dewy at the same time. Win-win.
Hydra Vizor is also refillable. Once you're finished with the product, you pop the tube out, buy a refill and place that into the outer container. This reduces waste and the refills cost a bit less too, which is fabulous.
Again, this SPF/moisturiser smells delicious and this time more like fresh melons. I'm not mad at it and the pink dye also makes the product more appealing to use.
All in all, this is a fantastic SPF and I love how it looks and feels on my skin. Hydrated, dewy, healthy but without feeling heavy, oily or looking chalky. Awesome.
Rating: 5 stars
My thoughts on Rihanna's new skincare line
Overall, I'm impressed with the Fenty Skin line. There's a clear concept throughout the line and I'm happy it's been created with black people in mind because, as Caroline Hirons so rightly mentioned, so many skincare lines only cater to people with light skin.
So praise to Rihanna for, once again, being inclusive and highlighting the lack of representation of black women in the beauty industry. You can read more about some wonderful black-owned beauty brands here and here. I'm glad progress is being made and this is a step in the right direction.
One of my favourite things about Fenty Skin is the campaign and messaging behind the brand. Rihanna includes men in her campaign to encourage more men to use skincare products too. After all, skincare is not just exclusive to girls!
Fenty Skin also encourages black people to wear SPF. This is very important because there's a lot of misinformation out there that black people don't need to wear sunscreen. This is wrong! Just because black people don't burn in the same way that white people do, doesn't mean they're immune to skin cancer and the harmful effects of UVA and UVB rays. Wear SPF folk to protect your skin and keep it looking youthful as your grow up!
I love the sleek lilac packaging too. Each product has a twisty cap, where you twist it to the right, squeeze some product out and then twist it back to shut the product. This is hygienic and reduces product waste.
The reason for the sweet scents and pink-tinted products is Rihanna's inclusion of the Barbados Cherry throughout the line. Obviously being from Barbados, Rihanna wanted to include something personal to her in Fenty Skin. Apparently, the Barbados Cherry is rich in vitamin C, which I'm here for.
All in all, I think Fenty Skin is a good, basic skincare line. It promotes positive behaviours, breaks down stereotypes and busts misinformation. It's an easy 3-step routine for people just getting into skincare too, who might feel overwhelmed by the sheer number of products out there.
Plus, all of the products are affordable and look great. Well done Rihanna!
Favourite product from Fenty Skin?
Hydra Vizor. Easily. It's one of the best and most enjoyable SPFs I've ever used.
Conclusion
My review of Fenty Skin? It's a good skincare line and much better than I'd expected from a celebrity range. Although Fat Water isn't anything special in my opinion, I've thoroughly enjoyed using the SPF and cleanser. The range smells divine and I'm definitely glad I purchased the products.