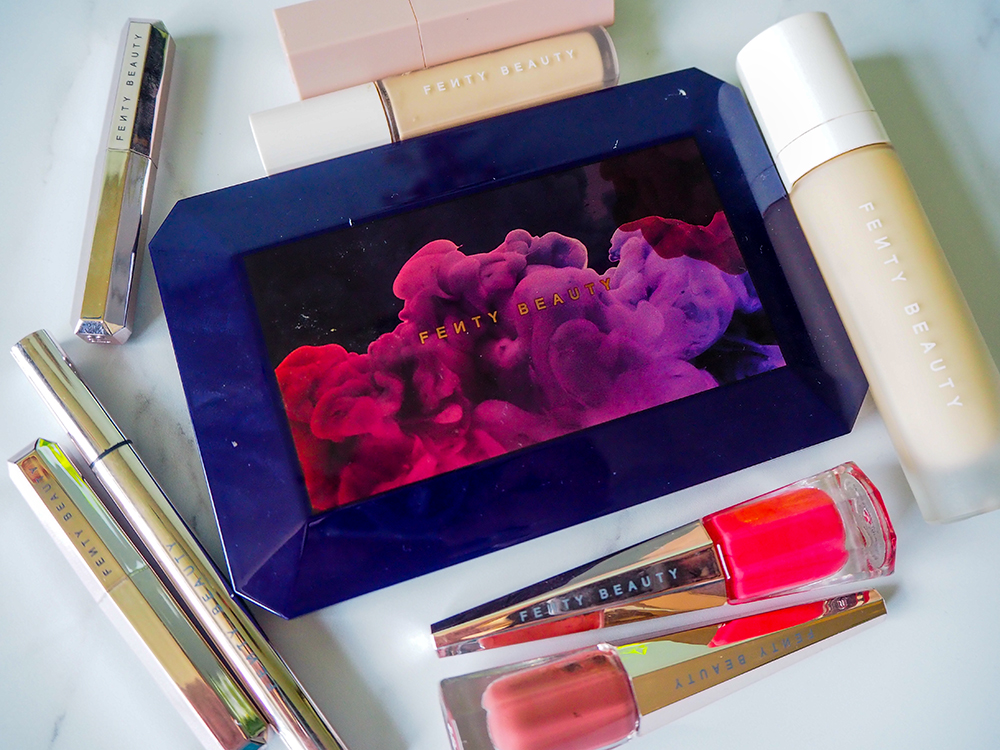 With the Black Lives Matter movement stronger than ever – and rightly so – I made a pledge to be more active in my support of the black community. Since the inhumane killing of George Floyd, there has been a raft of wonderful posts promoting and supporting black businesses and content creators.
In my June goals, I vowed to share more educational/promotional content on my blog to support the black community. Although I've already shared 25 amazing black-owned beauty brands to check out on A Woman's Confidence, I wanted to share 20 more because there are so many brands that deserve the spotlight.
In this post, I'm going to share 20 more amazing black-owned beauty brands that you need to check out, covering everything from pigmented palettes through to funky skincare packaging.
1. OPV Beauty
Availability: International
East London-based sisters Bukola and Opeyemi Adeyemo launched OPV Beauty, a cruelty-free makeup brand to suit people of all skin tones.
We started OPV Beauty to finally provide a brand that would be inclusive of all skin tones.

OPV Beauty
Expect dazzling loose pigments, fun lipstick shades and even some hair extensions too. The Oshun Palette, in particular, has caught my attention because I love the gorgeous golden and bronze shimmers.
2. DWIRA
Availability: International
DWIRA is a vegan and sustainable holistic skincare and wellness brand, providing pure West African products without compromise, crafted to rejuvenate, nourish and feed the skin.
Adwoa, the founder, (who is lovely) fuses Ghanian tradition with British GMP standards to create the unique skincare and wellness range.
DWIRA is an Akan word meaning 'To Purify & Cleanse'.

DWIRA
There is a fantastic range of products available from DWIRA, with some of the most eye-catching packaging I've seen yet. From the Hemp Superfood Face Oil through to the African Shea Butter, I want to try it all.
3. Whippd Cosmetics
Availability: International
Founded by young beauty entrepreneur Rachel Robins, Whippd Cosmetics went viral on Twitter after Rachel announced she was creating a line of nude glosses specifically for black women.
With so many "nude" lipsticks and lip glosses only catering for white skin tones, it's great to see a makeup range consider nude lip products for black women. The 6 lip glosses available are GORGEOUS, warm and suitable for a range of deeper skin tones.
Whippd Cosmetics also does a lip scrub, body butter and body polish, too.
4. Rue Gloss
Availability: International
Another black-owned beauty brand that is pushing out some amazing and fun lip glosses is Rue Gloss. Founded by Rakiyah Nadia, Rue Gloss does a range of fruity and sweet lip glosses, such as Cherry Limeade and Bubblelicious, which look amazing.
5. The Mane Choice
Availability: International
As Founder of The Mane Choice, Courtney Adeleye built her hair empire from the ground up by incorporating her specialized knowledge base with her own curiosity.

The Mane Choice
The Mane Choice is a popular multi-cultural healthy hair growth and retention company, suitable for black women. The company offers a range of hair care products with vitamins and essential nutrients such as Biotin, Vitamin A, B, C, D, & E.
6. Rutse
Availability: UK but with potential to ship internationally
Founded by Abbie Mabs, Rutse is a new, cruelty-free and sustainable skincare brand, with the products designed to help you look and feel radiant.
With the understanding that inner beauty is just as important as outer beauty, we are very conscious of ensuring that we provide a platform of self-love encouraging our customers to be radiant.

Rutse
Boasting modern and sophisticated packaging, Rutse offers a range of appealing skincare products, such as the Charcoal Detox Clay Mask and the Relax Face Tea.
7. September Rose Cosmetics
Availability: International
September Rose Cosmetics is a gorgeous black-owned makeup brand offering a range of vibrant eyeshadow palettes, beauty sponges and strip lash applicators. The brand's Instagram page is well worth a follow, too, which features heaps of vibrant makeup looks.
I'd love to try the coffee-inspired Brew Palette or either of the rainbow-inspired Slush Palettes because they look phenomenal.
8. Hyper Skin
Availability: USA only
Desiree Verdejo created Hyper Skin after struggling to find products to treat her acne and hormonal breakouts. So, she created Hyper Clear, a vitamin C serum, which has cleared her skin, made it look brighter and treated her hyperpigmentation.
Our first product, Hyper Clear, is a vitamin C serum with a blend of hyper-effective clean and natural ingredients like vitamin e, kojic acid, turmeric and bearberry that work together to brighten skin, smooth texture and drastically treat hyperpigmentation.

Hyper Skin
9, MakeupByTammi
Availability: UK
MakeupByTammi, AKA Tammi Clarke, is a popular UK-based makeup artist on Instagram. She has done several collaborations with Makeup Revolution, including the gorgeous new Tropical Twilight collection, which is to die for.
Now, the talented MUA has launched her own makeup store – MakeupByTammi, which sells a range of gorgeous false lashes and brush sets.
Our lashes are not only affordable, they are soft, fluffy and high quality.

MakeupByTammi
I recently ordered the false eyelashes in 22 and 44L in the sale for £1.50, which is an absolute steal.
10. Bowë Skincare
Availability: International
Another great black-owned beauty brand to add to this list is Bowë Skincare, a skincare brand designed for women of colour to nourish the skin and encourage self-care.
Bowë was born with a single intention: to bring exceptional skincare products into the hands of women of colour.

Bowë Skincare
From the Organic Grapeseed Oil through to the Warm Cocoa Body Moisturiser, there's a good range to choose from with decent prices.
11. MDM Flow
Availability: International
MDMflow is a vibrant black-owned makeup brand that is well worth checking out. From shimmery multi-purpose gloss pots to bold lipsticks, MDMflow is inspired by mid-90s-00s glamour that comes from hip-hop culture.
MDMflow started with handmade lipsticks using the latest colour technology, going on to create the decade's great mascara according to the beauty experts.

MDMflow
I'd love to try the brown nude Sweet Escape Baume as it sounds really versatile and interesting.
12. The Crayon Case
Availability: International
The Crayon Case is a colourful, creative and experimental makeup brand, with interesting school-themed packaging. The brand sells everything from false lashes, golden highlighters and colour-correcting concealers.
Because unlike other makeup brands that provide limited hues and inhibiting ideas of what we should like, Supa gives us everything in THE CRAYON CASE so we can experiment with what we could​​ look like.

The Crayon Case
13. Propa Beauty
Availability: International
Propa Beauty is another black-owned makeup brand, which offers a range of beautiful nude lipstick shades for people with deeper skin tones.
The Luminous Satin Lipstick collection from Propa Beauty features 12-shades lipsticks carefully crafted for those of us with dark skin tones.

Propa Beauty
Expect rich, caramel, rose and warm-toned hues with gorgeous satin finishes, which won't leave people feeling like they can't find the right nude lipstick for their skin tone.
14. TWOK London
Availability: International
TWOK – The Woman Of Kolor is a London based cosmetics company offering a wide range of awesome products for women of colour.

TWOK London
Offering a range of makeup products that caters for all skin tones, TWOK London has something for everyone. The brand has loads of gorgeous false eyelashes available as well as colourful loose eyeshadow pigments.
15. Black Opal Beauty
Availability: USA
BLACK OPAL was created by passionate individuals who combined their talents and experiences to develop the first technologically advanced skincare and color cosmetics line for women of color.

Black Opal Beauty
Black Opal Beauty is a black-owned skincare and makeup brand that celebrates the diversity of culture and skin tones. From tone-correcting skincare treatments through to brightening highlighter sticks, there is a broad range of products to choose from.
16. Bolden Skincare
Availability: International
Founded by two black women, Bolden Skincare is a USA-based skincare brand that empowers women of colour to embrace their natural beauty.
The brand aims to help shape a global conversation about inclusive standards of beauty, so brown girls everywhere feel empowered to celebrate the natural beauty of the skin they're in.
Bolden Skincare offers a range of skincare products, such as the Brightening Glycolic Acid Toner, Clear Skin Clay Mask and Sweet Vanilla Shea Butter Oil.
17. Icy Wifey Cosmetics
Availability: International
Founded by Hailee Chanel, Icy Wifey Cosmetics aims to inspire makeup artists and enthusiasts alike.
It is our goal to create amazing products at an affordable price.

Icy Wifey Cosmetics
The brand has a range of Black Lives Matter false lashes available, which are bold, extravagant and glamorous. The loose glitter pigments, in particular, look insanely gorgeous and I'd love to get my hands on some of them.
18. Posh Culture Cosmetics
Availability: International
Posh Culture Cosmetics is a Caribbean-owned makeup brand, which brings you colourful makeup products for tropical vibes. The packaging is gorgeous and creative, and the Color Me Caribbean Palette is the perfect rainbow-hued palette for summer.
19. LaLa Bella Cosmetics
Availability: USA
LaLa Bella Cosmetics is another fun black-owned makeup brand, which offers a range of chunky loose glitters, affordable eyeshadow palettes and super pigmented eyeshadow palettes.
I've never played around with loose glitter before but given the affordable prices, I'd love to try some out from LaLa Bella Cosmetics.
20. Chentilly Cosmetics
Availability: International
The final black-owned beauty brand in this round-up is Chentilly Cosmetics, founded by Darryn and Shai to combine Darryn's eye for business and Shai's love for makeup.
Our brand emphasizes the beauty of vibrant colors on women of color

Chentilly Cosmetics
I'd love to try the highlighters because the shades are so soft and shimmery, plus the Suns Out Buns Out Eyeshadow Palette is a sultry warm-toned palette which is giving me serious summer vibes.
A helpful resource
I found this comprehensive resource of black-owned beauty brands on Twitter. It's also an opensource document, so you can add black-owned beauty brands that you know of onto the document if you can't see them listed, which means it's helpful for everyone.
What now?
This is just a small list of a raft of innovative black-owned beauty brands that are out there. The next time you're buying makeup, I urge you to purchase some products from one of these companies or any of the other brands I mentioned in my previous list.
Keep buying black, keep supporting the black community and keep signing petitions. The Black Lives Movement isn't a trend, so we need to continue supporting the black community now and always.