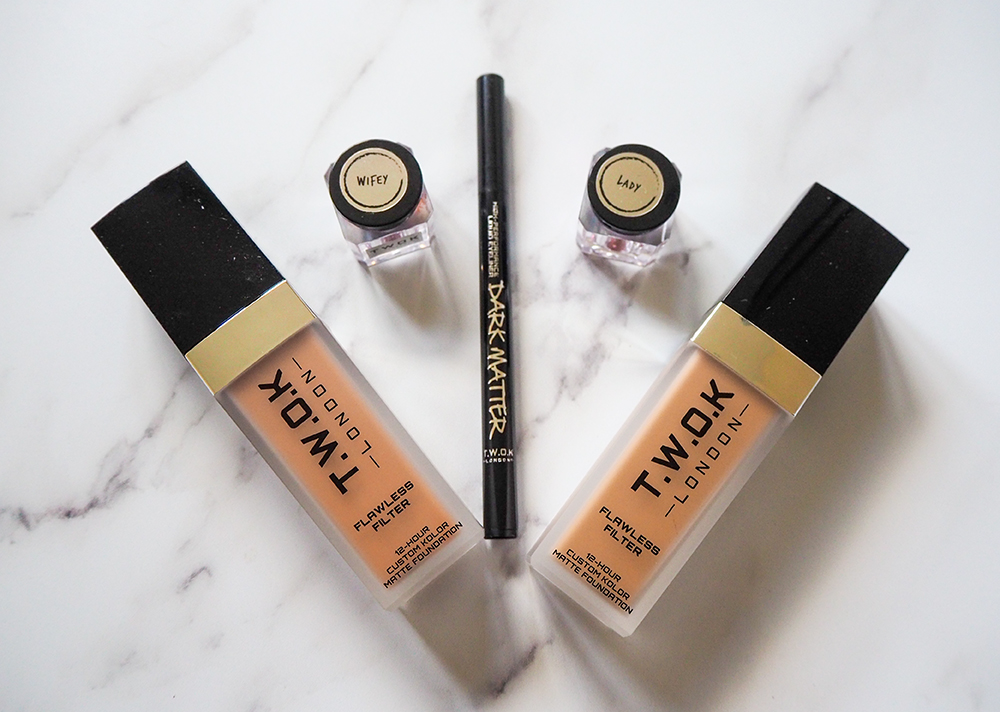 Black-owned beauty brands come out with some truly fire products but how good is TWOK London? In this blog post, I share my honest thoughts.
Firstly, I'd like to say a big thank you to TWOK London for gifting me these makeup products to review. I love trying out new makeup products, particularly eyeshadows, so getting 2 new loose eyeshadow pigments along with 2 foundations and a liquid liner made me very excited.
If you want to hear my thoughts on this black-owned beauty brand and see 2 pretty makeup looks using the products I was gifted, then please keep on reading.
What is TWOK London?
TWOK – The Woman of Kolor – is a London-based, indie and black-owned beauty brand that offers inclusive and high-quality products. The brand says its products are innovative, trendy and safe.
Founded by a pharmacist and a mother of two sets of little twins in 2016, TWOK London loves to collaborate with other brands and makeup artists in the celebration of diversity and empowering others.

TWOK London
TWOK London says that everyone, regardless of skin tone, ethnicity or texture should have convenient access to makeup products that enable them to celebrate their identity, without the need to break the bank.
What products did I receive from TWOK London?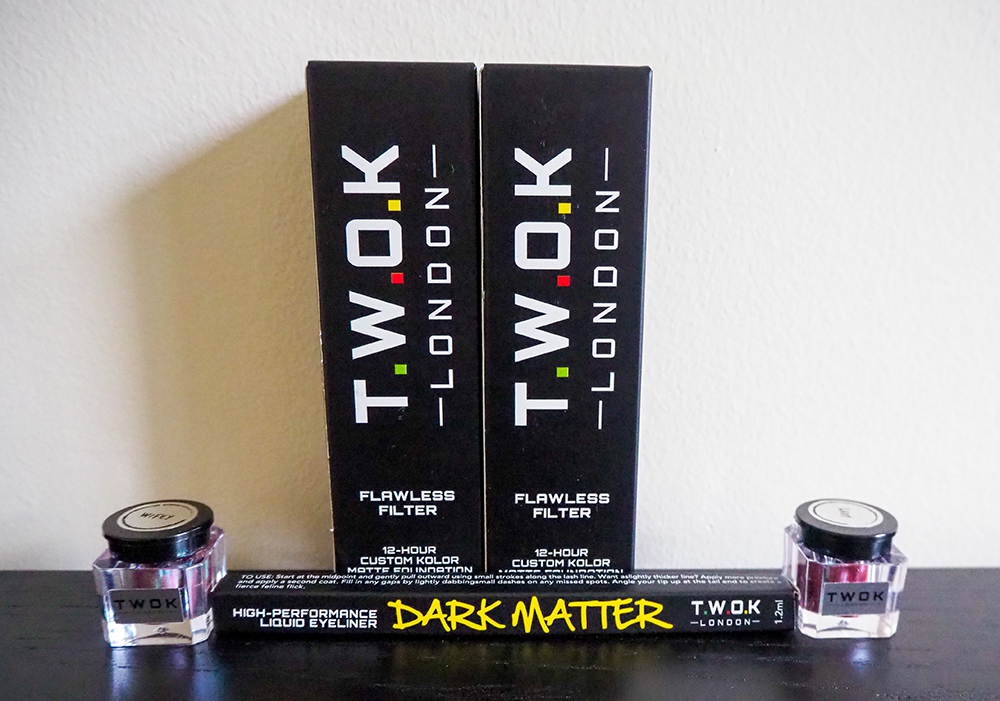 TWOK London generously sent me 5 makeup products to try. I was asked to try the foundations and the eyeliner but I picked the eyeshadow pigments myself. Here's what I received:
Below, I'm going to share more in-depth descriptions and my thoughts on each product. Indie makeup lovers need to stay tuned because some of the products are pretty special.
1. TWOK London Flawless Filter Foundation Kolor 60
£16.99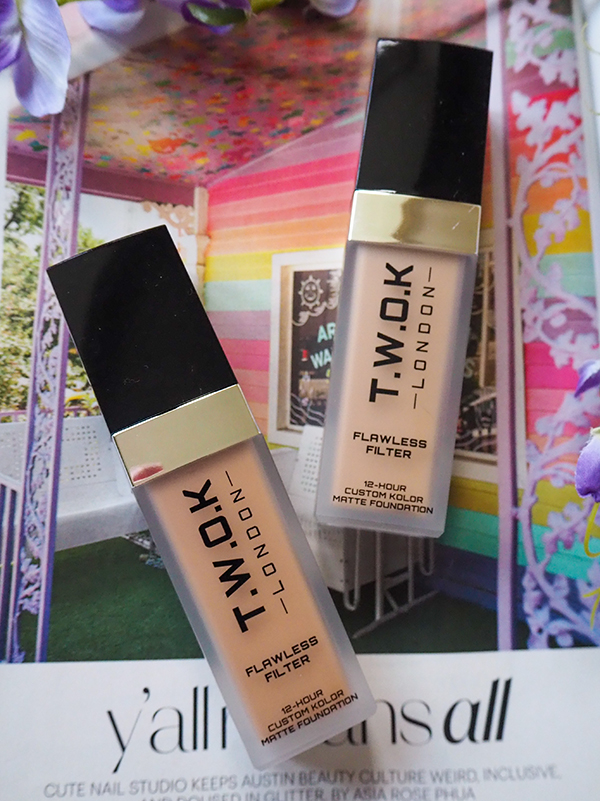 Product claims
The Flawless Filter Foundation promises to be the holy grail foundation for women of all colour. It claims to glide onto the skin effortlessly for a lightweight and glowing veil while diffusing fine lines, pores and patchiness for a noticeably brighter, smoother and more even complexion.
Flawless Filter does what a studio camera filter is designed to do; it harmonizes the skin's true colour, blurs flaws and delivers a radiant, airbrushed effect with the understood promise of zero chalkiness, zero orangeness and zero dullness.

TWOK London
TWOK London says the Flawless Filter offers buildable coverage that never looks cakey and lasts all day. Each shade has been developed with the perfect blend of pigments, the brand says.
My thoughts
Kolor 60 is the lighter of the two shades. I love the luxe square bottle as it screams high-end to me. The cap is a little flimsy and falls off quite easily but besides that, the packaging feels sturdy and high-quality. The pump applicator also dispenses the perfect amount of foundation – enough to get medium coverage but not too much so that you end up wasting product.
Kolor 60 is the right tone for me – light, with slightly yellow undertones – but a touch too dark. And I mean a touch too as I can definitely get away with it. Overall, I think it's a good match for my skin tone.
The Flawless Filter Foundation glides across the skin easily and feels lightweight, despite its thicker texture. I'd describe it as a medium to full coverage foundation with a demi-matte finish. I like the finish and think it would suit a lot of people as it's not flat or overly glowy, striking a great balance.
I think this foundation is fairly buildable. However, due to the thicker texture, I think too many layers would begin to look cakey. One layer will give you medium-ish coverage and another layer will take you to full coverage but I'd stop there.
The Flawless Filter Foundation is easy to blend and gives you a more even complexion with ease. I don't agree with TWOK London that this foundation gives you a glowing veil but I do think it gives an airbrushed effect, which would be great for nights out when you need a sweatproof foundation. This foundation is definitely long-lasting, too.
Rating: 4 stars
I like the foundation but I've got other ones I prefer. Based on the texture and finish, I think people with oilier skins would like the TWOK London Flawless Filter Foundation.
2. TWOK London Loose Eye Shadow Pigment Lady
£4.99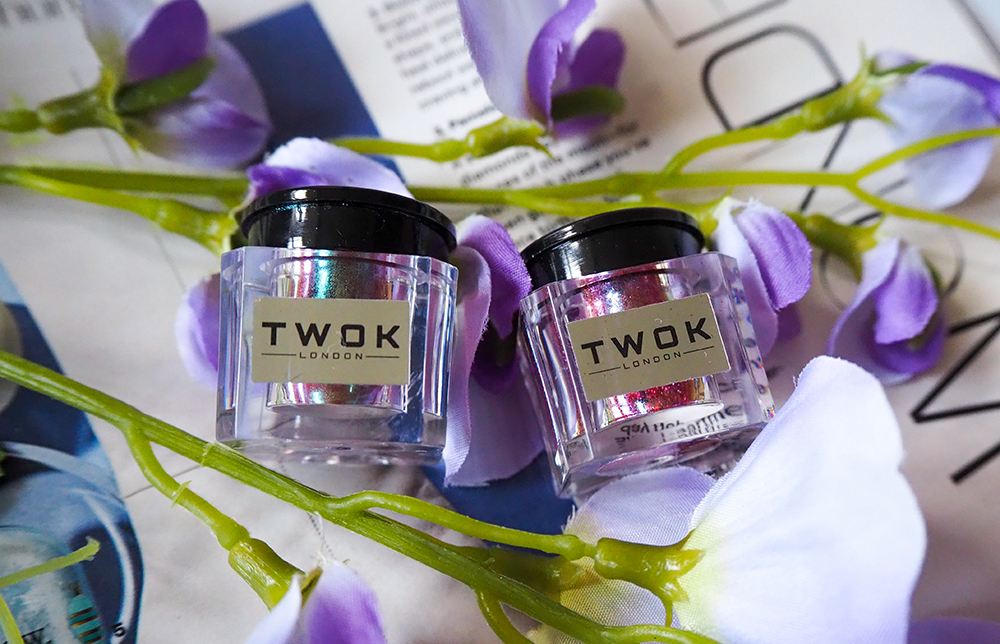 Product claims
According to TWOK London, the Loose Eye Shadow Pigments are buildable and blendable shimmering shadows in vibrant hues for a dynamic look.
My thoughts
Although TWOK London doesn't provide individual descriptions for its Loose Eye Shadow Pigment shades on the website, I'd describe the shade Lady as a vibrant, mid-toned pink. Lady is very shimmery and quite chunky, which makes for incredible shine on the lids. There are also no glitter chunks, which is far more comfortable on the lids.
Honestly? I'm OBSESSED with the Loose Eye Shadow Pigments. The eyeshadows are super pigmented, incredibly affordable, easy to blend and the shade range is truly stunning. Out of the 2 pigments I received, Lady is my favourite because I'm in love with the shade.
I think Lady works best as an eyeshadow topper as it is quite chunky, so you get flecks of highly shimmery pink pigment, which I think is gorgeous. The way this shade catches and reflects the light is truly special. It's like a more sophisticated glitter that lasts on the lids all day.
Applying this eyeshadow can be a little messy as the loose pigment is very lightweight and soft, so go in with a light hand. I found lightly dabbing my finger in the loose pigment worked best as opposed to using an eyeshadow brush.
I've included TWOK London's Loose Eye Shadow Pigment swatches vide below, just so you can see how fantastic the shade range is.
Rating: 5 stars
The TWOK London Loose Eye Shadow Pigment in Lady is a must-try. I will definitely be checking out more of the shades in the future (Kym Purple is calling my name).
3. TWOK London Dark Matter High-Performance Liquid Eyeliner
£6.99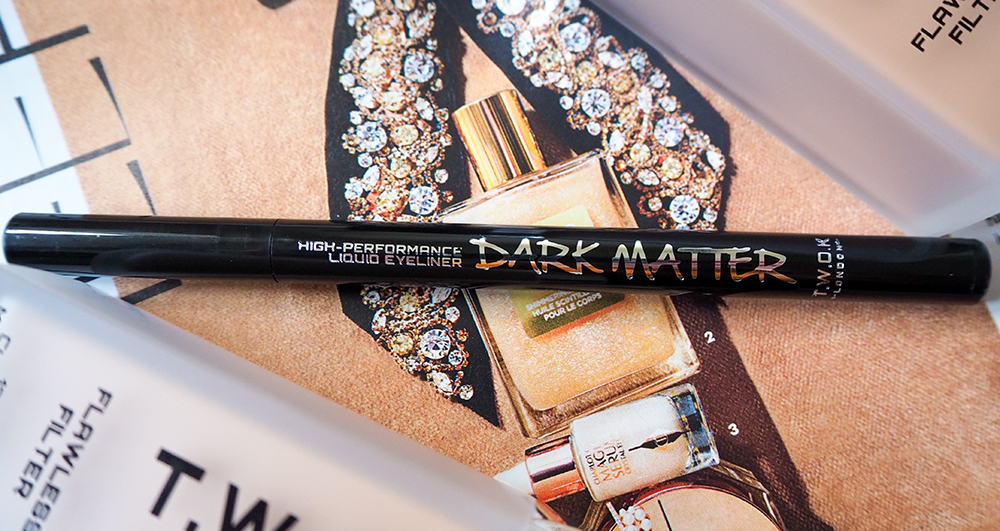 Product claims
TWOK London says that the Dark Matter High-Performance Liquid Eyeliner is matte black, long-wearing, easy to apply and comfortable to wear. This eyeliner also claims to dry quickly, look incredibly rich while being flake- and smudge-proof.
There's a fine line between fierce and elegant and this longwearing, ultra-pigmented eyeliner is designed to give you the power and control to achieve the vibe of your choice.

TWOK London
My thoughts
I love a good liquid liner and the Dark Matter High-Performance Liquid Eyeliner is a fantastic and inexpensive option for anyone wanting a super dark eyeliner.
This eyeliner has a fairly sharp and thin tip, which makes creating wings easy. I love that the formula isn't too wet, so you're less likely to make mistakes and have more control over the tip. It means you're less likely to smudge the eyeliner too.
I also think the name "Dark Matter" is really cool!
This liquid eyeliner is definitely one of the better ones I've used. I wish the tip was slightly thinner for an even more precise flick. This would be a fantastic option for beginners due to the non-runny consistency.
Rating: 4.5 stars
A great liquid liner that is fantastic value.
4. TWOK London Flawless Filter Foundation Kolor 90
£16.99
Product claims
Please see description above for the Flawless Filter Foundation.
My thoughts
Kolor 90 is too dark for my skin tone. However, I've been mixing it with a dewy foundation that is too light for me and the effect is stunning. In fact, mixing these 2 foundations together is even better than the Flawless Filter Foundation by itself. It gives you a full coverage, radiant look that isn't OTT.
For this reason, I'd definitely recommend mixing the Flawless Filter Foundation with a liquid highlighter for a glowy look. That way, you get the benefits of a long-wearing foundation with some added radiance.
Rating: 4 stars
Same as above.
5. TWOK London Loose Eye Shadow Pigment Wifey
£4.99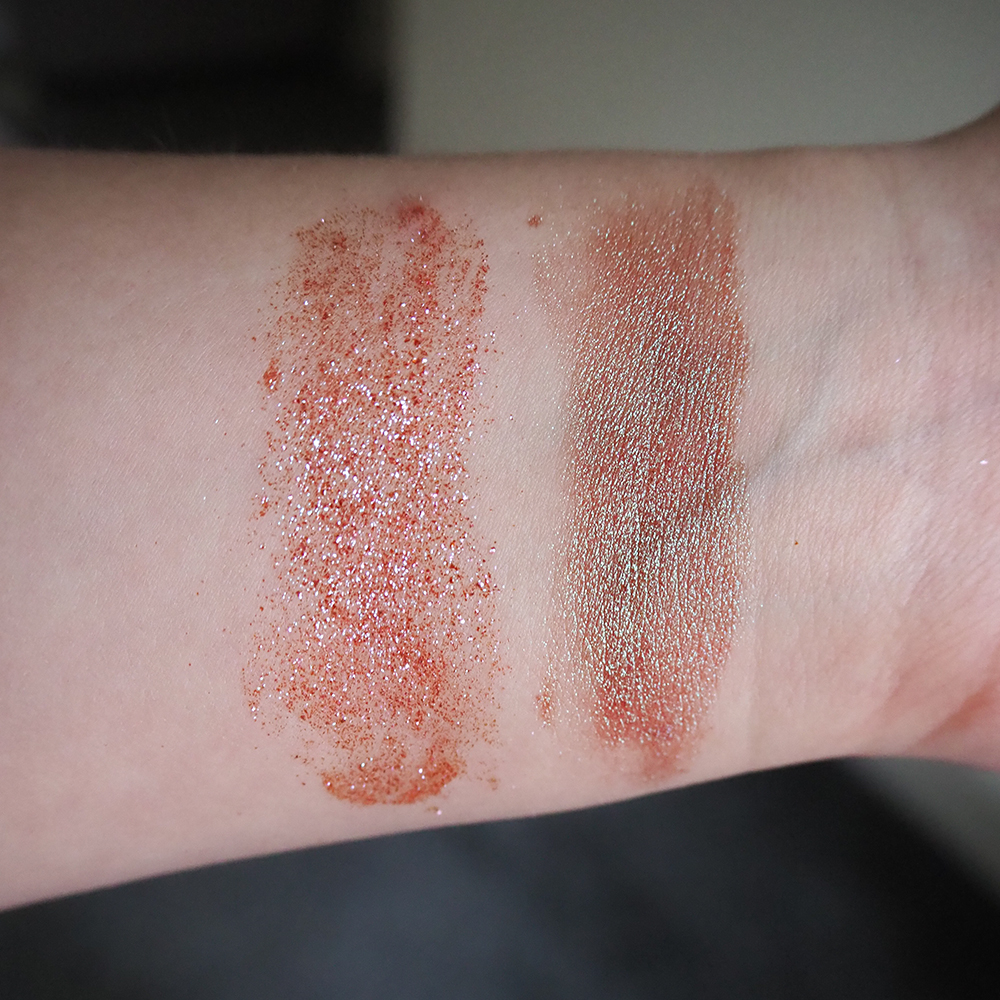 Product claims
Please see description above for the Loose Eye Shadow Pigments.
My thoughts
Again, TWOK London doesn't provide individual shade descriptions but I'd describe Wifey as a shimmery duochrome that shifts from a purple/pink to a green/gold.
Honestly, this duochrome is incredibly unique. I've not seen anything like it before. The way this eyeshadow catches and reflects light gives it a really complex and unusual colour story. In some lights, it looks like a shimmery pink/purple (as per my swatch above) but look again and you've got an intriguing green/gold.
And I love it.
Wifey is not as chunky as Lady but works better as an eyeshadow in its own right. As this loose eyeshadow pigment essentially contains 4 different shades, I think pairing this with neutral matte eyeshadows works best.
This particular loose eyeshadow pigment isn't quite as messy as Lady but you should still apply the shadow lightly to avoid fallout. Again, I think using your finger to apply this eyeshadow works best.
Rating: 5 stars
This is a fantastic duochrome that's very unique. If you love duochrome eyeshadows, Wifey is a must!
Makeup look 1
For my first makeup look, I used the Flawless Filter Foundation Kolor 60, Loose Eye Shadow Pigment Lady and Dark Matter High-Performance Liquid Eyeliner.
Here's how it turned out: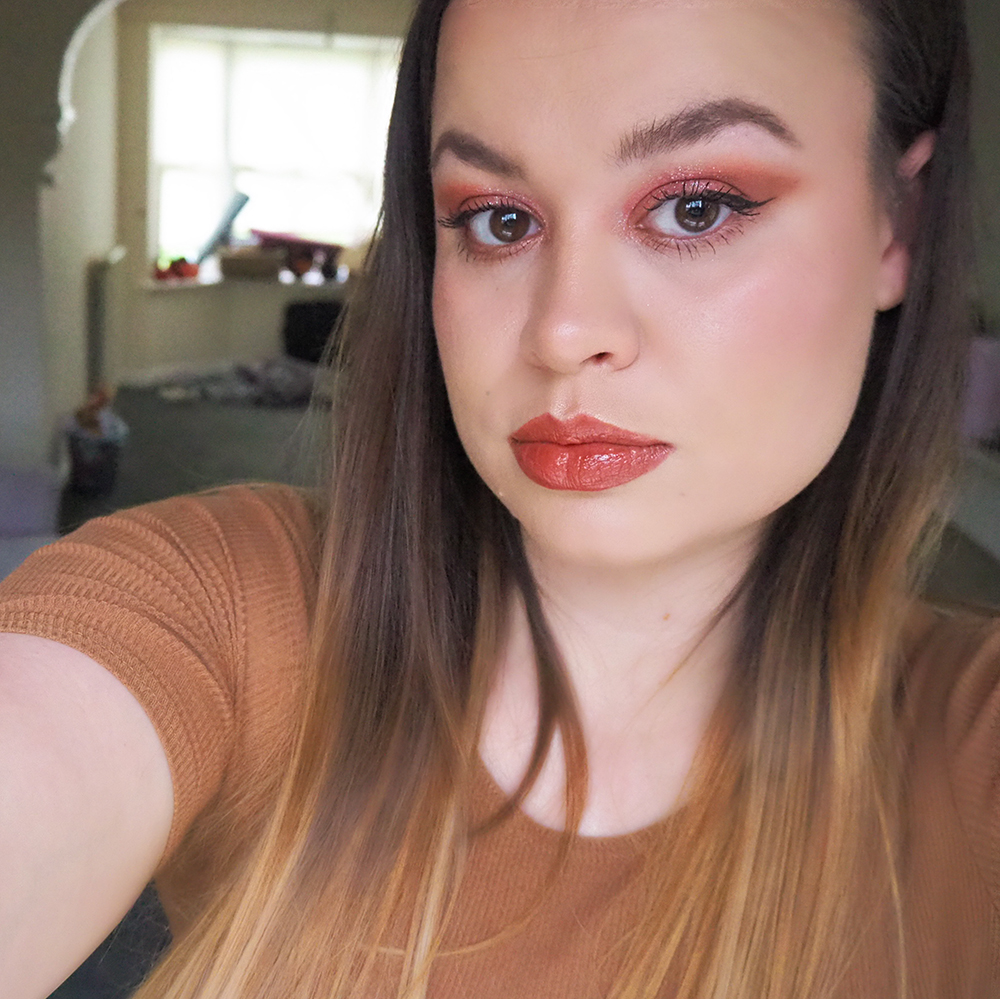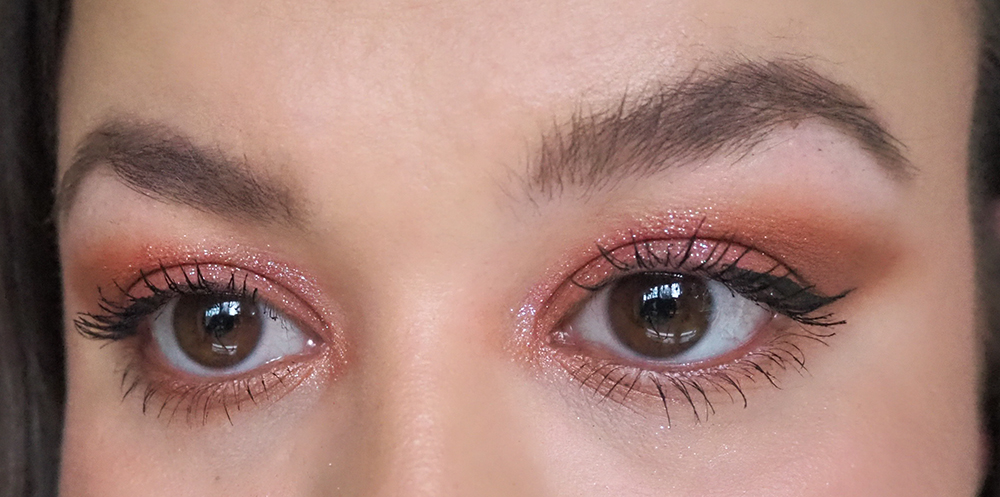 I won't lie, I'm thrilled with how this makeup look turned out. The Lady eyeshadow pigment is so pretty and really elevates the eye makeup. I managed to create a decent wing with the eyeliner and my skin looks soft, smooth and poreless, thanks to the foundation.
The eyeshadow is my favourite part because it really makes my eyes pop. Just look at how the shimmer catches the light. It's stunning.
Makeup look 2
For my second makeup look, I used the remaining TWOK London products: Flawless Filter Foundation Kolor 9 and Loose Eye Shadow Pigment Wifey.
Here's how it turned out: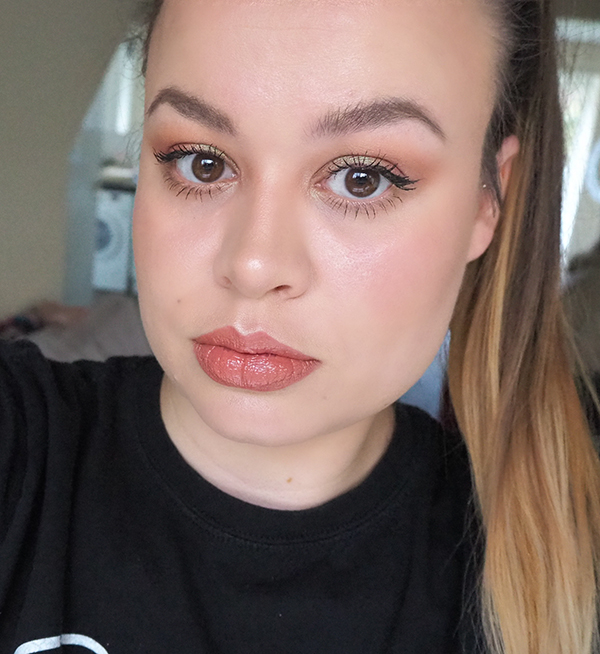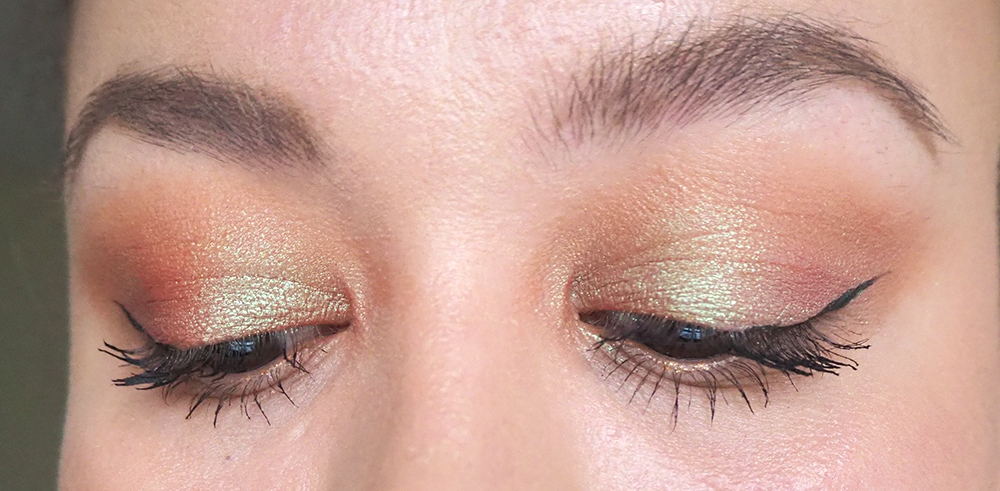 As you can see, my skin looks glowier in this makeup look and this is because I mixed the darker foundation in with a lighter and dewy foundation. Personally, I think the effect is gorgeous and it makes my skin look healthy and radiant.
This look perfectly captures what I mean about the Wifey duochrome eyeshadow. In my swatch, you can see the purple/pink shade but in this makeup look, you can see the green/gold shift. Isn't that awesome? I actually prefer the green/gold shade and think it pairs really well with peachy tones.
Overall review of TWOK London
I think TWOK London is a great, inexpensive and innovative black-owned beauty brand. The eyeshadow pigments are truly unique, pigmented and high-quality and I think the foundation and eyeliner are great products. I'd definitely recommend TWOK London to anyone.
Each product is affordable and I love that the brand focuses on inclusivity and empowering people to be creative. Whilst in this day and age, all companies should be inclusive, that sadly isn't the case. So this encouragement of diversity is much-needed and I love the messaging.
I've got to admit, black-owned makeup brands seem to come out with some of the most incredible eyeshadow formulae. My Pat McGrath Labs Rose Decadence Palette and Juvia's Place Mini Magic Palette are two of my favourite eyeshadow palettes and these are both black-owned brands. The TWOK London Loose Eye Shadow Pigments are also phenomenal, cementing my opinion on how fantastic black-owned eyeshadows are.
Favourite product?
TWOK London Loose Eye Shadow Pigment Lady. The texture, pigmentation, shade and overall effect is simply beautiful.
Where to buy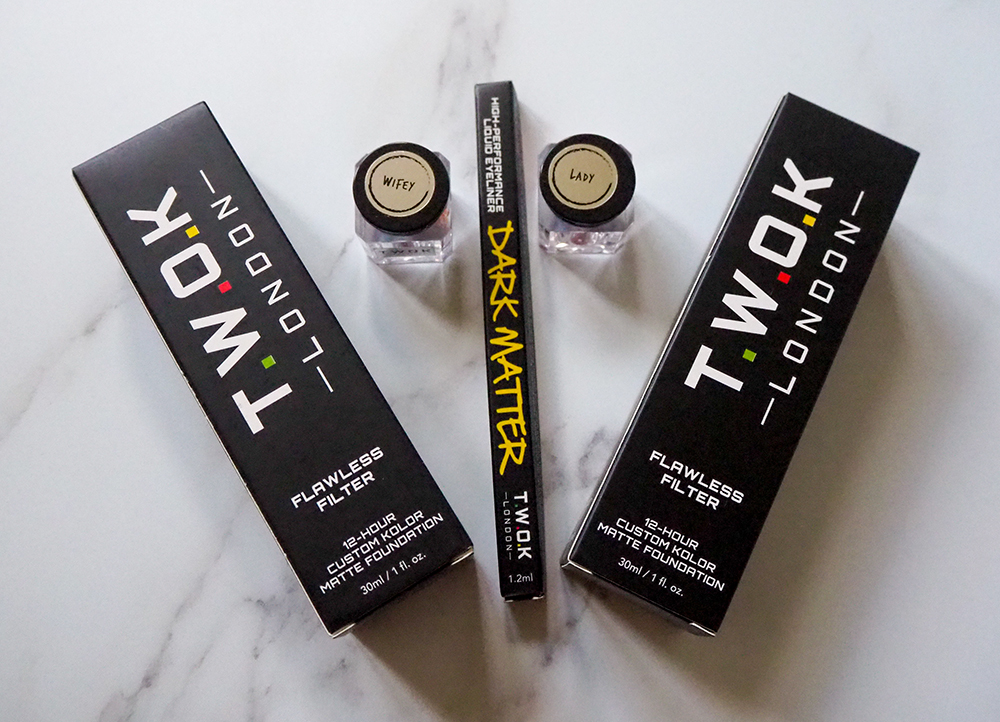 You can purchase any of the products listed in this blog post from TWOK London or BrandListry. If you use the code 'SARAH5' you can also get 5% off all products from BrandListry, which is pretty neat!
You can read my full thoughts on the indie beauty shopping destination BrandListry here.
Final thoughts on TWOK London
TWOK London is a brilliant indie beauty brand. I'm dying to try more of the eyeshadows in the future and also check out some of the company's false eyelashes.
---
Which TWOK London products in this list would you like to try? Let me know in the comments below!