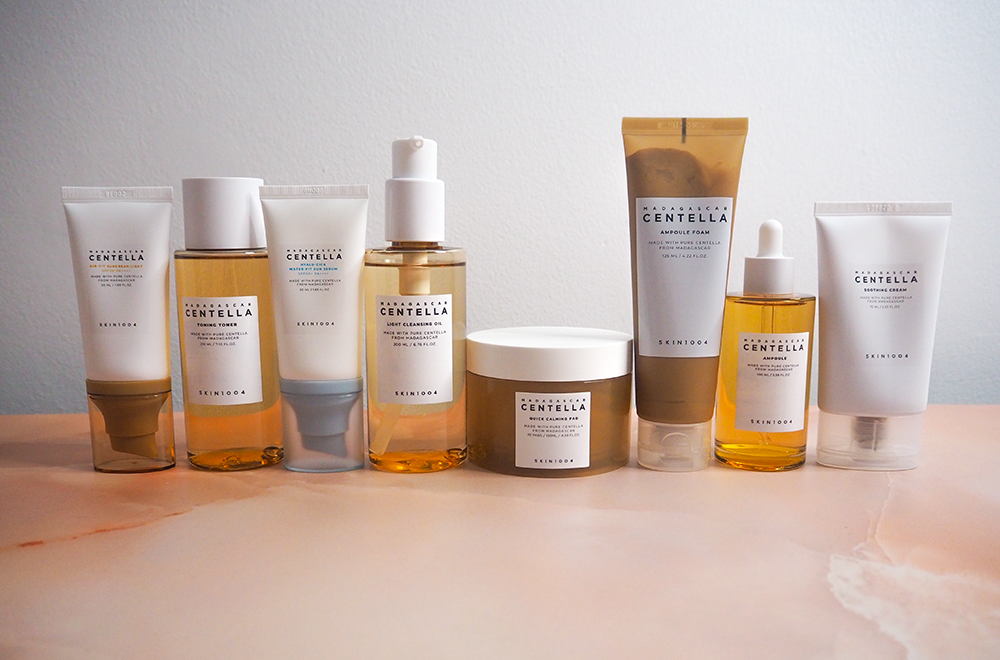 As Korean skincare continues to take the world by storm, I can't wait to share my honest review of K-beauty brand SKIN1004.
Korean skincare has a special place in my heart. The products are affordable with high-quality and innovative ingredients. All the products I've tried from K-beauty brands have been fantastic and super effective. And, importantly, they're gentle and make skin hydrated and glowy.
After trying SKIN1004's soothing and hydrating Centella line and one of its hero sunscreen serums, I'm reviewing the entire brand. Keep reading to find out more about SKIN1004, which products you need to add to your cart right now, and why this Korean skincare brand needs to be on your radar.
** This post contains some affiliate links. This means at no extra cost to you, I earn some commission if you purchase a product through my link. All thoughts are my own, though, as always. If you want to find out more, visit my affiliate disclosure page **
What is SKIN1004?
SKIN1004 is a Korean skincare brand that provides high-quality skincare items made of plant-based ingredients from Madagascar. Its main ingredient is centella asiatica, a soothing and hydrating antioxidant that is known for its ability to heal wounds and protect the skin.
SKIN1004's best-selling products include the Hyalu-Cica Water-Fit Sun Serum SPF50 PA++++, Centella Ampoule, and Centella Soothing Cream.
Which SKIN1004 products have I tried?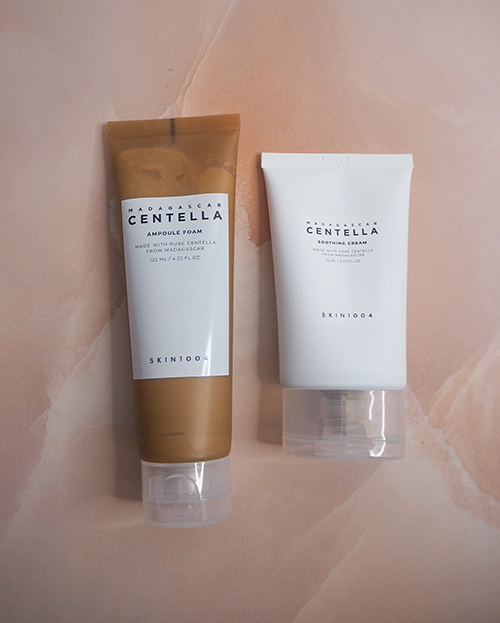 I've tried the following 8 products from SKIN1004:
For a closer look at each SKIN004 product, and my honest thoughts on the products individually, keep reading.
1. SKIN1004 Centella Light Cleansing Oil
$22/£18.60 for 200ml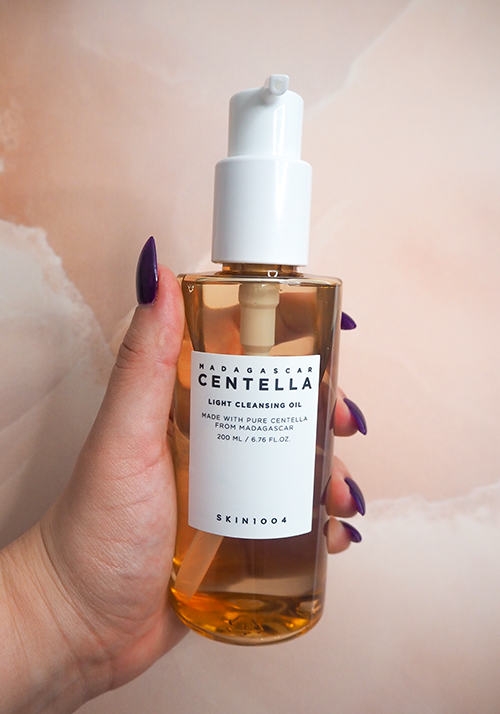 I'm really enjoying using the SKIN1004 Centella Light Cleansing Oil to remove makeup, dirt, and grease quickly, gently, and easily from my skin. This lightweight oil quickly melts into my skin and doesn't sting my eyes. After applying this lovely hydrating cleansing oil and gently massing it into my skin, any product, SPF, or excess oil melts away.
It's easy to rinse off too. Some cleansing oils and balms can be quite tricky to remove as they leave a greasy residue, but this cleanser rinses away effortlessly.
I love that my skin feels calmer, softer, and more hydrated after using this oil. Plus, £18.60 for such a big bottle is a great price, especially with centella asiatica featuring high up the INCI list as the fourth ingredient.
Rating: 4.5 stars
I love using the SKIN1004 Centella Light Cleansing Oil every evening.
2. SKIN1004 Centella Ampoule Foam
$14/£11.80 for 125ml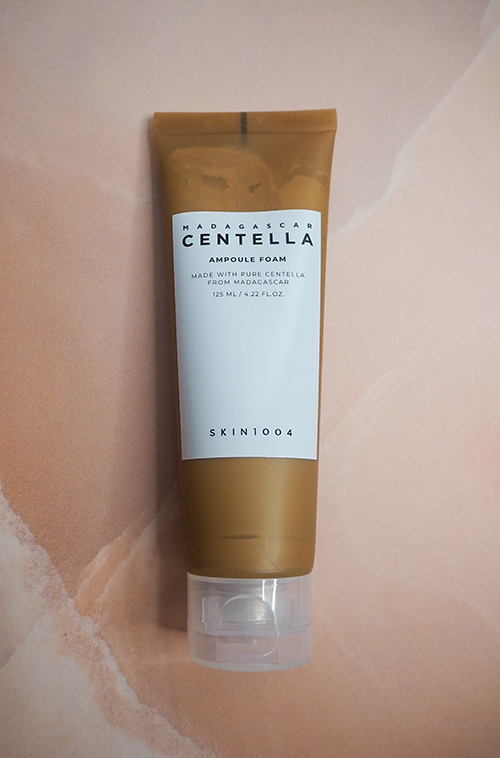 The SKIN1004 Centella Ampoule Foam is amazing. I love everything about this cleanser.
Firstly, the tiniest amount of product foams up so much. You only need a pea-sized amount to work into a creamy lather. This is the type of foamy cleanser that's nourishing and not stripping. I adore cleansers that work into a hydrating foam, so this one is perfect for me.
Secondly, the actual product itself is so soft. I love that the foam is light and airy.
Finally, this cleanser makes my skin feel hydrated, clean, and refreshed. Again, the centella asiatica makes this cleanser very gentle, so it doesn't aggravate my rosacea-prone skin. After using the cleanser, my skin is softer and more moisturised.
Rating: 5 stars
I can genuinely say this is one of my favourite cleansers of all time. I look forward to using this every day.
3. SKIN1004 Centella Quick Calming Pad
$22/£18.60 for 70 pads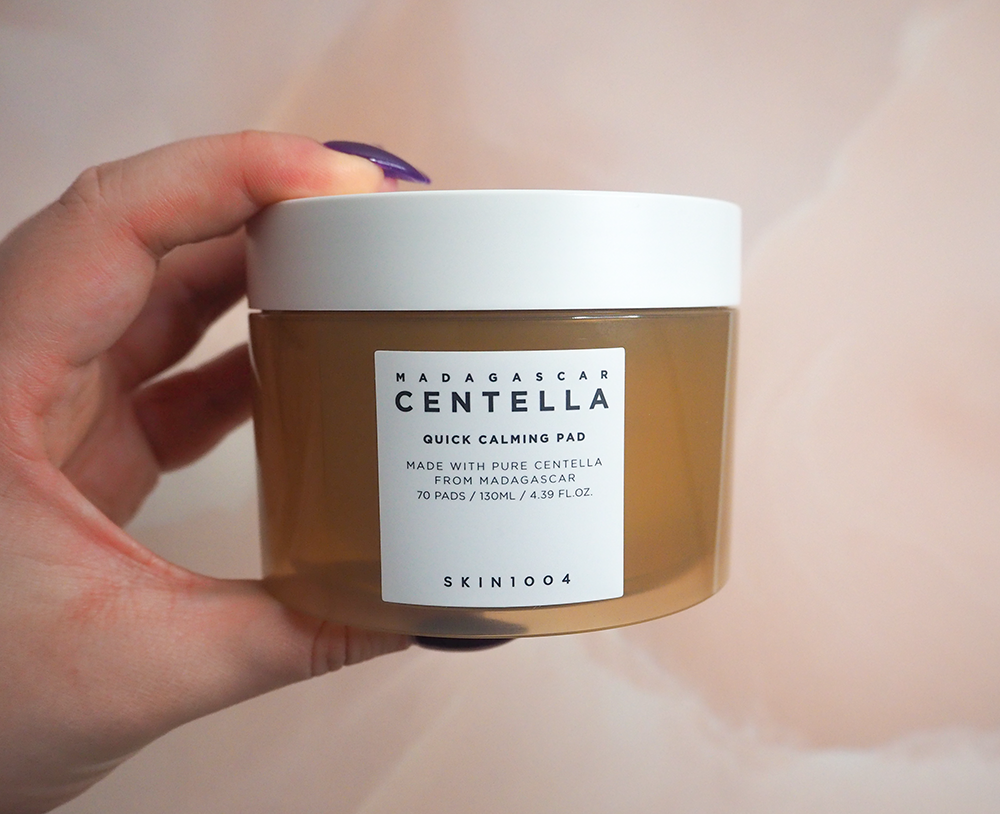 The pre-soaked SKIN1004 Centella Quick Calming Pads are a great idea!
Whenever my rosacea flares up or if my skin feels sensitive, I know these soothing toner pads will quickly help to calm my skin. After leaving these pads on my skin for 3-5 minutes, my skin feels soothed, refreshed, hydrated, and conditioned. In fact, just the other day my skin looked redder than usual, and these calming pads instantly helped reduce redness and that uncomfortable hot feeling when your skin is irritated.
If I were travelling on a plane or going away somewhere, I'd definitely take these pads with me. That way, if my skin feels aggravated or dehydrated, I know I've got a quick fix in my bag.
Also, unlike many sheet masks I've tried that are flimsy and tear easily, these pads are soft and comfortable on my skin but thick enough that they won't rip immediately. The pads even come with a cool pair of grippers to easily get one pad out at a time.
Rating: 4.5 stars
I love using the SKIN1004 Centella Quick Calming Pads.
4. SKIN1004 Centella Toning Toner
$18.50/£15.60 for 210ml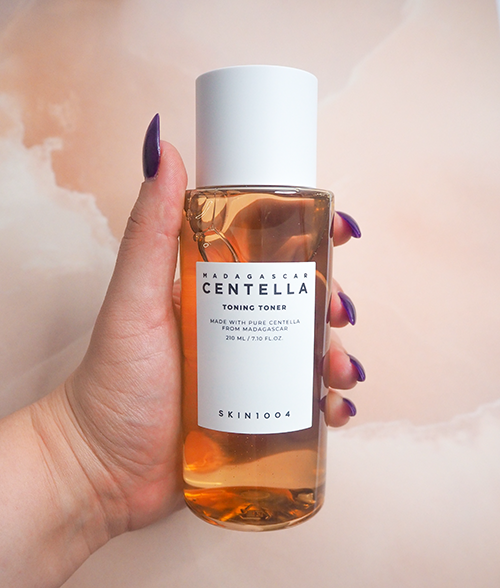 The SKIN1004 Centella Toning Toner is a beautiful and gentle exfoliating toner.
Polyhydroxy acids (PHAs) are a great option for more sensitive skin as they are less harsh on the skin and work slowly over time. They cause less aggravation among people who may be sensitive to BHAs and AHAs.
This SKIN1004 toner contains the PHA gluconolactone to ensure non-irritating exfoliation. This toner has never once made my skin feel like it's been stripped. Instead, it makes my skin look glowy and feel hydrated, smooth, and even. Without knowing the ingredients, I would've thought this is a moisturising toner rather than an exfoliating toner.
As well as subtle exfoliation, this toner is calming and soothing on my skin. It's very refreshing.
Rating: 4 stars
Another great SKIN1004 product!
5. SKIN1004 Centella Ampoule
$23/£19.40 for 100ml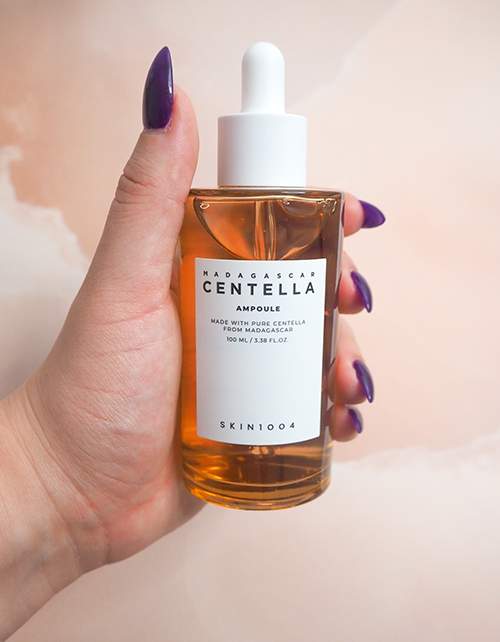 The SKIN1004 Centella Ampoule is another excellent gentle product.
This runny ampoule quickly hydrates and replenishes my skin. It's super lightweight and absorbent. After patting this product gently into my skin, I can't feel it at all. The only things I can feel are the added moisture and a refreshing sensation.
I can personally vouch for this centella asiatica ampoule for rosacea-prone skin. It helps calm my skin down if it's having a flare-up.
One of my favourite things about the watery consistency is that it works well with other products. It's not going to overload your skin or make it break out if you layer this alongside a toner, serums, and a facial oil. It also means no pilling, thankfully!
Rating: 4 stars
I'm enjoying using this ampoule and use it as a hydration boost when my skin is feeling dehydrated.
6. SKIN1004 Centella Soothing Cream
$17.50/£14.80 for 75ml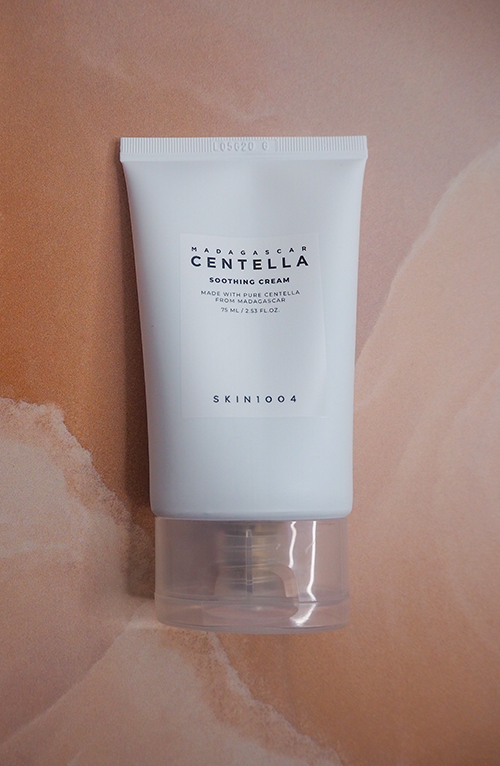 I adore the SKIN1004 Centella Soothing Cream to relax, hydrate, and moisturise my skin.
Like all of the other SKIN1004 products in the Centella line, this lightweight moisturiser is super gentle and absorbent. It gives my skin a subtle glow and instantly soothes it. Plus, it rubs in entirely, leaving no stickiness and no pilling. This plays well with other skincare products.
The moisturiser contains three actual lipid components of the epidermis layer to help repair the skin barrier. If my skin barrier is ever compromised, I'd reach for this moisturiser as a reliable product to help restore my skin.
I've seen a few comments online saying that this moisturiser leaves their skin feeling a bit damp after applying it. I've not experienced this. The formula melts away on my skin leaving no residue!
My only criticism would be that this is technically a gel formula and not a "cream", which is a bit misleading. But I love the gel consistency. As someone with oily skin, the light gel texture is ideal for me.
Rating: 4.5 stars
I love this moisturiser!
7. SKIN1004 Centella Air-Fit Suncream Light SPF30 PA++++
$17/£14.40 for 50ml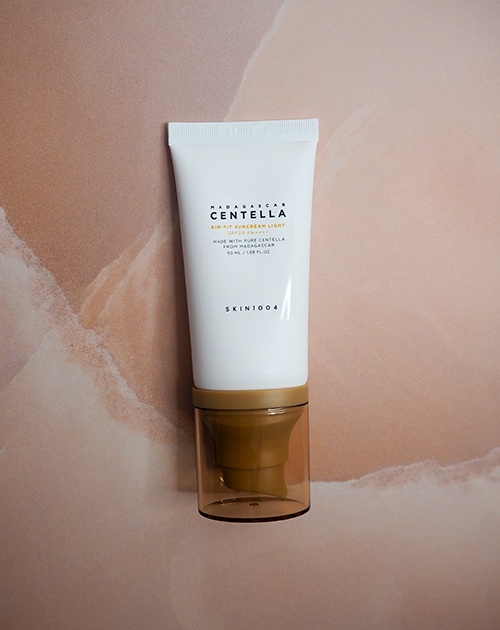 The SKIN1004 Centella Air-Fit Suncream Light SPF30 PA++++ is the lightest and most easily absorbent physical sunscreen I've tried.
By their very nature, physical SPFs are thicker and heavier than chemical SPFs, as they work by sitting on top of the skin to block UV rays. This contrasts with chemical SPFs, which work by absorbing and reflecting UV rays. As physical sunscreens must form a sort of film on the skin to block UV rays, they are thicker than chemical SPFs.
Props to SKIN1004, as the centella physical sunscreen is very lightweight. In fact, it's just as lightweight as many other chemical sunscreens I've tried. The formula easily rubs into my skin, doesn't feel like a paste (unlike many other physical SPFs), and doesn't have that horrible SPF smell. It's also non-greasy, and my oily skin tolerates this well.
However, this physical sunscreen does leave a bit of a white cast. It, unfortunately, often comes with the territory of physical SPFs due to their thicker consistency. On my light skin, this poses no issues. It makes my skin look a little paler than usual, but nothing too bad. The white cast also dulls down on my skin after an hour or so.
But I tried the SKIN1004 Centella Air-Fit Suncream Light SPF30 PA++++ on my boyfriend, who is black, and this did leave a bit of a white cast. It wasn't awful, but it was noticeable. If you have deeper skin, you're going to prefer SKIN1004's other sunscreen (more details on that below!).
Rating: 4 stars
I like this SPF, and it's the best physical sunscreen that I've experienced.
8. SKIN1004 Centella Hyalu-Cica Water-Fit Sun Serum SPF50 PA++++
$19/£16 for 50ml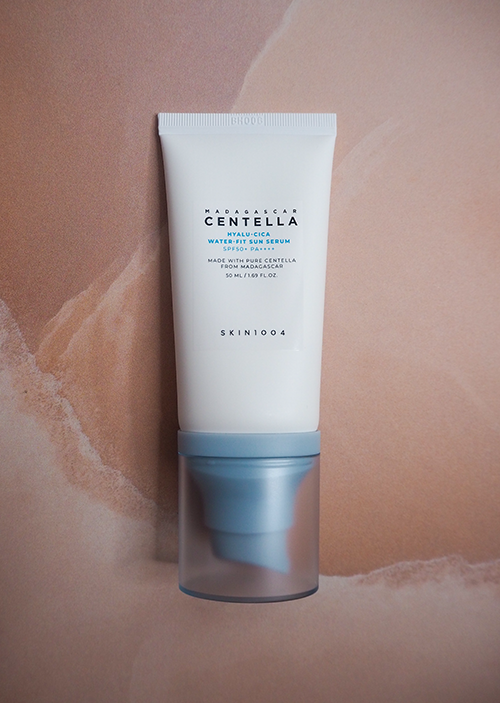 Okay, so now onto my favourite of the 2 SPFs in this SKIN1004 brand review: the Centella Hyalu-Cica Water-Fit Sun Serum SPF50 PA++++.
This chemical sunscreen is simply amazing. It's genuinely one of the best SPFs I've ever tried.
The SPF is incredibly lightweight, with the consistency of a serum. Once I've applied this to my skin, it's undetectable. As well as being invisible, I also can't feel it on my skin once I've rubbed it in. There's nothing worse than the feeling of SPF lingering on your skin, and this one just melts into nothingness.
Because of how light this sunscreen serum is, it's super absorbent and buildable. This means you can easily apply the correct amount of SPF on your skin (1 line each on your index and middle finger) – and top it up throughout the day – without it feeling sticky, heavy, or greasy. It also doesn't have a horrible sunscreen smell either.
I tried this chemical SPF on my boyfriend, and I can confirm it left no white cast. It blended into his skin effortlessly! So if you have melanin-rich skin, this SKIN1004 Hyalu-Cica Water-Fit Sun Serum SPF50 PA++++ is a fantastic option.
Also, beyond the lovely feeling and transparency of this formula, the SPF also makes my skin feel very hydrated and look dewy. Sunscreens can often make your skin look flat, dull, and lifeless, but this one makes my skin look radiant and healthy. I'm obsessed.
Rating: 5 stars
This is now my go-to SPF and perhaps my favourite-ever sunscreen!
Overall SKIN1004 brand review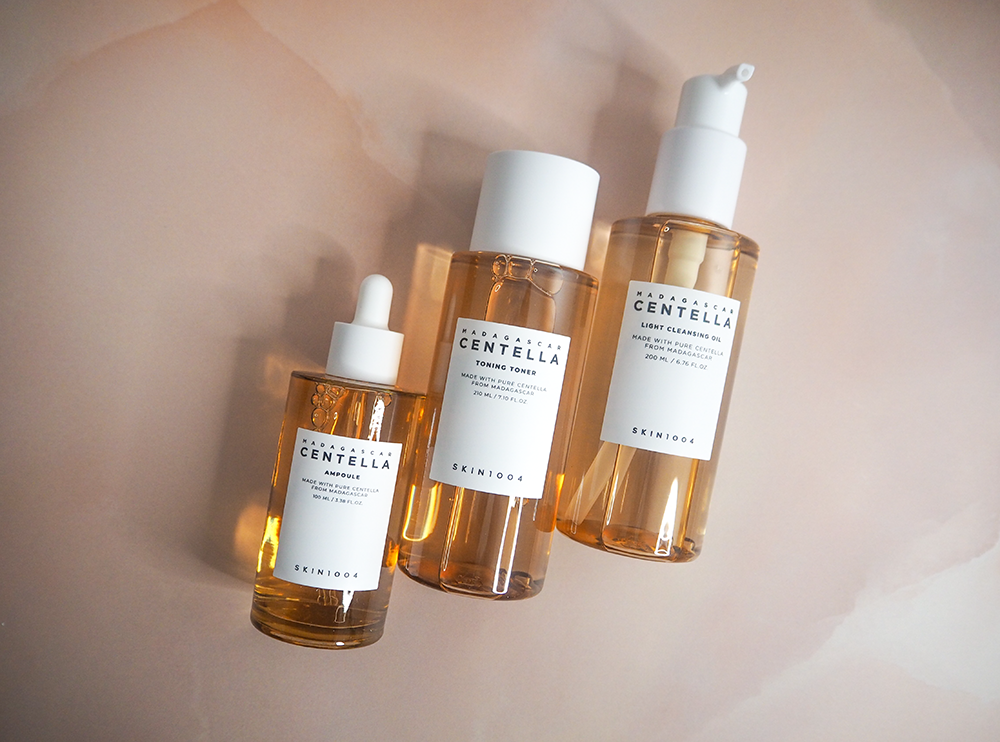 I'm thoroughly impressed with SKIN1004. This is a skincare brand that needs to be on your radar!
I love the minimal and chic packaging across the line. It's simple, modern, and effective. The products photographed beautifully and will look great on Instagram.
The fact that such a high-quality ingredient like centella asiatica is the star of SKIN1004's entire skincare portfolio screams volumes. It's an excellent ingredient for so many reasons and is super skin-friendly, including for those with sensitive skin. My rosacea-prone skin tolerates the gentle SKIN1004 formulae well.
All of the products I tried were very hydrating, soothing, moisturising, and gentle. None of the products made my skin feel stripped or look flat. In fact, the entire SKIN1004 line made my skin feel soft and smooth and look dewy and healthy.
Although I reach for these products every day, this is definitely a line I'll use when my skin barrier is compromised due to the non-irritating INCI lists. If your skin barrier needs repairing or you're looking for gentle products that won't aggravate your skin, you need to check out SKIN1004 right now.
Quite frankly, anyone who appreciates great, nourishing, calming, and inexpensive skincare should be checking out SKIN1004. This is a beautiful Korean skincare brand that I'm going to reach for time and time again.
Favourite product?
The Centella Hyalu-Cica Water-Fit Sun Serum SPF50 PA++++ is exceptional.
SKIN1004 products on my wishlist
These SKIN1004 are currently on my skincare wishlist as they sound amazing:
Zombie Beauty Bloody Peel
Brightening Capsule Ampoule
Tea-Trica BHA Foam
Hyalu-Cica Blue Serum
Poremizing Clear Toner
---
Which SKIN1004 products in this review appeal to you the most? I'd love to hear from you in the comments