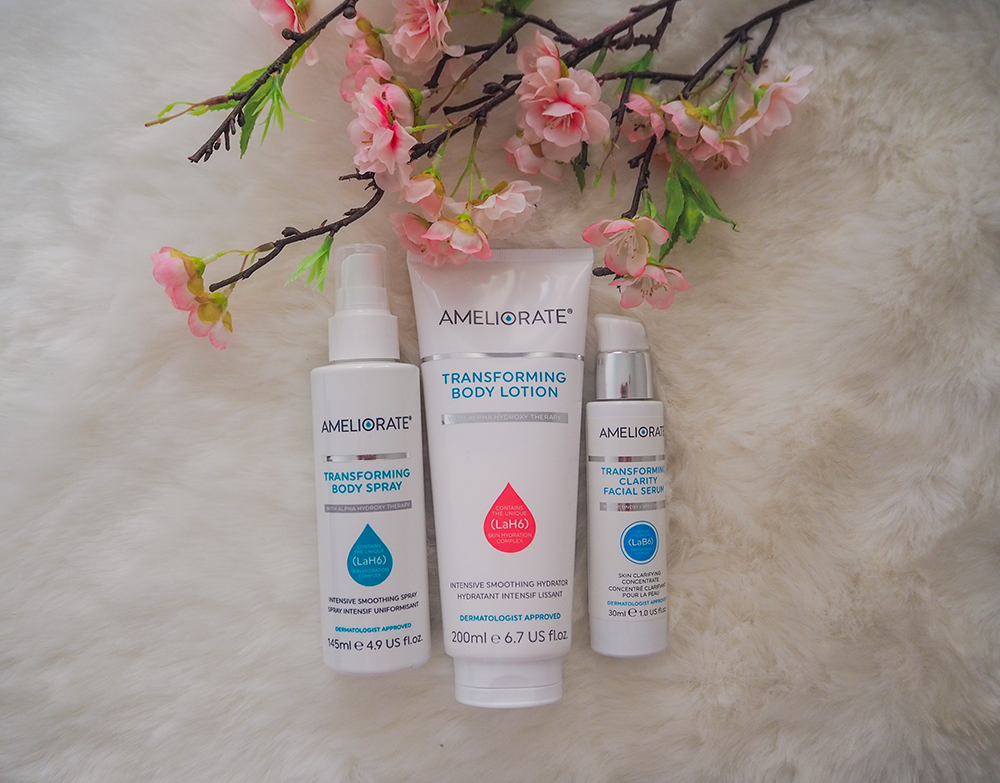 After trying 3 products from Ameliorate, I can confirm that this brand is 100% worth checking out, especially with the extra juicy discounts!
In this first impressions post, I'm going to be sharing how I'm getting on with my new Ameliorate products and why I keep reaching for them.
DISCOUNT: Use the code AMELM20 for 20% off Ameliorate!
** This post contains some affiliate links. This means at no extra cost to you, I earn some commission if you purchase a product through my link. All thoughts are my own, though, as always. If you want to find out more, visit my affiliate disclosure page **
What is Ameliorate?
Ameliorate is a skincare brand that's designed to make you feel confident in your own skin. Its formulae are clinically proven, scientific, and efficacious.
"Every product has a dual action, to help your skin now, and protect it for the future. Choose from our bespoke lactic acid-based formulas to tackle your concerns – from dry or oily skin to blemishes or Keratosis Pilaris."

Ameliorate
The founder, Annette, created Ameliorate to find a successful treatment for her keratosis pilaris, also known as "chicken skin", where small bumps appear on your skin, typically on your arms or legs. Ameliorate helps treat rough, dry, bumpy skin.
Some of Ameliorate's best-selling products include the Smoothing Body Exfoliant, Blemish Overnight Clearing Therapy, and Clarifying Shampoo.
Which Ameliorate skincare and body care products did I receive?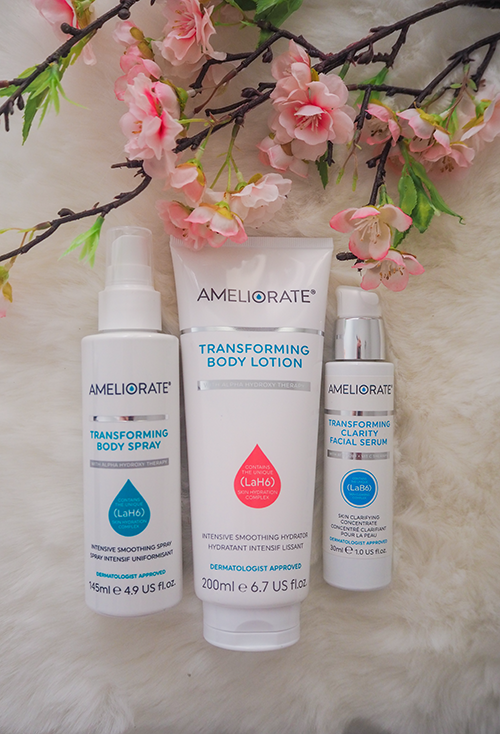 I recently had the opportunity to try the following 3 Ameliorate products:
See how I'm getting on with each product individually below!
1. Ameliorate Transforming Clarity Facial Serum
£28 for 30ml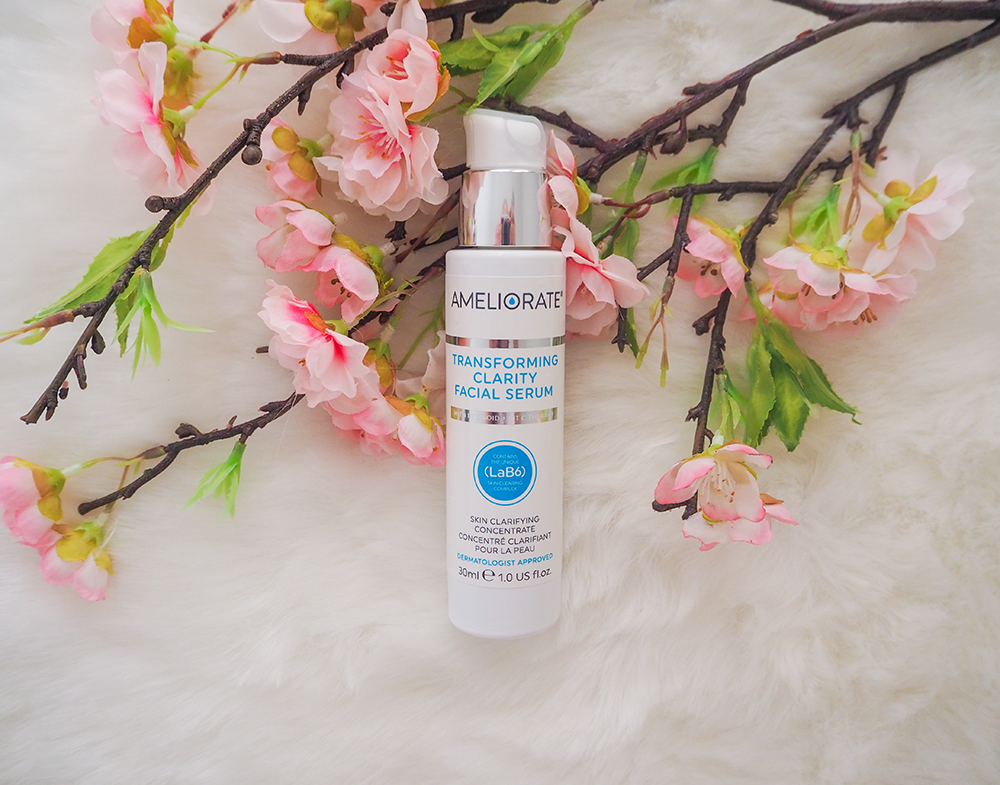 Enriched with the powerhouse ingredient niacinamide, hydrating glycerin, the AHA lactic acid, and anti-ageing superstar retinoate, the Ameliorate Transforming Clarity Facial Serum truly is a "do it all" serum.
In an independent 6-week trial of 120 people who tried this serum, 96% agreed blemishes and blocked pores appeared reduced, 95% agreed helped skin tone appeared more even, and 94% agreed left skin looking less oily.
I've only tried this serum once, and I really like it! As it contains quite a few strong actives, like vitamin C, AHAs, and retinol, I was worried that this might be a little irritating to my rosacea-prone skin. This wasn't the case, and my skin tolerated it well.
As it contains retinoate (a newer and less sensitising form of retinol), I applied this at night. By the morning, my skin appeared a bit smoother and brighter. I had a few spots at the time of using the serum, and it helped reduce their appearance, which is always nice!
The serum has a lovely lightweight texture that absorbs quickly. As someone with oily skin, I love these sorts of consistencies, as they don't leave my skin feeling greasy or sticky.
I'm looking forward to seeing the results of using the Ameliorate Transforming Clarity Facial Serum after using it for a few months! I have high expectations.
2. Ameliorate Transforming Body Lotion
From £10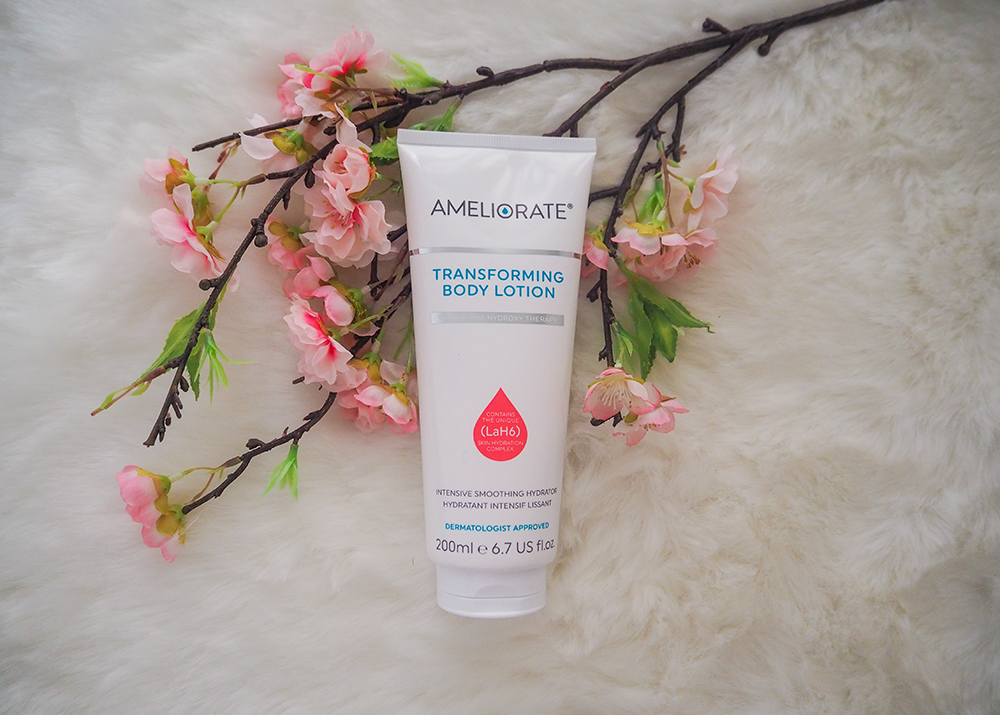 Formulated with buffering ammonium lactate, nourishing sweet almond oil, the emollient c12-15 alkyl benzoate, and skin-softening ethylhexyl palmitate, the Ameliorate Transforming Body Lotion is ideal for rough, dry, or dehydrated skin.
In an independent consumer trial of 77 people, 97% agreed the product left their skin feeling more moisturised, 87% agreed the product improved the appearance of ingrown hairs, and 91% agreed the product helped to improve the appearance of razor bumps.
I don't typically use body lotions. My skin isn't dry, and I find that many body lotions simply sit on top of my skin and feel quite heavy. They frequently leave a residue and won't absorb, and I hate that feeling. It makes me feel uncomfortable.
However, the Ameliorate one is fantastic. It's really hydrating, very lightweight, and absorbs quickly. It doesn't sit on top of my skin and melts in. The result? Softer, smoother, and nourished skin.
While I think people with dry, rough, or dehydrated skin will particularly benefit from this body lotion, people with oily skin like me will love this too. It's not heavy and transforms the feel of your skin overnight.
I'm looking forward to seeing whether it can help reduce the "chicken skin" on my arms over time.
3. Ameliorate Transforming Body Spray
£19 for 145ml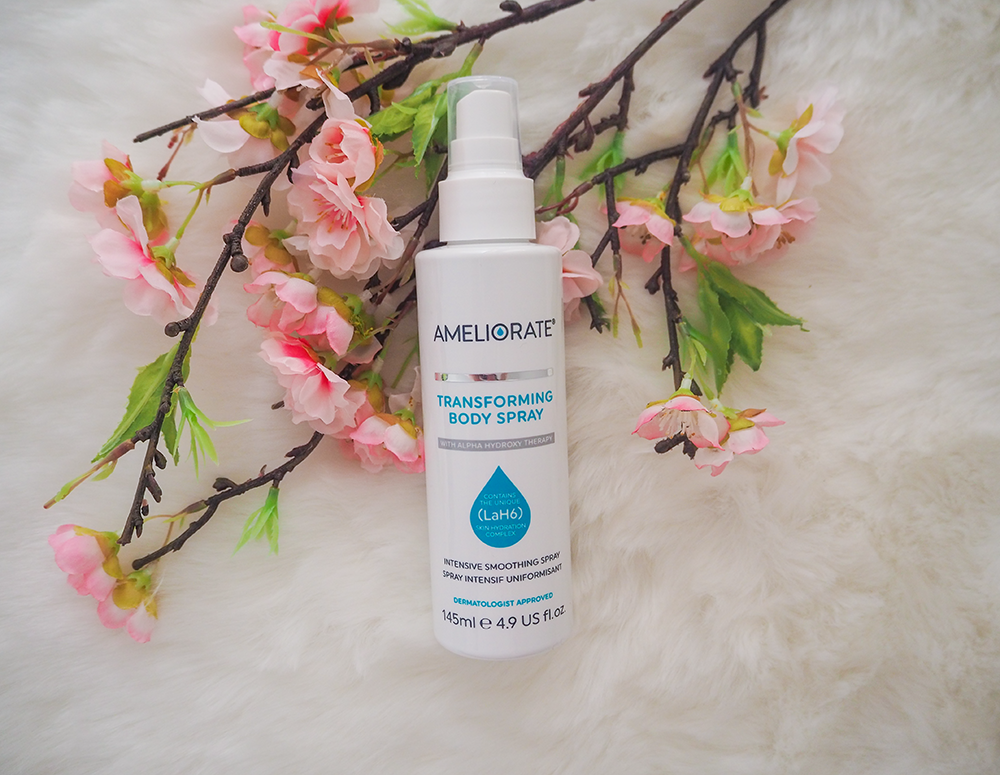 Featuring the amazing emollient squalane, moisture-replenishing pentylene glycol, hydrating hydrolyzed milk protein, and the humectant sodium lactate, the Ameliorate Transforming Body Spray is a lovely moisturising body spray.
In an independent consumer trial of 102 people with rough, dry, and bumpy chicken skin, 85% agreed that their skin felt smoother and moisturised.
I'd never tried a targeted hydrating body spray prior to this Ameliorate one, and I really regret not picking this up sooner. This beautiful lightweight and absorbent body spray instantly nourishes my skin. Although I don't have dry skin, I'm confident that this convenient spritz would relieve dry skin immediately.
It makes my skin feel super soft and smooth and look radiant. I wasn't expecting this spray to be as hydrating as it is, but I can seriously tell when I've spritzed this, as my skin feels super nourished.
I'm going to be taking this body spray with me when I go swimming, as it'll help relieve any dryness I experience due to chlorine in the water.
Honest Ameliorate first impressions
My first impression of Ameliorate is very positive. The products just make sense.
Each product has a lovely sweet scent – nothing too overpowering, though. This is just something to be mindful of if you're sensitive to, or dislike, fragranced skincare. I absolutely love the scent, particularly in the body care products because it just gives #SelfCare vibes.
All of the products are very hydrating, lightweight, moisturising, smoothing, and absorbent. None of them felt too heavy or greasy for my oily skin, nor did they aggravate my rosacea.
I think the range is reasonably priced given the product experience and ingredients. People with dry, rough, or dehydrated skin will particularly love this range, as well as those with keratosis pilaris.
I can't wait to see if the Ameliorate products improve my skin in the long term. I'm confident they will!
Fave product so far?
Ameliorate Transforming Body Spray!
---
Are you going to be picking up any Ameliorate products for Black Friday?