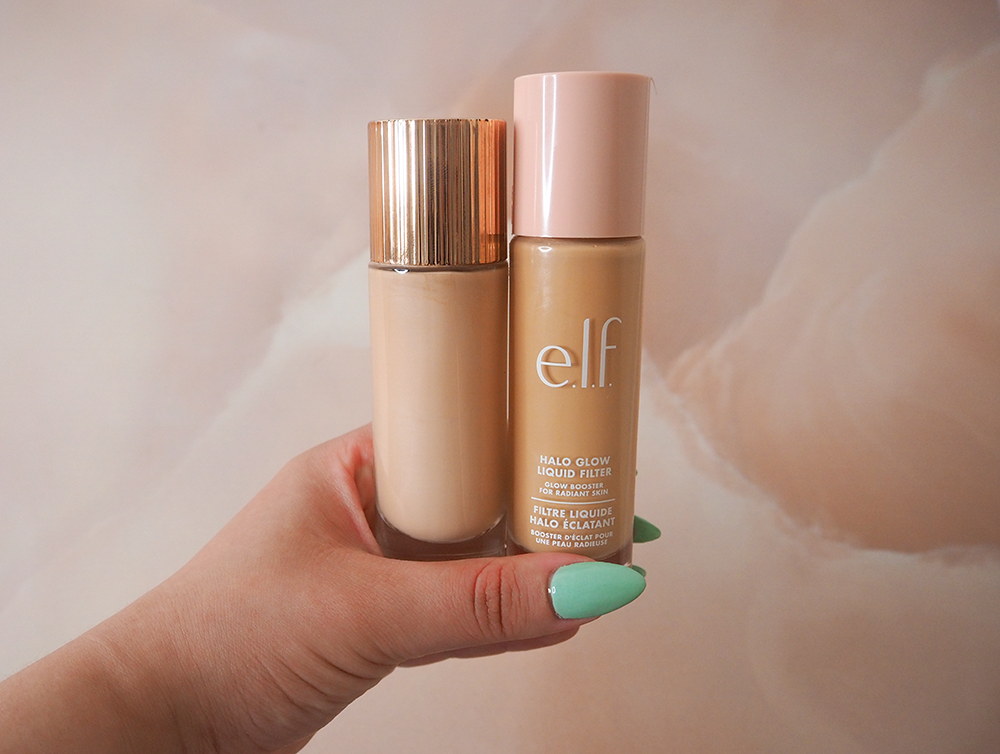 I can't be the only one that has seen countless videos on Instagram and TikTok saying that the e.l.f. Cosmetics Halo Glow Liquid Filter is a dupe for the iconic Charlotte Tilbury Hollywood Flawless Filter. They're supposedly pretty identical. Even from the packaging alone, you can tell that these look very similar.
I've been an avid lover of the Hollywood Flawless Filter for years. It's one of my makeup holy grails, and I wouldn't be without it! But it's undeniably expensive, so I tend to use it sparingly so it lasts. When I heard that e.l.f. Cosmetics' dupe is supposed to be just like the Charlotte Tilbury one, I knew I had to try it.
Is e.l.f. Cosmetics Halo Glow Liquid Filter really a dupe for Charlotte Tilbury Hollywood Flawless Filter? This in-depth post covers everything you need to know, with side-by-side swatches, a discussion around texture and application, and how they compare on the skin.
** This post contains some affiliate links. This means at no extra cost to you, I earn some commission if you purchase a product through my link. All thoughts are my own, though, as always. If you want to find out more, visit my affiliate disclosure page **
Need-to-knows
Before I start comparing these 2 products, I wanted to give you a run-down of how I tested them. I've got oily skin with mild rosacea. Whenever I swatched or applied either product, everything else was the exact same for a true comparison. This includes skincare, makeup products, and time of day. Both products were purchased with my own money.
They're both described as a complexion enhancer and can be used as a primer/by themselves for a soft-focus glowy finish, mixed in with foundation or moisturiser for added luminosity, or over makeup on the high points of the face for a radiance boost.
The comparison
Price
One of the biggest sells for the e.l.f. Cosmetics Halo Glow Liquid Filter is price. It's way cheaper than Charlotte Tilbury Hollywood Flawless Filter. e.l.f. costs £14 for 31.5ml, while Charlotte Tilbury costs £39 for 30ml. This means e.l.f.'s offering is less than half the price for slightly more product.
Packaging
The packaging is remarkably similar. Although, please excuse the fact the lettering and design on my Charlotte Tilbury bottle has completely worn off over the years! e.l.f. is slightly bigger, but Charlotte Tilbury is weightier. Both feel sturdy. I think Charlotte Tilbury's one is prettier with the rose gold cap and bottle design (when not worn off), but both are attractive designs.
They both have doe foot applicators, but the e.l.f. one (right side) is considerably bigger and therefore picks up more product. Both applicators are soft, but the Charlotte Tilbury one is a bit more flexible.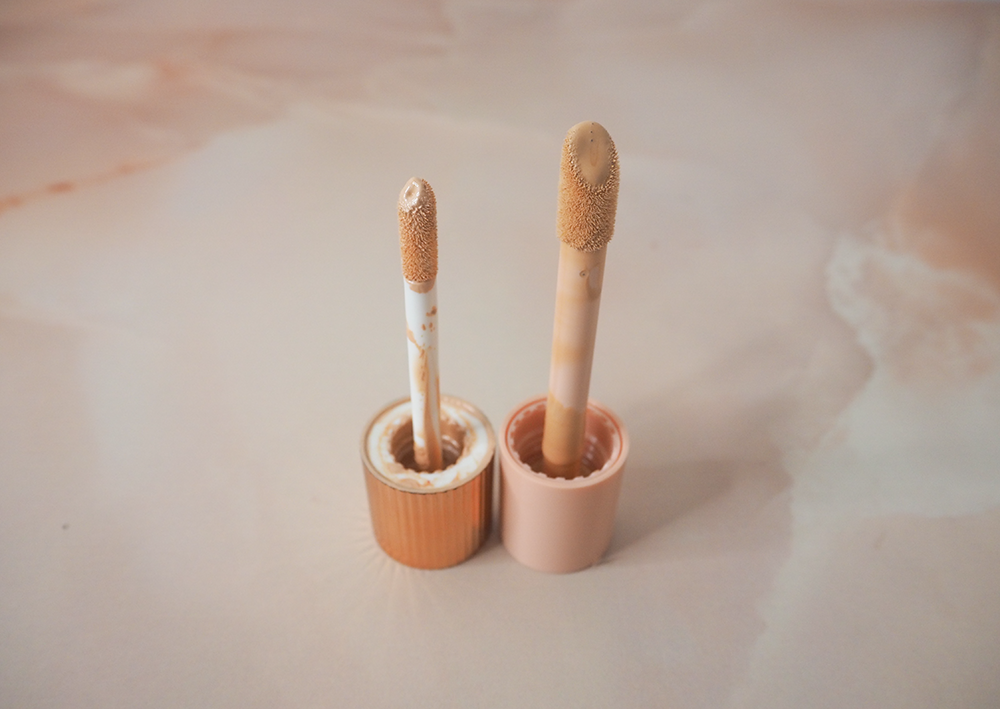 Ingredients
These complexion enhancers both contain hydrating ingredients like glycerin and squalane. Hollywood Flawless Filter contains dewy propanediol while Halo Glow Liquid Filter contains hydration hero hyaluronic acid. The INCI lists, overall, are pretty similar.
Texture
Hollywood Flawless Filter has a runnier and lighter consistency while Halo Glow is thicker and not as wet. On the skin, Hollywood Flawless Filter absorbs better and feels more weightless. Halo Glow is still quite light but you can feel it more on the skin. It also takes more rubbing in for a seamless blend. Halo Glow also feels a bit oilier.
Shade selection
e.l.f. Cosmetics offers 8 shades with a pretty even split between fair, light, medium, tan, deep, and darker complexions. Charlotte Tilbury offers 12 shades with a fairly even split between fair, light, medium, tan, deep, and darker complexions. However, Charlotte Tilbury offers slightly more options for fairer complexions.
Swatches
I've got the shade 2 in both products. e.l.f.'s shade 2 is called Fair/Light and is a warm, golden colour. Charlotte Tilbury's shade 2 is called Fair and is called Fair and described as a golden beige.
See my swatches below: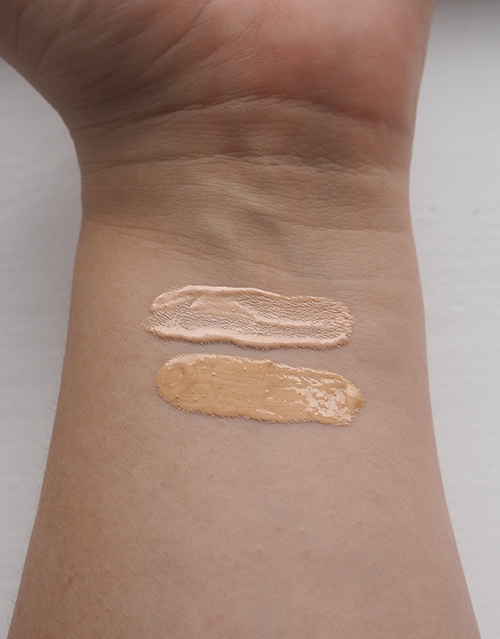 As you can see, Charlotte Tilbury is quite a lot lighter and is more of a neutral champagne tone. Whereas e.l.f.'s is a deeper golden tone with more warmth. Shade 2 is definitely not the same across both brands, so they're not dupes in this respect.
On bare skin
I wanted to test how these products look side by side on my bare skin. On the left-hand side, I applied Charlotte Tilbury, and I applied e.l.f. Cosmetics on the right-hand side. These were applied directly over my skincare routine without primer. I blended both sides in with my fingertips.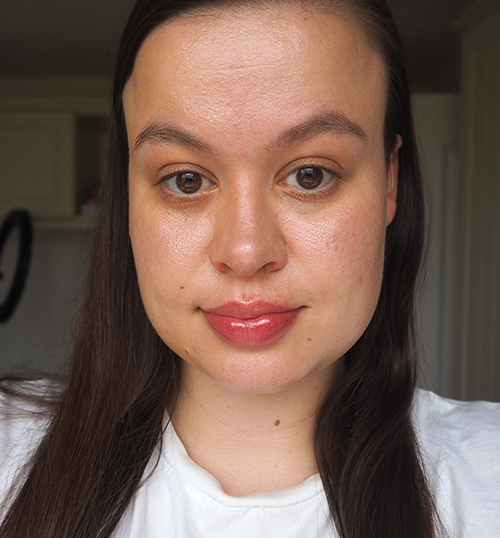 When applied to bare skin, these actually look very similar. e.l.f. Cosmetics offers a bit more coverage and is slightly warmer, while Charlotte Tilbury has a softer finish. Charlotte Tilbury is a bit dewier overall and e.l.f. Cosmetics clings to texture a bit more. Overall, they're very similar when applied directly over skincare and rubbed in.
As a highlighter
I also wanted to test how these products look as a highlighter, which is typically how I wear this product. Usually, I apply this product to the high points of my face, including the bridge of my nose, brow bone, cheekbone, and cupid's bow. However, as my base was already very glowy from applying these 2 directly to my skin, I only applied this as a highlighter to my cheekbones.
I tested both on top of powder products and after setting my base to see how well they played with powder.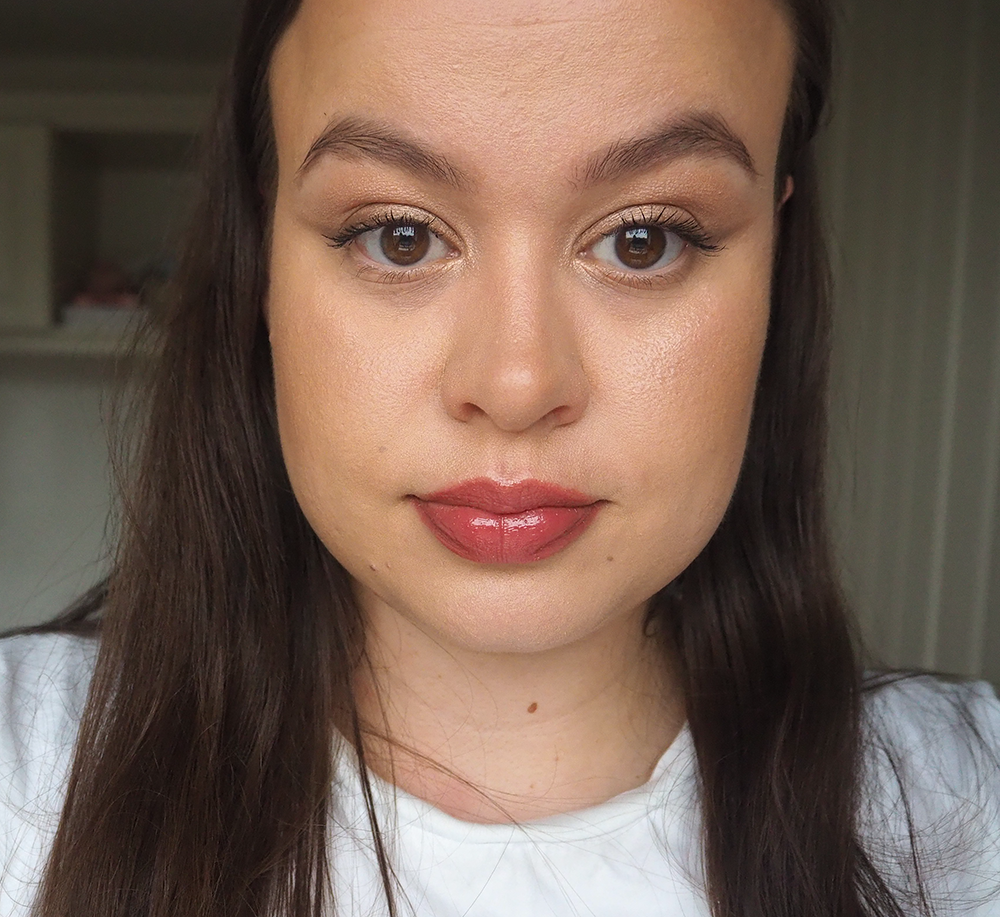 Charlotte Tilbury is 100% more luminous than e.l.f. I also used less product than on the Charlotte Tilbury side and it went further. The lighter Charlotte Tilbury consistency blended over the powder products effortlessly without going cakey or congealing.
e.l.f. Cosmetics glow is duller but still visible. I found this did congeal a bit on top of my powder products but still didn't look bad. It required more blending.
Longevity
Both products have good longevity. However, Charlotte Tilbury's shine didn't wear off at all after 8 hours, whereas e.l.f. Cosmetics' glow became a bit duller as the day went on. However, on both sides of my face, there was still visible luminosity, so I feel these products last well.
Is this a perfect a dupe? My honest thoughts
I think the e.l.f. Cosmetics Halo Glow Liquid Filter is a pretty good dupe for the Charlotte Tilbury Hollywood Flawless Filter, but they're not as identical as certain videos make out. There are differences between the 2 products both in terms of how they look, apply, and feel on the skin. While most of these differences are subtle, they're still noticeable.
I still think Charlotte Tilbury is better. It's lighter, more luminous, absorbs better, I prefer the shade, and it offers a natural lit-from-within glow. I also think it's easier to blend and works more effortlessly over powder products.
That's not to say e.l.f. Cosmetics isn't good. Because it is. I really enjoy it. And the price point is way lower. I wouldn't say Charlotte Tilbury is twice as good as e.l.f. Cosmetics, yet Halo Glow Liquid Filter is less than half the price.
Overall, the OG high-end Charlotte Tilbury Hollywood Flawless Filter is still the clear winner in my eyes. But e.l.f. Cosmetics Halo Glow Liquid Filter is fairly similar and a good drugstore alternative.
---
Have you tried either of these products? Let me know in the comments!