Last Updated on 23rd September 2023 by Sarah Sarsby
In this blog post, I'm going to be sharing my honest thoughts on some of Charlotte Tilbury's most iconic makeup products.
Charlotte Tilbury is one of the most popular makeup brands in the world. It has plenty of iconic makeup products that are well-loved in the beauty community, such as the OG Matte Revolution Lipstick in Pillow Talk, Airbrush Flawless Finish and Hollywood Flawless Filter. But with this legendary status comes a hefty price tag. This begs the question: Are the products worth the price?
To help you decide whether to purchase any Charlotte Tilbury makeup products, I'm sharing my unbiased opinions on 11 different products. I've been lucky enough to try these products so I'm well-placed to give a fair overview of the brand. This review will also detail which products need to become part of your makeup collection and which ones are passes.
Explore Charlotte Tilbury and other luxury beauty brands at FarFetch. Plus get 10% off your first order by signing up for Farfetch.
** This post contains some affiliate links. This means at no extra cost to you, I earn some commission if you purchase a product through my link. All thoughts are my own, though, as always. If you want to find out more, visit my affiliate disclosure page **
What is Charlotte Tilbury?
Charlotte Tilbury is a legendary makeup artist known for creating sultry, feminine and gorgeous makeup looks. After more than 20 years in the industry working with plenty of celebrities, Charlotte launched her own cosmetics line – Charlotte Tilbury. The Charlotte Tilbury Matte Revolution Pillow Talk Lipstick is one of the best-selling lipsticks in the world.
The Charlotte Tilbury makeup products I'll be reviewing
I'll be reviewing 11 Charlotte Tilbury makeup products in this post, which are:
For a more in-depth look at each makeup product, please see below for my honest thoughts.
1. Pillow Talk Eyeliner
£19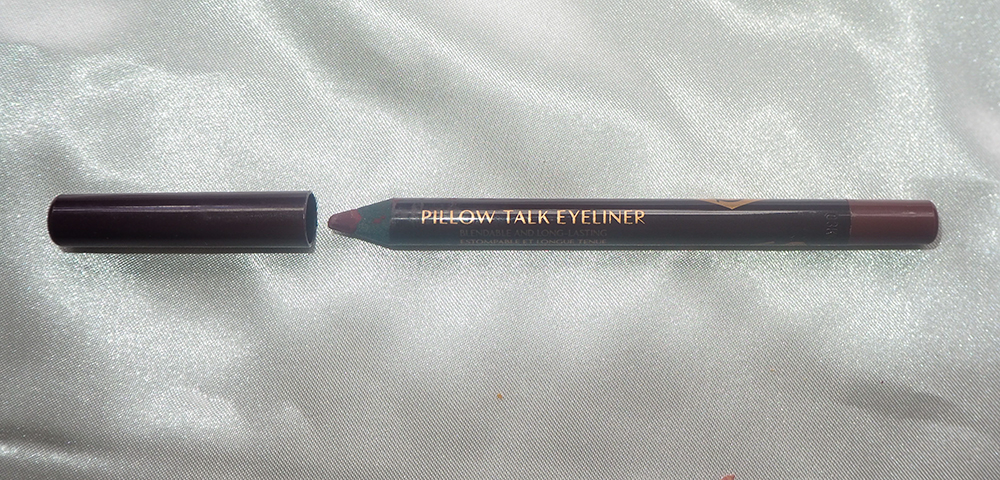 The Pillow Talk Eyeliner is genuinely so beautiful. When it was first released, I was instantly drawn to the unique berry-brown shade. I hadn't seen an eyeliner like it and when paired with the Pillow Talk Instant Eye Palette, it creates a sultry look.
The eyeliner is soft, creamy, and applies evenly to the eyes. Drier formulae have a tendency to be patchy as they can drag across the lids, whereas this eyeliner feels comfortable to apply. It's also very pigmented. The eyeliner is very long-lasting too, without smudging or crumbling as the day goes on.
Check out my Pillow Talk Eyeliner swatch below: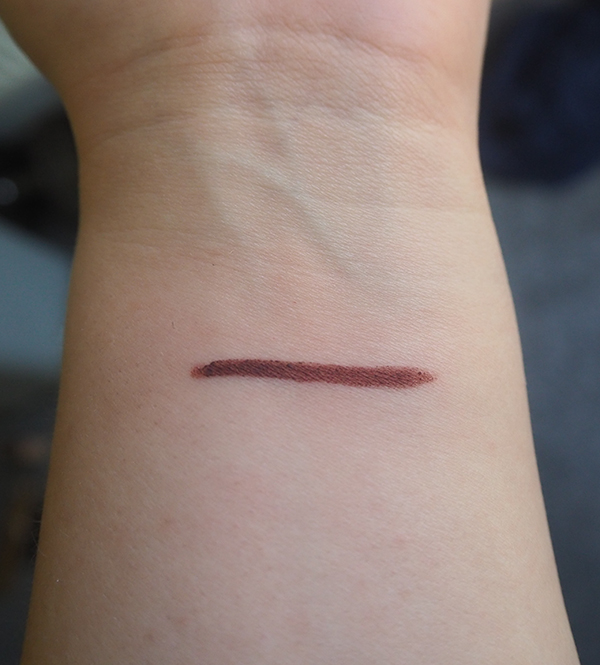 If you like softer eyeliner looks, this one can be easily diffused for a more wearable/smoky look. You can use the Pillow Talk Eyeliner on your lids and in the waterline. I absolutely love it.
Rating: 5 stars
2. Full Fat Lashes in Glossy Black
£23
The Full Fat Lashes mascara is just okay, in my opinion. It applies easily but not clumpily, while adding length and definition to my lashes. It's just nothing ground-breaking. I'd prefer it to be darker and more volumising.
I like my mascaras to be really black, so my eyelashes stand out. My lashes need all the help they can get as they're pretty short, bless them. But I think the Full Fat Lashes would make a cute daytime mascara. Also, if you apply more than 1-2 layers of this mascara, it will smudge. So, use it cautiously.
Overall it's okay but no great. Maybelline's Lash Sensational Mascara is a far cheaper and more effective drugstore makeup option.
Rating: 3 stars
3. Matte Revolution in Pillow Talk
£25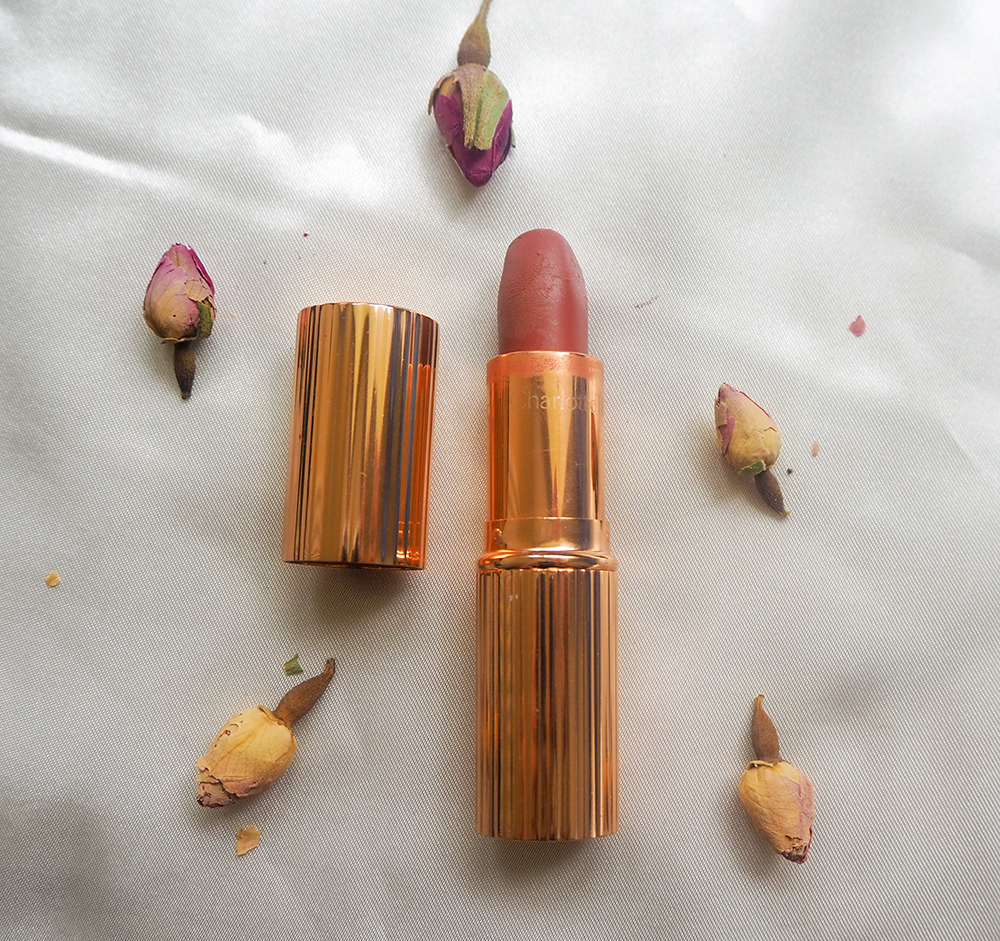 The Matte Revolution in Pillow Talk is undoubtedly Charlotte Tilbury's most popular and iconic makeup product. This warm, nude and pink-toned matte lipstick is flattering for so many skin tones and ages. It gives a feminine and understated look.
This is my favourite nude-pink lipstick of all time. I always feel great when I wear it.
Not only is the shade beautiful, the lipstick formula is also excellent. Although it's matte, it doesn't look flat or feel dry on the lips. Instead, the Matte Revolution formula is comfortable, long-wearing and hydrating throughout the day. It makes your lips appear and feel soft and smooth, without crumbling or sinking into fine lines.
Check out my swatch below: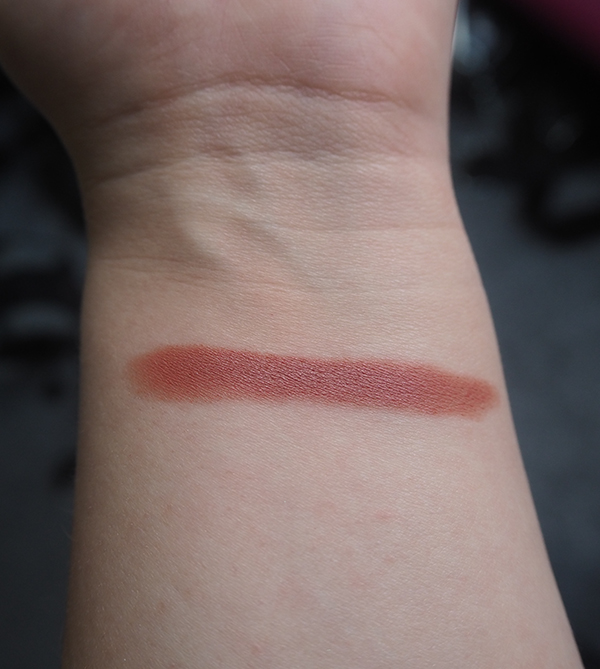 This famous Pillow Talk lipstick deserves all the hype it gets. It's totally worth £25 and once you try it, I'm sure you'll fall in love with it too.
Rating: 5 stars
4. Eyes to Mesmerise in Champagne
£22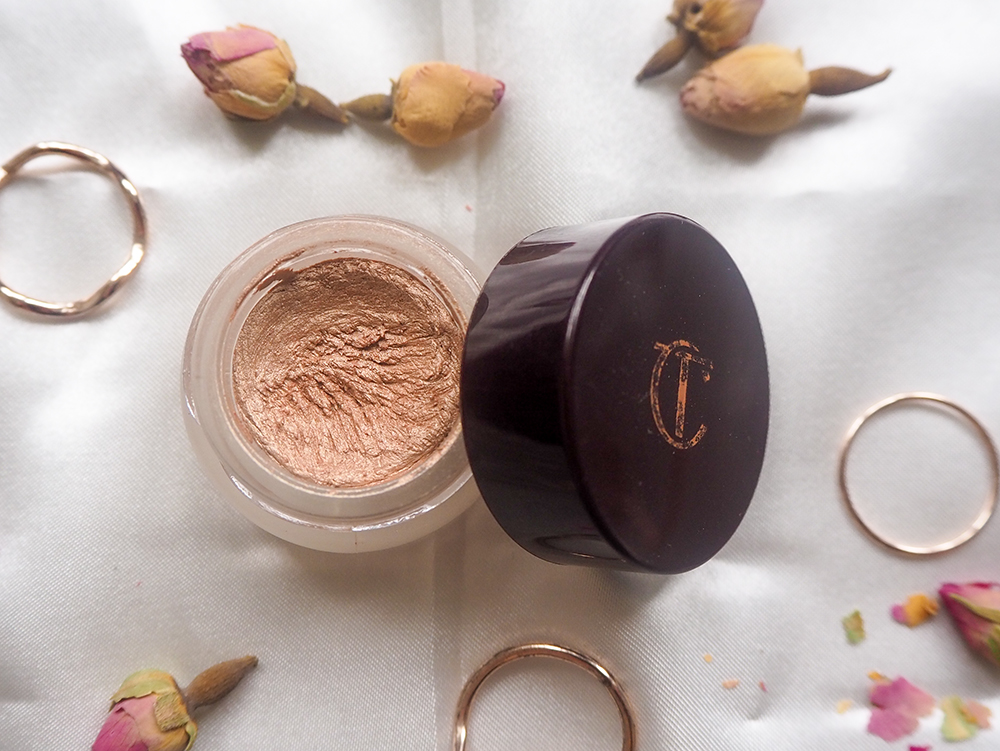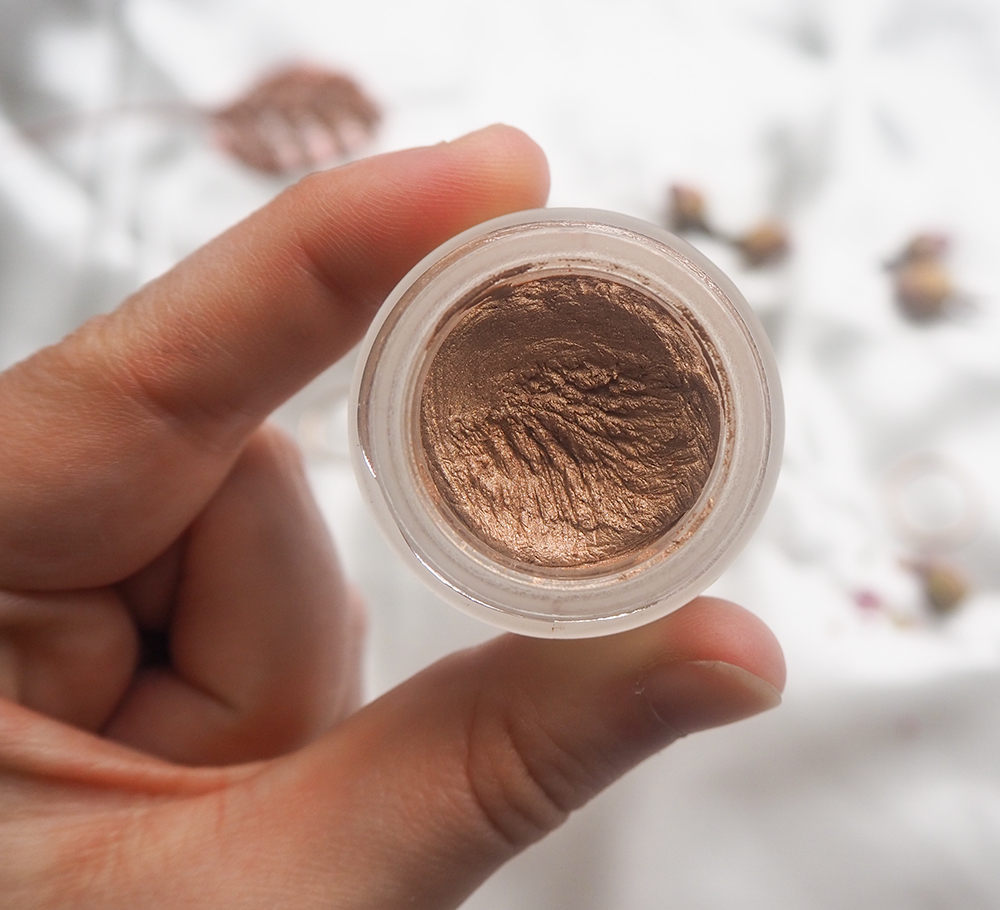 Eyes to Mesmerise in Champagne is quite simply one of my favourite eyeshadow products ever. It's creamy, shimmery, buildable and blends effortlessly. You can just use a wash of colour for an effortless daytime look or build up with more layers for a more intense evening look.
Although this cream eyeshadow has a soft texture, it's got surprising lasting power. You might experience some creasing after a few hours but if you use a decent eyeshadow primer, Eyes to Mesmerise is still going to look pigmented after 8 hours.
The shade Champagne (see swatch below) is a gorgeous cool-toned silver/gold with pink undertones. It's so flattering and complements just about every lip colour out there.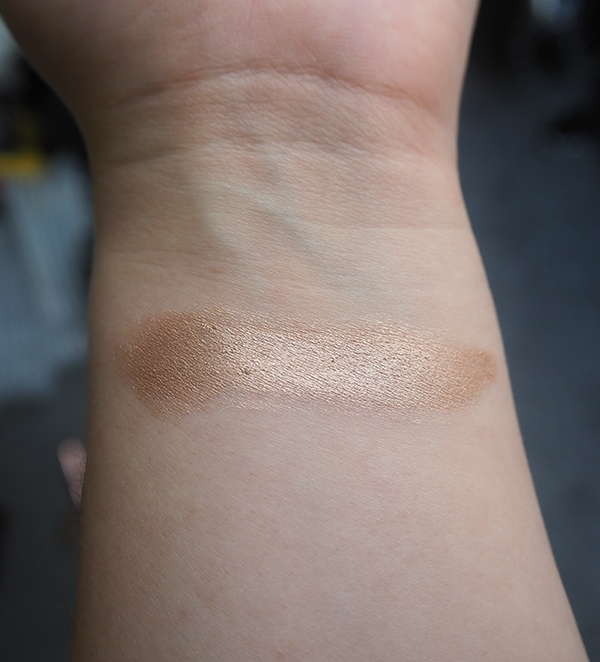 This cream eyeshadow truly requires minimum effort for maximum impact. I always get lots of compliments when I wear it. Eyes to Mesmerise deserves far more attention and hype.
Rating: 5 stars
5. Airbrush Flawless Finish in 1 Fair
£35
Unlike Eyes to Mesmerise, the Charlotte Tilbury Airbrush Flawless Finish powder gets a lot of attention and praise. But does it truly deserve the hype?
Absolutely.
This pressed powder is very finely milled, so it never appears or feels heavy on the skin. Instead, it feels feathery soft and lightweight. It has this incredible smoothing and blurring effect, like the name suggests, to give you an airbrushed finish. Genuinely, this pressed powder is magical because it makes your skin look blurred and poreless in just one sweep.
Whether you've got dry or oily skin, I think you'd appreciate this powder. For drier skins, this powder is not drying whatsoever and actually feels hydrating on the skin. For oilier skins, this pressed powder still does an excellent at keeping excess oil at bay, so you can stay shine-free all day long.
The shade 1 Fair (see swatch below) is perfect for me.
I wondered if it would be too pale for my complexion but because it's finely milled, you don't get a blob of colour on your skin. For this reason, I think each of the 4 shades available would suit a large variety of skin tones.
From its soft-focus finish to long-lasting setting powers and comfortable feeling on the skin, this setting powder is unmatched. Check out my full review of this makeup product here.
Rating: 5 stars
6. Colour Chameleon in Amber Haze
£19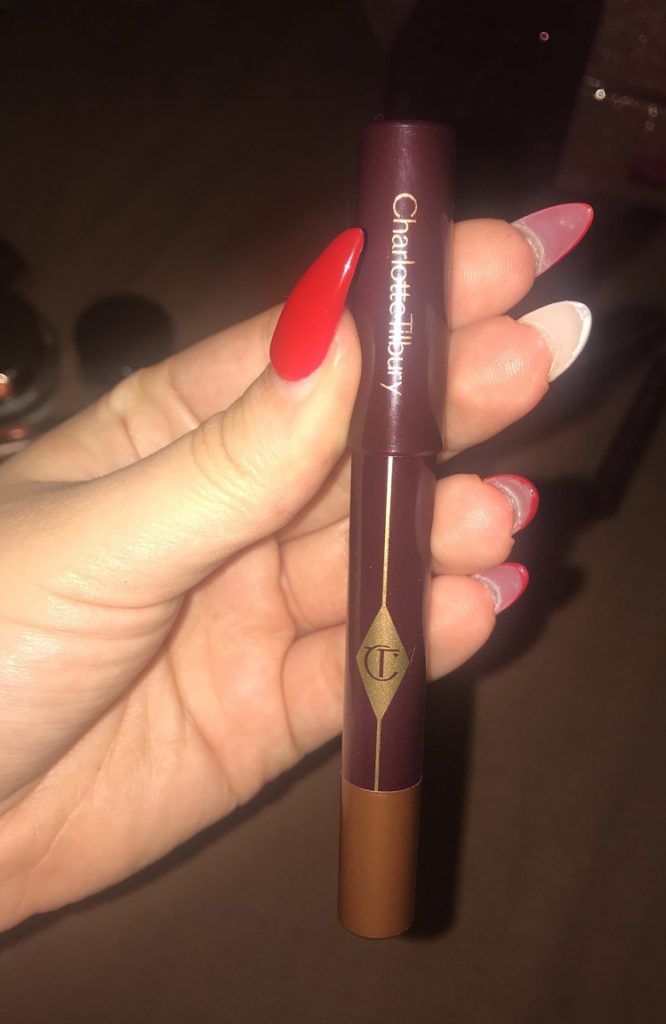 Although I like the Colour Chameleon in Amber Haze and think it's a good formula, it's just not a product that grabs my attention. I actually ended up giving this eyeshadow stick to my mum because she loves the texture and shade.
For me, this shimmer is a bit too dark. It's not a shade I'd wear. It's better suited to people with deeper complexions or blue eyes. I also prefer powder or cream formulae to pencil eyeshadows, so I didn't want this to sit around unused.
In terms of the product itself, the pencil is fairly soft, very pigmented, and easy to build up intensity. It's not the easiest product to blend, though.
Rating: 3.5 stars
7. Hollywood Lips in Screen Siren
£25 (Discontinued)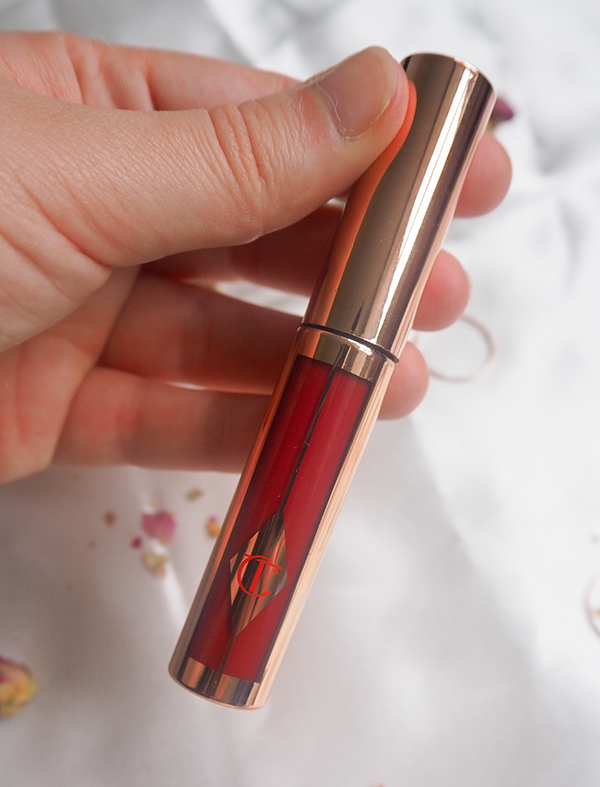 I don't think Charlotte Tilbury should've discontinued Hollywood Lips in Screen Siren because it's such a good lipstick. This colour is a perfect ruby red. It's bright, vibrant and bold.
This lipstick is so long-wearing. It refuses to budge. Even after 8 hours of wear, the ruby red shade will still be incredibly pigmented and vivid. Despite it being matte and long-wearing, the formula is velvety and smooth, which means no crumbling. I hate matte lipsticks that feel drying but this liquid formula is still nourishing.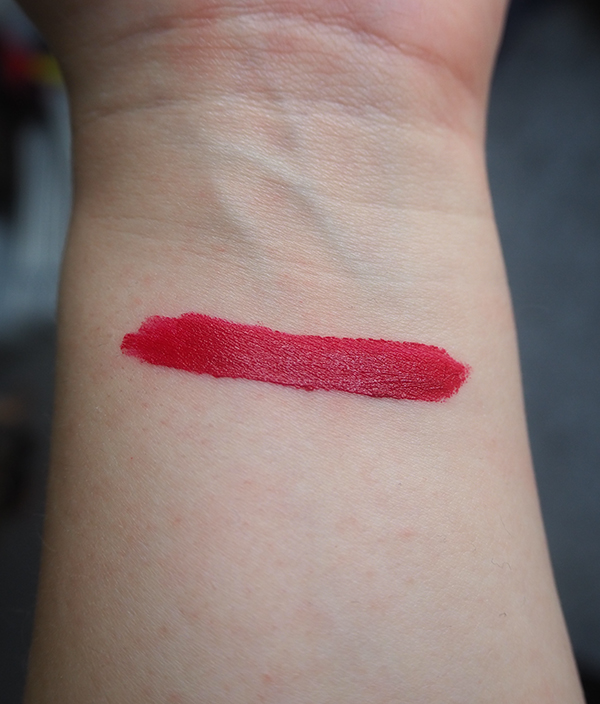 This lipstick serves red carpet vibes and always looks glamorous. I'm gutted that Charlotte Tilbury has discontinued this product.
Rating: 5 stars
8. Rock 'n' Kohl eyeliner in Bedroom Black
£19
The Rock 'n' Kohl eyeliner in Bedroom Black is the perfect dark and dramatic black pencil eyeliner. The pigmentation is intense and the formula is soft and smooth to make lining your lids or waterline effortless.
Like the Pillow Talk Eyeliner, you can use Rock 'n' Kohl to create a sharp wing or diffuse the colour out for a sexy smoky look. Also, this pencil liner does not budge. At all. So you don't need to worry about it fading or smudging throughout the day.
Check out my swatch below to see how intense this eyeliner is.
Although I think the Rock 'n' Kohl in Bedroom Black is brilliant, the Maybelline Master Drama Khol Eyeliner Ultra Black is a great dupe for a fraction of the price. Costing 75% less for virtually the same formula, it makes sense to go for Maybelline's kohl eyeliner. Whereas the Pillow Talk Eyeliner is totally unique, so you're not going to be able to purchase an affordable dupe elsewhere.
Rating: 4 stars
9. Hollywood Flawless Filter in 2 Fair
£34
Another well-loved Charlotte Tilbury makeup product is the Hollywood Flawless Filter. And I'm totally in love with this product as well.
Hollywood Flawless Filter is truly special and versatile. This glowy liquid formula can be mixed in with your moisturiser for a glowy boost, worn on its own for a luminous complexion, mixed in with your foundation for a radiant base, or worn on the high points of your face to illuminate features. Whichever way you decide to use this, you'll look healthy and radiant.
My favourite way to wear this product is mixed in with foundation or as a highlighter. It's not overly shimmery but rather gives you a 'lit from within vibe'. I love this and it's perfect for a glass skin look.
The shade I own – Fair 2 – is ideal for me. See my swatch below.
This is my favourite Charlotte Tilbury makeup product ever. It's also a product I'll continue to repurchase as there is nothing else quite like this miracle liquid out there.
Rating: 5 stars
10. Pillow Talk Instant Eye Palette
£60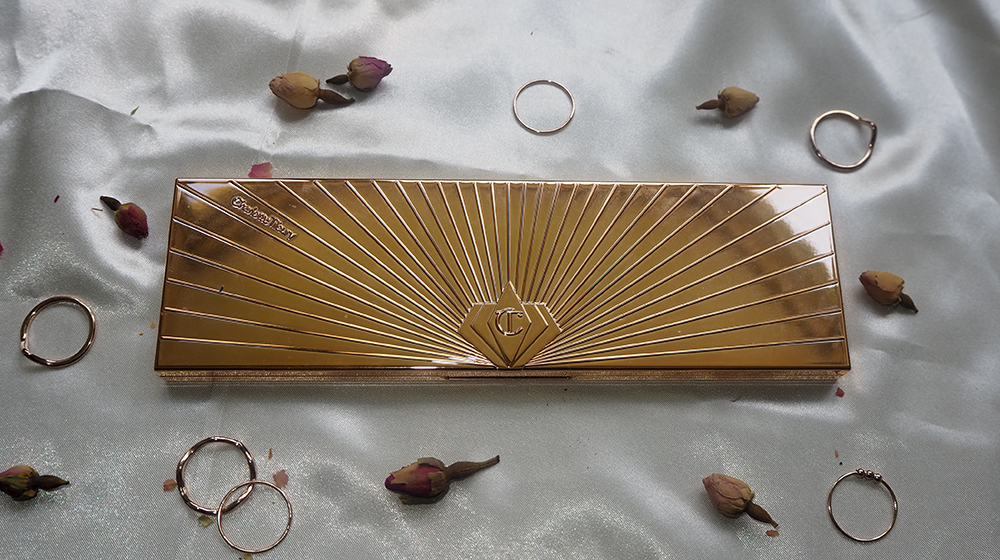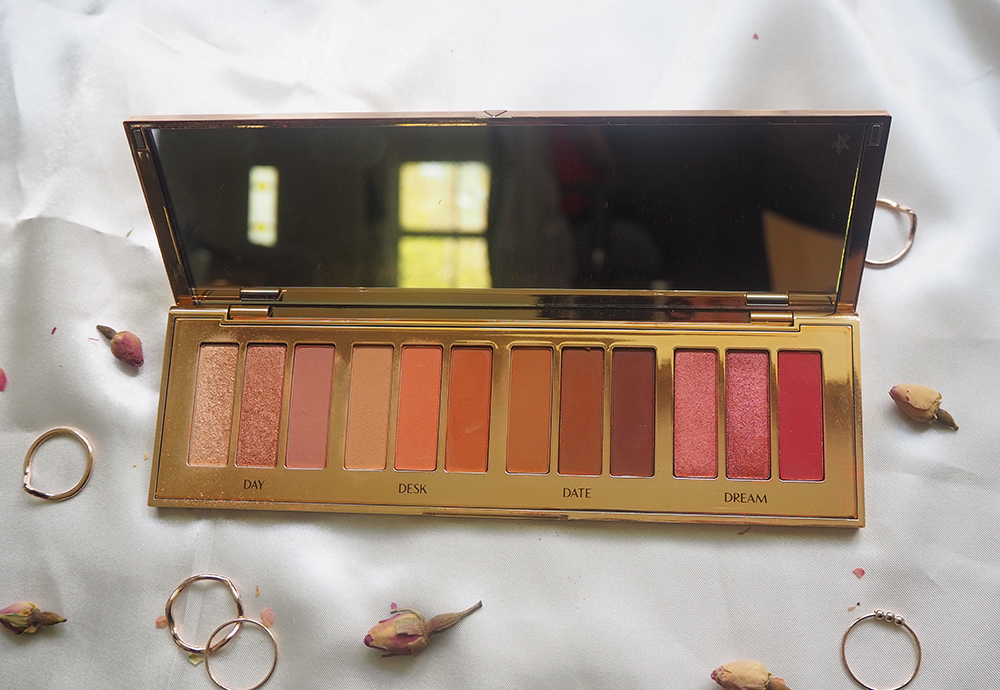 If you've read my review of Charlotte Tilbury's Pillow Talk Instant Eye Palette, then you'll already know how obsessed I am with this eyeshadow palette.
This is genuinely the most flattering eyeshadow palette I own. Every shade looks so beautiful on the eyes and I think this palette would suit everyone, irrespective of age or skin tone. The shadows are buttery, buildable and pigmented. In particular, the shimmers have this gorgeous soft quality where they don't look chunky on the lids, meaning they reflect the light in the most gorgeous way.
Although you need to try this palette out to truly appreciate how wonderful it is, the swatches below are a pretty good indicator of its performance.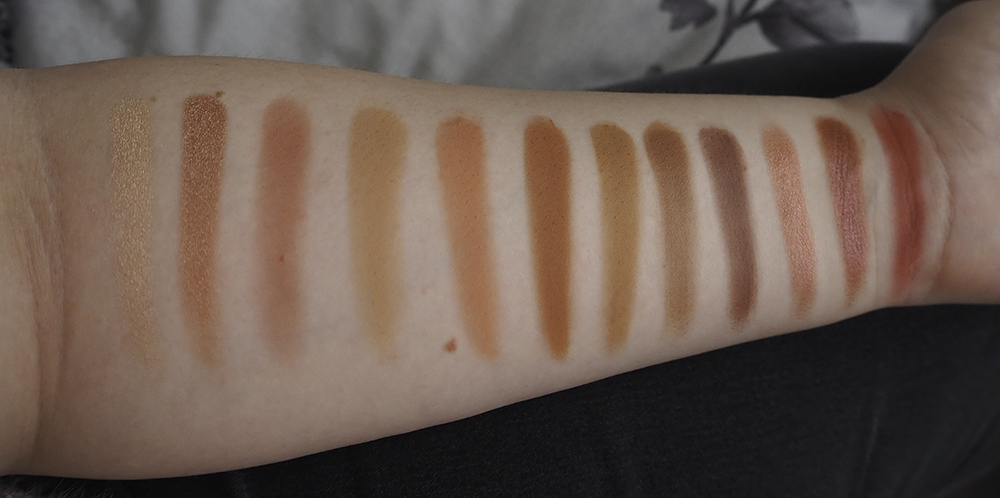 As you can see, each shade is vibrant and beautiful. Whether you like peachy mattes or bold pink shimmers, the Pillow Talk Instant Eye Palette has got your back. You can easily create effortless daytime looks and then dial them up for sultry night-time looks.
This is one of my favourite eyeshadow palettes in my collection. I always find myself reaching for it.
Rating: 5 stars
11. Legendary Lashes Volume 2
£25
I prefer Legendary Lashes Volume 2 to the Full Fat Lashes mascara. This mascara is less smudge-proof and I find it easier to coat individual lashes, which is particularly useful for my bottom lashes.
Although this mascara gives your lashes lots of volume, it never looks clumpy or feels heavy. Instead, you get a natural and wide-awake look. I think this is a wonderful daytime mascara as it's not too dramatic or heavy.
However, for a high-end mascara to win me over, it needs to have that 'wow factor'. And Legendary Lashes Volume 2 doesn't. I tend to always prefer drugstore mascaras because they are very affordable and deliver the same, if not better, results than luxurious mascaras. For instance, you could pick up a better Maybelline mascara for around a third of the price of a Charlotte Tilbury one. So for that reason, I think this mascara is good but I wouldn't buy it again.
Rating: 3.5 stars
Overall thoughts on Charlotte Tilbury makeup products
Whilst I don't love every Charlotte Tilbury makeup product I've tried, the ones that have won me over are truly excellent. Charlotte Tilbury creates really attractive products, from packaging and shade ranges through to the ease of use and innovative products.
If you purchase a Charlotte Tilbury product, you have to be willing to part with a fair amount of cash. £60 for a 12-pan eyeshadow palette is a lot of money. But the great products are just so well formulated and easy to work with that you can see why they're pricey. I feel differently about the brand's skincare products, though.
The products I'm confident you'll love are the Airbrush Flawless Finish powder, Pillow Talk Instant Eye Palette, Eyes to Mesmerise, Hollywood Flawless Filter, Matte Revolution in Pillow Talk and Pillow Talk Eyeliner. These are all standout and unique products that deliver excellent results every time. I'd be willing to repurchase all of these without hesitation.
Charlotte Tilbury mascaras never seem to take off. I'm not sure what it is about them but they just don't seem to deliver in the same way other brands do. But then again, when you've got drugstore makeup brands releasing fire mascaras, you're not going to spend £25 on a reasonable mascara when you could spend £8 on a brilliant mascara.
Overall, I do think Charlotte Tilbury makeup products are worth the hype. The ones that get a lot of attention deserve all of the praise, in my opinion.
Makeup look using Charlotte Tilbury products
I used the the Pillow Talk Eyeliner, Matte Revolution in Pillow Talk, Airbrush Flawless Finish in 1 Fair, Hollywood Flawless Filter in 2 Fair, Pillow Talk Instant Eye Palette and Legendary Lashes Volume 2 to create the simple makeup look below:
I mixed the Hollywood Flawless Filter in with my foundation and over the high points of my face for a naturally glowy look. To create an all-matte eyeshadow look, I used the 'Desk' trio from the Pillow Talk Instant Eye Palette.
Products I'd like to try in the future
I'd love to try the following Charlotte Tilbury products at some point:
Conclusion
I believe Charlotte Tilbury makeup products are worth the hype. The formulae allow you to create effortlessly glamorous looks with minimum effort for sexy, sophisticated and feminine vibes. Some products are staples in my makeup collection and I'll sing their praises all day. Despite this, I think you can find better and more affordable drugstore alternatives for the brand's mascara and Rock 'n' Kohl eyeliner.
---
Are you a Charlotte Tilbury stan or do you think the brand is overhyped?