Last Updated on 23rd September 2023 by Sarah Sarsby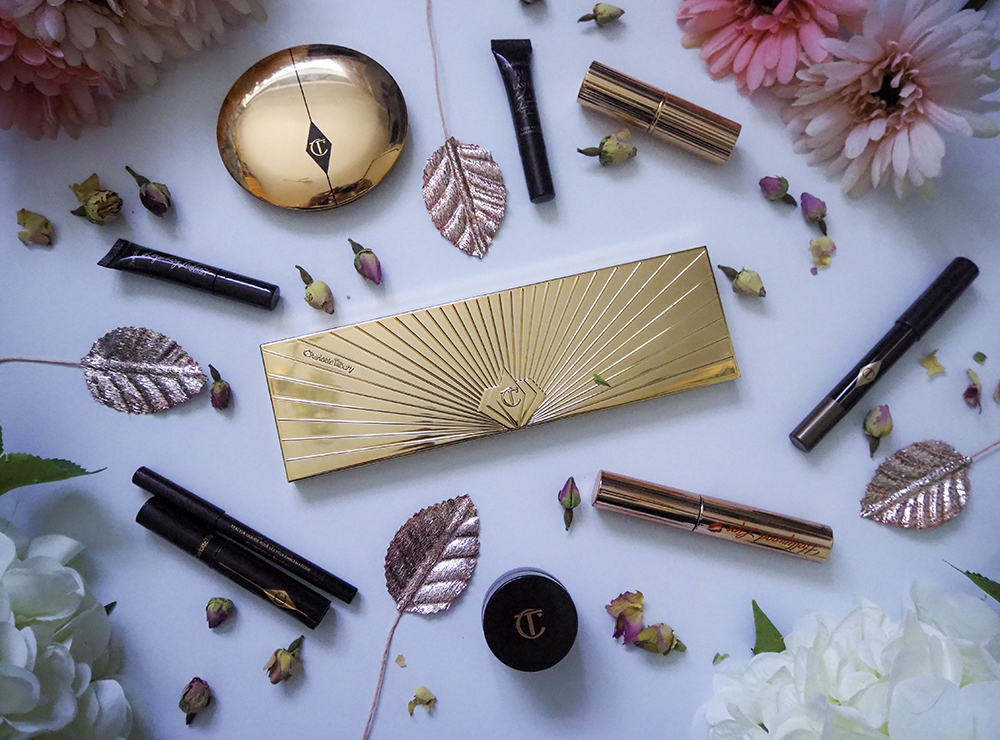 I think this is the blog post I've been the most excited about writing for a long time because today I'm going to be reviewing the new Charlotte Tilbury Pillow Talk Instant Eyeshadow Palette.
A while back, I made a vow to myself to stop buying so much makeup. I don't wear it every day so whilst I love using makeup when I'm going out, I end up accumulating a bunch of products that I can't get through fast enough. Especially base products that go out of date quickly as I don't want to put an expired foundation on my face.
However, when this Charlotte Tilbury Pillow Talk Instant Eyeshadow Palette dropped, I fell in love. These are the colours I adore: pinks, peaches and nude browns and beiges. I couldn't stop looking at the palette and watched countless videos of people using the palette to create stunning eye looks.
I got the Charlotte Tilbury Pillow Talk Matte Revolution Lipstick in 'Original' from the Charlotte Tilbury Beauty Advent Calendar in 2018. This lipstick is a gorgeous, flattering pink shade, so I knew building on the Pillow Talk collection could only be a good thing with the new palette launch.
I kept being stern with myself. No, Sarah, you have so many eyeshadow palettes, you don't need another one. But, still, I kept looking, guiltily. I even laid out all the eyeshadow palettes I own on my bed to see if I had the colours in the Pillow Talk Palette in my own collection.
Interestingly, I didn't. I had a few very similar shades but the colours I owned were more purpley-pinks or cool-toned pinks, not nude pinks and nude browns. So, that was it for me. I caved in and justified getting the eyeshadow palette.
And, you know what, I'm so happy I did.
Here are my thoughts on the new Charlotte Tilbury Pillow Talk Instant Eyeshadow Palette and whether it's worth the luxurious price tag.
Product claims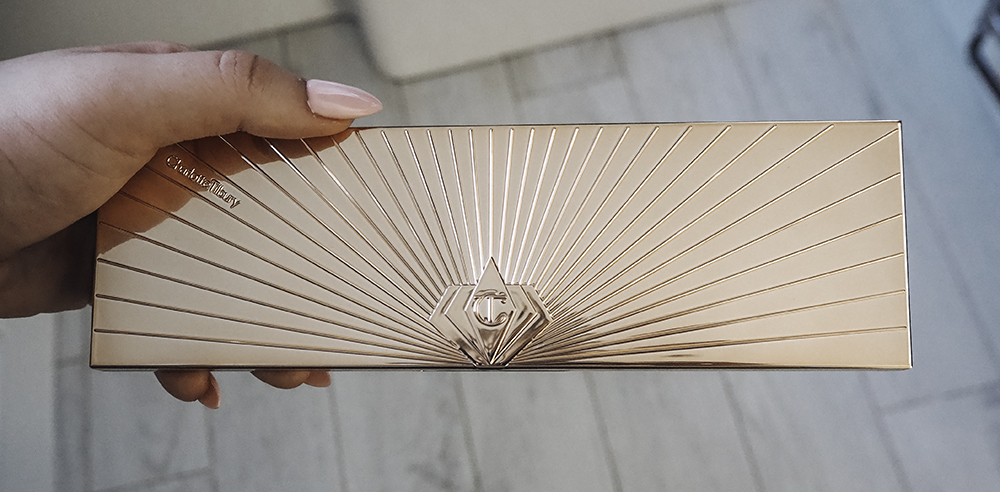 The whole idea behind the Charlotte Tilbury Instant Eyeshadow Palettes is that there are 12 eyeshadows divided into 4 sections to create 4 different, simple and gorgeous eye makeup looks. The trios can be dialled up or down to create sophisticated looks that can be used for any occasion.
From the shimmering rose gold, peachy-caramel and dreamy champagne pink eyeshadow shades of the Day and Desk looks to the soft tawny brown, shimmering rosy pink and blushed berry-rose of the Date and Dream looks, create a Pillow Talk gaze that takes you ANYWHERE!

Charlotte Tilbury
This latest eyeshadow palette builds on Charlotte's best-selling Pillow Talk lipstick and the eyeshadows claim to deliver a jewel-like light and clarity to the eyes, creating a luminous, natural-looking glow. The matte shades are supposed to feel silky, luxurious and blend like a dream.
First impressions and swatches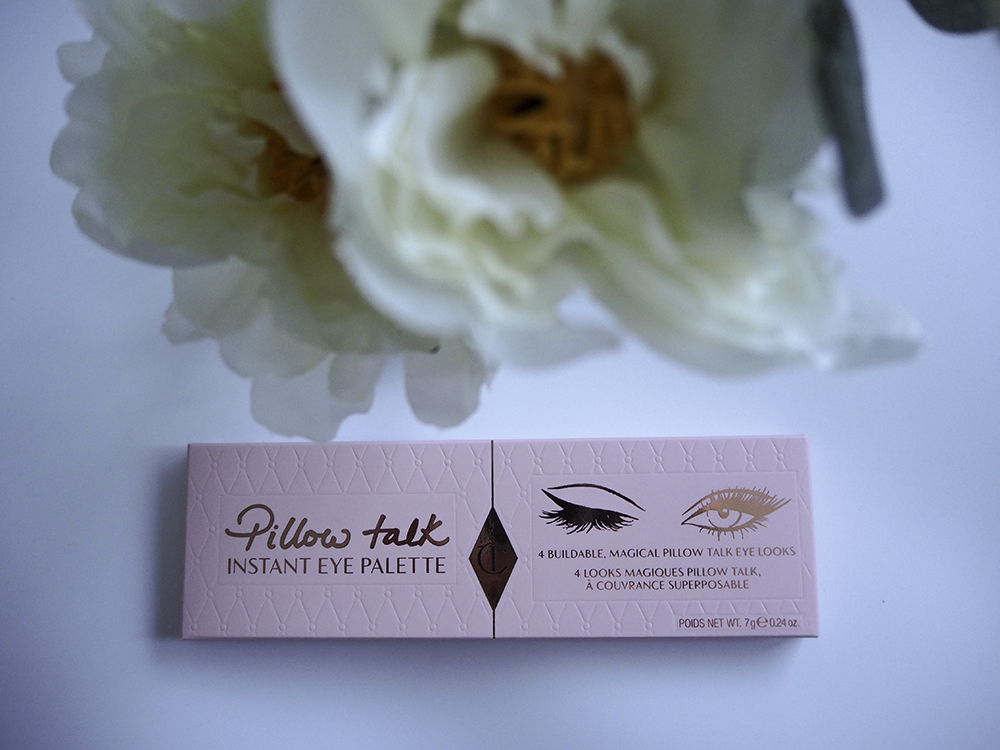 First things first, the packaging. Both the box the eyeshadow palette came in and the actual eyeshadow palette itself are gorgeous. The box is a cute baby pink that just screams feminine and I love the rose gold font. Then, the actual eyeshadow palette packaging comes in a very luxe rose-gold casing.
To be honest, the product looks and feels (and is) expensive, which I'm here for. I love pink and rose gold, so this ticks all my boxes.
When I first opened the eyeshadow palette, I took a pretty audible gasp. The Pillow Talk Instant Talk Eyeshadow Palette is stunning. I love the mix of pinks, peaches and nude browns and every colour is heavenly. It's not common that I like every shade in an eyeshadow palette/can make all the shades work for me, but this Pillow Talk palette is an exception.
I also love Charlotte's idea of having eyeshadow trios for different occasions. She has this three-step formula for creating eye looks called "prime, enhance, smoke". This makes using the eyeshadow palette fun and simple but obviously, if you want to experiment, go ahead.
Then I took swatches of the palette: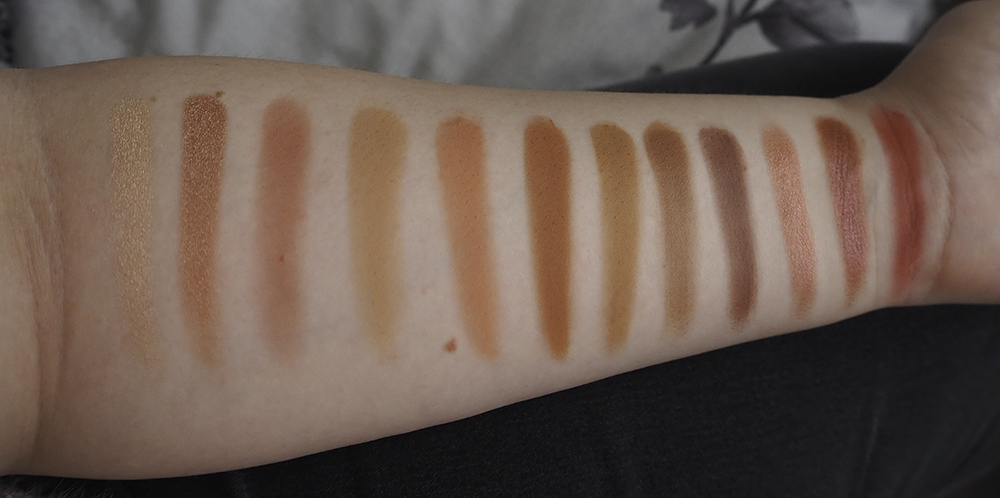 How beautiful are the shades? I actually think they swatch better than they look in the pan, if that's even possible.
It's the first Charlotte Tilbury eyeshadow palette that I own and the eyeshadow formula was unreal when swatching. Buttery, pigmented, creamy and with just the right amount of intensity. I couldn't wait to use it!
Eye makeup look
To truly test the Charlotte Tilbury Pillow Talk Instant Eyeshadow Palette, I needed to use it on my eyes. On Charlotte Tilbury's Instagram page, Sofia Schwarzkopf Tilbury – Charlotte's niece – created a simple but pretty daytime look using the palette which I decided to recreate.
I took the 'prime' shade from the 'Desk' trio, which is a soft beige shade, and swept this all over my lid. Then, from the same trio, I used the 'enhance' shade, which is a gorgeous peach, and swept this all over my lid in the same area. I also took these two shades and smudged them under my eyes.
Next, I applied the 'prime' shade from the 'Day' trio, which is a beautiful champagne colour, in my inner corners to make them pop.
To finish, I used the 'enhance' shade from the 'Date' trio, which is a medium chocolate brown, and used this an eyeliner. I love using eyeshadow as an eyeliner to create a soft but sultry wing because it's not as harsh as a liquid liner, creating a more romantic look.
Here's how the look turned out: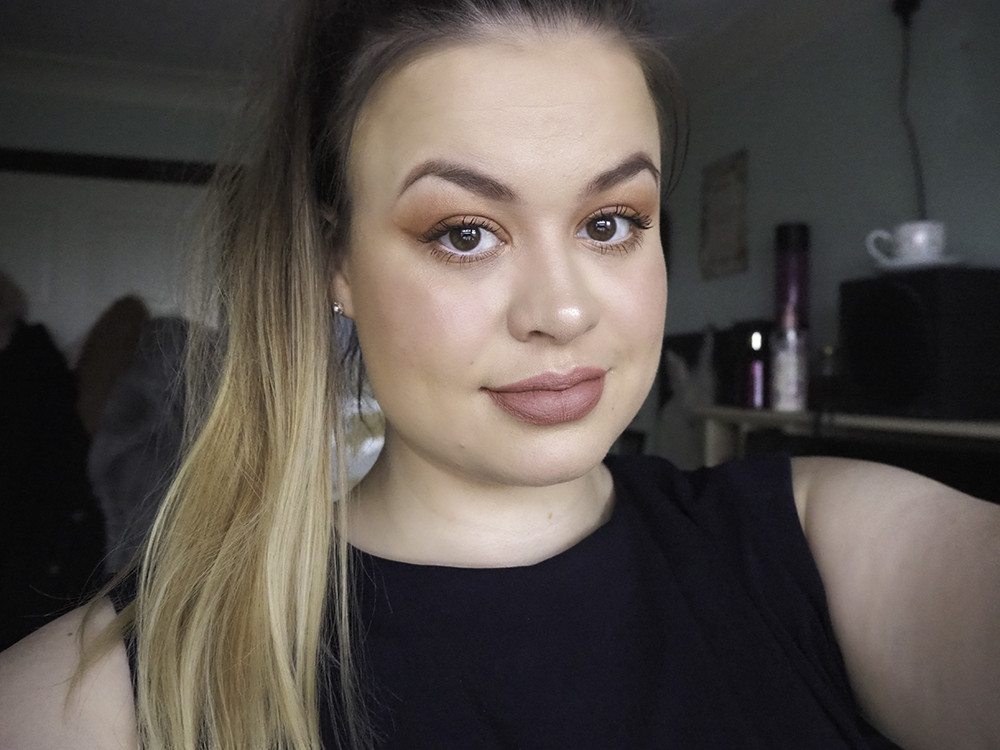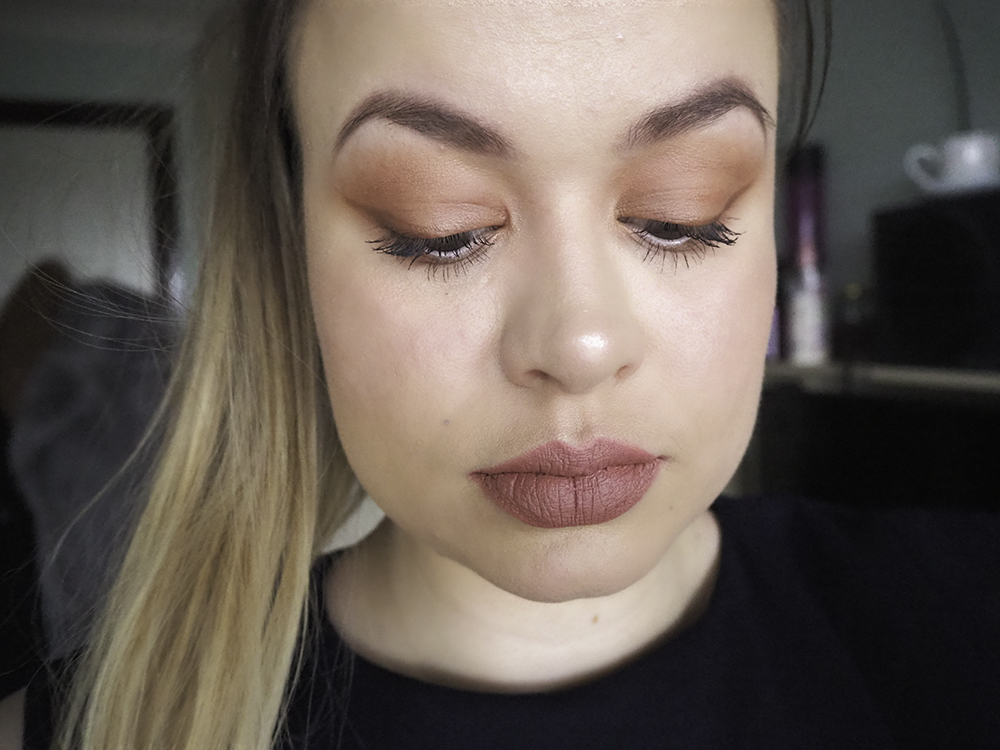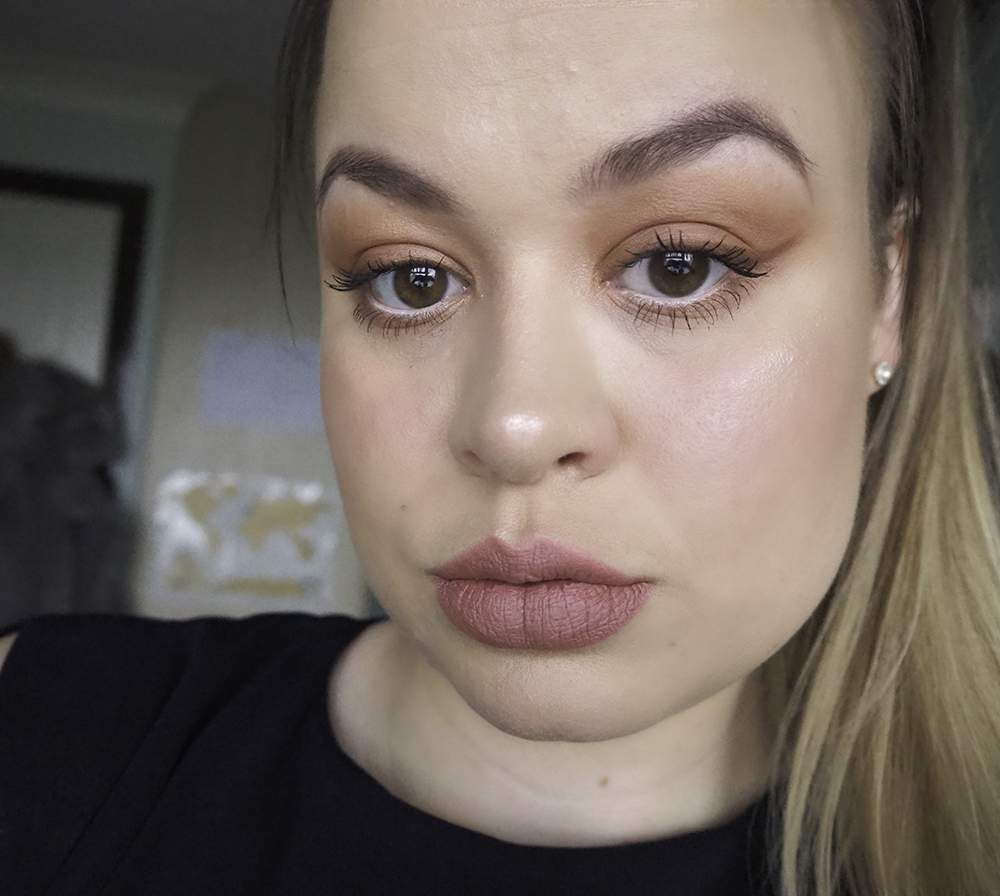 I love this look. It's really simple but also very flattering.
The eyeshadows blended like a dream and the formula was easy to work with. I particularly like the brown eyeshadow as an eyeshadow and think this would be cute for a Valentine's Day makeup look.
My thoughts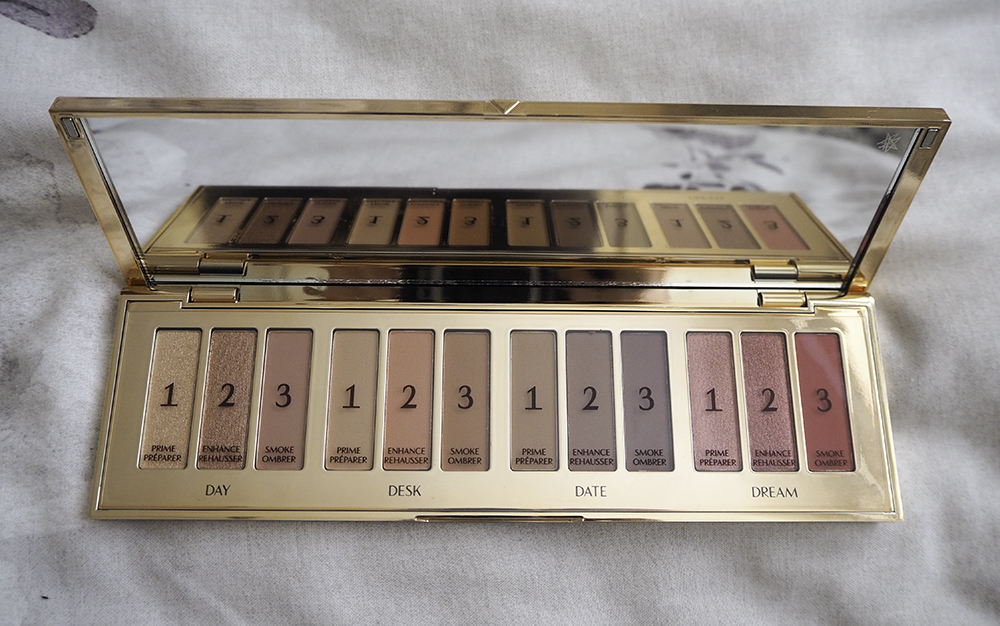 So, I've swatched the palette and used four of the shades on my eyes, and I couldn't be more impressed. I love the concept of the palette and how there are 4 different eye looks ready to be created off the cuff. However, if you want to deviate from the trios, the colour story of the eyeshadow palette works excellently as a whole too.
I think the balance between mattes and shimmers is spot on. I like that there are more mattes as I think it makes the palette more wearable and versatile. When palettes have loads of shimmers, they can be a bit too extra for the day. However, these matte shades are gorgeous and look lovely by themselves if you need something quick and simple.
As I mentioned before, this is the first Charlotte Tilbury eyeshadow palette in my makeup collection. And I've got to say, I'm very impressed with the formula. The colours blend like a dream, they're buttery and pigmented, and building eyeshadows on top of one another is effortless.
Also, whilst the look and feel of the palette is expensive and luxe, it's important that the eyeshadows live up to the price tag and, in my opinion, they definitely do!
Where to buy
Costing a pricey £60, you can buy the Charlotte Tilbury Pillow Talk Instant Eyeshadow Palette from the Charlotte Tilbury website. If you're new to the website, sign up to the newsletter to get 10% off. It softens the blow (a bit).
The palette is coming to other Charlotte Tilbury stockists, such as John Lewis, Selfridges, Cult Beauty, Space NK, Harrods etc., however, it's only available on the Charlotte Tilbury website at the time of writing this post.
Final thoughts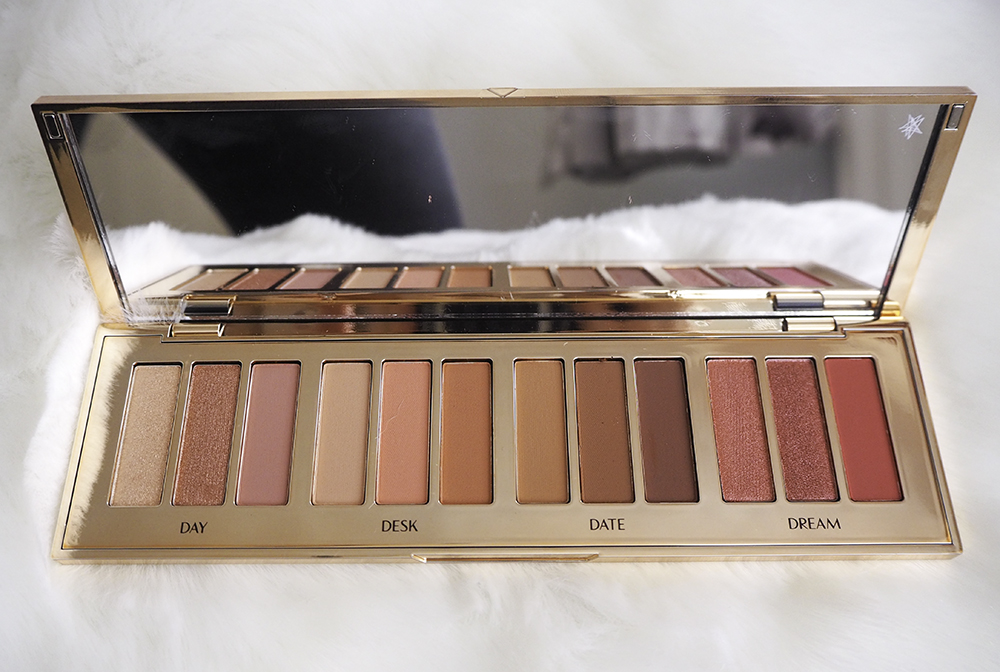 I'm OBSESSED with this palette. It's stunning. I love the packaging, I love the concept, I love the eyeshadows and I love the formula. Could this be my new favourite eyeshadow palette? I need to use it a few more times but it might overtake the Huda Beauty New Nude Palette as my fave palette.
Rating: 5 stars
If you like nudes, peaches, pinks, browns and sultry eyeshadows, the Pillow Talk Instant Eyeshadow Palette will be perfect for you!
---
What do you think to this eyeshadow palette? Would you consider getting it or is it too expensive?