Last Updated on 3rd December 2023 by Sarah Sarsby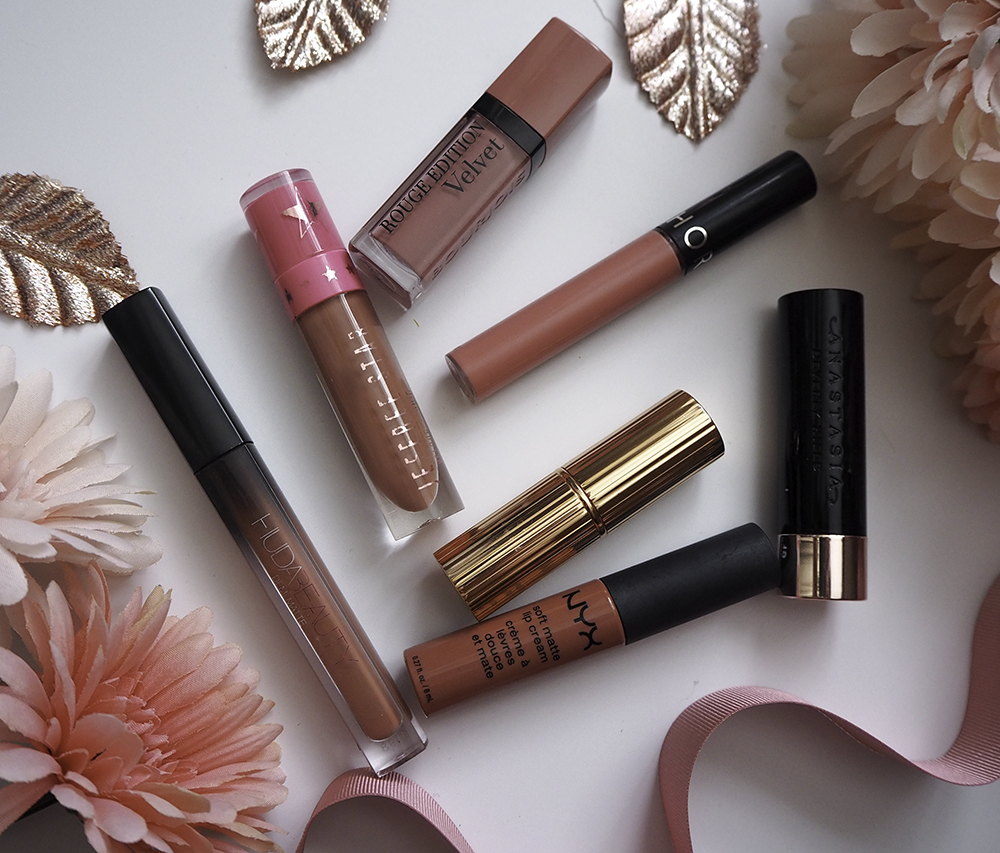 For those of you who don't know me, I'm a huge fan of nude pink lipsticks and I wear them frequently. Nude pink lipstick goes with so many different looks from bold eyeshadow to everyday office makeup. This versatility makes nude pink lipstick a staple in any makeup enthusiast's collection.
I personally like a nude pink lip because it's soft, feminine and pretty. This adoration for the humble lipstick shade has allowed me to compile a list of my top 7 nude pink lipsticks.
The lipsticks mentioned in this blog post combine a beautiful shade with a long-lasting formula. After rummaging through my makeup collection, these 7 lipsticks made the cut and I'd gladly recommend them to anyone.
1. Charlotte Tilbury Matte Revolution Pillow Talk Original
£25
The most iconic, best-selling nude pink lipstick in the world? Charlotte Tilbury's Matte Revolution Pillow Talk Original, of course.
If you don't know about this lipstick, then have you been living under a rock? Pillow Talk is one of the most popular lipsticks ever and looks amazing on so many different people. In fact, the lipstick is so popular that Charlotte Tilbury recently launched an entire Pillow Talk collection based on the shade alone, including the new Pillow Talk Instant Eye Palette.
Pillow Talk is a flattering, dusty pink shade and works well with virtually any makeup look. The formula is creamy and non-drying even though it's matte. It also lasts all day due to its intense pigment. It's probably my favourite nude pink lipstick on this list.
2. NYX Professional Makeup Soft Matte Lip Cream in Cannes
£6
Now onto the cheapest nude pink lipstick in this list and it's a beauty from NYX. I think NYX is a great, affordable drugstore brand and pretty much all of the products I've tried from the company have been great. The Soft Matte Lip Cream in Cannes is no exception.
This is the deepest nude pink shade in my collection. NYX describes the shade as a "matte muted mauve" but I'd describe it more as a muted rose and the lipstick definitely shows up more pink than mauve on my lips.
Even though it has slightly brown undertones, the lipstick is still vivid on the lips. This is the least "nude" shade in my collection as it's brighter than the rest but it's still a stunning wearable pink.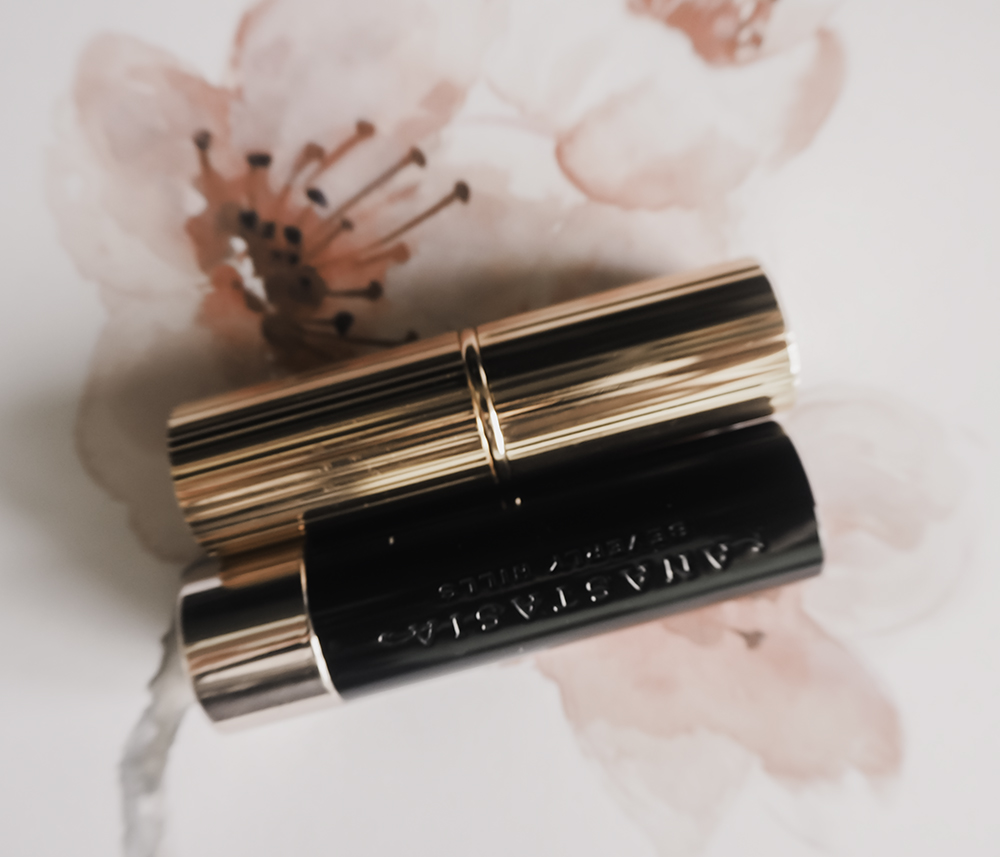 3. Anastasia Beverly Hills Matte Lipstick in Petal
£20
The Anastasia Beverly Hills Matte Lipstick in Petal is pretty similar to Pillow Talk but is a little cooler and paler. This is a really cute pastel shade that looks like a natural lip colour but a little pinker.
I love the colour but I think I like the formula even more. The lipstick glides on effortlessly and has a soft, velvety feel. I never worry about my lips looking dry with this lipstick. It also lasts all day without budging so you won't need to keep topping it up.
I own several of the ABH Matte Lipsticks and have found them all to be consistently good. The brand offers an interesting shade range too and I've seen so many different colours I'd like to try it out.
4. Huda Beauty Demi Matte Cream Lipstick in Feminist
£28
I mentioned the Huda Beauty Demi Matte Lipstick in Feminist back in my October 2019 faves and I still adore it.
This is probably the least pink of the lipsticks in this blog post because of its brown undertones. However, it's still a nude pink and I think this is the most versatile shade in this blog post due to its more neutral shade.
The Demi Matte formula from Huda Beauty is unreal. It's creamy, non-sticky, pigmented and gives a lacquer-like shine. It's a cross between a matte and a gloss, which is so unique. Even when this lipstick starts to wear off, it still looks amazing as it doesn't look "chapped".
If you've not tried the Demi Matte formula before, I think it would make a worthy addition to your makeup collection.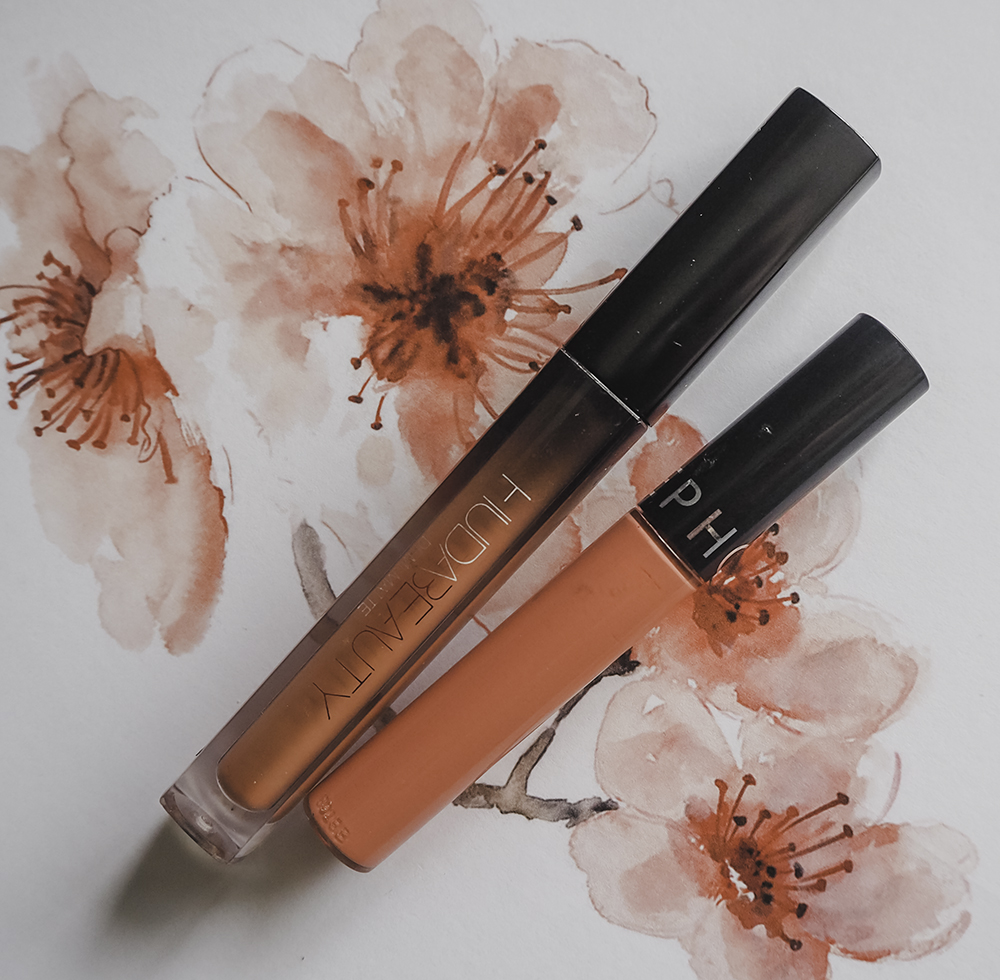 5. Jeffree Star Cosmetics Velour Liquid Lipstick in Christmas Cookie
£16
The Jeffree Star Cosmetics Velour Liquid Lipstick in Christmas Cookie is hands down the most long-lasting lipstick on this list. Honestly, this lipstick will not move and can actually be pretty difficult to take off!
Although Beauty Bay describes it as a "soft peachy nude", I think it's more on the pink side. This is a classic nude pink lipstick and works well with any look. I wouldn't say this lipstick is particularly warm or cool but is a nice neutral pink tone.
If you struggle with getting lipstick to stay on for more than a few hours and find yourself having to constantly reapply lipstick throughout the day, the Jeffree Star Cosmetics liquid lipsticks are wonderful at staying on for hours. Plus, if you want some unusual shades – like a matte khaki or royal blue – then you can get really daring with Jeffree's range!
6. Sephora cream lip stain in 69
£9.70
I picked this Sephora lipstick up back in my Sephora haul when I visited my sister in France and I've been really impressed with it.
This lipstick shade is a true nude, baby pink. For the price point, it's very long-lasting and the liquid lipstick dries down fast on the lips. I've paired this lipstick with a metallic peachy-gold in the past, which gives a really pretty look.
My only gripe with this lipstick is that it is on the drier side, so if my lips are particularly dry, I find this lipstick less flattering than the other ones mentioned in this post. I wouldn't say this is a deal-breaker, though. It's a beautiful shade and a decent price, so I'm still really happy with it.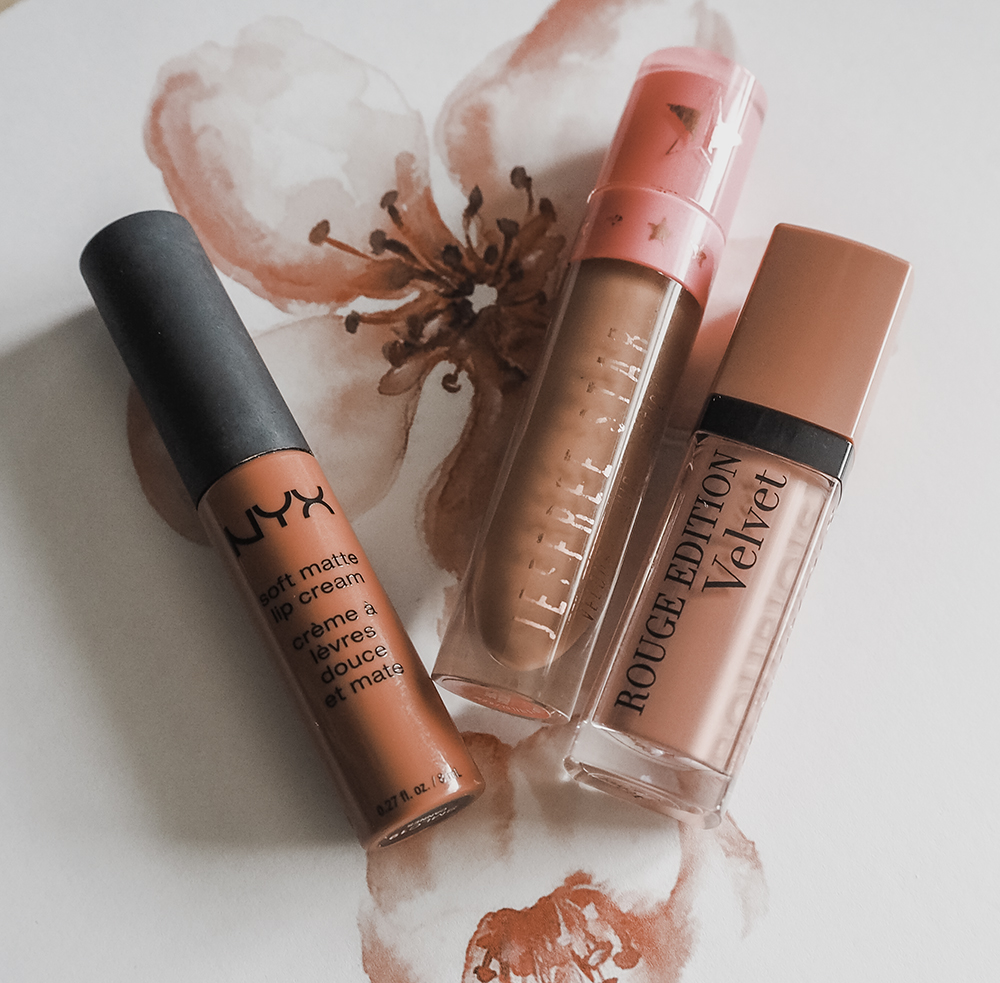 7. Bourjois Rouge Edition Velvet in 10
£8.49
The Bourjois Rouge Edition Velvet lipstick in shade 10 is one of the latest additions to my makeup collection and I'm loving it.
Although this is supposed to be a matte formula, I'd actually say this is a hybrid between a matte and a satin finish because the texture is so lightweight, velvety and creamy. This is one of my favourite lipsticks to wear in terms of formula because it's so comfortable on the lips.
I'd describe shade 10 as a baby pink. The colour shows up lighter on my lips than in the bottle. Despite being creamy, the lipstick is still long-lasting. If you hate dry formulas, the Bourjois Rouge Edition Velvet range will be perfect for you.
Swatches
To compare the different lipsticks mentioned, I swatched each one so you can see the difference between the shades.
---
What's your fave nude pink lipstick?