Last Updated on 18th October 2023 by Sarah Sarsby
When Huda Beauty first started promoting The New Nude Eyeshadow Palette on social media, I couldn't resist. I'm always enticed by Huda Beauty products, but this particular eyeshadow palette was a must-buy for me.
Pinks, purples and golds are my favourite eyeshadow colours and this palette has all of them. How could I say no?!
I already have Huda Beauty's Desert Dusk Palette, which I absolutely adore, so I was intrigued to see how The New Nude Eyeshadow Palette would compare. Curious to know whether this eyeshadow palette is worth the splurge? Then keep on reading
What is Huda Beauty?
Launched by award-winning beauty blogger Huda Kattan in 2013, Huda Beauty is one of the world's fastest-growing beauty brands. Huda Beauty is well-known for its popular eyeshadow palettes, feminine lipstick shades and iconic false eyelashes.
Alongside fabulous makeup products, Huda Beauty also boasts the popular Wishful Skin skincare line and Kayali fragrance line.
Product claims
The New Nude Eyeshadow Palette was launched in a bid to redefine what "nude eyeshadows" really means, moving away from traditional beige/brown shades and towards feminine pinks and purples.
The all-in-one eyeshadow palette consists of 18 highly pigmented shades, ranging from flattering mattes to shimmer-drenched hues, and has everything you need to transform your lids.

Huda Beauty
According to Huda Beauty, this eyeshadow palette is designed to empower the wearer to express themselves however they please, featuring "game-changing" textures and a mix of cool and warm eyeshadow shades.
The New Nude Eyeshadow Palette also incorporates a concealer base for "flawless application".
First impressions
When this first arrived, I was amazed by the packaging. It's easily the best eyeshadow packaging I've seen. Stunning. From the soft pink colour of the cardboard to Huda's face both on the front of the packaging and the protective slip, it gives luxurious and sultry vibes.
As per, the eyeshadow palette contains a large mirror, which is handy for when you're on the go or don't have access to a mirror.
I also love the veil theme. On Instagram, when people got the New Nude Eyeshadow Palette PR packages, they all received veils to put over their face. This really adds to the soft, glamorous and sultry feel of the palette.
On first impressions, I love the eyeshadow colours. Literally, every single colour is appealing to me and I could see myself using all of them. This is something I never say about eyeshadow palettes. I normally find a couple of colours that I either don't like or wouldn't suit me, but the New Nude Eyeshadow Palette does it for me. I love them ALL.
I know Huda received some stick from a lot of beauty gurus about the theme of her palette being "nude" as the colours in the palette are predominantly pink or purple as opposed to traditional nude shades. However, in her YouTube tutorial, Huda explains that the palette tries to reinvent the term "nude" and that it doesn't necessarily mean typical beige and brown tones anymore.
My first impressions of the New Nude Eyeshadow Palette were nothing but positive. I love the packaging, the theme and the shadows themselves.
Swatches
I then went onto swatching the palette. I was particularly intrigued about trying the concealer – Concealed – within the palette. This is unique and something I hadn't seen in a palette before. If it worked well, this would definitely set a trend.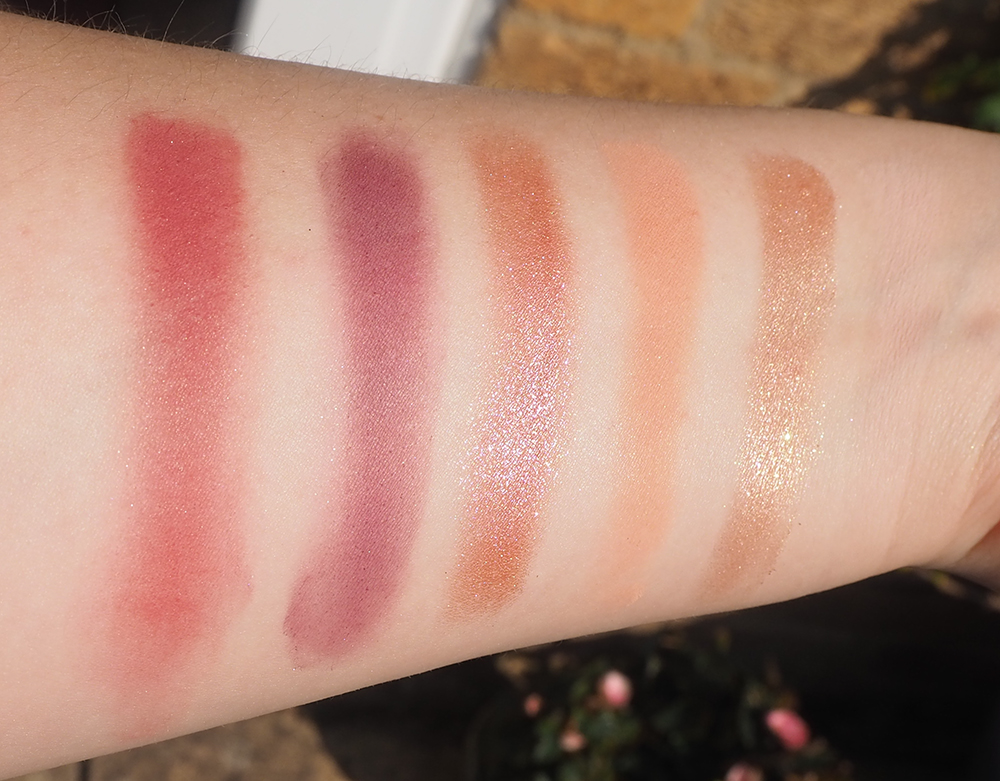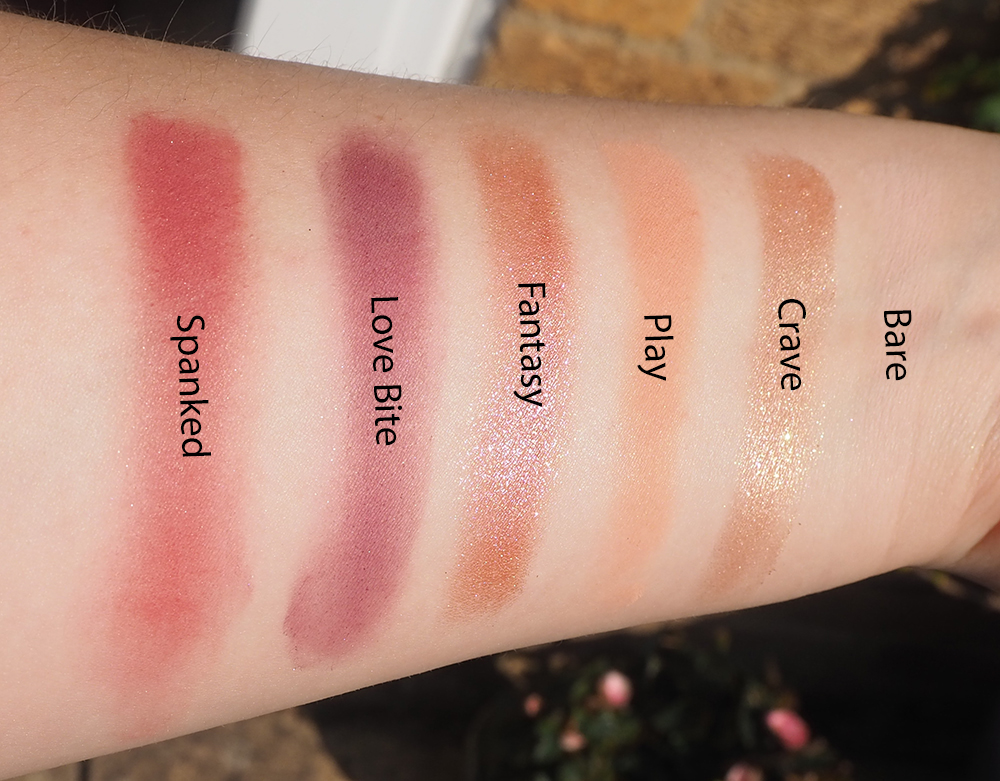 From the swatches alone, I think the shimmers outperformed the mattes. All of the shimmer shades were extremely pigmented and beautiful. Plus when they catch the light, they are so reflective, which I absolutely love.
The mattes did perform well overall, but some could have been more pigmented. I found that the shade Lace particularly lacked pigment, which I was sad about because I love the soft lilac tone.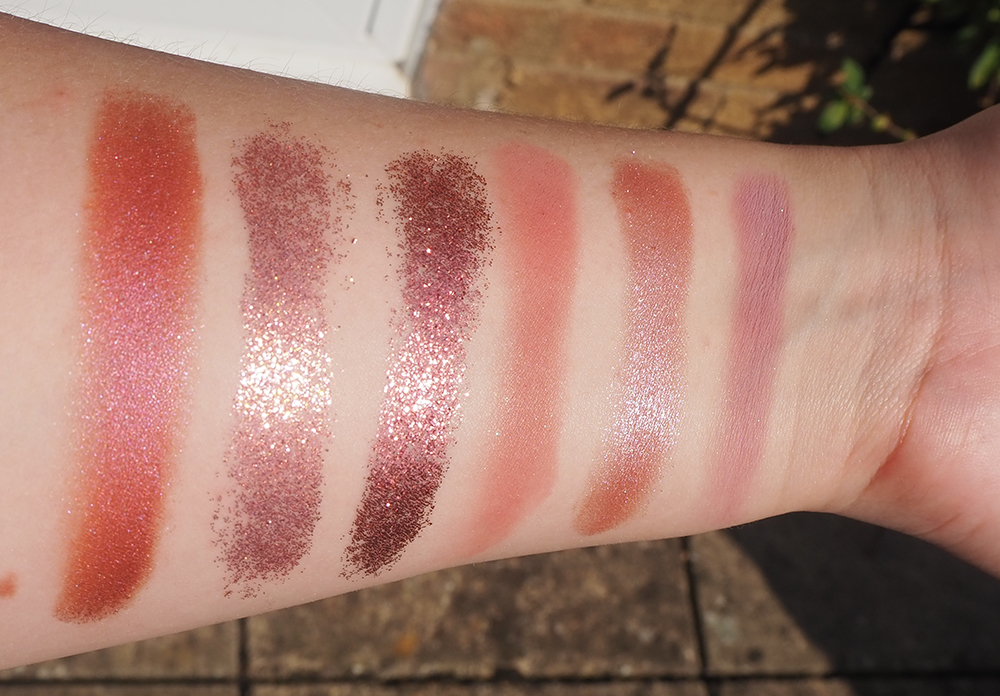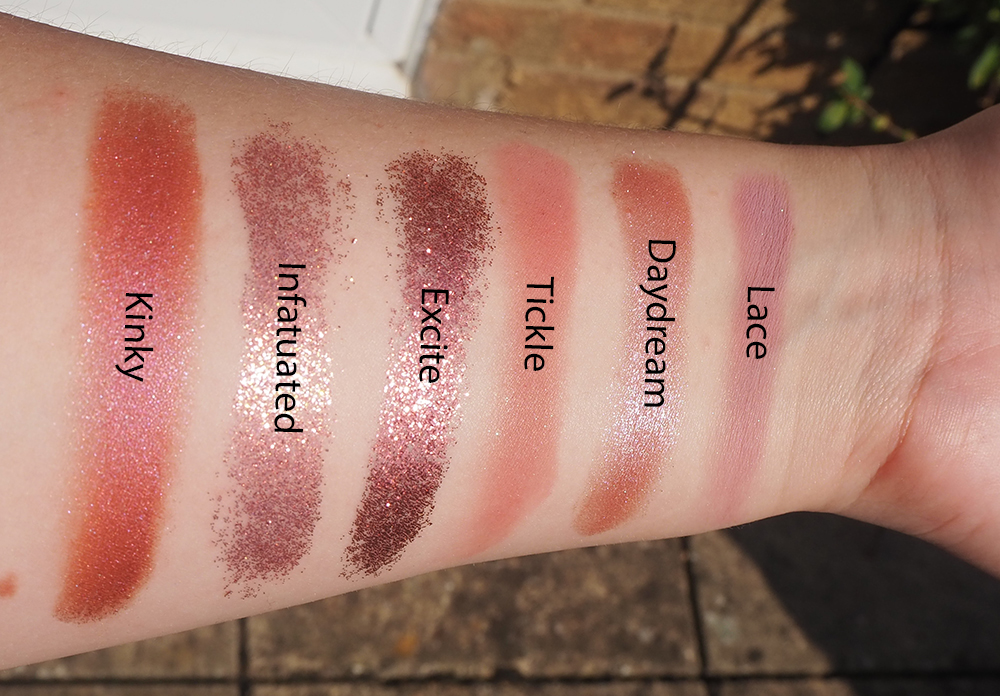 Interestingly and to my surprise, the glitters swatched very well. There was hardly any fall-out and they really glided on.
The concealer felt pretty creamy and smooth on my skin when I swatched it, however, I wondered how much grip it would have as a base for eyeshadows to go over on top.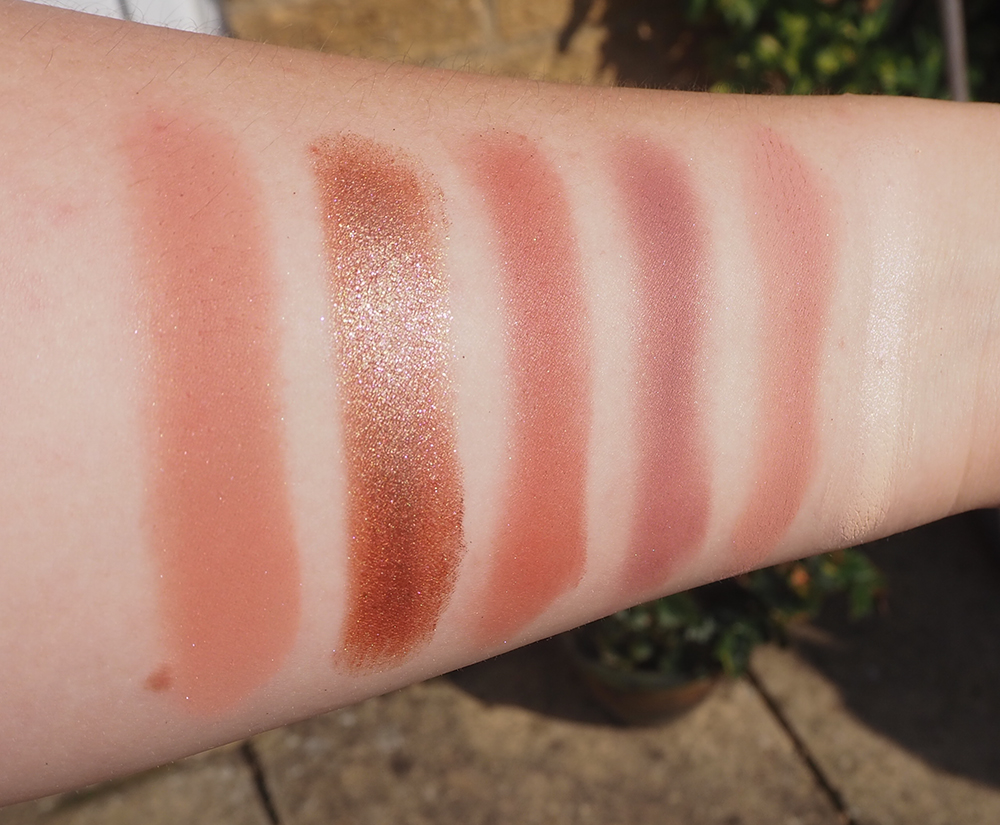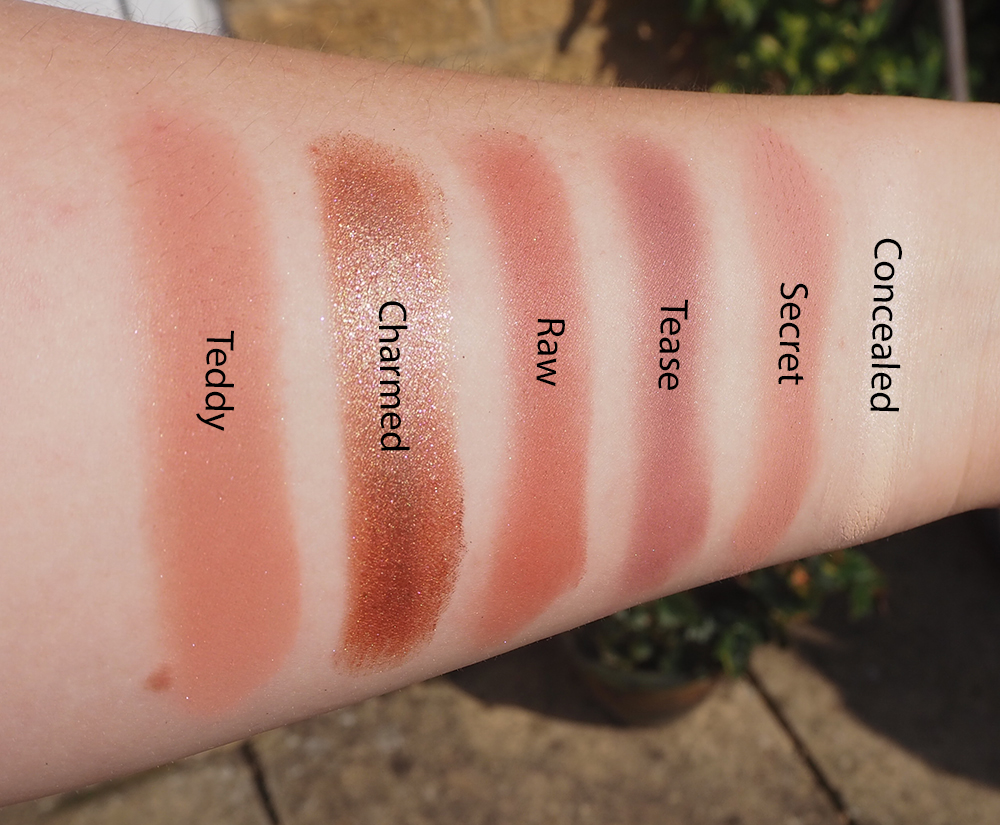 While I genuinely loved all of the shades from swatching them, my only criticism is that I wish there was more differentiation between the glitters and some of the matte shades. Some of them seemed too similar to one another.
My favourite shades are Crave, Fantasy, Daydream, Lace and Tickle.
New vs old
The formula of the New Nude Eyeshadow Palette is definitely different from Huda Beauty's Desert Dusk Palette.
The glitter from the Desert Dusk Palette has some fall-out and is more crumbly in its texture, whereas the two glitters in the New Nude Eyeshadow Palette are far creamier, which I prefer as it makes them easier to work with.
Most noticeably, the mattes in The New Nude Palette are much creamier compared to the Desert Dusk Palette, where the mattes are more powdery. This isn't necessarily a bad thing, but I find creamier eyeshadows easier to work with and less patchy.
The look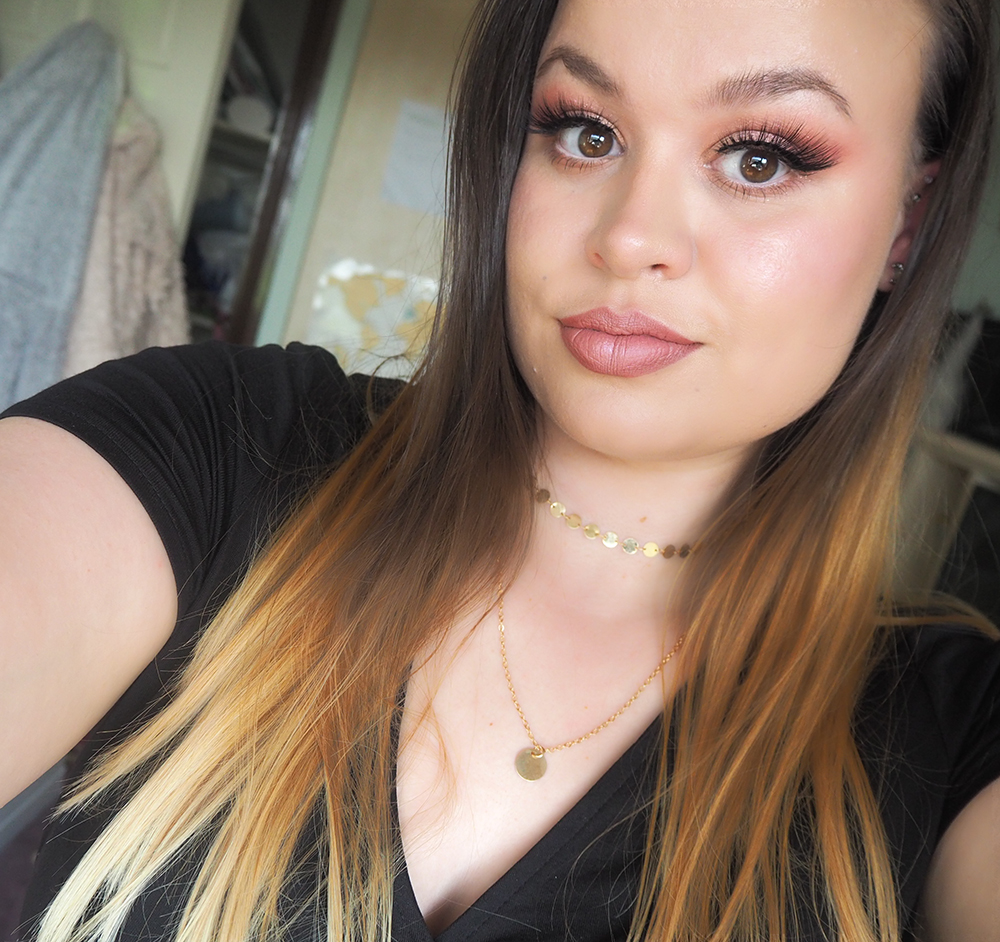 After swatching the shades from the New Nude Eyeshadow Palette, I created a look with the palette. I was very excited to use the palette and see how my look would turn out because I really loved the shades.
For this look, I used my Tarte Shape Tape Concealer for the base. I then used the shades Bare and Play all over my lids for a soft, light pink colour.
After this, I used the shades Tickle, Teddy and Secret on my outer corners in the crease, using more neutral tones to build up the colour and add dimension to the look.
To deepen the look, I placed Raw just in the outer corners for a classic smoked-out look. I then used Concealed to cut the crease and act as a base for shimmer shades.
For the shimmer shades, I applied Crave in the inner corners and towards the middle of the crease and Daydream in the middle of my lids and into the outer corner.
To complete the look, I added some winged eyeliner, false eyelashes and a spot of highlighter in my inner corners to make my eyes 'pop'.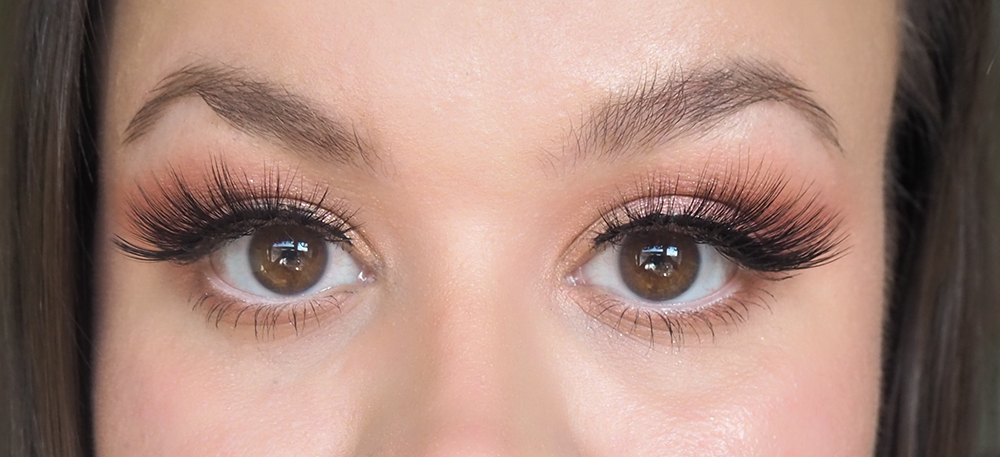 My thoughts
This is honestly one of my favourite looks I've ever created, if not the favourite. The colours blended so well into each other and I felt it created a soft and glamorous look. The shimmers were absolutely out of this world and are easily my favourite shimmers yet from any palette.
I was over the moon with how The New Nude Eyeshadow Palette worked and the look it created.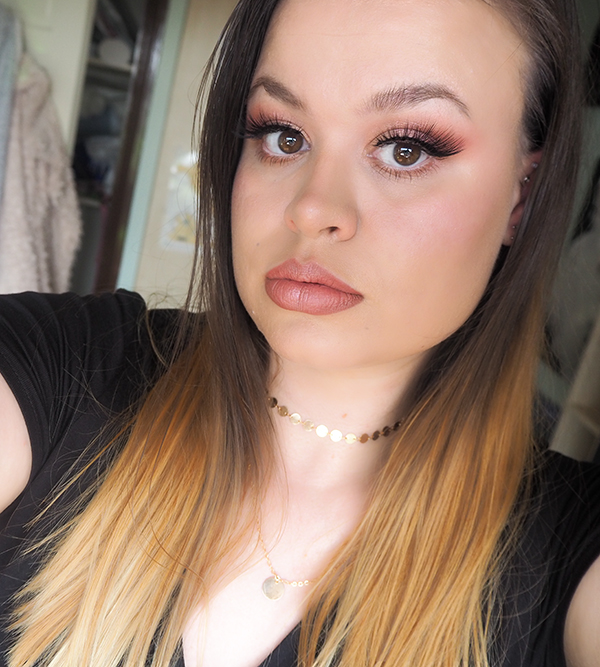 I'd like to add that the concealer worked pretty well. I wasn't blown away by it, but it was okay for a base. It took a bit of layering up, though.
Where to buy
The Huda Beauty New Nude Eyeshadow Palette retails for £56 and can be purchased from Cult Beauty, Huda Beauty, Boots, Selfridges, Feelunique or Harrods.
£56 is expensive for an eyeshadow palette. If you own an eyeshadow palette with pinks, purples and golds in it, you probably don't need this one.
However, if like me you love these tones, this palette is a must! The palette is easy to use and the eyeshadows look stunning on the eyes, especially the shimmer shades.
Final thoughts
YES YES YES.
I absolutely love The New Nude Eyeshadow Palette. All the shades are beautiful and wearable, and I've never been able to say that about an eyeshadow palette before.
Overall, it performed really well and the colours blended out easily to create a soft and glamorous look.
Yes, £56 is pricey, but I think it's absolutely worth the money. It is a more luxurious palette, but I think that shows in the shade range, uniqueness and the sultry feel to it.
Rating: 4.5 stars
This is pretty much a 5 but I can't say it's perfect as I do think some of the shades could be more pigmented. I'm also aware this is an expensive palette. I know a lot of people would never spend this much on a palette and that needs to be taken into account.
However, it's an incredible palette and I'd recommend it to anyone who loves purples, pinks, glamour and beauty!