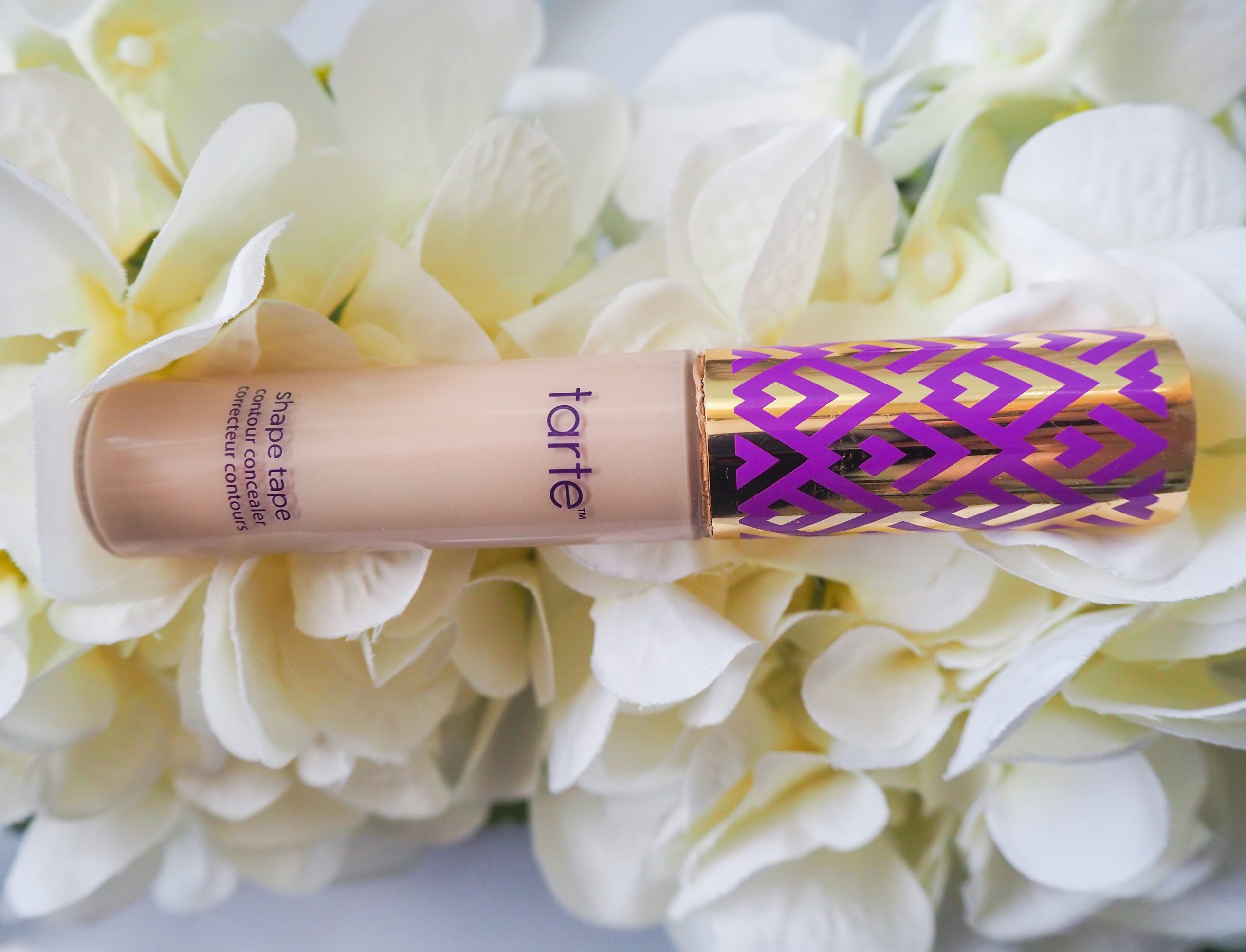 I asked for the Tarte Shape Tape Concealer for Christmas last year because the hype was unreal. All the beauty gurus have it and love it. It was just THE concealer to have and I wanted to know if it was really worth its salt.
First impressions
When I first opened this, I thought how nice the packaging was for a concealer.
Most concealers look pretty ordinary and similar. They're not supposed to be a wow product like an eyeshadow palette or lipstick, but more an essential makeup item.
The Tarte concealer has a diamondy pattern on the lid in purple and gold, which automatically means it is less boring and prettier. Good job Tarte on making a concealer look attractive!
One of the first things I noticed when I opened the concealer was the wand size. It's pretty big. I would've preferred it to be smaller, but hey, I can use a concealer brush.
Then I applied the product and made a very big mistake.
I put a lot on.
It didn't seem like a lot and I was used to other concealers where I needed to put quite a bit on to cover the circles underneath my eyes or spots.
However, this Tarte one was incredible. It just spread out really easily, which meant I had far too much on my face. But it's a good thing because it means you get a lot for your money as it will last ages.
So far, so good.
Rich, creamy texture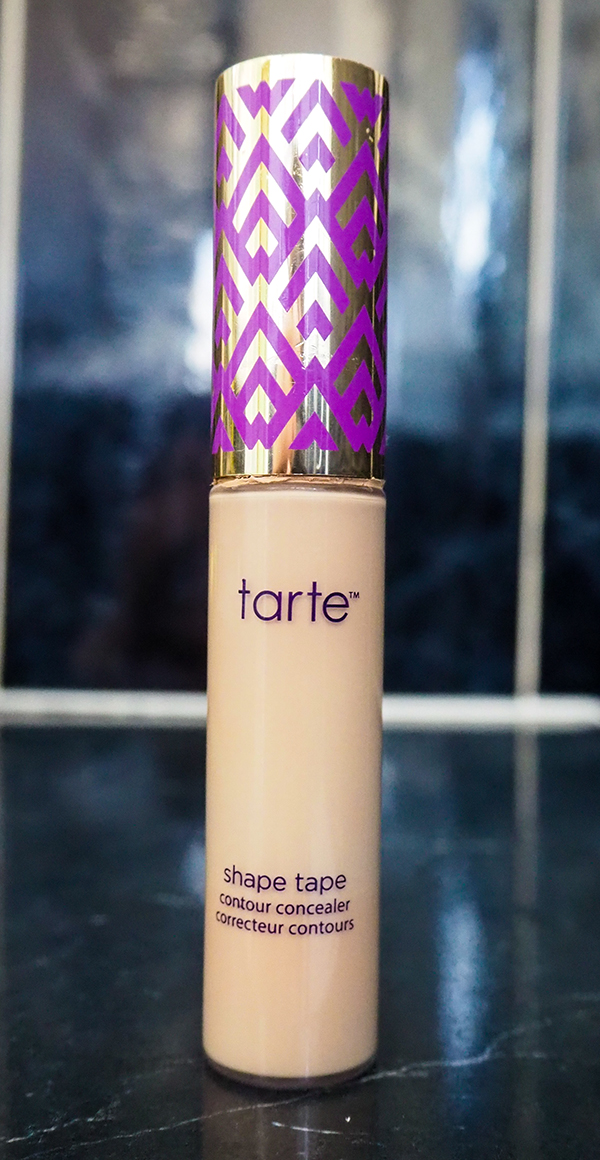 Instantly, I noticed the concealer's texture, it was so rich and creamy.
When I applied it underneath my eyes and over any blemishes or spots I had, it just glided over my skin. It didn't sink into my pores or barely cover my problems up (I've had concealers before where they don't conceal anything, what's the point?), it offered me a nice, smooth coverage.
Because it is so creamy, not much is needed at all to cover up any blemishes or imperfections. It covers them up so effortlessly, which is absolutely great if you have dark circles under your eyes or suffer from spots because this will definitely provide full coverage.
In my opinion, why wouldn't you want a full coverage concealer? They help smooth out any blemishes or issues on the skin that foundation doesn't pick cover.
Because the Tarte Shape Tape Concealer has a creamy formula, I think it would work wonders on dry skin too because it feels hydrating and silky.
Goodbye problems
I really like using the Shape Tape Concealer underneath my eyes because it removes any dullness and makes my eyes look brighter. I would recommend getting a concealer that's a bit lighter than your foundation too for a brighter and lighter appearance.
Even over spots, it's just so creamy that it covers up the redness and doesn't allow any colour to seep through. Amazing.
But does the concealer last?
Yes, extremely well, which is probably one of its biggest selling points.
A lot of concealers look great for the first few hours, but after a while, they break up and the blemishes start to show, which is annoying because then you have to top up.
I have oily skin and previous concealers I've tried have worn off and let oil break out, especially if I've applied the concealer on a spot on my t-zone.
However, Tarte's Shape Tape Concealer lasts for ages, dare I say all day. This shit just doesn't budge I swear. Even after a day at work, leaving it on all day, on a hot summer's day etc. it just seems to last and keep everything concealed that I want it to.
Before and after
I decided to take some pictures of me with and without the Tarte concealer on for comparison. One side of my face just has primer and foundation on whereas the other side has primer, foundation and the concealer on.
Here are the results:
Disclaimer: I'm just using my iPhone 7 camera and I think the difference in person is more noticeable.
Either way, in the second photo the under part of my eye is more concealed and brighter.
Wear test
I decided to do a wear test on the concealer for a full 8 hours at work to see how well and long it lasts. For this test, I applied primer, foundation, the Tarte concealer and finished it off with setting powder.
Here's what happened:
Again, my iPhone 7 camera doesn't show everything as clearly as the naked eye can see, but you can still notice any remarkable differences.
Both in the pictures and in person, I would say that the concealer wore off a very small amount and allowed a tiny amount of oil to come through, but all in all, it lasted very well.
It's definitely one to consider for a long day at work or a busy evening as you don't want to be constantly re-applying your makeup.
As an eyeshadow primer
The goodness doesn't just end there. Not only is the Tarte Shape Tape Concealer a truly excellent concealer, it's also a magnificent eyeshadow primer because it is thick and creamy.
It's only been recently that I've started using an eyeshadow primer. I realised I just couldn't get some colours to work for me, but then my sister would use the same eyeshadow on me and get great results.
The difference? She used an eyeshadow primer and I didn't.
I knew concealer was supposed to be an effective eyeshadow primer and decided to give the Tarte concealer a shot and it worked so well.
All of the colours I'd tried before where the pigment was lacking or I just couldn't get to sit on my lids seemed to work much more easily, especially matte colours. So, this is also is a great eyeshadow primer which I'm always sure to include in my makeup routine now.
Notably, I apply the concealer to my lids with a concealer brush, but I apply it elsewhere with a beauty blender because I want a more blended finish on my face.
Where to buy
If you live in the UK like me, getting this concealer can be a pain.
Tarte isn't currently stocked in any department stores *cries*, which means going to try this out is impossible.
However, with an impressive 30 shades to choose from and great descriptions, you're probably going to get the right one.
You can buy it directly from Tarte's website for £22 or you can get it QVC's site where it comes with a Quickie blending sponge for £28.
Final thoughts
What a great, versatile and long-lasting concealer. I genuinely don't think I'll ever use a different concealer – at least not for the foreseeable future – because the Tarte Shape Tape Concealer offers everything I could want and more. It covers imperfections flawlessly, lasts all day, a little bit goes a long which means I don't run out, and even the packaging is fab!
8 months later and I've still got lots of product left.
Rating: 5 stars
This was a no-brainer rating to me. I have absolutely nothing bad to say about this product and it is worth every single penny. Great job Tarte!