Last Updated on 5th August 2020 by Sarah Sarsby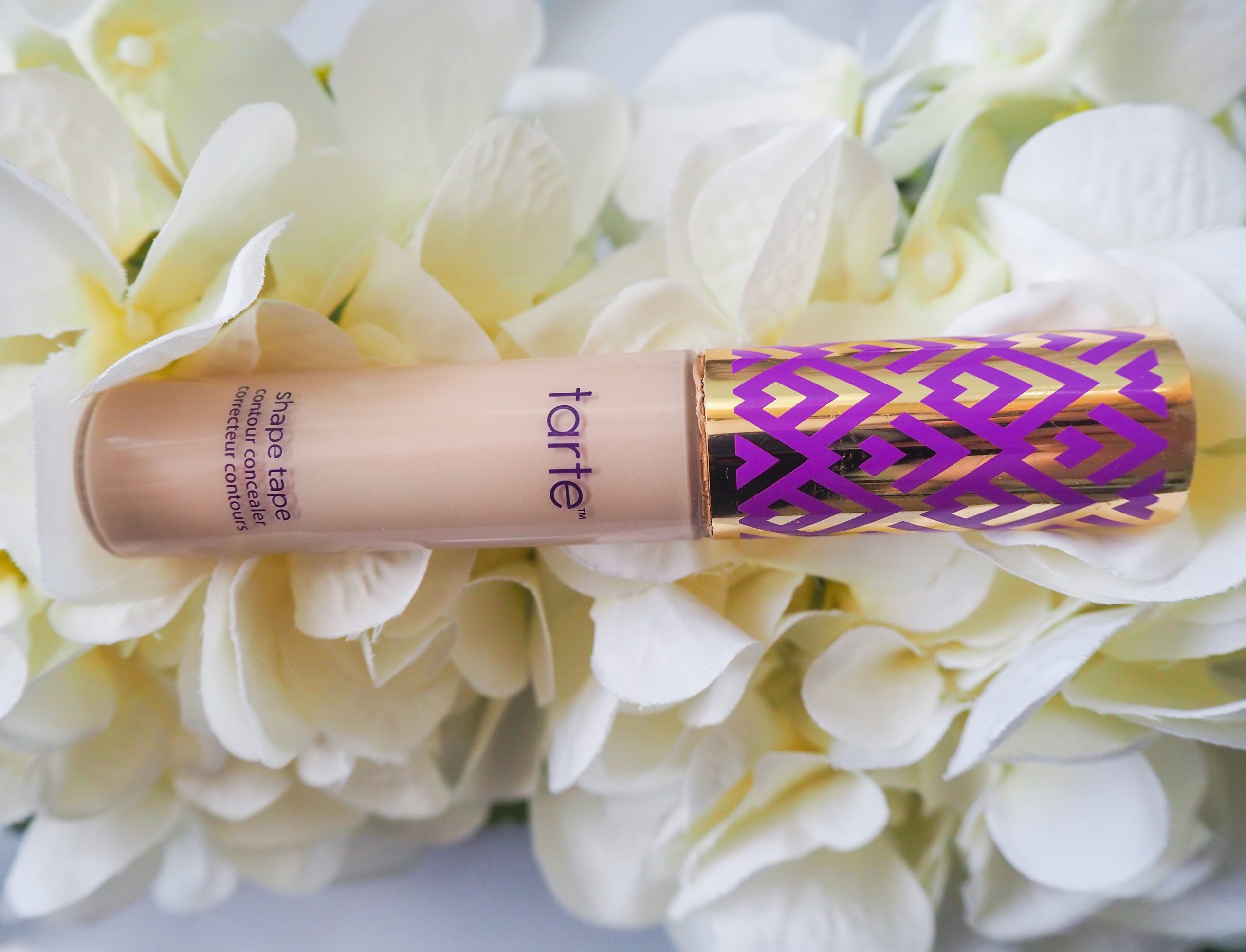 I asked for the Tarte Shape Tape Concealer for Christmas last year because the hype is unreal. All the beauty gurus have this concealer and love it. It's just THE concealer to have and I wanted to know if it's really worth its salt.
Curious to find out if the Tarte Shape Tape Concealer is worth the hype? Keep on reading
What is Tarte?
Tarte Cosmetics is a cruelty-free US-based cosmetics company selling a range of makeup and skincare products. The company is probably best known for its iconic Shape Tape Concealer, Tartelette Toasted Eyeshadow Palette and Maracuja C-Brighter Eye Treatment.
Product claims
According to Tarte, the Shape Tape Concealer is full-coverage and provides 16 hours of flawless, crease-proof wear. It promises to smooth and brighten the eye area for a lifted appearance as well as help blur the appearance of fine lines and wrinkles.
First impressions
Firstly, I love the packaging of the Shape Tape Concealer. Most concealers look pretty ordinary and similar. They're not supposed to be a wow product like an eyeshadow palette or lipstick, but more an essential makeup item.
However, the Tarte concealer has a diamond pattern on the lid in purple and gold, making it much prettier and less mundane. This instantly catches your eye and stands out in your makeup bag.
One of the first things I noticed when I opened the concealer was the wand size. It's pretty big. I would've preferred it to be smaller for more precise application, especially on spots, but hey, I can use a concealer brush.
I bought the shade Light Neutral as I thought this would be a good shade to help brighten my under eye areas and cover any spots or blemishes I might have.
Then I applied the product and made a very big mistake.
I put a lot on.
It didn't seem like a lot compared to other concealers I've used before, where I needed to put quite a bit on to cover the circles underneath my eyes or spots. However, this Tarte one was incredible.
It spread out really easily and provided very full coverage, which meant I had far too much on my face. I personally like this because it means you get a lot for your money as it will last ages. Plus, any 'problem' areas on my face can be very quickly concealed with Shape Tape.
So far, so good.
Rich, creamy texture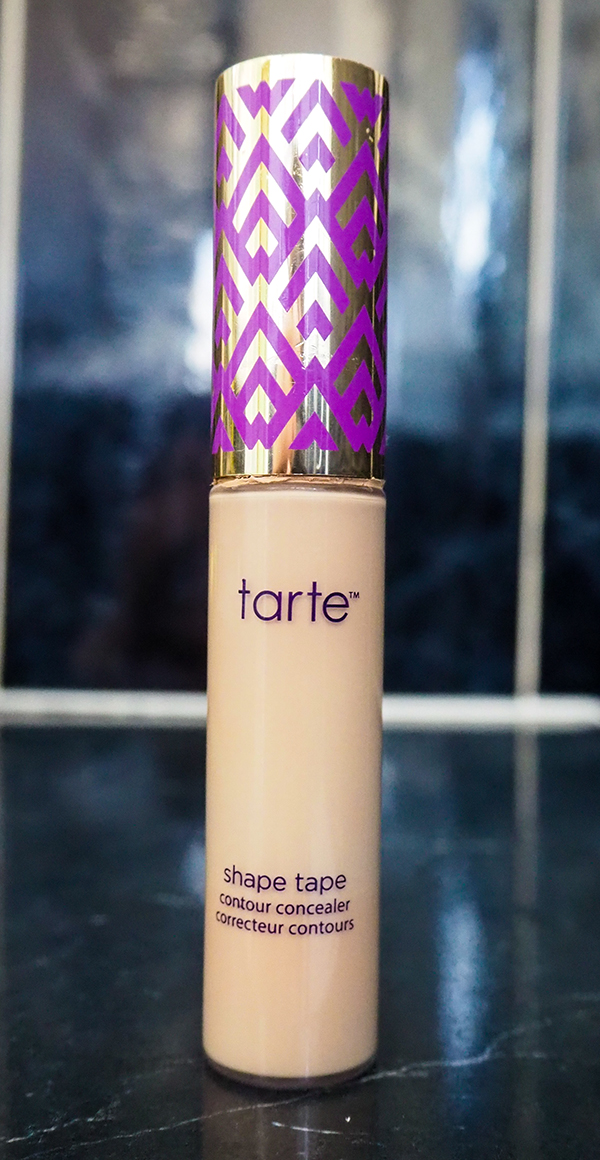 The Tarte Shape Tape Concealer is rich and creamy. When I applied it underneath my eyes and over any blemishes or spots I had, it just glided over my skin. It didn't sink into my pores or provide mediocre coverage, instead offering flawless, smooth coverage.
Because it's so creamy, not much is needed at all to cover up any imperfections. This is ideal if you have dark circles under your eyes or have a few spots you want concealing.
In my opinion, why wouldn't you want a full coverage concealer? They help smooth out any blemishes or issues that foundation doesn't cover. I'd only opt for a light or medium coverage concealer if I was wearing a tinted moisturiser for a more fresh and natural look.
Because the Tarte Shape Tape Concealer has a creamy formula, I think it would work wonders on dry skin too because it feels hydrating and silky.
Goodbye problems
I really like using the Shape Tape Concealer underneath my eyes because it removes any dullness and makes my eyes look brighter. I would recommend getting a concealer that's a bit lighter than your foundation too for a brighter and lighter appearance.
Even over spots, it's just so creamy that it covers up the redness and doesn't allow any colour to seep through. Amazing.
But does the concealer last?
Yes, extremely well, which is probably one of its biggest selling points.
A lot of concealers look great for the first few hours, but after a while, they break up and the blemishes start to show, which is annoying because then you have to top up.
I have oily skin and previous concealers I've tried have worn off and let oil break out, especially if I've applied the concealer on a spot on my t-zone.
However, Tarte's Shape Tape Concealer lasts for ages, dare I say all day. This shit just doesn't budge I swear. Even after a day at work, leaving it on all day, on a hot summer's day etc. it just seems to last and keep everything concealed that I want it to.
Where to buy
You can buy the Shape Tape Concealer directly from Tarte's website for £24 or you can get it QVC's site, where it comes with a Quickie blending sponge for £28.
As this concealer will take you ages to get through due to how little product you need on application, I think £24 is a good price because this concealer will last for forever.
Final thoughts
Shape Tape is a great, full coverage and long-lasting concealer. I genuinely don't think I'll ever use a different concealer because the Tarte Shape Tape Concealer offers everything I could want and more.
It covers imperfections flawlessly, lasts all day, a little bit goes a long which means I don't run out, and even the packaging is fab!
8 months later and I've still got lots of product left.
Rating: 5 stars
This is a no-brainer for me. I have absolutely nothing bad to say about this product and it is worth every single penny. Great job Tarte!