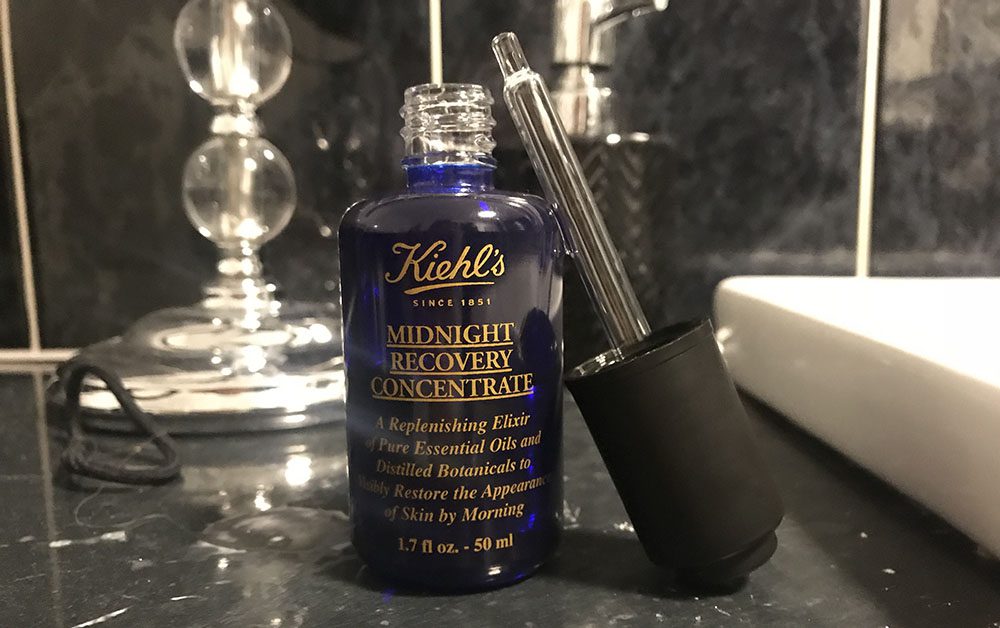 I bought the Kiehl's Midnight Recovery Concentrate because two of my friends were raving about it and said how much it had helped their skin's overall feel and appearance. At the time, I was lacking a nighttime product to put on my skin. Plus, anyone who knows me knows how easily I can be persuaded to buy a skincare product!
Admittedly, I was sceptical about this product at first because I was (wrongly) under the impression that putting oil on normal/oily skin was only going to exacerbate the issue.
But, I'd wanted to try Kiehl's for ages, had heard stellar things about the Midnight Recovery Concentrate oil, and read that it was suitable for all skin types, so thought I'd try it out.
** This post contains affiliate links. This means at no extra cost to you, I earn some commission if you purchase a product through my link. All thoughts are my own, though, as always. If you want to find out more, visit my affiliate disclosure page **
What is Kiehl's?
Established in 1851 as an old-world apothecary, Kiehl's is now a popular skincare brand, which strives to give customers healthier, more radiant and younger-looking skin.
Some of the brand's best-selling skincare products include the Midnight Recovery Concentrate, Ultra Facial Cream and Creamy Eye Treatment.
Product ingredients and claims
Midnight Recovery Concentrate replenishes skin as you sleep, supplementing its natural overnight recovery process, to reveal a rested and restored appearance by morning.
According to Kiehl's, its nighttime oil leaves the skin feeling fresher and looking more toned by the morning.
Key ingredients
Lavender essential oil: which aims to soothe inflamed or irritated skin while helping reduce skin blotchiness for a more even look. (Essential oils can cause skin irritation, so if you have sensitive skin or have used essential oils before that have irritated your skin, you should avoid this product).
Squalane: helps restore skin's natural moisture balance to keep it extra soft and supple.
Evening primrose oil: helps repair skin barrier and promote radiance
First impressions
The packaging is quite cute and I like the dark purple/blue bottle. What I dislike, though, is the fact that the words 'Midnight Recovery Concentrate' are in caps and underlined. I'm not a fan. I think it makes the product look old-fashioned, although I think that's the vibe Kiehl's is going for.
When I squeezed a few drops into my hand, I noticed a strong scent of lavender, which has relaxing and calming properties – perfect for a nighttime oil. I like the scent of lavender so this was a nice addition for me.
I then applied the oil all over my face. To my surprise, it had a light texture, which I was pleased with because I didn't want it to feel greasy on my already oily skin.
One month in
After using theKiehl's Midnight Recovery Concentrate for about one month three to four times a week, I wasn't bowled over.
Did I like it? Yeah, I did.
Did I love it? Not at all.
I didn't feel like it was doing much. It smelled nice and my skin felt pretty soft the next morning, but I just couldn't see what all the fuss was about.
Three months in
I don't even remember noticing that my skin had improved. I just remember hearing a lot more comments around a similar time saying that my skin looked healthy, glowy and clear, and thinking to myself this isn't just coincidence.
The only product that I'd recently incorporated into my skincare routine was the Kiehl's Midnight Recovery Concentrate and I realised the magic it had been working.
In fact, it worked so well that when I looked in the mirror in the mornings, I wasn't noticing any spots or finding that my complexion was dull. I forgot that I'd ever had those problems.
Sure, I still got the odd spot here and there or had days where I felt my skin looked a bit dull, but 9 times out of 10 my skin looked completely different.
One year later
I've been using Kiehl's Midnight Recovery Concentrate for over a year now and I adore it.
First of all, I've not even used half of the bottle, which is crazy seeing as I've been using it every week four times a week since my birthday last August.
Secondly, my skin has continued with its healthy, glowy and clear appearance. What more could you ever want from skin?
Growing up, I never had particularly enviable skin. But since using this oil, I get so many more compliments with people asking what products I use. I owe this huge improvement in my skin to the Kiehl's Midnight Recovery Concentrate as well as Dermalogica's Special Cleansing Gel.
Thirdly, it proved me wrong about putting an oil on oily skin. It works!
Where to buy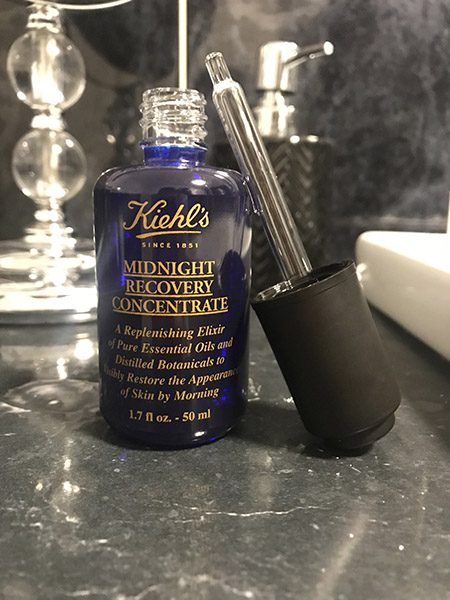 View this product as an investment because, with a £38 starting price, it's definitely not the cheapest product on the market. Honestly, though, it's worth it. As I mentioned before, this has lasted me for a year and I haven't even used half of mine yet.
feelunique always has sales on, so I'd highly recommend purchasing theKiehl's Midnight Recovery Concentrate from there for some absolute steals.
The Midnight Recovery Concentrate is available in 3 sizes:
30ml: £38
50ml: £49.50
100ml: £95
Final thoughts
An absolute 10/10 product. This has done wonders for my skin and I love it. Out of my current skincare products, if I could only continue to use one, this is undoubtedly the one I'd pick.
Easy to apply, lasts ages, has a nice smell, and has improved my skin in multiple ways.
A no-brainer, this should be incorporated into everybody's skincare routines. There's a reason this product is so highly rated.
Rating: 5 stars
B U Y I T !