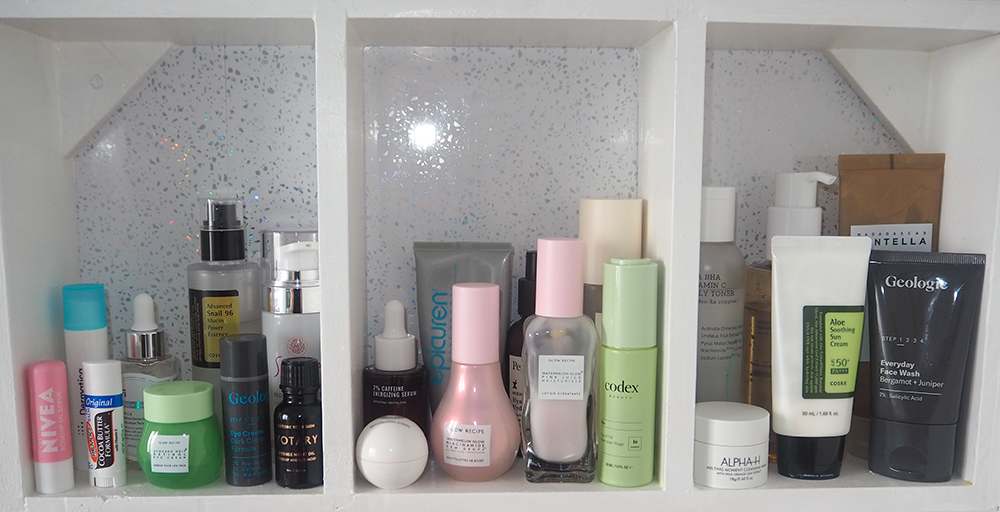 The world of skincare can be very overwhelming. The skincare market is becoming more and more saturated, and there are thousands of products to choose from. Whether you're a skincare newbie or a skincare addict, there's a lot to get your head around.
One area that can be difficult to navigate is knowing where to spend money in your skincare routine. Some products are as little as £5 and others can be over £200. Is a £7 cleanser going to do an effective job of cleansing your skin? Do you really need a £240 eye cream?
In this blog post, I explain where you should spend money in your skincare routine so that not only your skin will feel amazing but your bank account will thank you too!
* This post contains some affiliate links. This means at no extra cost to you, I earn some commission if you purchase a product through my link. All thoughts are my own, though, as always. If you want to find out more, visit my affiliate disclosure page **
Use the code SARAHSSPH for 15% off Sephora UK (excludes some brands).
Save
The save category is those products where you don't need to spend much money to achieve amazing results. Think £20 and under. Of course, if you want to spend more than that, go for it! I definitely do from time to time. But just know that you don't need to.
Cleansers
You don't need to spend much money on a cleanser to get decent results. These aren't targeted treatments with lots of actives; they're simply designed to clean your skin. There are plenty of great affordable cleansers that perform just as well as – if not better than – expensive cleansers.
My top picks: The Body Shop Camomile Sumptuous Cleansing Butter, CeraVe SA Smoothing Cleanser, SKIN1004 Centella Ampoule Foam
Eye creams
You might have heard skincare experts refer to eye creams as "overpriced moisturisers". And this is pretty true. Most eye creams offer the same function as a typical face moisturiser – to hydrate and nourish the skin. However, eye creams come in tiny tubes or pots and are often way more expensive per gram than their moisturiser counterparts. There's no need to spend £40 on an eye cream that's essentially just a basic moisturiser.
My top picks: The Inkey List Caffeine Eye Cream, La Roche-Posay Hydraphase Intense Eye Cream
Face mists
Face sprays are mostly designed to give your skin a hydration boost throughout the day. They're particularly great for dry skin, where a quick spritz can do wonders for keeping any dryness at bay. Typically, face mists don't feature many actives and use basic and inexpensive ingredients to help keep moisture locked in. You seriously don't need to spend much on mists.
My top picks: Sioris Time is Running Out Mist, La Roche-Posay Toleriane Ultra 8 Soothing Spray
Moisturisers
Typically, moisturisers don't contain expensive ingredients, so you don't need to spend much money to keep your skin nourished and hydrated. While expensive moisturisers may feel more luxurious and boast beautiful packaging, there are plenty of fantastic drugstore options to choose from. A good moisturiser seriously doesn't need to break the bank!
My top picks: e.l.f. Cosmetics Holy Hydration! Face Cream Fragrance Free, heimish Watermelon Moisture Soothing Gel Cream, SKNLDN Daily Hyaluronic Acid Moisturiser
SPFs
Sunscreens tend to sit at around £18-£30. You don't need to spend more than £25 on a great SPF that sits well on the skin, leaves no white cast, and provides great UV protection.
My top picks: SKIN1004 Hyalu-Cica Water-Fit Sun Serum SPF50, Thank You Farmer Sun Project Water Sun Cream SPF 50+, Fenty Skin Hydra Vizor, La Roche-Posay Anthelios UVMune 400 Invisible Fluid SPF50+
Face masks
You never need to spend much on a basic face mask. They're formulated with very inexpensive ingredients, particularly clay ones, so paying anything above £20 for a simple clay or hydrating face mask is a rip-off. If there's one that's £40 that you're desperate to try, go for it! But just know this is one skincare product that you don't need to splurge on.
My top picks: The Body Shop Himalayan Charcoal Purifying Glow Mask, Lush Cosmetics Don't Look at Me Fresh Face Mask, ISNTREE Real Mugwort Clay Mask
Splurge
Products in the splurge category are ones where you spending that bit more money often yields better results. These are the products that really target skin concerns and typically are more expensive to formulate. Think anywhere between £20-£80. If you want to spend more, go for it, but after a certain point, you're just paying for an expensive label!
Serums
Serums are one of the areas in your skincare routine where investing more money is going to make a world of difference. This is the main product that targets any skincare concerns you might have and includes higher concentrations of key actives, which means they're more expensive to formulate. Any serums that have been clinically trialled (not consumed tested) are worth looking into, as they demonstrate proven skin improvements.
My top picks: NIOD Multi-Molecular Hyaluronic Complex, OSKIA Super-C Capsules, ESPA Skincare Optimal Skin Pro-Serum, BB Skin Vitamin D Serum
Toners
Okay, so you don't need to go crazy with toners. Think £20-£25. They tend to target skin concerns but in less concentrated formulae than serums, but they're still worth investing a bit of money into. Cheap toners can often be very ineffective in my experience.
My top picks: COSRX Full Fit Propolis Synergy Toner, ISNTREE Green Tea Fresh Toner, FRUDIA Avocado Relief Essence Toner
Face oils
Face oils are one of those products where you can tell a big difference between a good one and a cheap one. In my experience, face oils around the £40 mark and upwards have made a much bigger difference to the condition of my skin compared to those at £15 and under. A good face oil is a worthy investment for long-lasting nourishment and healthy, conditioned skin.
My top picks: Sunday Riley C.E.O. Glow, Kiehl's Midnight Recovery Concentrate, The Body Shop Vitamin E Overnight Serum-In-Oil, Avant Skincare Advanced Bio Restorative Superfood Facial Oil
Night creams
Night creams often contain more active ingredients that support restoring and repairing skin when compared to daytime moisturisers. A lot of anti-ageing night creams contain retinoids, which are the gold standard in skincare. While there are some great night creams at about £20, you'll tend to notice a bigger difference in your skin if you invest more money in a decent night cream that contains higher concentrations of active ingredients.
My top picks: OSKIA Bedtime Beauty Boost, Mario Badescu Seaweed Night Cream, Dr Jackson's 02 Night Cream
Retinol
The number 1 place to spend money in your skincare routine is retinol, AKA vitamin A. This is the gold standard in skincare and one of the best ingredients for your skin. Although retinol is hailed for its ability to reduce the appearance of fine lines and wrinkles, it also contributes to a more even and radiant complexion. Plus, it's great at helping reduce acne. This is an unmatched ingredient, and investing in a high-quality retinol product is guaranteed to deliver results.
My top picks: Skin Rocks Retinoid 2, Votary Intense Night Oil – Rosehip and Retinoid, Alpha-H Liquid Gold Midnight Reboot Serum
Exfoliants
A decent exfoliant makes a world of difference to your skin. They'll help to even out your skin's tone and texture without any irritation. Exfoliants are a targeted treatment containing higher concentrations of actives, so they tend to be more expensive to formulate. Investing in an effective yet gentle exfoliant will do a world of good for your skin.
My top picks: Drunk Elephant T.L.C. Framboos Glycolic Night Serum, Paula's Choice Skin Perfecting 2% BHA Liquid Exfoliant, Glow Recipe Watermelon Glow PHA + BHA Pore-Tight Toner, Maysama ABP11+ Green Rooibos Gentle Resurfacing Toner