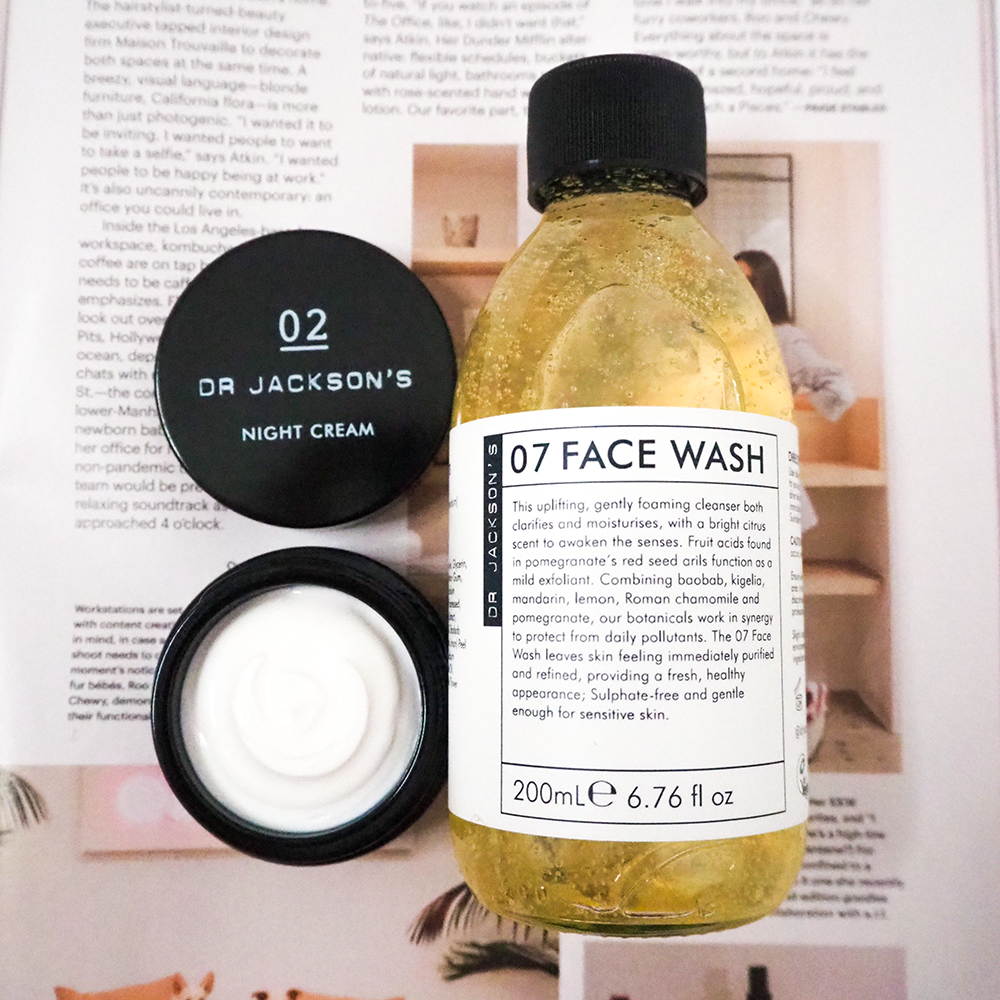 In this review, I'm going to tell you everything you need to know about Dr Jackson's skincare, and my honest experience with its Night Cream and Face Wash.
Natural-led skincare brands like Dr Jackson's are really popular at the minute. And what I mean by natural-led is brands that mostly use naturally occurring ingredients. Not ingredients made in the lab. Think products containing shea butter, aloe vera, and coconut oil.
But don't be fooled, everything is a chemical, including water, so there's no such thing as "chemical-free" skincare (no matter how much certain natural-led brands will market this to you). And ingredients created in the lab are by no means "bad", just as much as not all natural-led skincare products are better than chemical-led ones. All I'm saying is that natural-led skincare products are having their moment right now.
But honestly, all I care about is whether the product actually works. Does the product benefit my skin?
Keep reading to find out whether natural-led skincare brand Dr Jackson's is worth the hype, and whether I recommend its night cream and face wash.
What is Dr Jackson's?
Launching in 2012, Dr Jackson's is a natural-led, vegan and cruelty-free cosmetics and organic tea company, with a large focus on sustainability. The products are suitable for all skin types and genders, according to the brand, with science-led and effective formulae.
We look at every single component of our products and put just as much research into our minimalist recyclable packaging, as we do for our award-winning formulas.

Dr Jackson's
2 of the brand's best-selling products are the 02 Night Cream and 03 Everyday Oil.
1. Dr Jackson's 02 Night Cream
£42 for 30ml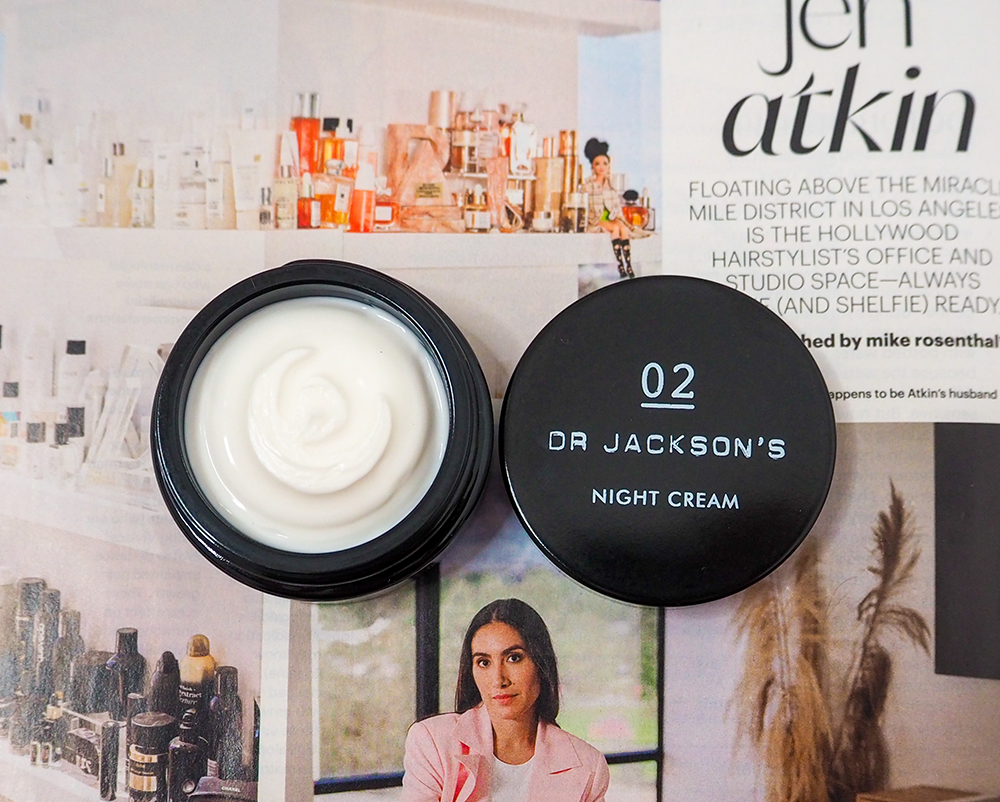 Product claims
The Dr Jackson's 02 Night Cream promises to be rich and deeply nourishing for hydrated, soft and smooth skin. Skin is supposed to stay hydrated for 8 hours after application, according to clinical trials. The night cream claims to regenerate, firm and even the skin tone.
An essential part of your bedtime ritual, this luxurious formula is packed with powerful and fragrant botanicals that work in synergy to regenerate dry skin and help diminish fine lines: kigelia fruit extract firms and evens the skin tone, baobab seed oil provides vitamins and antioxidants that offer protection from environmental pollutants, while frankincense calms and soothes the complexion, and mango seed butter deeply nourishes.

Dr Jackon's
Dr Jackson's says this night cream is suitable for all skin types, including sensitive and very dry skin. According to the brand, the 02 Night Cream further helps diminish the look of fine lines and protects skin from environmental pollutants. By morning, your skin is meant to look radiant, refreshed and youthful.
Key ingredients
Excluding water, the top 5 ingredients in the INCI list are:
Wheat germ oil: an emollient (softens and soothes the skin) plant oil
Baobab seed oil: an emollient
Marula seed oil: a non-fragrant emollient plant oil that's a rich source of fatty acids
Glyceryl stearate: an emulsifier, emollient and cleansing agent
Cetearyl alcohol: a texture enhancer (helps thicken skincare products) and emollient
See the full INCI list below:
Water (Aqua), Wheat (Triticum Vulgare) Germ Oil, Baobab (Adansonia Digitata) Seed Oil, Marula (Sclerocarya Birrea) Seed Oil, Glyceryl Stearate, Cetearyl Alcohol, Cetyl Alcohol, Mango (Mangifera Indica) Seed Butter, Coconut (Cocos Nucifera) Oil, Glycerin, Kigelia (Kigelia Africana) Fruit Extract, Olive (Olea Europaea) Leaf Extract, Cranberry (Vaccinium Macrocarpon) Seed Oil, English/Roman Chamomile (Chamaemelum Nobile) Flower Extract, Lavender (Lavandula Angustifolia) Flower Extract, Asian Ginseng (Panax Ginseng) Root Extract, Comfrey (Symphytum Officinale) Leaf Extract, Alcohol Denat., Benzyl Alcohol, Dehydroacetic Acid, Frankincense (Boswellia Sacra) Oil, Vanilla (Vanilla Planifolia) Fruit Extract, Sunflower (Helianthus Annuus) Seed Oil, Tocopherol, Limonene+
Review
If you've read my March beauty faves blog post, then you already know how much I love the Dr Jackson's 02 Night Cream.
Firstly, the packaging is amazing. It comes with a luxe spatula, and the black and white glass jar feels heavy and expensive. You can recycle and reuse the glass jar too, which is great for the environment.
The cream's texture is simply divine. This rich, whipped night cream is creamy and silky. It gives high-end vibes.
On application, my skin feels instantly hydrated, smooth and nourished. It gives my skin a subtle healthy glow, which I'm obsessed with. My skin loves the night cream. By morning, my skin still feels moisturised, as well as softer, smoother, refreshed and renewed. Plus, it feels slightly firmer in the morning, so people looking for an anti-ageing night cream will likely benefit from the 02 Night Cream.
But my favourite thing about the Dr Jackson's night cream is the addictive mango scent. The sweet scent makes applying the already-brilliant night cream an even better experience. It smells good enough to eat. I honestly look forward to applying the cream every night because of the mango scent alone.
The Dr Jackson's 02 Night Cream is totally worth the hype. I don't have a bad word to say about it.
Rating: 5 stars
This is one of my favourite night creams ever.
2. Dr Jackson's 07 Face Wash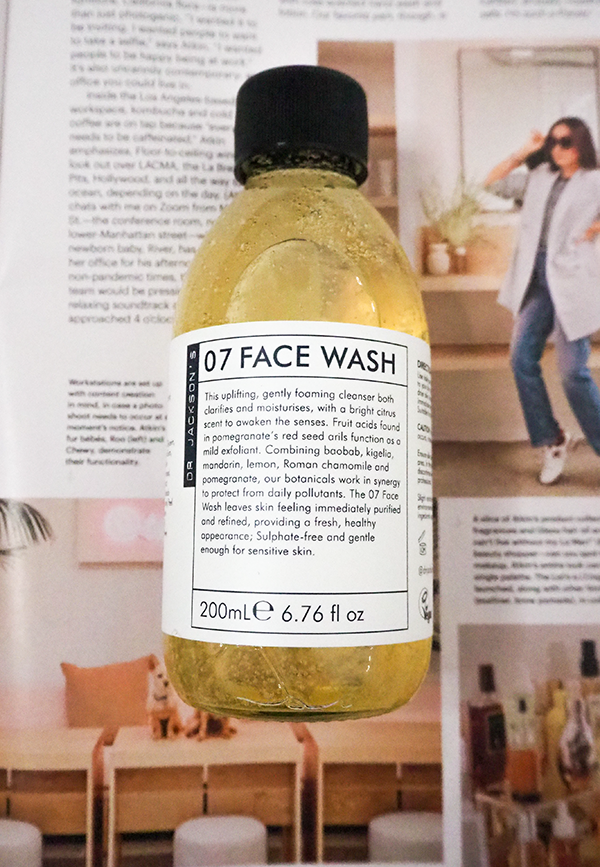 £33 for 200ml
Product claims
The Dr Jackson's 07 Face Wash promises to gently hydrate and cleanse the skin with a bright citrus scent. Natural ingredients like pomegranate extract, lemon peel oil, chamomile oil work together to gently exfoliate, soothe, calm, nourish, refresh, and clarify the skin for a radiant finish, according to the brand.
A gentle face wash that both cleanses and hydrates to reveal clear, clean and clarified skin. 

Dr Jackson's
The 07 Face Wash claims to be suitable for all skin types, including sensitive skin. Dr Jackson's says the face wash is particularly beneficial to oily/combination and sensitive skin. It also claims to gently remove dirt and oil, without stripping the skin of its natural oils.
Key ingredients
Excluding water, the top 5 ingredients in the INCI list are:
Coco-glucoside: a coconut-derived gentle cleansing agent
Glycerin: has hydrating properties
Polyglyceryl-4 caprate: an emollient and solubiliser (helps to dissolve small amounts of oil-loving materials into watery liquids)
Decyl glucoside: a sugar-derived gentle cleansing agent
Xanthan gum: a thickening agent and texture enhancer
See the full INCI list below:
Water (Aqua), Coco-Glucoside, Glycerin, Polyglyceryl-4 Caprate, Decyl Glucoside, Xanthan Gum, Cocamidopropyl Betaine, Gluconolactone, Sodium Benzoate, Mandarin (Citrus Nobilis) Peel Oil Expressed, Citric Acid, Pomegranate (Punica Granatum) Extract, Alcohol, Marula (Sclerocarya Birrea) Seed Oil, Baobab (Adansonia Digitata) Seed Oil*, Lemon (Citrus Limon) Peel Oil, Kigelia (Kigelia Africana) Fruit Extract, Calcium Gluconate, Camelina (Camelina Sativa) Seed Oil, Chamomile (Anthemis Nobilis) Flower Oil, Citral+, Limonene+
Review
I like the Dr Jackson's 07 Face Wash, but I don't love it.
Firstly, I like the packaging. It initially comes with a screwable cap to keep product from leaking out, but you then switch to the pump dispenser top that comes with the cleanser, which you simply screw on to start using. The glass bottle is recyclable, which, again, is another eco-friendly consideration from this sustainable-focused brand.
The 07 Face Wash smells great. It's got a natural, invigorating and uplifting citrus scent, with slight herbal notes. This definitely adds to the whole cleansing process for a refreshing experience. I'm personally a big fan of fragranced skincare (and I don't necessarily mean added fragrance; it can be naturally occurring), so I love the citrus burst.
I think the 07 Face Wash serves well as a basic cleanser. It's gentle on the skin, which is ideal for people with sensitive skin, and it effectively removes any dirt or grease. My skin doesn't feel stripped or dry after using the cleanser.
However, I don't think this cleanser is a must-have.
In my opinion, the cleanser is a bit joyless beyond the citrus scent. I personally love a cleanser that works into a creamy (not soapy) lather, but this one doesn't. And while it does effectively remove any traces of dirt, the cleanser doesn't bring any other benefits to my skin. My skin doesn't feel more nourished or hydrated, and it doesn't look more radiant either.
I'm not saying that all cleansers should deliver a myriad of benefits to the skin. Basic works. But there are other cheaper drugstore cleansers on the market that deliver the basic gentle cleansing properties of the 07 Face Wash, but for a third of the price.
Rating: 3.5 stars
This is a decent, gentle cleanser, but it's nothing special.
Overall review of Dr Jackson's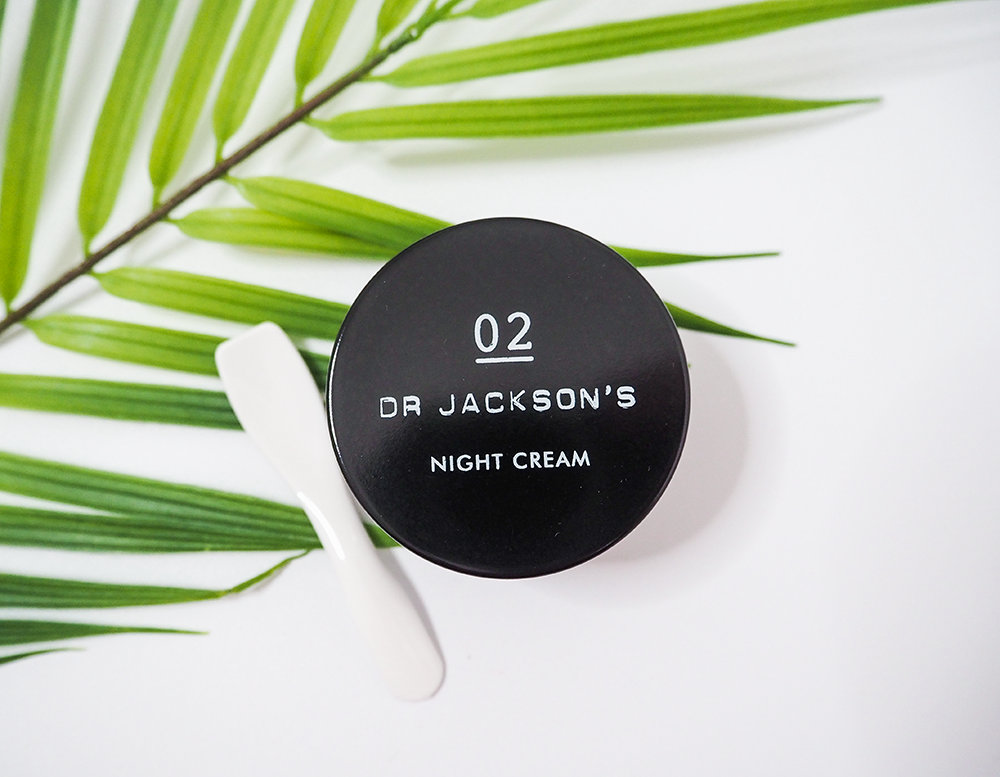 My overall Dr Jackson's review is positive. I love that the brand takes an eco-conscious approach with recyclable and reusable packaging. The beauty industry is notorious for having loads of unnecessary and wasteful packaging. Think useless plastic wrapping that serves only aesthetic purposes. So this sustainable approach to packaging is fantastic.
Of course, the fact that the brand is vegan and cruelty-free also gets a big thumbs up.
Both the 02 Night Cream and the 07 Face Wash work. They're effective skincare products that do what they're supposed to. While the 07 Face Wash isn't my favourite, I'm totally obsessed with the 02 Night Cream. The night cream makes my skin look and feel amazing and delivers far more benefits than a simple nourishing moisturiser. I would be happy to use either product again in the future, but I can see myself buying the night cream with my own money. It's honestly amazing.
Overall, I think Dr Jackson's is a great brand with wonderful packaging, a strong brand ethos, and some highly effective natural-led products. I think this brand is worth the hype, and I'd love to try some other products in the future.
Favourite Dr Jackson's product?
The 02 Night Cream. Hands down.