Last Updated on 25th August 2023 by Sarah Sarsby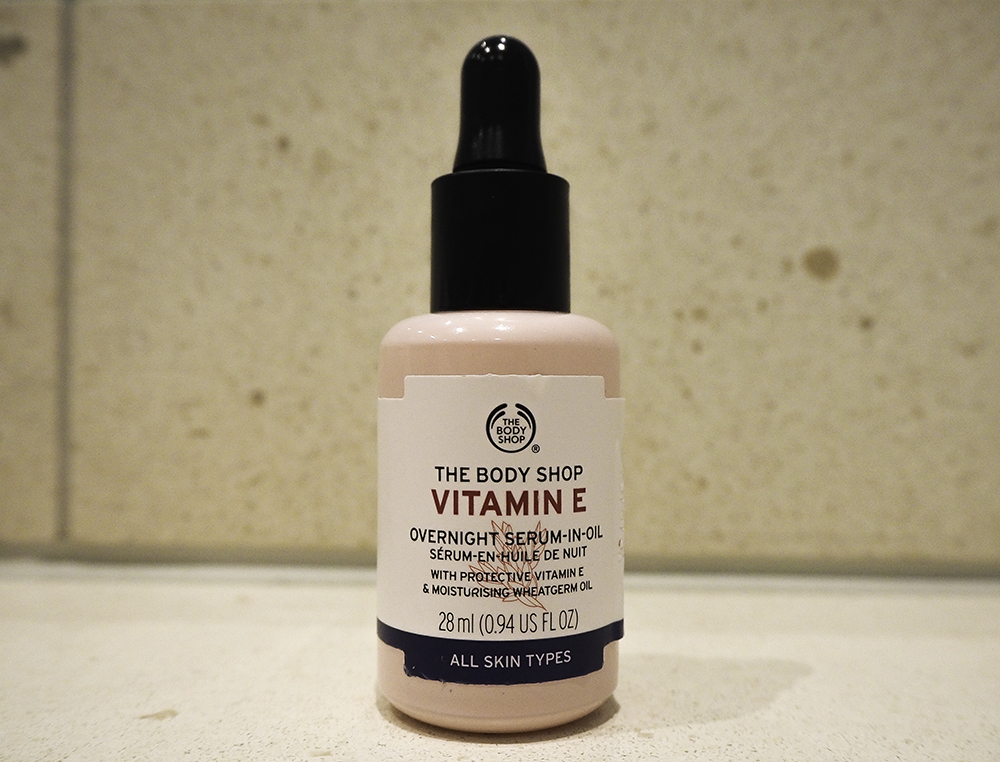 As part of my attempt to review as much of my skincare collection as possible, today's post takes a look at The Body Shop's Vitamin E Overnight Serum-In-Oil.
I wanted to try out a vitamin E serum because it's nourishing and as it's an anti-oxidant, it helps prevent the signs of ageing. Caroline Hirons says it's good to introduce vitamin E into your skincare routine as early as possible, so that's the only persuasion I needed.
The Body Shop's vitamin E overnight serum is good value and is a best-seller, so I figured this would be the perfect way to introduce vitamin E into my routine.
Ingredients and claims
The vitamin E serum contains a blend of wheatgerm oil (which has high levels of vitamin E), sweet almond oil, sunflower seed oil, sesame seed oil, jojoba seed oil, marula oil and soybean oil.
According to The Body Shop, it's a mix between a serum with an oil that provides a lightweight, non-greasy formula that nourishes and replenishes the skin overnight. The skin is supposed to look fresher, more radiant and rested by the morning.
First impressions
When I first opened the little bottle, one of the first things I noticed was the scent. Although it's not overpowering, the serum smells fresh. As much as I like scented products, I think there's something reassuring about a skincare product that isn't heavily perfumed.
As stated, the vitamin E serum is a curious blend between a serum and an oil. It's runnier than a serum but not as runny as an oil, and it felt lightweight on the skin.
After applying the serum-in-oil, I let the product work its magic and awaited the results in the morning.
When I woke up, my skin felt noticeably softer, nourished and hydrated. It also looked radiant, fresh and healthy. From my experience of using serums and oils, this was one of the best at giving instantaneous results.
One month in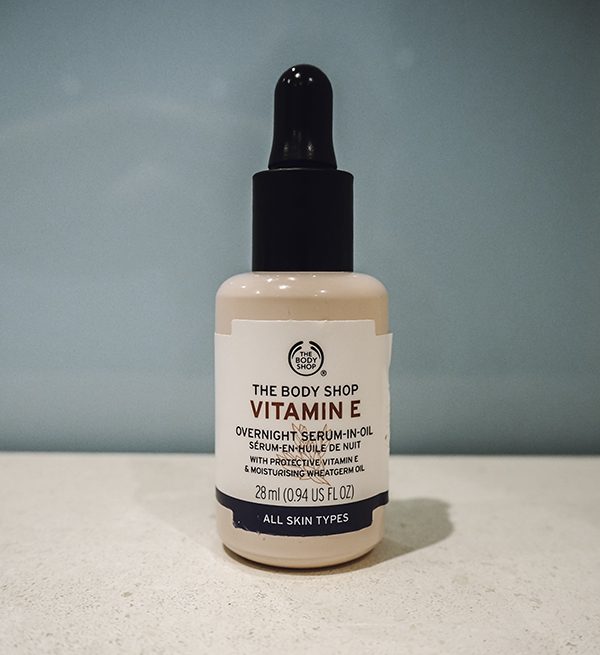 There's a reason the Vitamin E Overnight Serum-In-Oil is one of the Body Shop's top-rated and best-selling products, and also why it made my August faves. It's amazing.
It lives up to every single claim it makes while making my skin incredibly moisturised and smooth. I didn't know if using vitamin E would be a little too heavy for my oily skin but it's lightweight and non-greasy.
You only need to apply a couple of drops on your skin, so you won't need to keep repurchasing this every few months, either.
My only regret is that I wish I'd known about this vitamin E product sooner!
Where to buy
For 28ml, the vitamin E oil costs £16. As it's from The Body Shop, you can purchase it directly from the website. I feel like this is a very modest price as a lot of serums/oils on the market cost way more.
The Body Shop does a fantastic range of products and has a generous rewards system, so I'd recommend signing up and building up points over time.
Final thoughts
Great price with great results. This vitamin E serum ticks all the boxes and meets all of The Body Shop's claims. My skin is now more nourished and radiant than ever.
Rating: 5 stars
I have nothing bad to say about this product.
---
What are your favourite products from The Body Shop? It has to be one of my top places to shop for affordable skincare