Last Updated on 25th August 2023 by Sarah Sarsby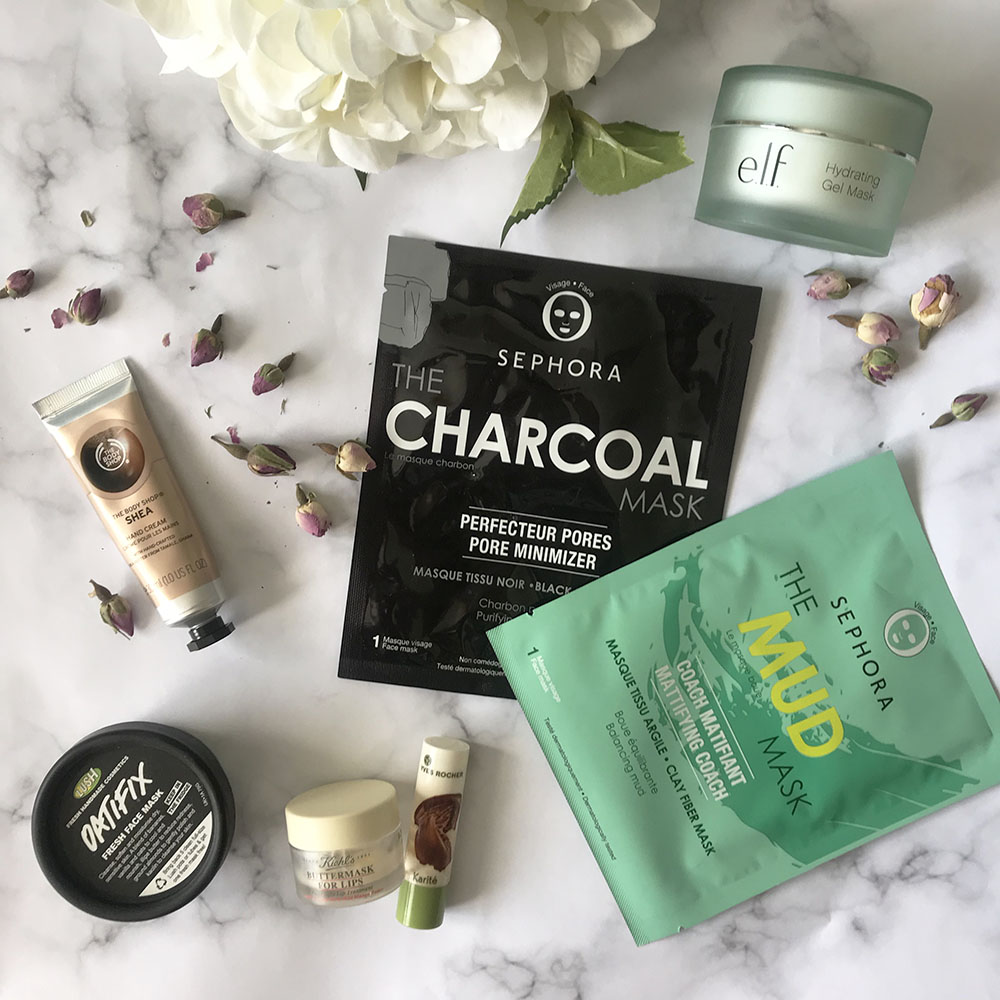 In this post, I share my current skincare routine. I'm always trying out new products and often change my routine, but there are a few products I absolutely swear by.
I have normal to oily skin, so the products I use are either targeted at people with oily skin or are aimed at all skin types.
Over the last couple of years, I've had more and more compliments on my skin. I still don't think it's great, but I'm happy with these positive comments as I invest a lot of time (and money) into choosing the right products for me.
My morning routine and night-time routine contain different products, plus I often use face masks throughout the week, but this post breaks down how I look after my skin.
** This post contains some affiliate links. This means at no extra cost to you, I earn some commission if you purchase a product through my link. All thoughts are my own, though, as always. If you want to find out more, visit my affiliate disclosure page **
Morning routine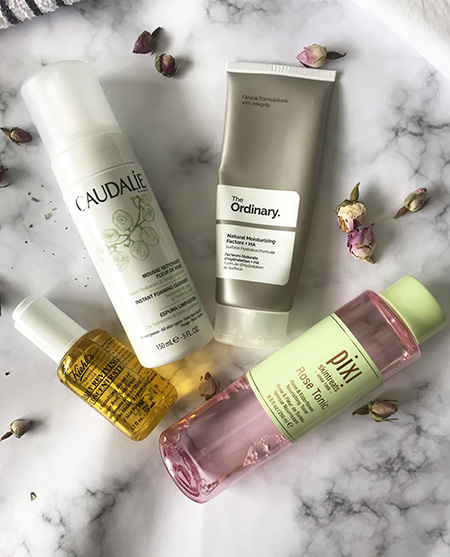 The first thing I do with my skin in the morning is use a cleanser.
At the moment, I'm just finishing off the remains of my Superdrug Naturally Radiant Hot Cloth Cleanser. It's actually pretty nice, but I definitely want to try out a new cleanser once it's run out.
I have the Caudalie Instant Foaming Cleanser sitting in my drawer for when I've finished the Superdrug cleanser, which I'm super excited to try as the reviews are insanely good.
After, I then dry my skin off and apply a toner with a cotton pad. I'm currently using the Pixi Rose Tonic, which I like because it's gentle on my skin.
The next step in my skincare routine is to apply the Kiehl's Daily Reviving Concentrate. This is a more recent purchase of mine but one that I adore. As you probably know, Kiehl's is my fave skincare brand and the Midnight Recovery Concentrate is still my number 1 skincare product ever. And the Daily Reviving Concentrate has not disappointed either!
Finally, I apply a moisturiser to my skin. At the moment, I'm just getting through The Ordinary Natural Moisturizing Factors + HA because, whilst it hasn't blown me away, this product is so affordable and has lasted me forever, so I want to finish it.
For those of you on a budget, I would recommend any of The Ordinary's skincare line because the price points are so low, while still being good quality.
Edit: At the time of writing this post, I didn't wear SPF every day because I didn't realise how important it was. You must wear SPF each day to protect your skin from the harmful effects of UV rays. Even when indoors, UVA and UVB rays coming through your window will have an effect on your skin.
SPF is the most important part of your skincare routine. I now wear it every day without fail. Make sure you're doing the same.
Night-time routine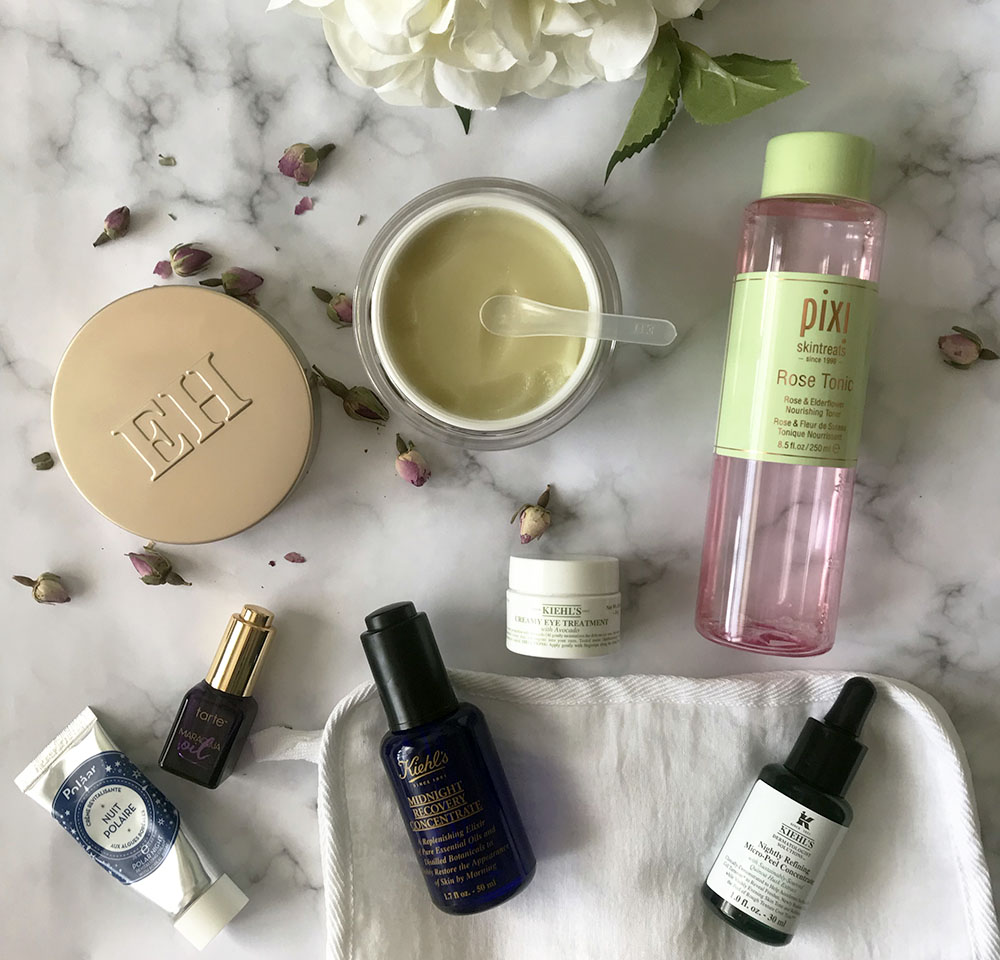 The first skincare product I apply as part of my night-time skincare routine is the cult classic Emma Hardie Moringa Cleansing Balm all over my face to take away any excess dirt or makeup.
The Moringa Cleansing Balm has been a very recent purchase of mine, but so far I'm loving it. It smells incredible and the texture is just divine. There's no need to rub the product between your fingers first as it just melts into your skin. When you take it off, your skin feels so soft, cleansed and refreshed.
It also comes with a dual-action cloth – one side is a muslin cloth for taking the cleanser off your face and the other side is a microfibre cloth to polish your face afterwards. The cloth is great quality and I'm really enjoying using it.
Edit: Again, at this stage of my life, I didn't understand the importance of double cleansing. I now always double-cleanse. The first cleanse is to get rid of any makeup, dirt, SPF or oil on my face. The second cleanse gets rid of the previous cleanser and ensures your face is properly clean.
Afterwards, I apply the Pixi Rose Tonic again. I actually wouldn't mind having a different night-time toner to my daytime one, so I'm going to have a look around (recommendations are welcome).
Then, I apply the Kiehl's Nightly Refining Micro-Peel Concentrate as my chemical exfoliator. This is the only product that has helped clear my blackheads for the long-term and I wouldn't be without it now! A thoroughly worthwhile investment.
My next step is to apply a serum, oil or cream to my face. My go-to product is the Kiehl's Midnight Recovery Concentrate because it's beautiful and luxurious. But, I'm also just finishing off the last of my Nuit Polaire night cream and Tarte Maracuja Oil.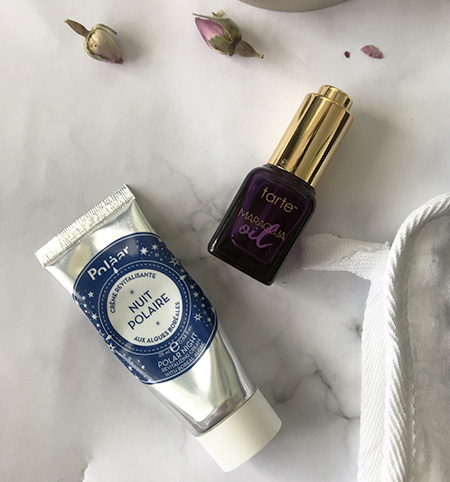 I wrote a full review on the Nuit Polaire cream here, so if you want to read more about it, then you can. As for the Tarte Maracuja Oil, I like the product, but I wouldn't rush to purchase it again. I find it quite gloopy and sticky, which doesn't feel great on my skin.
Plus, it isn't as good as the Midnight Recovery Concentrate so…
My final step is to apply an eye cream. I'm currently using the Kiehl's (shock) Creamy Eye Treatment with Avocado. This leaves your eyes feeling soft in places that you didn't even know could feel soft!
But once I've finished with this product, I'd like to try a different eye cream. Perhaps a more refreshing, cool and soothing one?
Edit: After cleansing and toning, that's when you should be applying your eye cream. You shouldn't apply an eye cream as the final step in your skincare routine. Caroline Hirons taught me this in her new Skincare book.
I didn't want to amend my blog post to reflect everything I know about skincare now because that wouldn't be true to what my skincare routine used to look like. It's fine to learn more and have your skincare routine change, that's all part of the process.
Skincare extras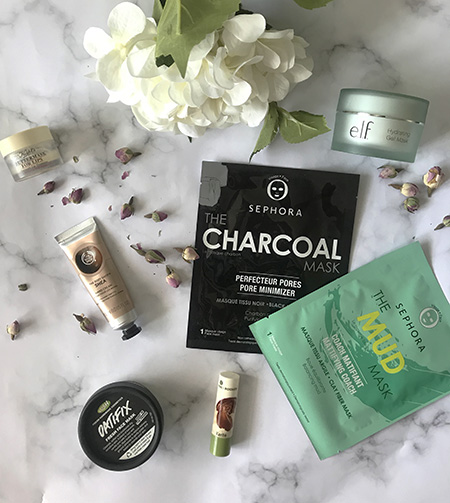 I use hand cream every single day, without fail, to keep my hands moisturised and soft. My absolute faves are The Body Shop hand creams because there are a great variety of scents and each hand cream is soothing and nourishing.
Also, I make sure I apply lip balm both in the day and night. In the day, I'm using the Shea Lip Balm from Yves Rocher, which I bought when I was in France. This little gem has been a game-changer because it cost £2 but leaves your lips so nourished. The lip balm just melts into your lips and feels luscious.
At night, I use the Kiehl's (can you see the pattern here?) Buttermask for Lips. Hands down, this is my favourite ever lip balm. I often get dry and chapped lips, especially when the central heating is on or it's windy, but this Buttermask just gets rid of these issues overnight.
It's a miracle balm, I swear.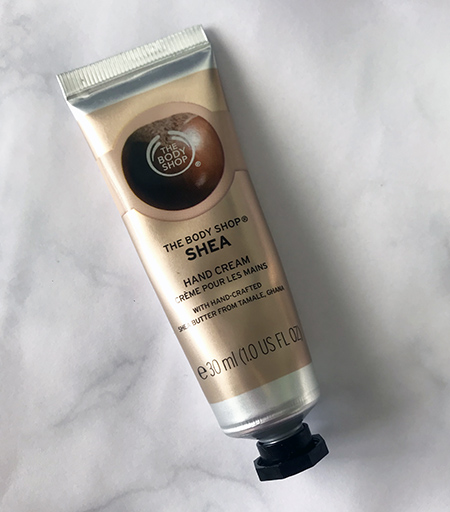 The final step in my skincare routine is to use face masks. I love using face masks to give my skin an extra boost and, to be honest, just to pamper my skin.
Sephora sheet masks are incredible and thoroughly worth checking out, but the Lush fresh face masks are also firm favourites because the variety is awesome.
At the moment, I'm using the e.l.f. Hydrating Gel Mask, which helps add some extra moisture in my skin. I've been in central heating a lot at work recently, which can leave my skin a dehydrated, so face masks help inject some much-needed hydration into my skin.
Top 3 recommendations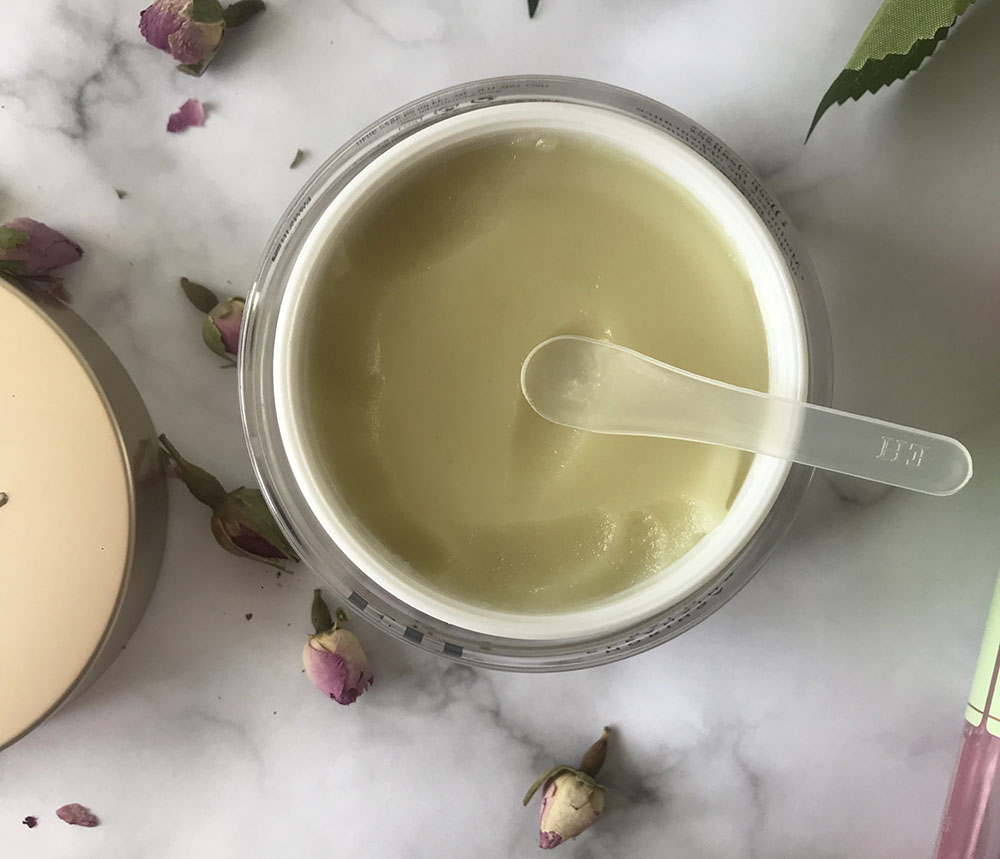 My top 3 skincare recommendations from my current routine would be the Emma Hardie Moringa Cleansing Balm, Kiehl's Midnight Recovery Concentrate and Kiehl's Buttermask for Lips.
Final thoughts
I'm pretty happy with my skincare routine, but would happily switch some of my products out. Mostly because I love trying new stuff out, but also because I think I can do better in certain areas, such as my cleanser and toner.
Skincare is something I'm investing more time and money in because I think it's important to look after the skin you're in. After all, it's the only one you've got!
---
What are your favourite products at the moment and what new products are you looking to try out? Let me know in the comments down below