I'm not really sure how it happened, but my Kiehl's range has grown a lot recently and I've tried a heap of its products now. So, I wanted to provide a full brand review.
I absolutely love Kiehl's. Everything I've tried from the skincare brand has been really good and there are few products that I will always go back to time after time.
In this post, I review 8 of Kiehl's products, all of which I've been using for a while now to give a fair opinion. I then go on to give an overall rating for Kiehl's and provide my final thoughts on the iconic skincare brand.
** This post contains affiliate links. This means at no extra cost to you, I earn some commission if you purchase a product through my link. All thoughts are my own, though, as always. If you want to find out more, visit my affiliate disclosure page **
What is Kiehl's?
Established in 1851 as an old-world apothecary, Kiehl's is now a popular skincare brand, which strives to give customers healthier, more radiant and younger-looking skin.
Some of the brand's best-selling skincare products include the Midnight Recovery Concentrate, Ultra Facial Cream and Creamy Eye Treatment.
Buttermask for Lips
£22

One of Kiehl's more recent releases, the Buttermask for Lips sold out everywhere when it first came out. I know this because I tried to buy it from multiple stores and nowhere had it in stock.
And I can see why.
I LOVE this product. It's easily the best lip product I've used along with the Nuxe Rêve de Miel Lip Balm. This overnight balm leaves your lips feeling soft, nourished and moisturised by the morning. I've never had a lip product last until the next day, but this one really stays put.
It's also great for this time of year when it's getting colder, which can leave your lips feeling dry, chapped and sore. The Kiehl's Buttermask will solve these issues.
Not only does it perform well, but it smells delicious thanks to the coconut oil and wild mango butter.
I would not be without this product now because it has really helped keep my lips soft and protected during winter. I would recommend the Buttermask to everyone.
Ultra Facial Cleanser
£17

I received this Ultra Facial Cleanser as a free sample, but it has lasted for ages because you only need to use a little bit of product for each use. This has allowed me to review the product over a period of time.
The Ultra Facial Cleanser really lathers up in your hands and feels soft when applying it to your face. This is something I really liked about Dermalogica's Special Cleansing Gel because it feels pleasant on your skin.
Kiehl's describes the Ultra Facial Cleanser as "gentle and refreshing" and I'd agree with this. It doesn't feel stripping or heavy either, so I think this would be suitable for all skin types.
I really like this cleanser and would happily purchase a full-size version of it. I think this compares very similarly to the Dermalogica Special Cleansing Gel, but the Kiehl's one is cheaper.
Turmeric & Cranberry Seed Energizing Radiance Masque
£36
For anyone that knows me, I love using face masks. I think they're a really good way of giving your skin a bit of TLC.

This Energizing Radiance Masque spreads out very evenly, which I enjoy. I find some face masks can go onto your skin a bit lumpily or are hard to spread out, but this one is extremely easy to apply.
I think this is a really nice face mask to use if your skin is feeling a bit dull or dehydrated and is in need of a refreshing boost. It's very soothing and leaves your skin looking brighter and healthier after use.
It also smells really nice.
However, I probably wouldn't rush to purchase this again. While it's nice, I've definitely used face masks I prefer and I think this Kiehl's one is a bit pricey for what it does. I think a fair few of Lush's Fresh Face Masks are better and cheaper, which is a no-brainer really.
Nonetheless, this is a nice face mask and will be great for tired, lacklustre skin that's in need of an energising boost.
Ultra Facial Oil-Free Toner
£17.50

I bought the Kiehl's Ultra Facial Oil-Free Toner after my favourite Pixi Glow Tonic had run out. While I absolutely adore the Pixi toner, I was really into Kiehl's at the time and thought I'd give its toner a try to see how it measured up.
This is a light toner, which definitely makes it a good fit for oily skin as it doesn't feel heavy or greasy on the skin.
Whilst I do like this toner, I just don't love it. It is nice, but I can't help but feel like it doesn't really benefit my skin or improve it. Which leaves me wondering: What's the point?
Is this as good as the iconic Pixi Glow Tonic? Definitely not. I wouldn't even say it's as good as the Body Shop's Seaweed Oil Balancing Toner, which is much cheaper and does a better job.
All in all, this Kiehl's toner is reasonable, it just isn't amazing.
Midnight Recovery Concentrate
£52.50

The classic. The product I literally cannot stop talking about and cannot recommend enough. The Kiehl's Midnight Recovery Concentrate is everything.
What can't this product do? It has seriously improved my skin and is still one of my all-time favourite skincare products.
It leaves your skin feeling softer, brighter, clearer and repaired. This facial oil truly worked wonders on my skin.
I thought that applying a facial oil to oily skin would just exacerbate the issue, but boy was I wrong. I'd go as far as to say this has helped with my oily skin, something I certainly never expected.
This oil also lasts for ages because you only need a very small amount of product for it to work its magic. So while it may seem like a splurge, it will last you for about a year and will really help your skin. It's 100% a worthwhile investment.
Honestly, if I could only keep one of Kiehl's products, it would be the Midnight Recovery Concentrate. Easily. I can't get enough of it.
(I'll stop banging on about it now).
Creamy Eye Treatment
£26

Along with the Midnight Recovery Concentrate, the Creamy Eye Treatment is one of Kiehl's most popular products.
I'm not going to lie, before I used this eye cream, I never thought I needed to use one. I thought it was something that only older people used and I couldn't really see why I'd benefit from one.
I initially tried the Creamy Eye Treatment as a sample. When I applied it at night, I thought it would be nice, but nothing special.
But when I woke up in the morning, my eyelids felt SO soft. Like unbelievably soft. They also felt really smooth and replenished. It made my eyes feel soft in places in a way that I didn't know was possible.
I actually ended up liking this product so much that I went and bought the full-size version.
After using this eye cream for a while, I can confirm that I really like this product. I can see why it's so popular!
Nightly Refining Mico-Peel Concentrate
£41

A few months ago, I went into a Kiehl's store because I was looking for a new exfoliator and wanted to find one that would help with my blackheads. When I went in, they recommended the Nightly Refining Micro-Peel Concentrate because they said it really penetrates the skin and get rid of blackheads and unclog pores.
This intrigued me because I'd previously only used mechanical exfoliators and scrubs, whereas, with this one, you put it on overnight and let it do the work.
I've been using this for a couple of months now and it has undoubtedly helped with my blackheads. This is the only product I've tried that has helped with my blackheads for the long-term.
To me, this is impressive because nothing else has worked at all. I still have a few blackheads, but they're far less noticeable now.
Not only has this product helped with my blackheads, but it has also helped even out my skin tone, which I'm so grateful for. Before, I always felt like my skin looked a bit patchy and red in parts, but this overnight serum has helped my skin tone look more even.
Just like the Midnight Recovery Concentrate, you only need a very small amount – a couple of drops – for this to work. This means it will also last for ages, so to me, this another worthwhile investment.
If you're looking to get rid of your stubborn blackheads, then this is the product for you!
Daily Reviving Concentrate
£52.50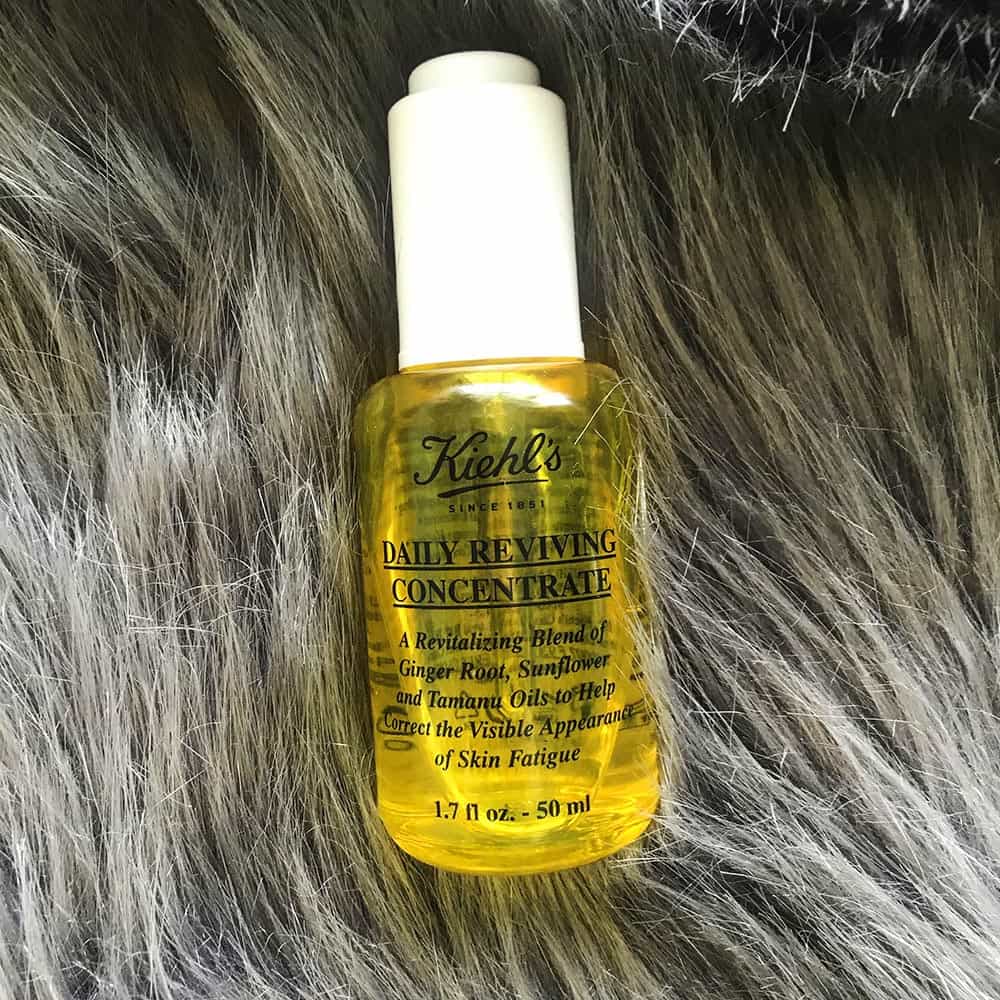 The final product I'm including in this Kiehl's brand review is the Daily Reviving Concentrate. 
The sister product to the iconic Midnight Recovery Concentrate, this morning facial oil is more invigorating and refreshing than its nighttime counterpart.
It smells very revitalising, which is probably down to the ginger and sunflower extract. This is a nice touch for when you're feeling less-than-awake and have a long day ahead.
However, I've got to admit, I don't think this facial oil really does anything for my skin. It feels refreshing and adds a touch of radiance, but nothing noticeable in all honesty. I've used much better facial oils that are more affordable, such as the DWIRA Superfood Hemp Face Oil and Nuxe Huile Prodigieuse.
My thoughts on Kiehl's
Looking at Kiehl's as a brand, I think it's good. There are some products I absolutely adore and others that leave a lot to be desired. I definitely don't think any of the products are bad, but perhaps aren't catered to my skin's needs or my personal preferences.
Having said that, Kiehl's has also produced some absolute gems that I will go back to time and time again. My favourites are the Midnight Recovery Concentrate, the Buttermask for Lips and the Nightly Refining Micro-Peel Concentrate. These three products have really improved my skin and I don't see myself without them.
Overall, I think Kiehl's is a pretty solid brand. Out of the 8 products I've tried, none of them are awful, most are good and several are excellent.
Favourite product from Kiehl's?
The Kiehl's Midnight Recovery Concentrate. It's a no-brainer.
Conclusion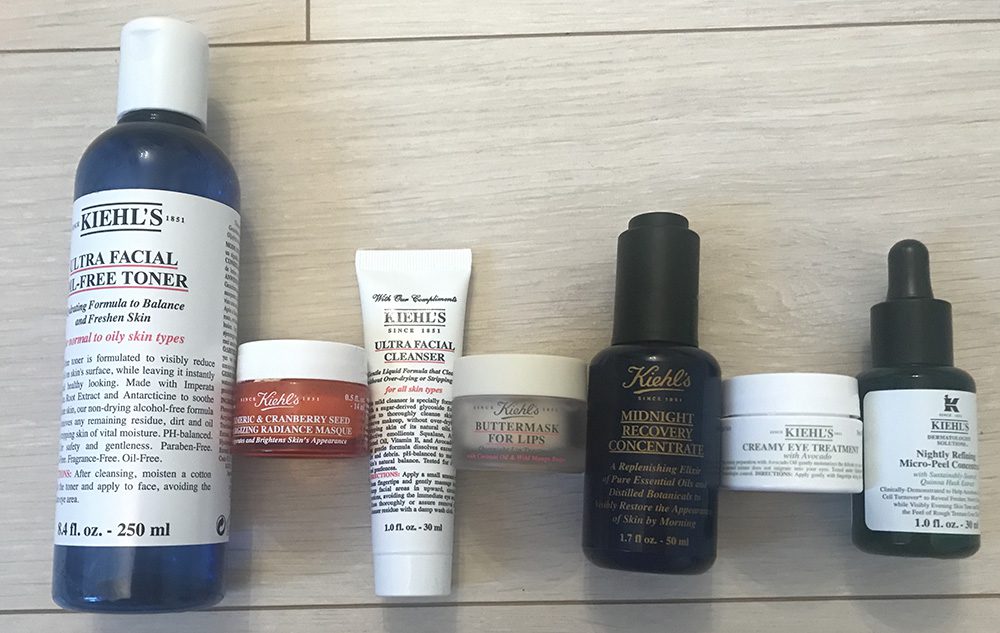 I think Kiehl's produces a pretty strong range overall and there is something to suit all skin types and needs.
You're always going to find some skincare products work better than others, that's just how it goes. So whilst some products didn't impress me, they could be holy grails for other people. So please bear that in mind when buying skincare for yourself!
Rating: 4 stars
---
What are your favourite Kiehl's products? Let me know in the comments down below!