Last Updated on 21st September 2023 by Sarah Sarsby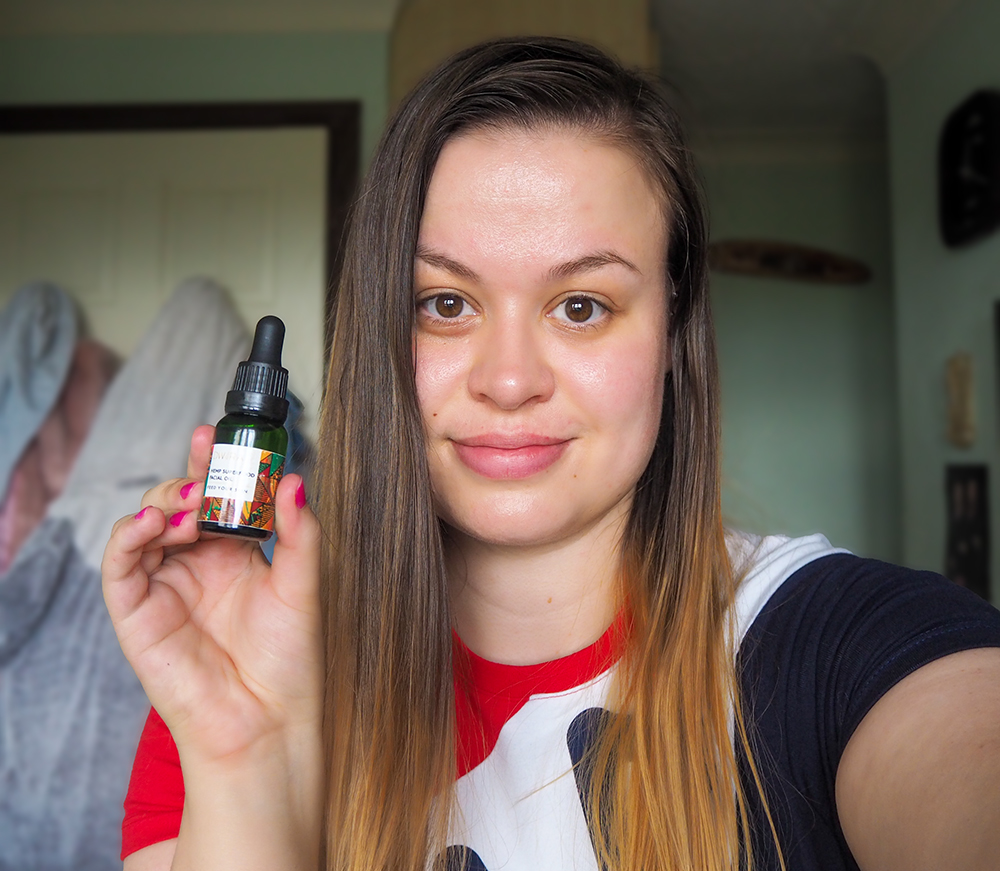 Anyone who knows me knows that I love a food facial oil, so when DWIRA offered me the chance to try the Hemp Superfood Face Oil, I jumped at the opportunity.
Although hemp is such a popular skincare ingredient, I hadn't tried it in my skincare routine, so I couldn't wait to try this facial oil out.
But just how good is the DWIRA Hemp Superfood Face Oil? Keep on reading to find out whether this skincare product is worth purchasing!
What is DWIRA?
DWIRA is a vegan and sustainable holistic skincare and wellness brand, providing pure West African products without compromise, crafted to rejuvenate, nourish and #FeedYourSkin.
DWIRA is an Akan word meaning 'To Purify & Cleanse'. We believe in Holistic wellbeing. Nature has the ability to Rejuvenate, Restore and Detox your skin and body. We've used this ethos to develop only the most potent and pure superfood products to Feed your skin

DWIRA
This black-owned beauty brand has some of the best skincare packaging I've seen. I love the company's ethos of promoting the best version of yourself, with glowing and radiant skin.
Adwoa, the owner, is such a sweetheart and I really love the messaging behind DWIRA. Plus, all of the products are affordable, making the brand even better.
Product ingredients and claims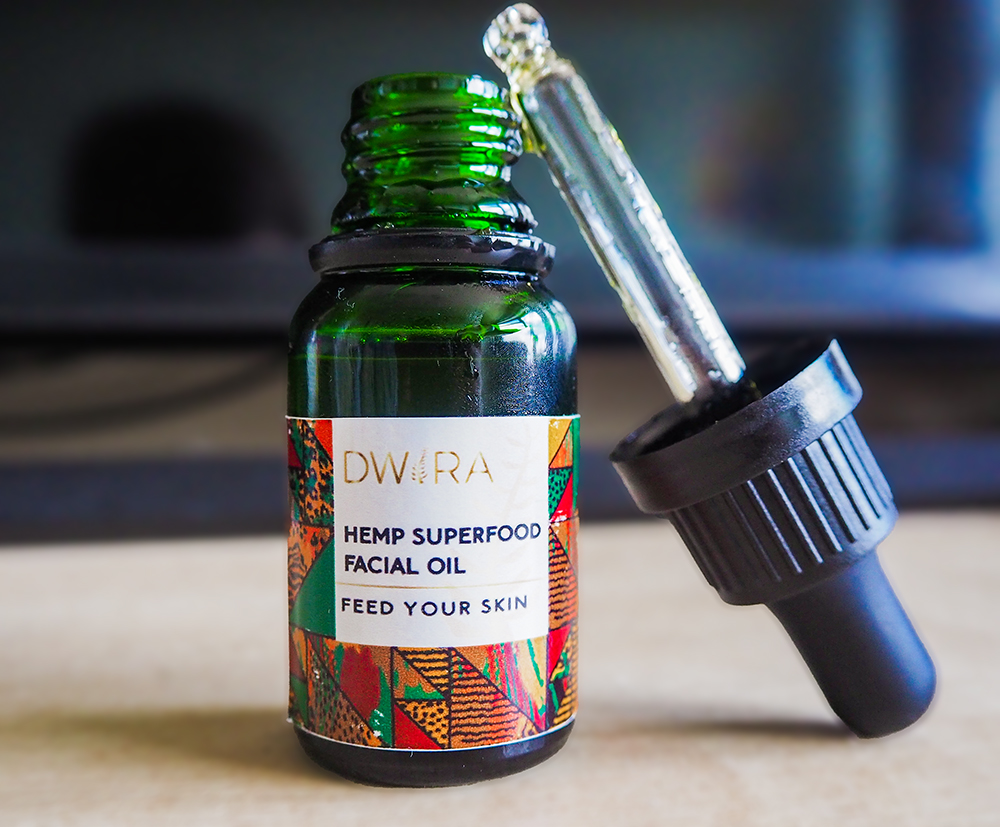 DWIRA Hemp Superfood Face Oil is a nourishing and rejuvenating face oil formulated with a botanically active blend of Hemp and nutrient-rich African superfood oils to feed your skin.

DWIRA
The facial oil promises to be lightweight and absorbent, leaving the skin feeling hydrated, fresh, nourished, healthy and glowy.
Key ingredients:
Hemp seed oil: helps moisturise the skin, without blocking your pores. It also helps soothe the skin and improve its elasticity.
Rosehip seed oil: rich in vitamins and essential fatty acids, this oil moisturises, hydrates and has anti-inflammatory properties.
Moringa seed oil: helps moisturise, smooth and hydrate the skin
Baobab seed oil: softens the skin and improves its texture
My thoughts on the DWIRA Hemp Superfood Face Oil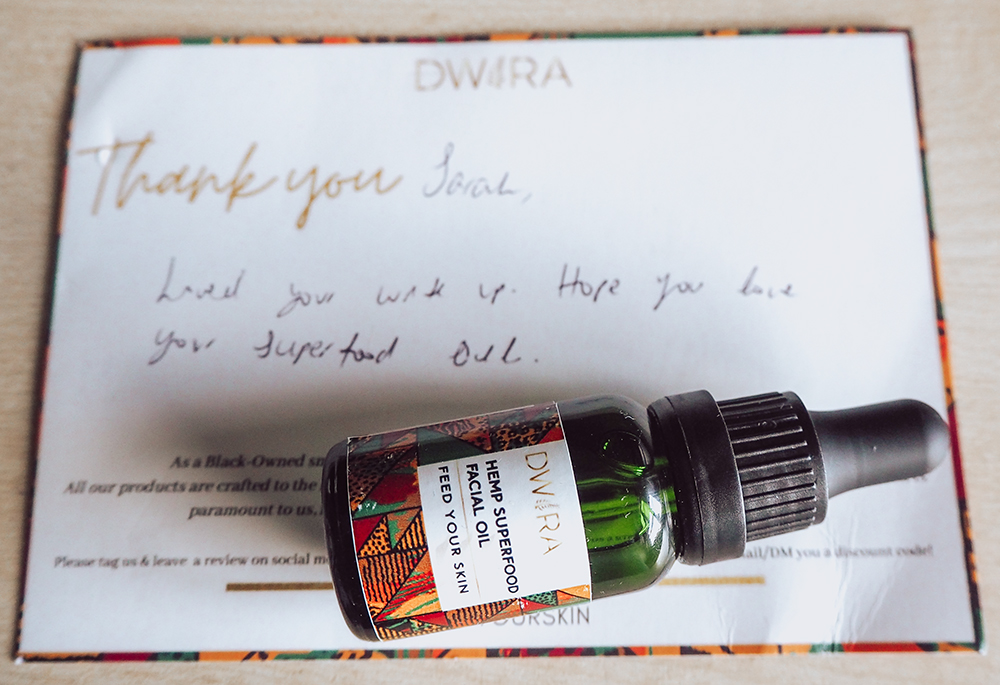 As I mentioned previously, I love the packaging of this face oil. It's fun, colourful and doesn't look overly clinical. I can definitely see the African influence in DWIRA's packaging, which makes it stand out in my skincare collection. Awesome.
This bottle is 15ml, but the oil was truly filled right up to the top. I've bought facial oils before where they're not filled to the top, so I appreciate this.
The Hemp Oil is a vibrant yellow-green shade. It's also quite thick and gloopy oil. I normally use 3-4 drops, spread the oil out between both palms evenly, and apply to my face. As the oil is thick, I was worried that it might be too rich for my normal/oily skin or that it wouldn't absorb quickly. However, I can confirm that this oil absorbs quickly into the skin and is surprisingly very lightweight.
My favourite thing about the DWIRA Hemp Superfood Face Oil is how radiant it makes my skin looks. It reminds me of the OSKIA Super-C Capsules in that on application, your skin instantly looks glowy. Dewy skin is so popular at the minute and I love how healthy this oil makes my skin look.
It's also very hydrating and nourishing. My skin has felt a little dehydrated recently and this facial oil has worked a treat. I particularly think people with drier skin would appreciate this product!
The only thing I'm not a huge fan of is the smell. It's definitely due to the hemp seed oil, which smells quite… leafy? It's pretty overpowering, but there's not too much you can do as that's just how hemp seed oil smells. When I've read reviews of this product, though, people seem to love the smell, so it's probably just me lol!
All in all, I'm really impressed with the DWIRA Hemp Superfood Face Oil. It's ideal for adding moisture and a healthy glow to the skin.
Where to buy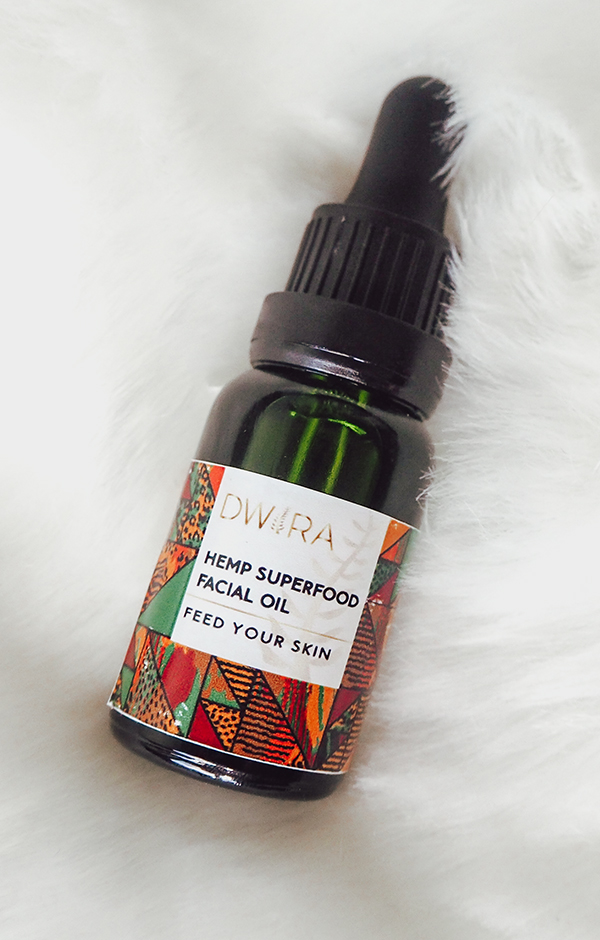 The Hemp Superfood Face Oil costs £25 for 15ml and you can purchase it directly from DWIRA.
I'd definitely recommend checking out the products from this wonderful, vegan and black-owned skincare brand.
Conclusion
I'm really impressed with this hemp facial oil. Lightweight, absorbent, nourishing and gives a serious glow. You don't need much product to instantly feel like your skin is moisturised. Plus, the packaging is fantastic.
Rating: 4.5 stars
A really lovely and affordable facial oil from a fantastic brand. A must-buy!