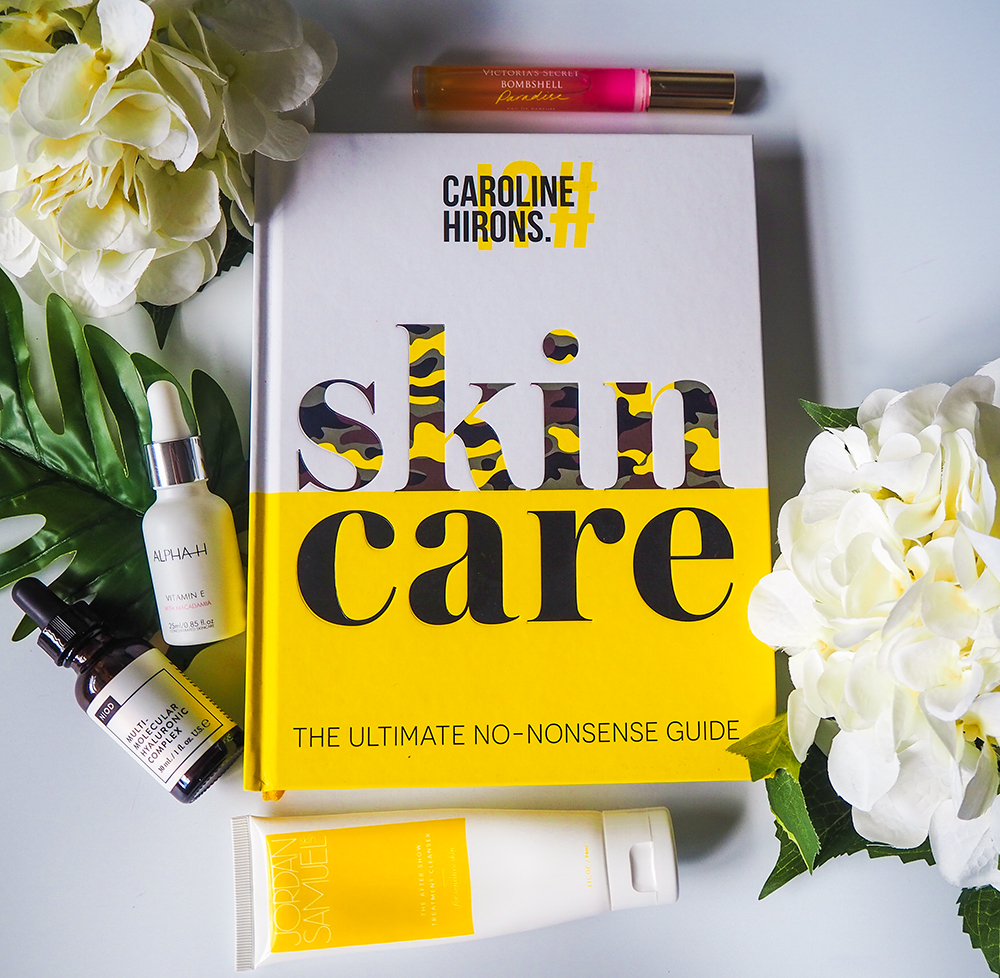 Today is not a traditional skincare product review, but instead, a review of the new book from skincare expert Caroline Hirons, which aims to inform readers about skincare in an easy-to-read format.
I'm a huge fan of Caroline Hirons. Not only did I purchase one of her skincare kits back in spring, but I also love following her skincare advice. From busting skincare myths and expertly explaining how different ingredients work on the skin, to promoting good skincare habits and being very authentic along the way, Caroline is one of a kind.
When I heard she was launching a new skincare book, I pre-ordered it immediately. I just had to have it. Unlike most other people, I tend to prefer reading beauty information, rather than watching YouTube videos or listening to podcasts, so I was beyond excited.
But just how good is Skincare: The ultimate no-nonsense guide? Did it live up to my expectations and should other skincare fanatics get it?
Who is Caroline Hirons?
Caroline Hirons is the skincare queen. She's a fully qualified and experienced aesthetician, who has worked with over 100 brands and offers excellent skincare advice. If she says a product is good for my skin type (normal/oily), then you damn well know I'm getting it.
She's a breath of fresh air. Authentic, honest, down-to-earth, hilarious and very much herself. She never comes across as scripted or fake, so I love watching her YouTube videos.
One of my favourite things about Caroline is that she follows skincare science and won't just tell you to buy a skincare product because it's "trendy". This makes her advice very trustworthy because she backs up everything she tells you with science.
If you're into skincare and haven't heard of Caroline Hirons, then you need to watch her videos or visit her blog. Immediately. She's awesome.
Who is the Caroline Hirons Skincare book for?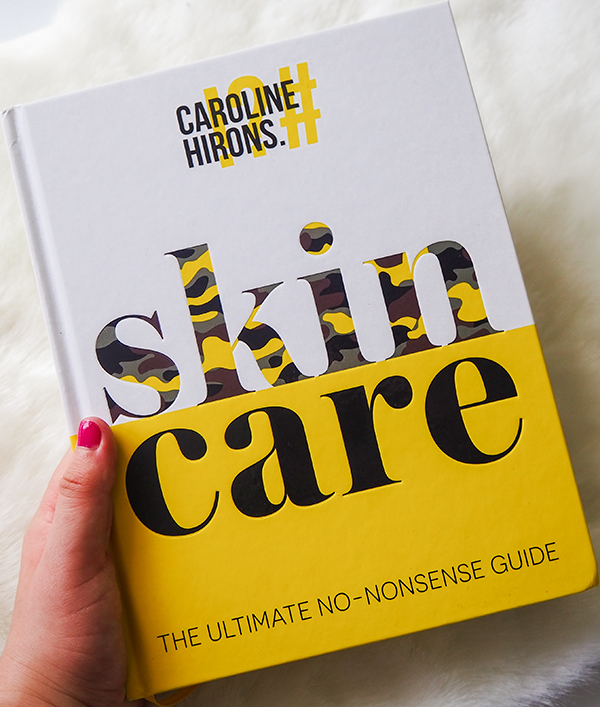 This book is for anyone who is interested in skincare. Young or old, beginner or experienced, and everything in between.
Building on her years of knowledge and experience in the skincare industry, Caroline Hirons' Skincare book aims to break down beauty jargon, provide users with handy skincare tips and product recommendations, and bust skincare myths.
It's designed to educate users about skincare, whist being easy to understand and fun to read.
Routines, skin types and skin conditions
The Caroline Hirons Skincare book discusses everything you need to know about skincare and is surprisingly funny along the way. At 303 pages, you should essentially view this book as a skincare bible.
The book gives you some handy tips for great skin, such as cleansing every morning and night without fail, drinking lots of water, using a high SPF (30+) and investing in high-quality skincare.
It also explains, in a lot of detail, what your morning and nighttime routine should look like, including what order to apply skincare products in. Caroline Hirons is the reason I'm now obsessed with hydrating facial mists!
There are also pictures to accompany the skincare routine section of the book to show you step-by-step what your routine should look like as well as routines depending on your skin type (such as for dry skin) and for different occasions (such as festivals, on planes, when exercising etc.).
The skincare guide also helpfully lets you know how you should apply skincare products (with pictures), including the infamous 'therapist swipe' technique.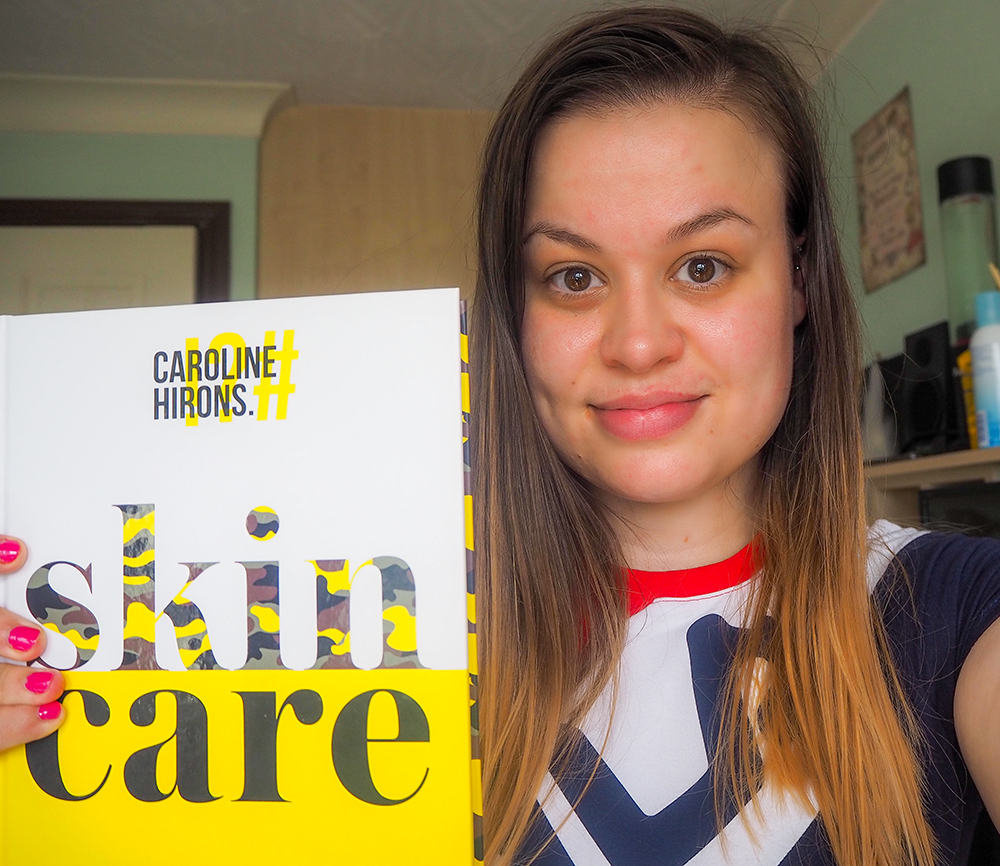 The Caroline Hirons Skincare book also discusses different skin types and conditions. For the extensive skin conditions listed within the book, such as eczema, pigmentation, psoriasis and rosacea, Caroline recommends various products to help.
I think this is really handy because sometimes you can digest a load of information and still feel unsure about which products to try, so this can give people a great starting point.
Myths, skin kits and beauty jargon
Throughout the skincare bible, there are beauty myths that Caroline busts. I love reading these. They're so insightful and help you pinpoint what sort of BS you've heard in the past. How she busts the myths is hilarious too, I laughed constantly when reading this guide.
There is also a very handy section of the book called 'your kit', which talks about the various products that you should incorporate in your skincare routine, like eye creams, retinol, AHAs, moisturisers etc. This section informs you about what the different products are used for and what ingredients you should look out for.
As well as discussing different skincare products, Caroline, again, helpfully recommends various skincare products within each category.
One of the most helpful aspects of the book is undoubtedly the beauty jargon section, where Caroline Hirons talks about what certain terms bandied around in the skincare sector mean.
Importantly, she touches on some of the scaremongering tactics companies use to push you into buying certain skincare products. This part is extremely eye-opening and makes you realise just how much of it goes on.
My thoughts on the book
I genuinely love this book. Although it's filled with so much information and beauty jargon, I still found it incredibly easy to read and understand.
When I first started really getting into skincare, the amount of information out there was overwhelming. But, when I discovered Caroline Hirons, I read her blog and quickly started to learn about ingredients, what I should look out for and how skincare works.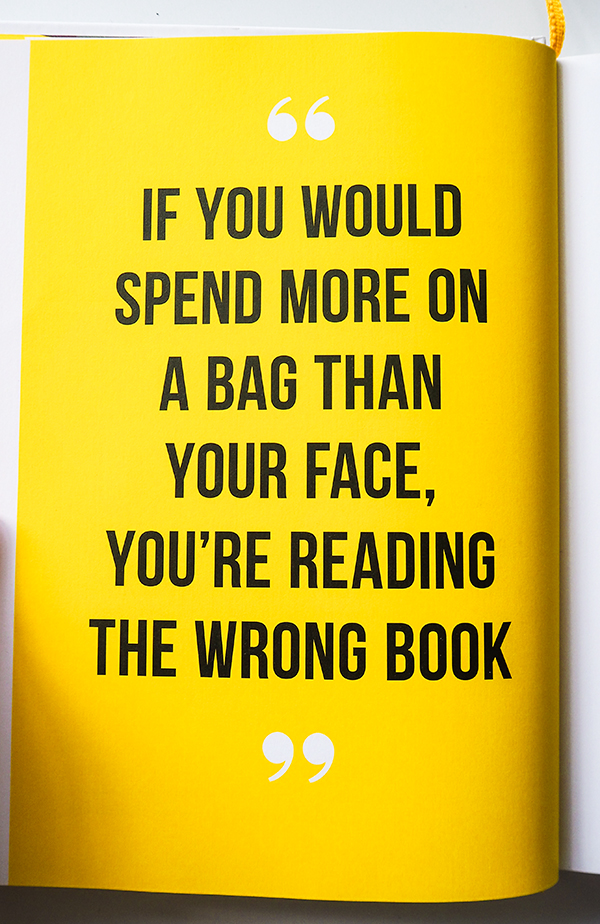 That's why I was so excited when I heard she was releasing a book. I knew it would be perfect for upping my knowledge about skincare, without me coming away feeling scared and confused.
Whether you're very knowledgeable about skincare or are just dipping your toe in the water, this is a must-buy. The book is laid out really well, it's easy to understand and it's also hilarious.
There is so much I discovered about skincare from reading this book and I was absolutely hooked. I read it flat out in a couple of weeks, which is quick for me!
It's just amazing.
Favourite quotes from the book
"If you would spend more on a bag than your face, you're reading the wrong book."
"Applying your eye product last is like wearing your knickers over your trousers."
"'Your skin sleeps during the day'? Right, well, that's me dead then."
"Celebrities telling us they don't wash their faces and saying they only use soap and water is not new. Some have always said that. It was utter bollocks then, and it is now."
"If your partner prefers you with makeup, get a new partner."
"An inferior product is a waste of your money, no matter how much of a 'bargain' it appears."
"Everything is a chemical."
"Just because a product is labelled 'natural' or 'organic' does not mean it is better for you."
"All this 'cleanse and then just let your skin breathe' is daft. Your skin is always breathing. If it wasn't, you'd soon know about it. In the morgue."
Where to buy
Retailing for £20 and in hardcover, you can purchase the Caroline Hirons Skincare book from Amazon, Waterstones, Cult Beauty, WHSmith or Space NK.
At the time of writing this blog post, Amazon is selling the book for £10 – that's an absolute steal that you shouldn't refuse!
Conclusion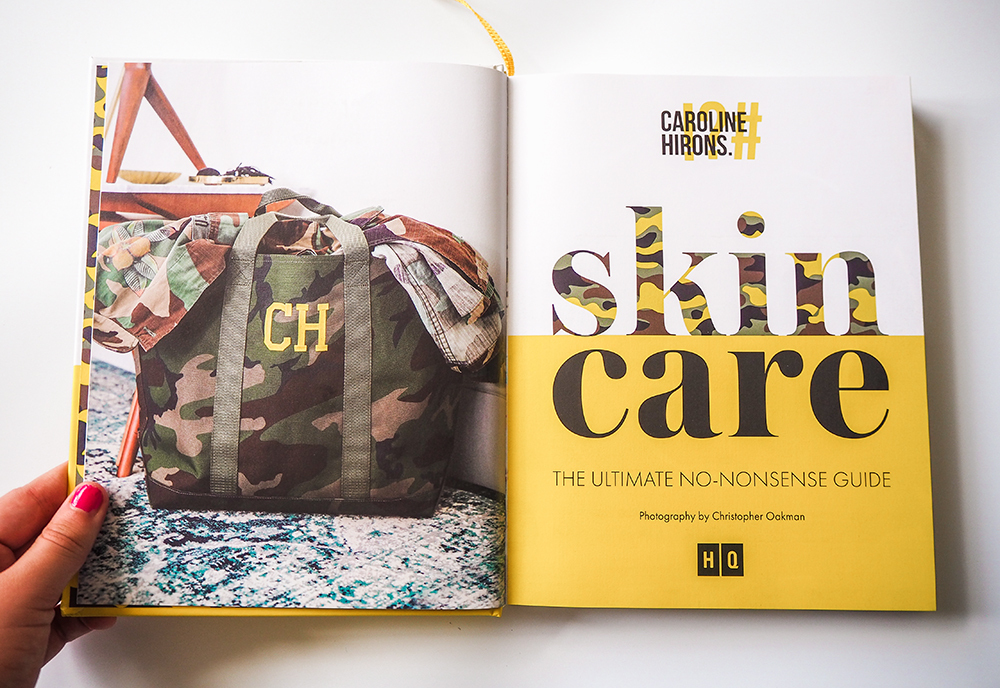 The Caroline Hirons Skincare book is an iconic book from an iconic person. If you're interested in skincare and like a good laugh, this book is a must-buy.
From how easy it is to read and the layout of the book, to the hilarious comments and sheer amount of skincare expertise shared, I genuinely can't fault it whatsoever.
Rating: 5 stars