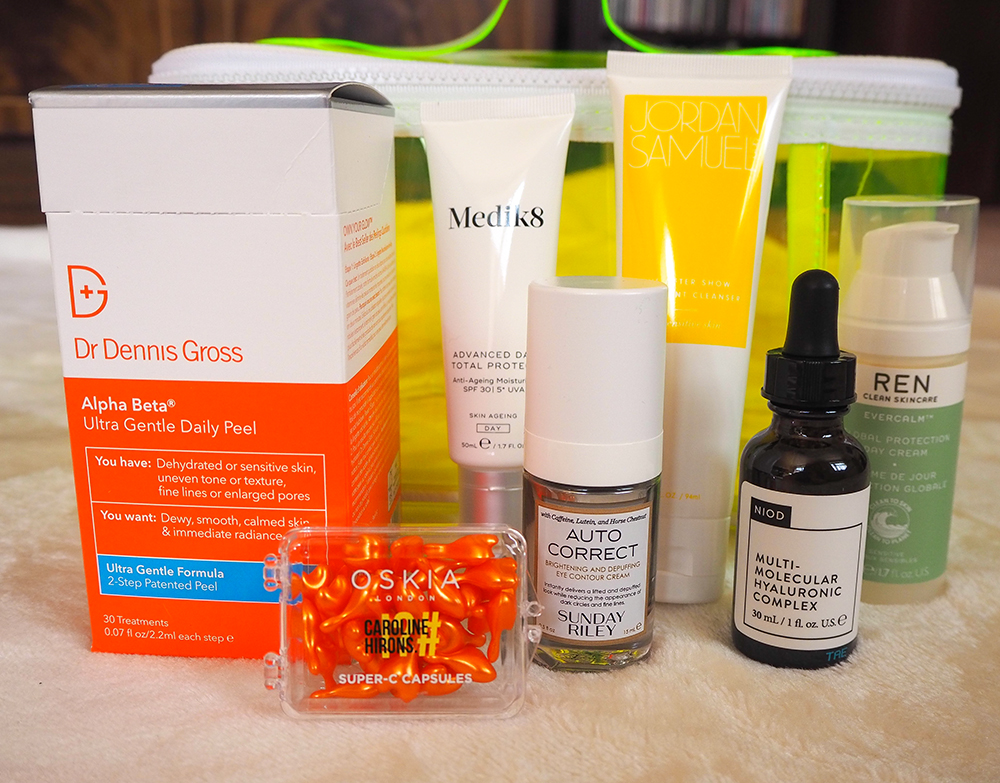 Okay, so I'm beyond excited to share my first impressions of the Caroline Hirons Spring Kit One. If you don't know who Caroline Hirons is or you don't know what the Spring Kits are, I'm going to break it all down in this blog post.
If you do know about the Spring Kits, then you'll know how incredibly lucky I am to have got my hands on the Caroline Hirons Spring Kit One! Both skincare kits sold out in about an hour, so I'm ecstatic I got one.
This review covers my first impressions of using the Caroline Hirons Spring Kit One. I'm going to be talking about the skincare kit as a whole as well as how I've found the individual products so far. My expectations were very high, but would the Spring Kit live up to them? Keep on reading to find out more.
Who is Caroline Hirons?
(I apologise in advance for gushing over Caroline).
Caroline Hirons is the skincare queen. She's a fully qualified and experienced aesthetician, who has worked with over 100 brands and offers excellent skincare advice. If she says a product is good for my skin type (normal/oily), then you damn well know I'm getting it.
She's a breath of fresh air. Authentic, honest, down-to-earth, hilarious and very much herself. She never comes across as scripted or fake, so I love watching her YouTube videos.
One of my favourite things about Caroline is that she follows skincare science and won't just tell you to buy a skincare product because it's "trendy". This makes her advice very trustworthy because she backs up everything she tells you with science and knowledge.
If you're into skincare and haven't heard of Caroline Hirons, then you need to watch videos or visit her blog. Immediately. She's awesome.
What is the Caroline Hirons Spring Kit One?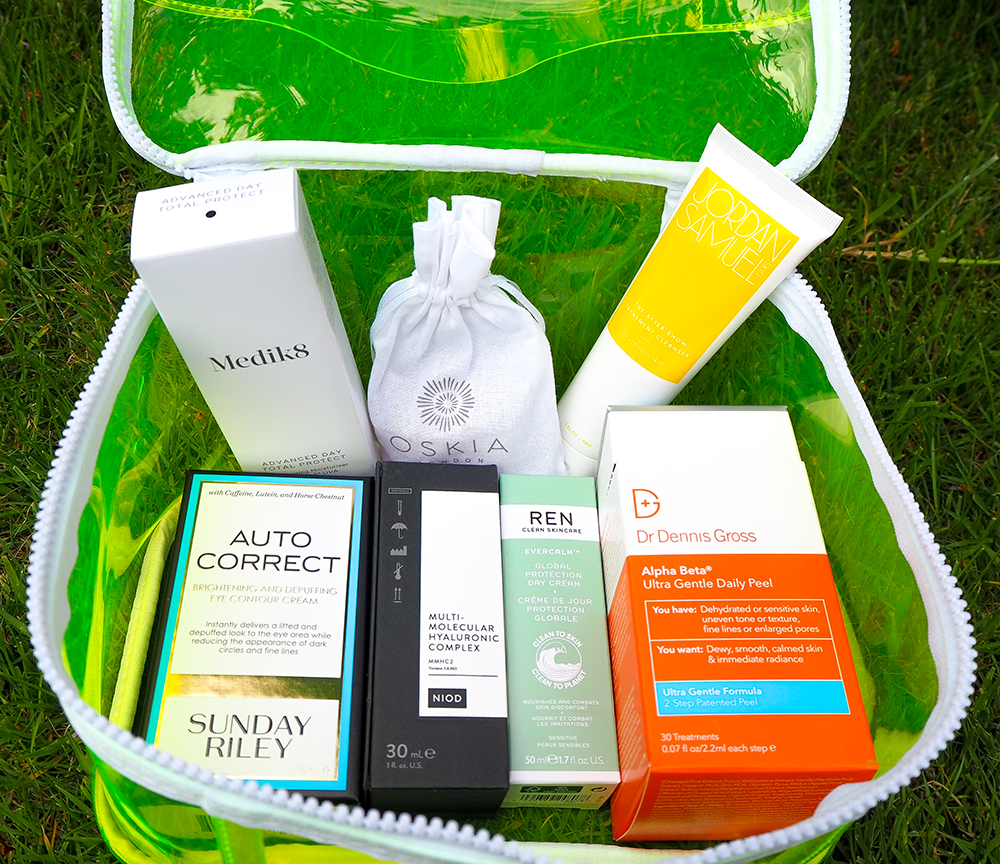 Caroline Hirons Spring Kit One is one of two skincare kits aimed at skincare enthusiasts. Spring Kit One is aimed at people with younger skin or people with normal/combination skin, whereas Spring Kit Two is aimed at people with drier skin or people with more mature skin.
However, Caroline stressed that anyone could use either one of the kits, which are both suitable for all skin types.
So what makes the skincare kits so lusted after?
The incredible savings.
Caroline Hirons Spring Kit One contains 7 products and has a retail value of £354. However, the kit was sold for £160 – a saving of around 55%.
Caroline Hirons Spring Kit Two contains 6 products and has a retail value of £331. However, the kit was sold for £150 – a saving of around 55%.
These price points are amazing. I just couldn't refuse them. I went for Spring Kit One as I have normal/combination skin but I would've loved Spring Kit Two as well! It was the most stressful shopping experience of my life but let me tell you, my impression of Spring Kit One has been nothing but amazing.
Here's what's included in the Caroline Hirons Spring Kit One:
I'm going to share my thoughts about using the skincare kit as a whole as well as each individual product later on in this blog post.
How to use Spring Kit One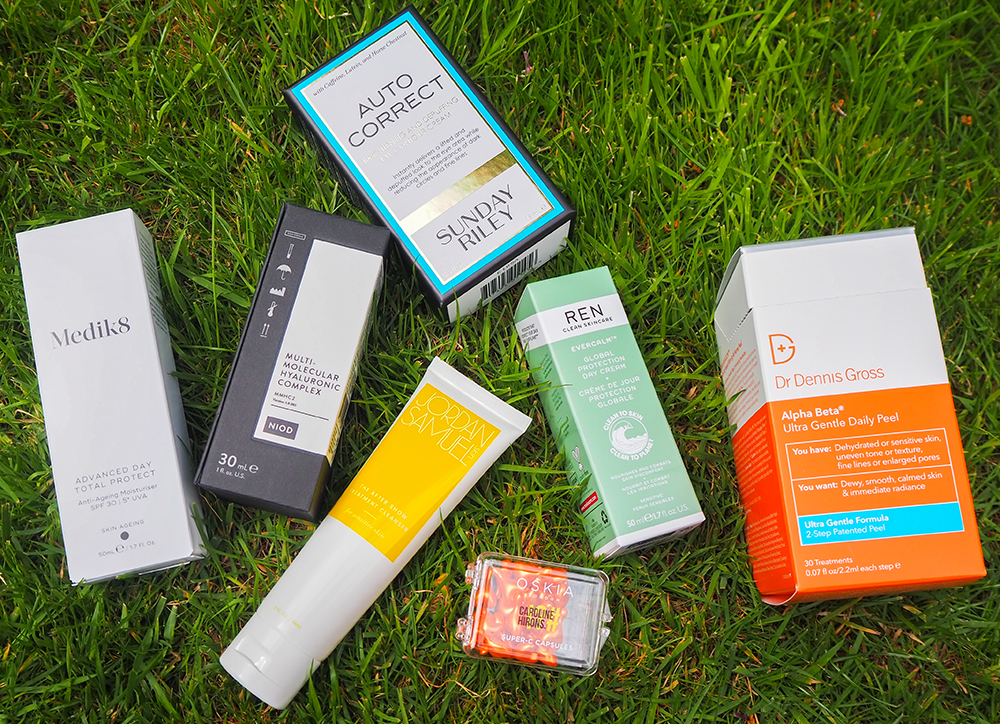 The Caroline Hirons Spring Kit One is designed to be used as skincare routine. I still vary my skincare routine away from the kit, such as using my ARK Skincare Age Protect Skin Clear Cleanser and The Body Shop's Vitamin E Overnight Serum-In-Oil. However, I've found using the kit by itself to be very effective.
The order for applying the products is:
Jordan Samuel Skin cleanser
Dr Dennis Gross peel pads
Sunday Riley eye cream
OSKIA vitamin C capsules
NIOD hyaluronic acid
REN day cream
Medik8 SPF
You can read a more in-depth step-by-step guide on how to use the Caroline Hirons Spring Kit One here.
First impressions of the kit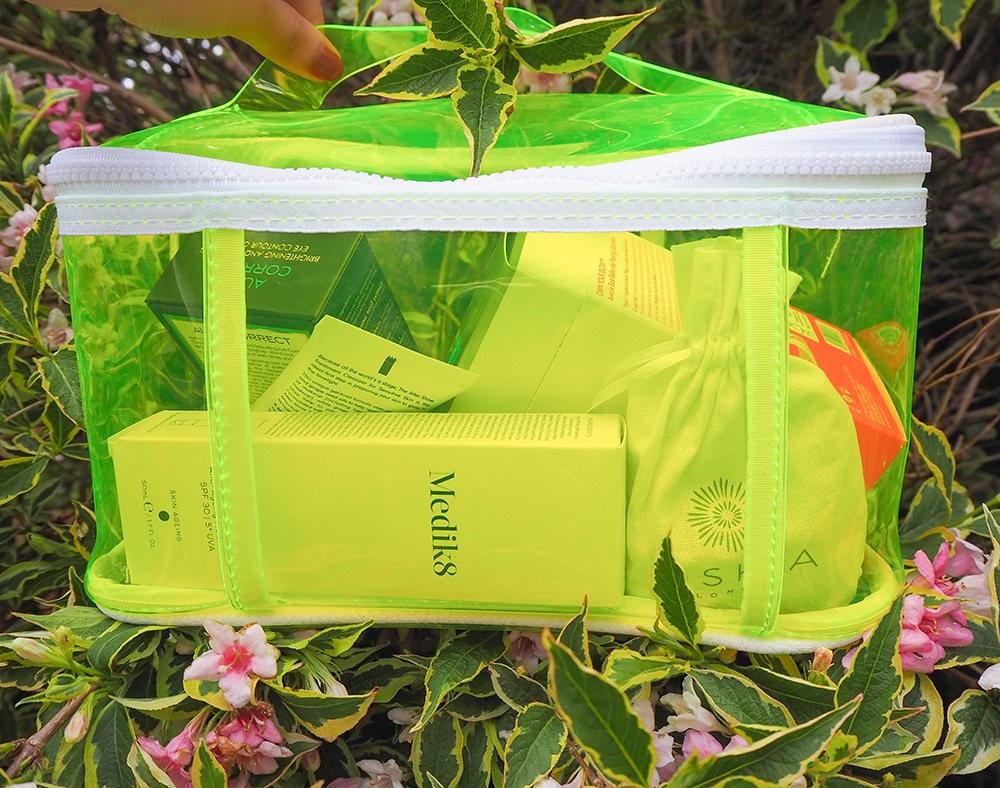 I've been using Spring Kit One for the last 4 days and I've loved every minute of it. Not only have I enjoyed using each product individually, it has created an incredibly effective morning skincare routine for me.
In my short time using the Caroline Hirons skincare kit, my skin feels more hydrated and looks more glowy. I hadn't used any of the products included beforehand, but it has seriously blown me away.
Of course, I expected nothing less from Caroline but the radiance is unreal. My skin has sometimes felt more dehydrated than normal during this lockdown due to being around central heating and fans more often, but this kit has cleared any of my skin concerns right up.
Personally, I think this kit works better in the morning, particularly because the eye cream is designed to make your eyes look brighter and help remove the appearance of dark circles. This would be a lifesaver if you have a work meeting early in the morning to just give your eyes more of a lift. Plus, the vitamin c capsules deliver such a phenomenal glow that you want this radiance to be seen in the daytime.
My first impressions of using the Caroline Hirons Spring Kit One has been nothing short of exceptional, but I'd also like to share my thoughts on my experience of using each product individually so far.
Experience of using each product individually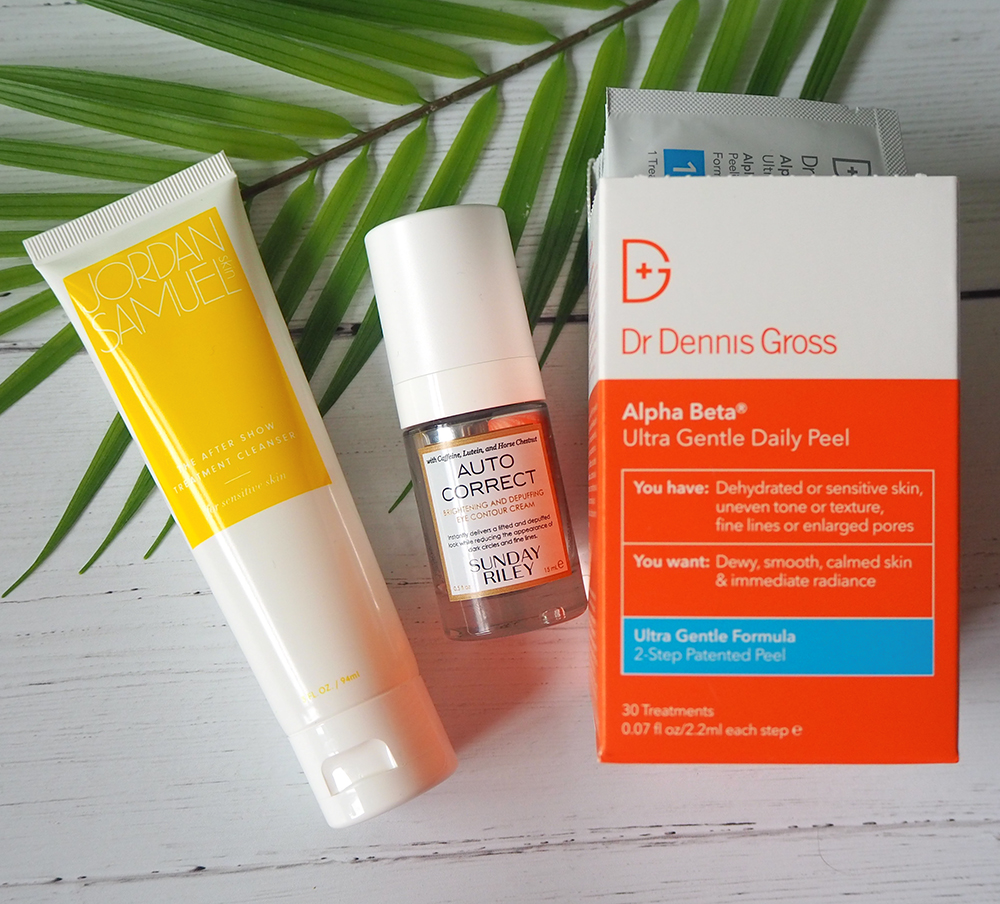 1. Jordan Samuel Skin – The After Show Treatment Cleanser for Sensitive Skin
94ml
I've enjoyed using this cleanser. You apply The After Show Treatment Cleanser on dry skin to break down makeup, oil and dirt and then use a face cloth to remove any dirt. Alternatively, you can apply the product on dry skin and then use water to remove the cleanser, which feels more hydrating.
The product is creamy and thick, so when you apply it to your skin, it feels beautifully soft. The Jordan Samuel Skin cleanser is also gentle and easy to use, which provides a great cleanse to the skin.
2. Dr Dennis Gross – Alpha Beta Ultra Gentle Daily Peel
30 applications
The Dr Dennis Gross peel pads are iconic in the skincare community. They are supposed to provide clinical results from a chemical peel at home.
The peel pads are designed to remove dead skin cells as well as improve uneven skin tone, texture, and hydration. Plus, the daily peel is designed to make your pores look smaller and make your skin appear more radiant.
I feel I need to use this daily peel for a longer period of time to accurately comment on the results. However, so far, I've enjoyed using the product and I'm very hopeful the pads can improve my skin tone and make my pores look smaller.
3. Sunday Riley – Autocorrect Brightening and Depuffing Eye Contour Cream
20ml
Truthfully, I've never found an eye cream that's wowed me. Until now.
The Sunday Riley Autocorrect Eye Cream provides instant gratification. When you apply the product to your eye area, your eyes look brighter, lifted and any dark circles seem to just melt away. I've never used an eye cream that delivers results so instantaneously.
Although my eyes aren't a 'problem area' per se, this eye cream has done wonders when my eyes are looking tired. I can't wait to see the results in the long-term!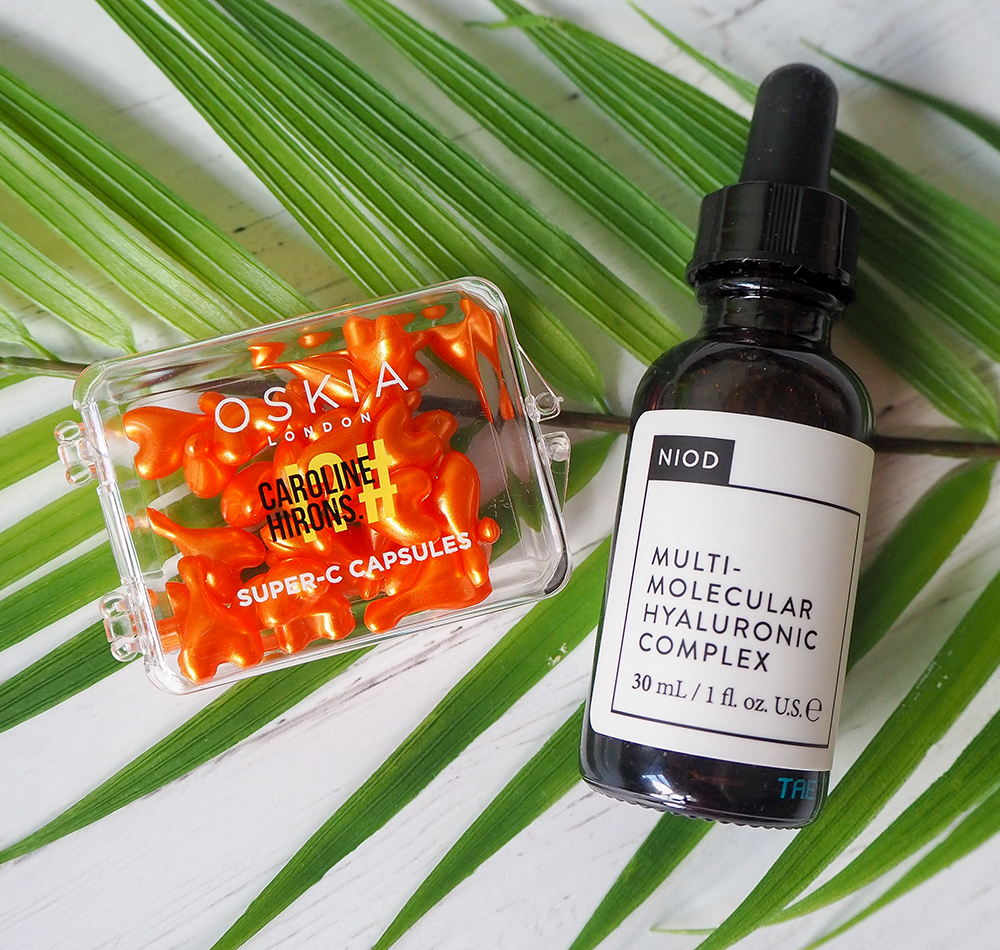 4. OSKIA – Super C Smart Nutrient Beauty Capsules
30 capsules
These OSKIA vitamin C capsules have easily been one of my favourite products from the Caroline Hirons Spring Kit One. The biodegradable, single-use capsules deliver the right amount of product to the skin each time.
They provide instant glow and hydration to the skin on application. I mean my skin looks seriously radiant when I apply the product. I'm obsessed. Plus, they smell amazing, like sweet oranges. Love, love, love.
5. NIOD – Multi-Molecular Hyaluronic Complex MMHC2
30ml
Now onto my other favourite product from the skincare kit – the NIOD hyaluronic acid serum. My skin laps this product up and my skin feels so nourished and hydrated when I apply it.
My skin has felt incredibly smooth, plump and comfortable since using this serum. In the past, I've sometimes felt let down by different hyaluronic acid serums because they've just not given my skin that extra hydration I've been looking for.
This NIOD formula is by far the best hyaluronic acid formula I've used because it offers instant hydration.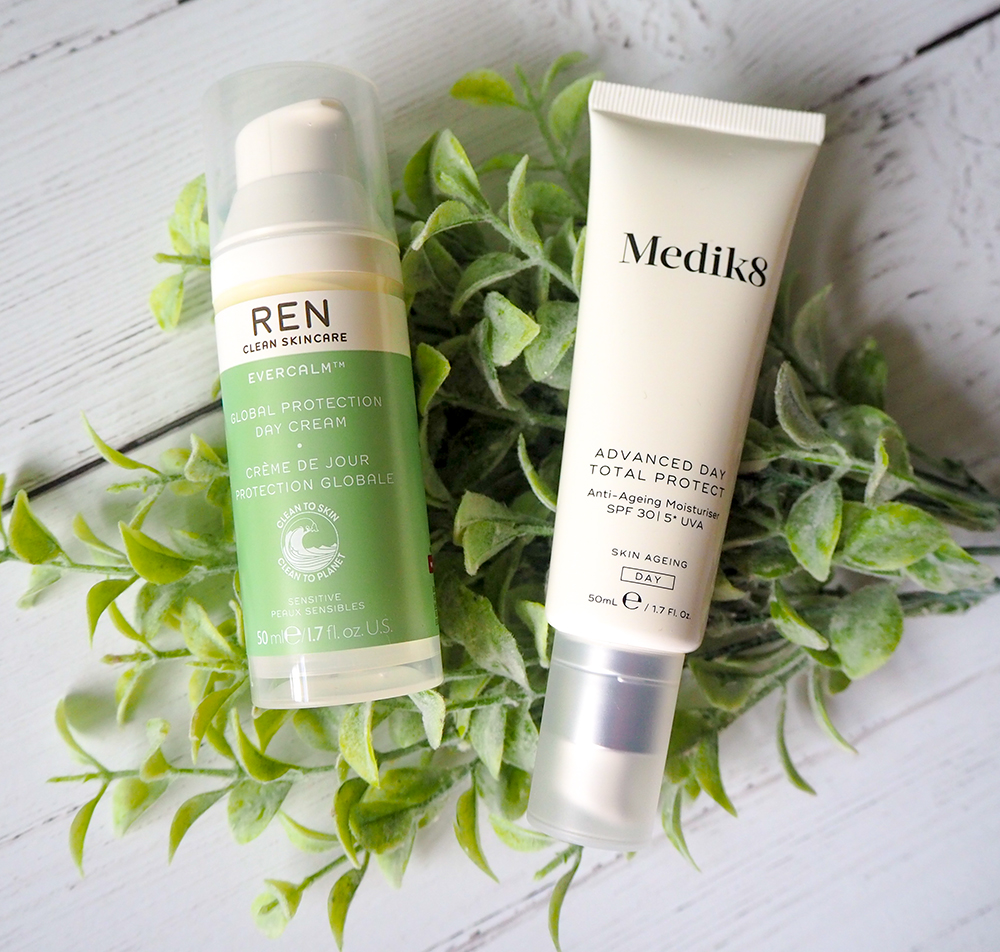 6. REN – Evercalm Global Protection Day Cream
50ml
This REN moisturiser is a joy to use. It's calming, soothing, moisturising and works easily into the skin. I hate moisturisers that leave a greasy residue. I also hate moisturisers that just sit on your skin and feel like they're not really sinking into your skin.
However, this day cream is hydrating, non-greasy and makes my skin feel nourished and protected. It also delivers protection against oxidation damage from modern life pollution, which is a massive plus for me.
7. Medik8 – Advanced Day Total Protect SPF30
30ml
The final product in the Caroline Hirons Spring Kit One is the Medik8 SPF.
This SPF is lightweight, works into the skin like a dream and doesn't leave that horrible sticky residue that some sun creams leave on the skin. Plus, you don't need to worry about the product leaving a chalky cast as once you've rubbed it into skin, you won't even notice it's there.
Comprehensive Protection: SPF 30 with ultra-high 5-star
UVA protection, as well as anti-pollution, anti-infra-red,
anti-glycation, and protection from blue light.

Caroline Hirons
I actually find this SPF to be hydrating enough to use it as a moisturiser and SPF in one. This is great because it means I can scale back on using a daytime moisturiser, delivering cost-savings in my skincare routine.
Final thoughts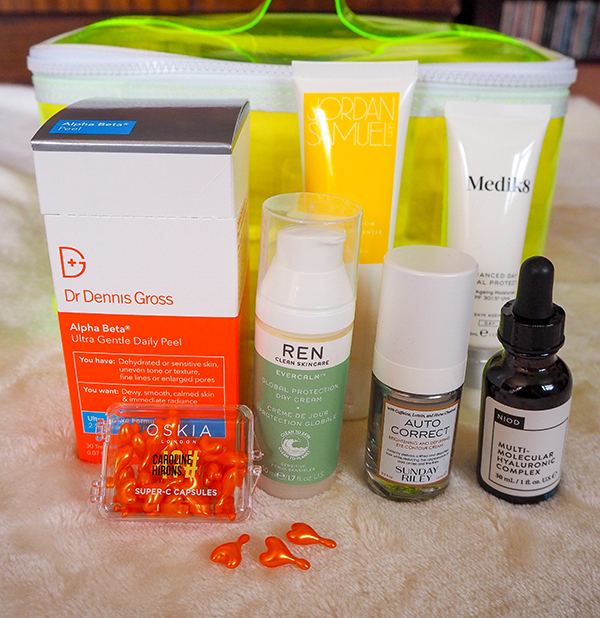 To summarise my first impressions of using this kit in one word would be: Amazing.
I knew the Caroline Hirons Spring Kit One would be fantastic but seeing the results on my skin is even better than I'd imagined. Although I've only used the skincare kit for a short amount of time, it's already improved my skin and has made it look radiant and healthy.
The standout products in the kit for me are the Sunday Riley eye cream, OSKIA vitamin C capsules and NIOD hyaluronic acid serum. In their respective category, these are easily the best products I've tried and I'd 10000% buy them again in the future.
This skincare kit has been great because it's introduced me to 7 new products and has enabled me to have an entirely new morning routine, which is very exciting. If Caroline does a winter kit again, I'm definitely going to buy one and so should you!