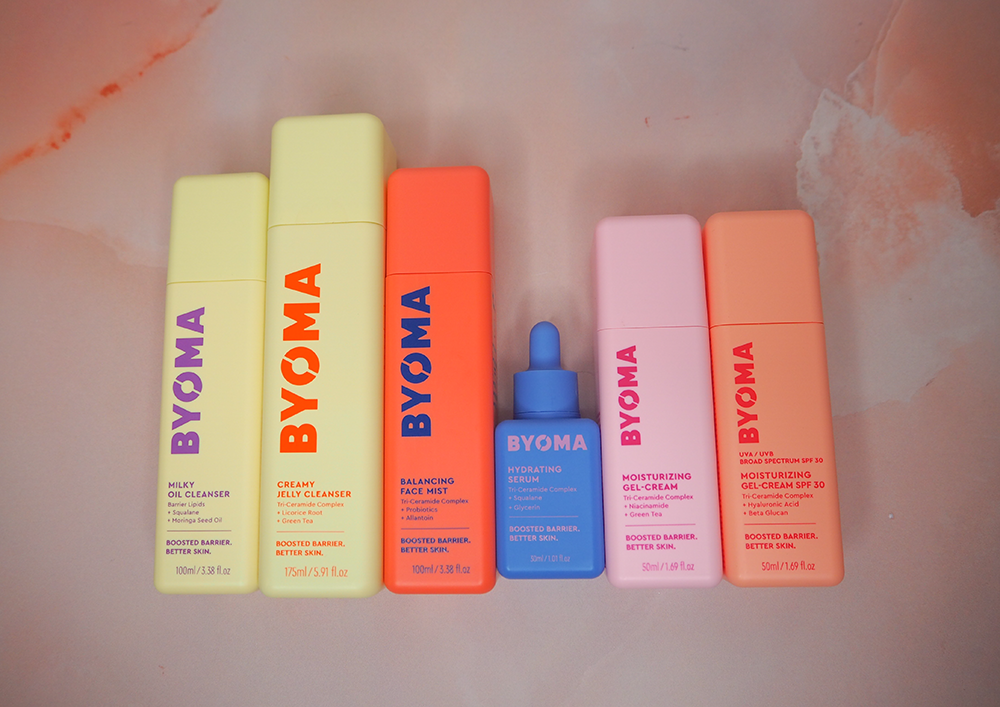 Byoma is a colourful and affordable skincare brand that's cropping up everywhere on social media. I see a vibrant Byoma bottle on every other Insta reel! I've also seen a tonne of amazing reviews, so I had to try the brand for myself.
If you're thinking about trying Byoma but want to know whether this popular skincare brand is truly worth it, this brand review is for you. This post goes through more about Byoma, the products I've tried, my honest thoughts on each product, and whether this brand is worth checking out.
Byoma offers an amazing deal where if you buy 4 or more products, you automatically get 25% off at checkout. Check it out. Looking for just 1 or 2 products? You can grab 15% off Byoma at Sephora with my exclusive code SARAHSSPH. Shop now.
** This post contains some affiliate links. This means at no extra cost to you, I earn some commission if you purchase a product through my link. All thoughts are my own, though, as always. If you want to find out more, visit my affiliate disclosure page **
What is Byoma?
Byoma is an affordable skincare brand that focuses on barrier repair. It's famous for its ceramide complex and for making the skin hydrated, strong, and balanced. Each product contains active ingredients that are backed by science to deliver effective results.
All of the packaging is made from fully recyclable 100% monomaterial plastic. There are some refills available too to further minimise unnecessary waste and packaging. Every product costs under £15.
Byoma is PETA-approved vegan and cruelty-free.
Which Byoma skincare products have I tried?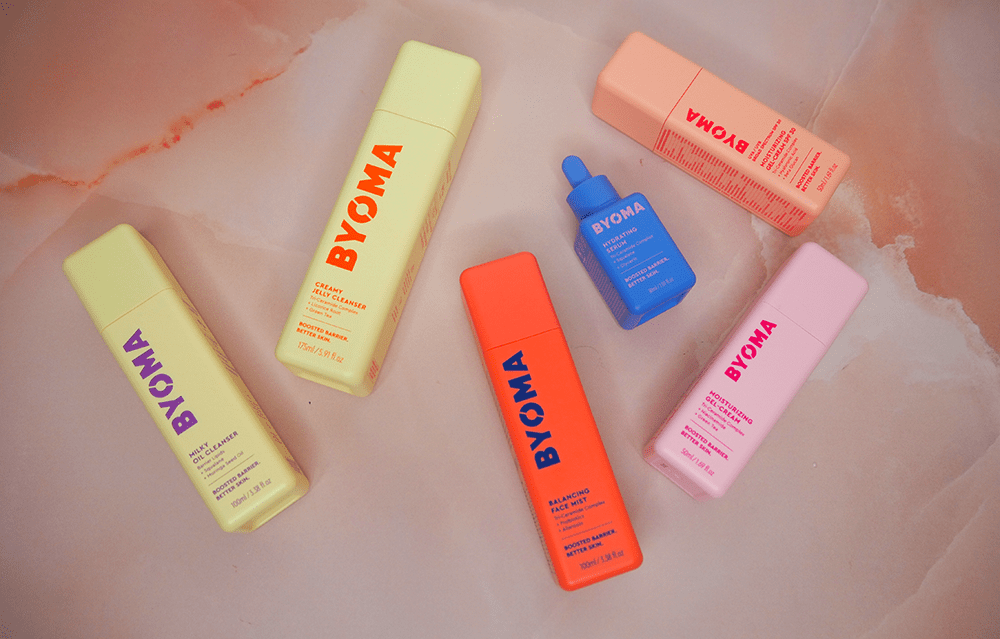 I picked up a full routine of 6 Byoma products, which came up to a very modest £56.96 with the 25% off bundle discount.
Here are the products I got:
Below, I'm going to share my honest thoughts on each product before moving on to an overall Byoma brand review.
1. Byoma Milky Oil Cleanser
£13.99 for 100ml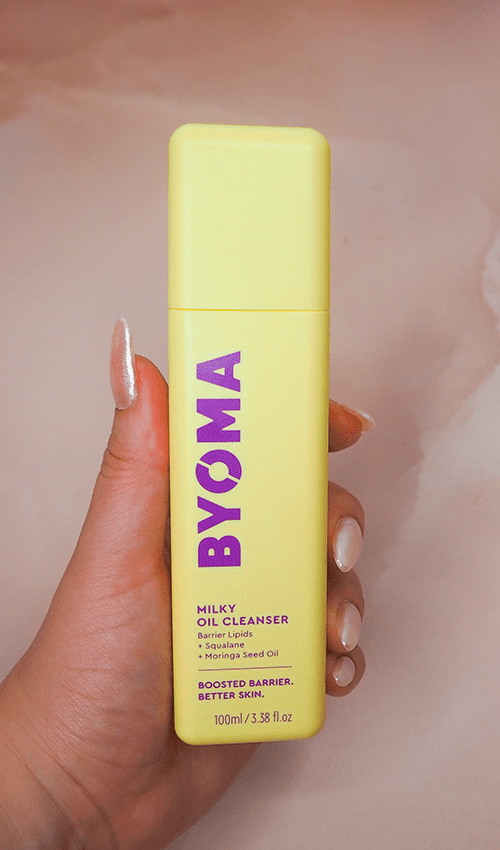 The Byoma Milky Oil Cleanser is a joy to use. It's enriched with moringa seed oil, olive fruit oil, and squalane to moisturise and soothe skin.
This cleansing oil effortlessly breaks down SPF, makeup, dirt, and grease from the day. It feels lightweight and has a milky consistency. Despite being an oil, it doesn't leave a greasy residue or clog pores. I've used cleansing oils that have made my oily skin break out – this Byoma cleanser never feels too rich for my skin and doesn't give me acne.
The fragrance-free cleanser makes removing makeup as the first step in my double cleansing routine effortless. I don't have to scrub hard to melt away makeup. The cleansing oil rinses away as effortlessly as applied.
After using this cleansing oil, my skin never feels stripped or irritated. Instead, it feels super nourished, soft, and smooth. The cleanser makes my skin feel healthy and clean while giving my skin a subtle glow.
Rating: 4.5 stars
This cleansing oil is fantastic.
2. Byoma Creamy Jelly Cleanser
£9.99 for 175ml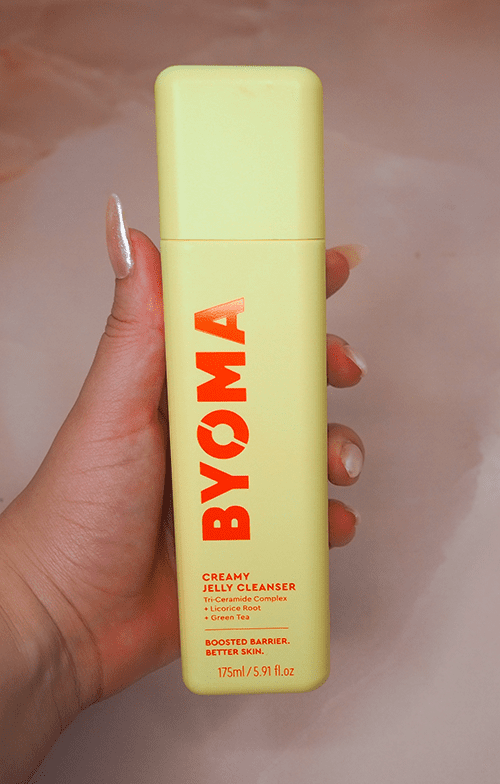 The Byoma Creamy Jelly Cleanser is another great cleanser. I use this for my morning cleanse or as the second step in my double-cleansing routine.
It's formulated with ceramides, soothing green tea leaf extract, and the emollient oleic acid to keep skin soft, hydrated, and soothed. The jelly cleanser has a very light gel texture that lathers into a fairly creamy consistency. It feels soft and smoothing, as it glides over the skin like a cloud.
It leaves my skin refreshed, clean, and nourished, without ever feeling stripped or dried. This gentle formula works perfectly for my oily and rosacea-prone skin, as it effectively cleans my skin without it ever feeling tight.
Again, it gives my skin a nice glow after use. While it's not my fave gel cleanser of all time, it's an excellent product that's well worth checking out.
Rating: 4.5 stars
I'm really enjoying this cleanser.
3. Byoma Balancing Face Mist
£11.99 for 100ml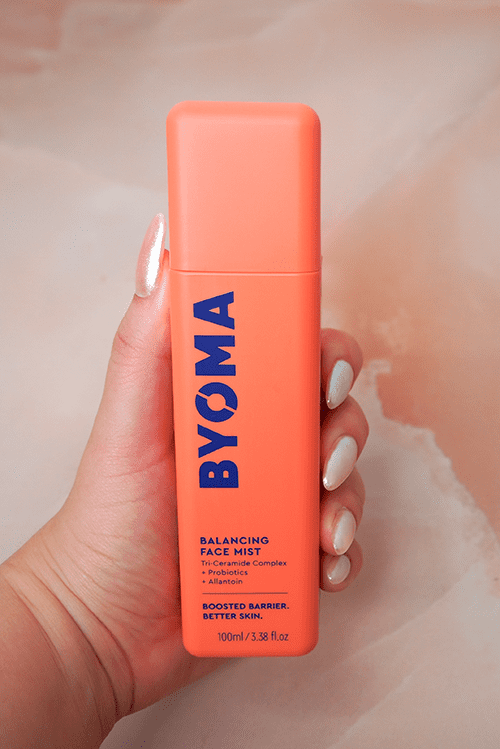 The Byoma Balancing Face Mist is one of the brand's more popular products. This mist features ceramides, hydrating glycerin, and skin-conditioning allantoin for a soothing and instantly moisturising solution.
Firstly, let's appreciate that this actually has a fantastic mister. I've used so many mists where the product either gets distributed in a concentrated area or where the mister doesn't distribute enough product and requires multiple sprays. And don't get me started on ones where the dispenser barely works!
This one distributes the product evenly. Enough product is picked up and spread out evenly and finely so that just one spray covers my entire face.
It feels hydrating and soothing on application. If my skin feels a bit dehydrated or is in need of a pick-me-up, I opt for this mist. It quenches any dehydration and even adds some glow to my skin. And, of course, it's really refreshing! It's been quite hot here in the UK recently, so I've been loving using this mist.
Rating: 4 stars
While it's not my ride-or-die, it's definitely a good product.
Byoma offers an amazing deal where if you buy 4 or more products, you automatically get 25% off at checkout. Check it out. Looking for just 1 or 2 products? You can grab 15% off Byoma at Sephora with my exclusive code SARAHSSPH. Shop now.
4. Byoma Hydrating Serum
£12.99 for 30ml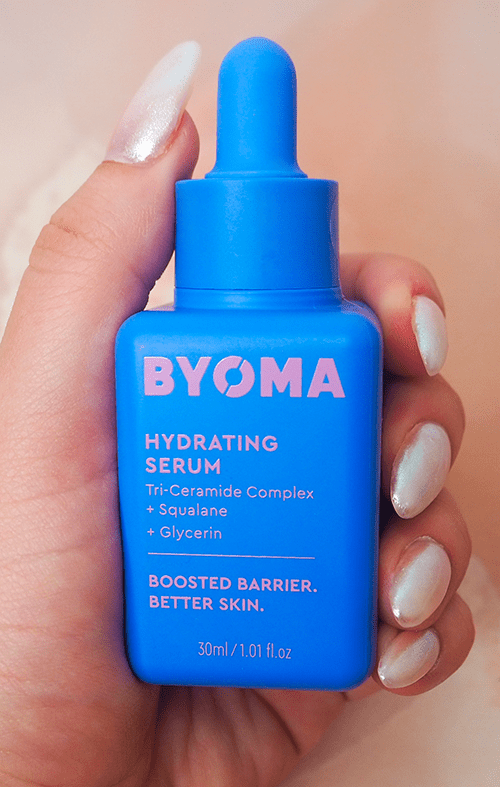 I fell in love with this on my first application. The Byoma Hydrating Serum is enriched with nourishing squalane, ceramides, and glycerin to truly hydrate the skin and boost the skin's barrier.
This has a thicker consistency than a typical serum, sitting somewhere in between a serum and an oil. Despite the thickness, it's incredibly lightweight and absorbent. It didn't feel too rich for my oily skin and didn't cause any breakouts.
I love how this makes my skin feel. It instantly hydrates and soothes. I don't know how else to describe this, but it's like a quenching drink for your skin in the best way possible. It makes my skin feel immediately soft and smooth while visibly boosting luminosity.
This hydrating serum doesn't pill, plays nicely with other skincare products, and delivers lasting moisture. It's ideal for makeup prep, because it makes your complexion even, so makeup glides over the top without sinking into pores or clinging to any skin texture.
Rating: 5 stars
This is healthy, hydrated skin in a bottle. I can't fault it! This is easily one of the nicest moisturising serums I've tried.
5. Byoma Moisturizing Gel-Cream
£11.99 for 50ml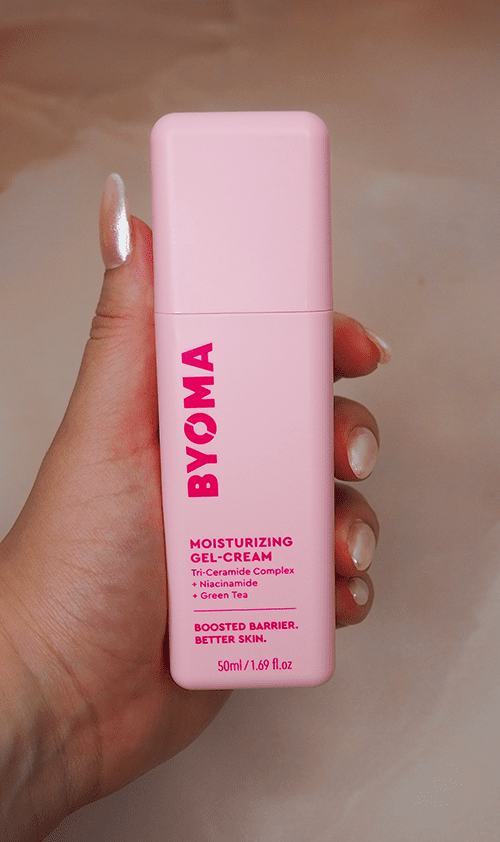 The Byoma Moisturizing Gel-Cream is formulated with powerhouse niacinamide, antioxidant green tea leaf extract, and ceramides to deliver a multi-functional product. It's free from oil, making it a perfect everyday moisturiser for people with oilier skin.
This is a beautiful formula. It has the weightless, cooling sensation of a gel and the nourishing feeling of a cream, which blend together for an incredibly lightweight moisturiser that delivers lasting hydration.
I'm obsessed with how this feels. It makes my skin feel protected and nourished and look glowy. It absorbs into the skin instantly and doesn't pill whatsoever. This means I can happily apply moisturiser if my skin becomes dehydrated without the worry of it gathering or not melting into my skin properly.
My oily and rosacea-prone skin really gets on with this moisturiser. It's super gentle and actively feels calming. If I have a rosacea flare-up, I'd 100% reach for this, as it'd help soothe any redness or irritation.
Rating: 5 stars
I adore this formula. I use this as a day cream because of how weightless it is, which means I can layer other serums easily, without the worry of my skin becoming greasy.
6. Byoma Moisturizing Gel-Cream SPF 30
£14.99 for 50ml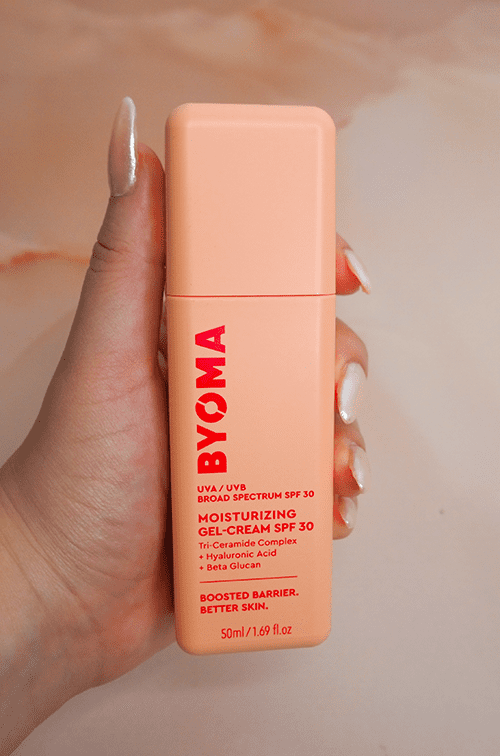 The Byoma Moisturizing Gel-Cream SPF 30 is another great product. It combines a moisturiser and SPF 30 in one, offering broad-spectrum protection against UV rays.
The SPF moisturiser features the UV filters homosalate, ethyhexyl salicylate, and butyl methoxydibenzoylmethane. It's a chemical sunscreen.
On the moisturising side of things, it's got a similar feeling to the Byoma Moisturizing Gel-Cream. It's a bit thicker but is still overall lightweight, hydrating, and absorbent. Again, it doesn't pill and blends into the skin effortlessly. This also delivers a visibly dewy finish, which I love.
On the SPF side of things, this doesn't feel sticky or greasy at all. It's never made my oily skin break out and feels very comfortable. There's no white cast. As it absorbs so well, you can easily layer and reapply this product throughout the day with the reassurance that it won't feel heavy.
I'd prefer a higher sun protection factor, as I normally use SPF 50. However, because this product is very moisturising, sometimes I use this product as a moisturiser, knowing it offers UV protection, and then apply a dedicated SPF 50 on top to thoroughly ensure sun protection.
Rating: 4 stars
Another gorgeous product. I've got other sunscreens in my skincare collection that deliver a bit more wow factor and higher UV protection, but this is still great.
Overall Byoma brand review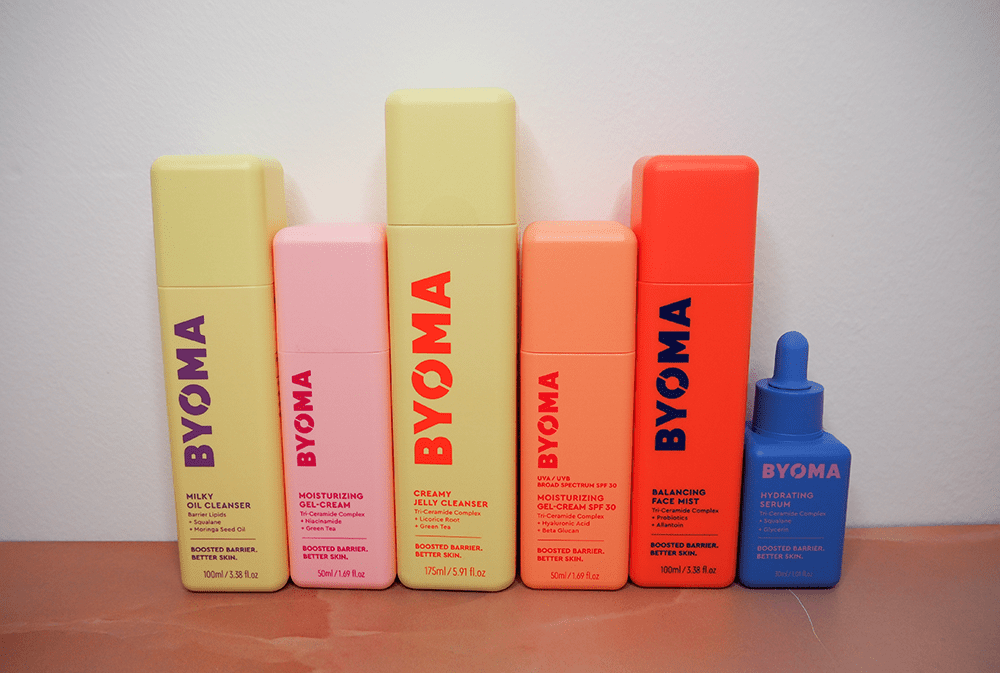 I think Byoma is a fantastic brand. The products work together to strengthen your skin barrier and deliver lasting hydration. When you wear these products, people will be asking you for your skincare routine #SkincareOnFleek.
I love that ceramides feature heavily throughout Byoma's skincare line. They help to strengthen the skin barrier and overall support healthy skin. And that's how my skin feels when I use Byoma: healthy. My skin also feels super moisturised and looks extra glowy when I use these products.
And, of course, the price point is excellent. All of the products are very affordable, with none of them costing more than £15. With the 25% off bundle, you can get even more incredible savings! This is brilliant, as it means you can get powerful skincare products that meet their claims on a budget. You don't need to spend £££ for effective ingredients and great skin. Byoma proves this.
I'd absolutely recommend Byoma to anyone. This brand has thoroughly impressed me. I look forward to trying more products in the future.
Byoma offers an amazing deal where if you buy 4 or more products, you automatically get 25% off at checkout. Check it out. Looking for just 1 or 2 products? You can grab 15% off Byoma at Sephora with my exclusive code SARAHSSPH. Shop now.
Fave product
The Hydrating Serum.
On my wishlist
---
Have you tried Byoma yet?