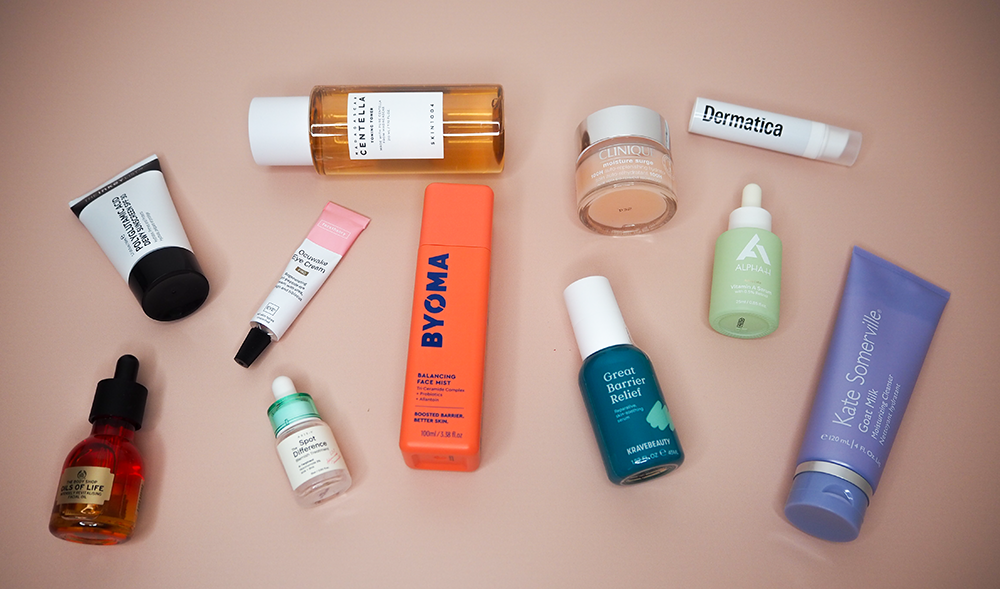 The world of skincare ingredients is busy and complex. With new skincare brands cropping up by the hour and another hero ingredient being pushed down your throat, it can all become overwhelming.
To help out, I've written a blog post about 10 of the most popular skincare ingredients and their benefits to inform your purchases. Want to know more about azelaic acid? What are peptides anyway? Do you need to use retinol? Don't worry, I've got you covered in this post.
P.S. I've got discount codes throughout this post for some of my absolute fave skincare products featuring these popular ingredients.
* This post contains some affiliate links. This means at no extra cost to you, I earn some commission if you purchase a product through my link. All thoughts are my own, though, as always. If you want to find out more, visit my affiliate disclosure page **
1. Hyaluronic acid
Often dubbed as a hydration hero, hyaluronic acid is one of the most popular skincare ingredients. Hyaluronic acid's benefits are that it's hydrating, makes skin look plump and dewy, and promotes skin elasticity. This ingredient naturally occurs in our own bodies, as it can be found throughout the body's connective tissue.
It's a humectant, meaning it retains or preserves moisture, and can astonishingly hold onto 1000x its weight in moisture. Humectants also draw moisture from their surroundings, so it's most effective to apply hyaluronic acid serums – where hyaluronic acid is high up the INCI list – to damp skin.
Hyaluronic acid is a key ingredient in many moisturisers and a lot of other products that promise intense hydration.
2 of my fave hyaluronic acid serums are the NIOD Multi-Molecular Hyaluronic Complex (MMHC2) and VICHY Minéral 89 Booster (money off Vichy at LookFantastic using code LFTFBLOGSARAH).
2. Vitamin C
Vitamin C is one of the most popular skincare ingredients ever. It offers a myriad of benefits and is incredibly versatile. Plus, it has a tonne of research backing it up, so we know this ingredient works! It's a dermatologist fave.
Vitamin C is a powerful antioxidant that can fade dark spots and hyperpigmentation, make skin look brighter, even out complexion, increase the effectiveness of sunscreens, and provide protection against pollution, environmental damage, and sun damage. It can even improve the appearance of wrinkles and reduce redness.
There are many forms of vitamin C, but the most potent and well-researched form is ascorbic acid (AKA l-ascorbic acid).
2 of my fave vitamin C products are OSKIA Super C Smart Nutrient Beauty (20% off OSKIA at LookFantastic with code LFTFBLOGSARAH) and Sunday Riley CEO Glow Vitamin C + Turmeric Face Oil (15% off Sunday Riley at Sephora with code SARAHSSPH).
3. Glycolic acid
The most popular of all exfoliating acids is glycolic acid. It's a plant-derived alpha-hydroxy acid (AHA), and it contains the smallest-sized molecules in AHAs, meaning it can more deeply penetrate the skin. Glycolic acid aids in collagen production and exfoliates the skin by increasing cell turnover (so that it sheds dead skin cells faster than usual), evening skin tone, and reducing wrinkles.
The result is a smoother and more even complexion. However, if overused, it can aggravate the skin and start to damage the skin's barrier. For my rosacea-prone skin, I only use glycolic acid once a week max. Typically, I use it fortnightly.
It also increases sensitivity to the sun, so you must wear sunscreen following using glycolic acid. Although, we should wear SPF all year, regardless of the weather, to ensure proper protection from UV rays.
My fave glycolic acid product is the Drunk Elephant T.L.C. Framboos Glycolic Night Serum (20% off Drunk Elephant at LookFantastic with code LFTFBLOGSARAH). I love the Pixi Glow Tonic too (15% off Pixi at Sephora with code SARAHSSPH).
4. Squalane
Squalane has become quite a popular ingredient in recent times, which is an excellent emollient, meaning it softens or soothes skin. This ingredient delivers nourishment and prevents moisture loss, while restoring skin suppleness. Despite having quite an oily consistency, it's surprisingly lightweight, absorbent, and non-greasy on the skin.
Dare I say that squalane might be my fave hydrating ingredient? My skin loves this stuff. It makes my skin noticeably softer, smoother, and more moisturised.
Biossance 100% Squalane Oil (20% off Biossance at LookFantastic with code LFTFBLOGSARAH) and Indeed Labs Squalane Facial Oil (20% off Indeed Labs at LookFantastic with code LFTFBLOGSARAH) are both incredible.
5. Retinol
AKA vitamin A, retinol is one of the most popular skincare ingredients. It's often considered the "gold standard" in skincare, thanks to its raft of powerful and proven benefits.
Retinol reduces fine lines and wrinkles by stimulating the production of collagen. It can also fade dark spots and improve uneven skin texture. Although it can take three months to one year to see improvements in fine lines and wrinkles, vitamin A is undisputedly the best anti-ageing ingredient, as it's the only one that can help reverse the signs of ageing. SPF, on the other hand, prevents signs of ageing, as the protection slows down the process of getting wrinkles and fine lines.
However, retinol is very strong and can be quite sensitising, even at low percentages in skincare formulas. It's best to build up a tolerance by only applying it once a week and gradually working your way up to two, three, four, etc. days. For more mature skin, retinol can actually be used every day once a tolerance has been built up. In the early stages of applying retinol, you can "buffer" the skin, by applying a thin layer of moisturiser first followed by vitamin A to make the effects less "harsh".
Alpha-H Liquid Gold Midnight Reboot Serum and Votary Intense Night Oil are both excellent retinol options.
6. Ceramides
Ceramides are fats that naturally occur in your skin. They help protect skin against environmental aggressors, prevent moisture loss, and help it look younger. As skin gets older, it produces fewer and lesser-quality ceramides, making it less supple, which can lead to a damaged skin barrier alongside dryness and irritation.
That's where ceramides come in. They can help restore skin and ensure it's moisturised and healthy. Ceramides are often found in barrier repair products. The skin's barrier can become damaged through things like over-exfoliation, applying too much retinol, and being exposed to a harsh climate. While not everyone needs to use ceramides, they support healthy-looking and -feeling skin.
I love the ceramide-enriched Byoma Moisturising Gel Cream (15% off Byoma at Sephora with code SARAHSSPH).
7. Salicylic acid
Another popular exfoliating skincare ingredient is salicylic acid. This is the only beta-hydroxy acid (BHA) and functions quite differently from AHAs. It can more easily get deep into pores, which is why this is often hailed an acne and oily-skin hero.
Salicylic acid exfoliates the skin, giving it an overall smoother texture, and can help unclog pores, meaning it can shift stubborn blackheads and whiteheads. In fact, salicylic acid can even help reduce excess sebum production in the skin, so that the skin overall is less oily. All of these benefits can help reduce breakouts in the future.
As with any exfoliating ingredient, salicylic acid can be sensitising. Overxfoliation can also lead to a damaged skin barrier and redness. It's important to go easy on the exfoliation, particularly if you have more sensitive skin. Again, I typically only use salicylic acid on my rosacea- and oily-prone skin once a week max. But my skin loves salicylic acid.
Paula's Choice 2% BHA Liquid Exfoliant is undeniably one of the best salicylic acid products ever (15% off Paula's Choice at Sephora with code SARAHSSPH). The COSRX Master Patch Intensive (20% off COSRX at LookFantastic with code LFTFBLOGSARAH) is also fantastic and works overnight to drastically reduce the size, aggressiveness, and appearance of spots.
8. Niacinamide
One of the most versatile skincare ingredients is niacinamide. This popular ingredient offers a plethora of benefits and is truly a powerhouse. It'd almost be easier to say what niacinamide can't do.
Niacinamide visibly minimises enlarged pores, tightens lax pores, improves uneven skin tone, softens fine lines and wrinkles, diminishes dullness, and strengthens a weakened surface. It can even help regulate sebum production in the skin so it's less oily and support the skin's barrier. Plus, it's not a sensitising ingredient and works for all skin types.
Niacinamide particularly makes a big difference to my skin's complexion and oiliness.
The Facetheory Porebright Serum N10 (20% off Facetheory using code AWOMANSCONFIDENCE) is a great affordable niacinamide option. And my personalised Dermatica skincare (get your Dermatica treatment for just £2.90 the first month and 10% off the second month with code SARAHDERM) formula includes niacinamide and has done wonders for my rosacea and skin tone. It's genuinely transformed my skin.
9. Peptides
Another ingredient that naturally occurs in the skin is peptides. They're short chains of amino acids that act as building blocks of proteins such as collagen, elastin, and keratin.
These proteins are the foundations of your skin and are responsible for its texture, strength and resilience. Without peptides, skin is less intact, which can lead to a loss of firmness, the appearance of wrinkles, a change in texture and less 'bounce'.

Paula's Choice
Peptides can help build the skin's barrier, make skin firmer and plumper, give the skin more elasticity, repair damaged skin, and even out the complexion. Peptides are also hydrating and soothing.
The Facetheory PolyPep Collagen Boosting Serum S8 is a great way to incorporate peptides into your skincare routine (20% off Facetheory using code AWOMANSCONFIDENCE). And for my fave but very boujie night cream of all time, OSKIA's Bedtime Beauty Boost (20% off OSKIA at LookFantastic with code LFTFBLOGSARAH) contains peptides, along with a load of other amazing ingredients, to make skin look and feel amazing.
10. Azelaic acid
Azelaic acid is worth knowing about. Just like hyaluronic acid, this is not an exfoliating acid. Instead, this hard-working ingredient can help to reduce and prevent breakouts, brighten the skin, even out skin tone and texture, reduce skin sensitivity, and even fade red marks and discolouration.
Azelaic acid is well tolerated by all skin types. It's particularly great for rosacea-prone skin, as it's not sensitising and can soothe and reduce redness. Acne-prone skin also hugely benefits from this ingredient, because it's got anti-inflammatory properties and can stop breakouts from occurring as frequently.
It's a brilliant all-rounder.
My top azelaic acid picks are the Paula's Choice Azelaic Acid Booster (15% off Paula's Choice at Sephora with code SARAHSSPH) and the Dermatica Clarifying Azelaic Acid 20% Cream.