Last Updated on 24th August 2020 by Sarah Sarsby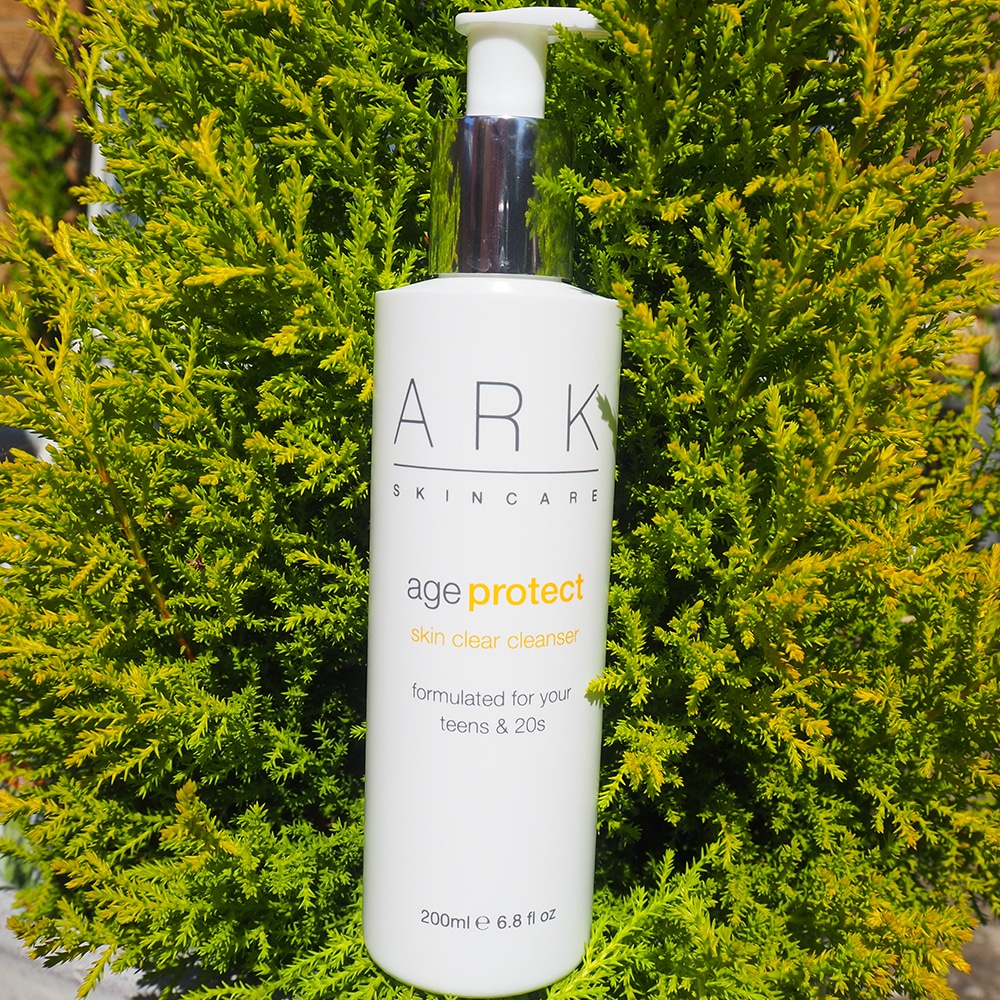 Disclaimer: ARK Skincare gifted me the Age Protect Skin Clear Cleanser, but all of my opinions remain unbiased and honest
I'm super excited to be sharing this review of the ARK Skincare Age Protect Skin Clear Cleanser because trying out new gel cleansers is probably my favourite part of my skincare routine. Why? Because I love the feeling of fresh, soft and clean skin.
After trying out the ARK Triple Action Exfoliator and being blown away by the results, I couldn't wait to try out the new cleanser. Being gifted these new skincare goodies has allowed me to become acquainted with a lovely skincare brand that delivers serious results.
I've tried plenty of great gel cleansers in my time, including Tatcha The Deep Cleanse and Dermalogica's Special Cleansing Gel, so how does ARK's cleanser measure up? Keep on reading to find out if the Age Protect Skin Clear Cleanser lives up to its claims and is worth spending your pennies on.
** This post contains some affiliate links. This means at no extra cost to you, I earn some commission if you purchase a product through my link. All thoughts are my own, though, as always. If you want to find out more, visit my affiliate disclosure page **
What is Ark Skincare?
ARK Skincare is an award-winning British skincare brand, which treats skin by age and skin concern using bioactive natural ingredients, combining antioxidants, lipids and vitamins.

ARK Skincare
There is a broad range of products available from ARK Skincare, depending on your age, skin concern and lifestyle. It's a well-thought-out skincare brand with minimal but sophisticated packaging.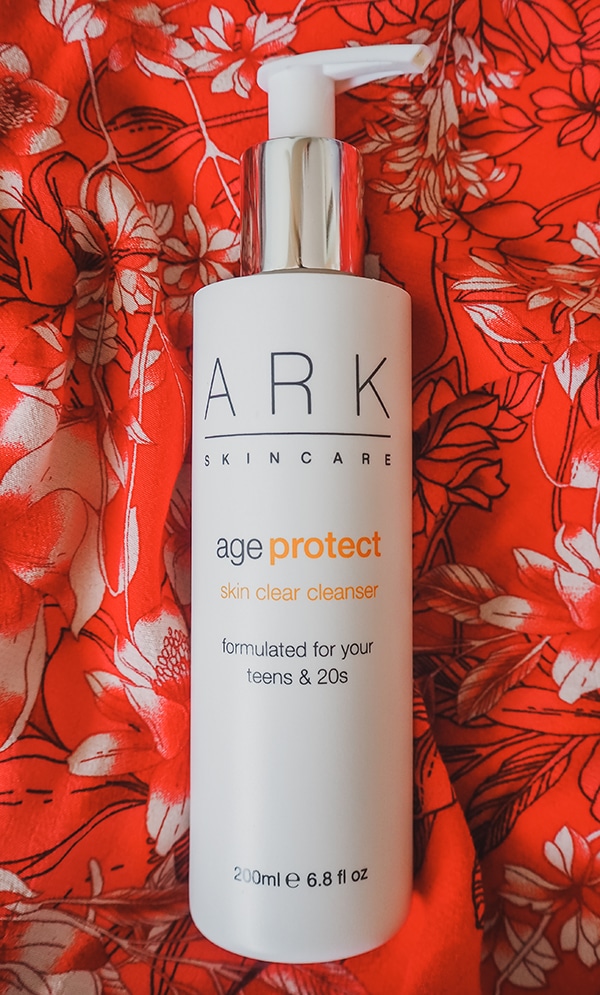 Product ingredients and claims
A soap-free cleanser, the ARK Skincare Age Protect Skin Clear Cleanser promises to cleverly balance oily and dry areas to leave skin clear and comfortable.
The gel cleanser is vegan-friendly and claims to treat skin gently while banishing spots and excess oil.
Key ingredients include:
Vitamin E: known for its nourishing and healing properties
Avocado oil: which helps moisturise the skin and has antimicrobial, antioxidant and anti-inflammatory properties
Oat amino acids: known for their soothing properties
Peach lipids: which can contribute to smoother skin
My thoughts
I've mentioned this before but I like ARK Skincare's packaging. It's sleek, minimal and sophisticated. This gives the impression of a professional and effective brand.
You get 200ml of product in the tube, so the cleanser should last for quite a long time. It can be easy to go through cleansers very quickly, but I think the sign of a good cleanser is one that lathers up well, which means you need less product to cover your face.
And the ARK Age Protect Skin Clear Cleanser definitely lathers up well. You only need a very small amount of product – about the size of a 5p coin – to work. As soon as the gel cleanser reacts with water, it lathers up beautifully, which leads to a refreshing cleanse.
I love that the cleanser has a dispenser at the top as it means you can control how much product comes out each time you use it. This avoids waste and ensures you use the right amount of product on your face.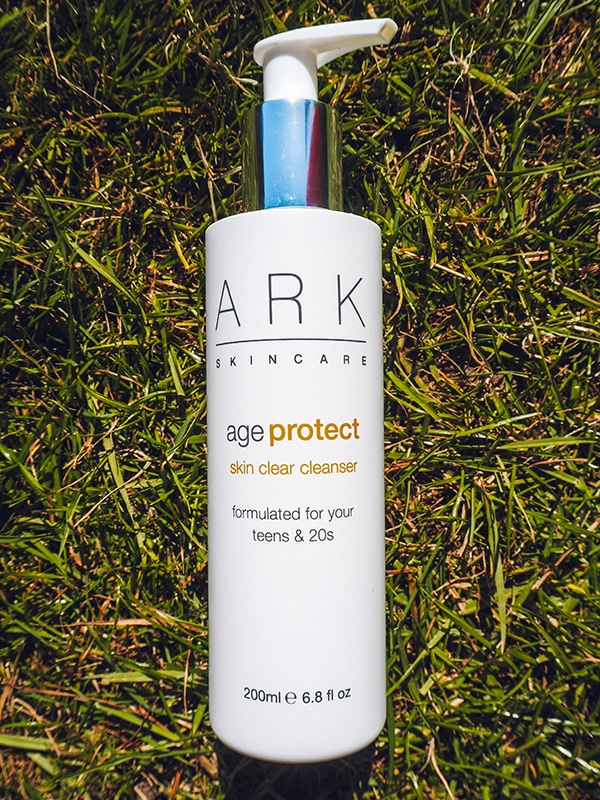 In terms of how the product performs, I love it. It's gentle but incredibly refreshing. My skin never feels like it has been stripped and after using the product, my skin feels extremely clean.
I've also noticed my skin feels soft and smooth after using the cleanser. This isn't something I experience with a lot of cleansers, so this is an added bonus for me.
Although my skin isn't as oily as it used to be, this sweet cleanser definitely ensures any excess oil or dirt is removed. For people who are prone to breakouts or have oily skin, this cleanser is extremely balancing and as it's fragrance-free, so you don't need to worry about it irritating your skin.
I use this cleanser every morning and as part of my second cleanse at night.
Comparing the ARK Age Protect Skin Clear Cleanser to other gel cleansers
My love for gel cleansers has no boundaries. I'm obsessed with trying new formulas and discovering new products which work for my skin.
The ARK Skincare Age Protect Skin Clear Cleanser works very similarly to the Dermalogica Special Cleansing Gel. My favourite things about both of these cleansers are their refreshing, non-stripping feel and the fact they lather up so well.
I've got to say, this cleanser is up there with the Dermalogica cleanser and the Kiehl's Ultra Facial Cleanser, making it into the holy trinity of gel cleansers. I slightly prefer the ARK cleanser to the Tatcha Deep Cleanse. This product has been exceptional for me!
Where to buy
Retailing for a very respectable £25 – which is good for 200ml of product – you can purchase the ARK cleanser from the ARK Skincare website, Amazon or lookfantastic.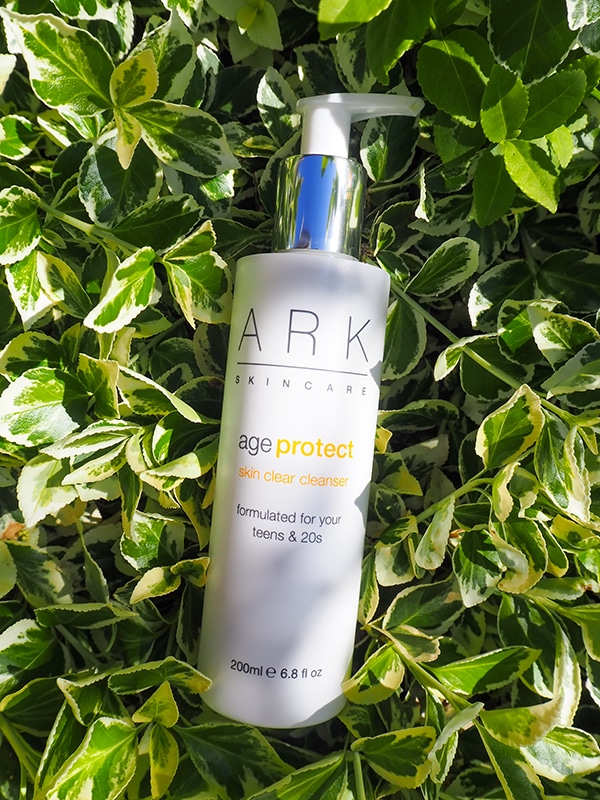 Conclusion
An amazing cleanser which meets all its claims and delivers serious results. I've loved how this ARK cleanser makes my skin look and feel, and I can't recommend it enough, especially to those with particularly oily skin. If you like the Dermalogica Special Cleansing Gel, I can guarantee you'll love this product too!
Rating: 5 stars