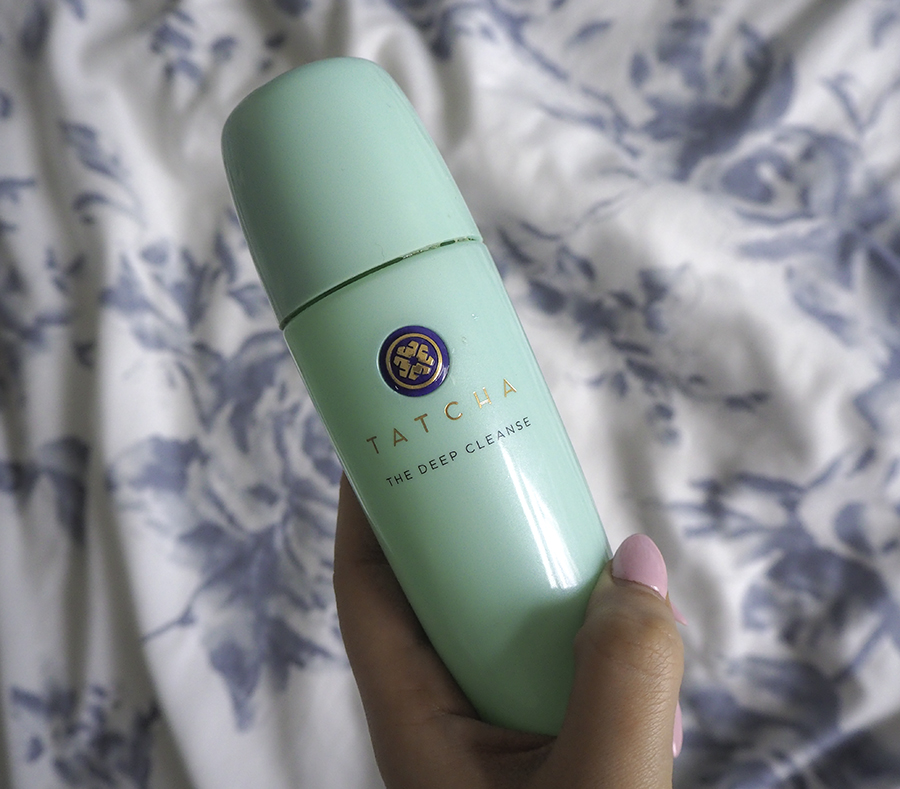 For today's blog post, I'm reviewing one of the most hyped gel cleansers on the market – Tatcha The Deep Cleanse.
This gel cleanser has become a bit of an icon in the skincare world and I was lucky enough to get my hands on it in my America beauty product haul. It also managed to find its way into my November faves last year, so this is good stuff.
After mentioning it a few times on the blog, I thought it was time to share an in-depth review of the Tatcha gel cleanser. Is it any good? Has it helped my skin? Should you consider getting it? All will be revealed…
What is Tatcha?
Tatcha is a higher-end skincare company that marries together Japanese and American beauty. It's a well-known brand in America and the Silk Canvas Primer and The Deep Cleanse are two of its most iconic products.
Product ingredients and claims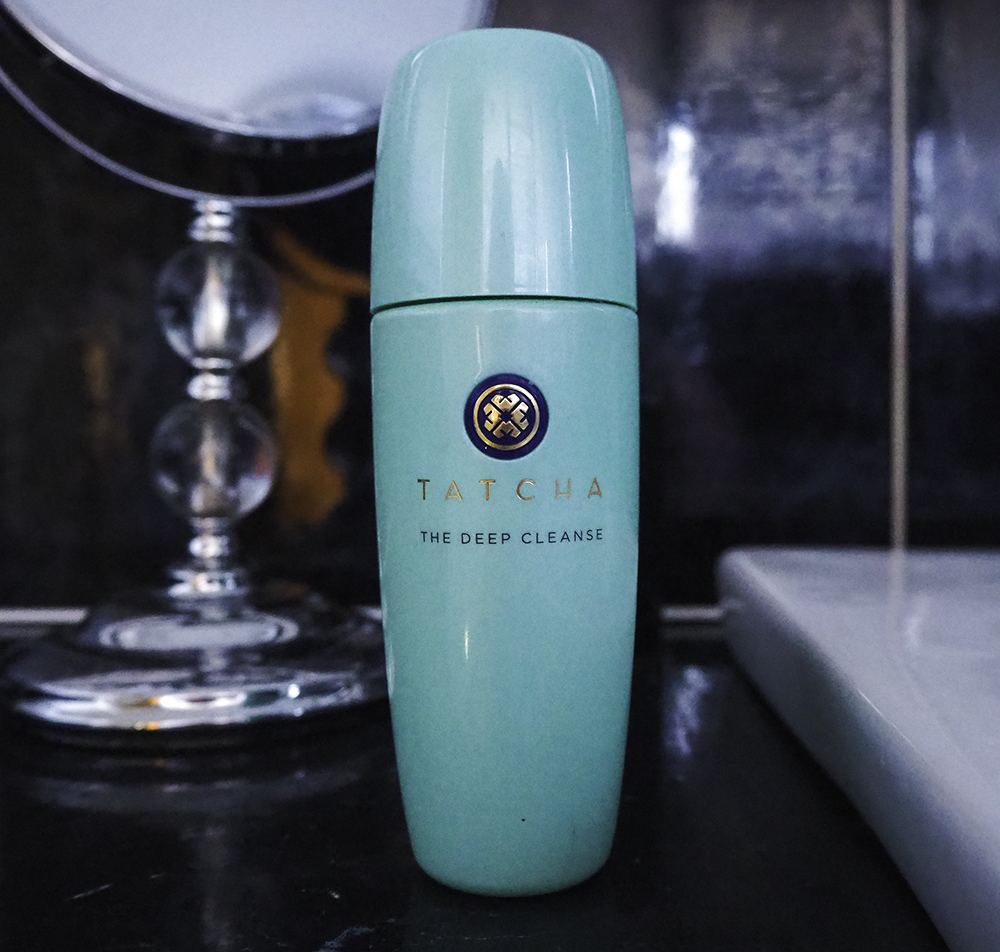 Aimed at people with oily skin who want to target uneven texture and pores (me), Tatcha The Deep Cleanse is a daily gel cleanser with natural fruit exfoliant that aims to deeply but gently lift impurities and unclog pores, while leaving skin soft and hydrated.
According to Tatcha, the gel cleanser removes dirt and oil while still being gentle, leaving skin refreshed and comfortably hydrated.
Key ingredients include:
Japanese luffa fruit – which is designed to exfoliate the skin
Japanese wild rose – which is supposed to visibly tighten pores and smooth skin texture
Japanese leopard lily – which aims to minimise excess oils
Begin with wet hands and wet face. Squeeze a small (almond-sized) amount into palms and rub together to create a creamy foam. Gently massage the face avoiding the eye area and rinse thoroughly.

Tatcha
First impressions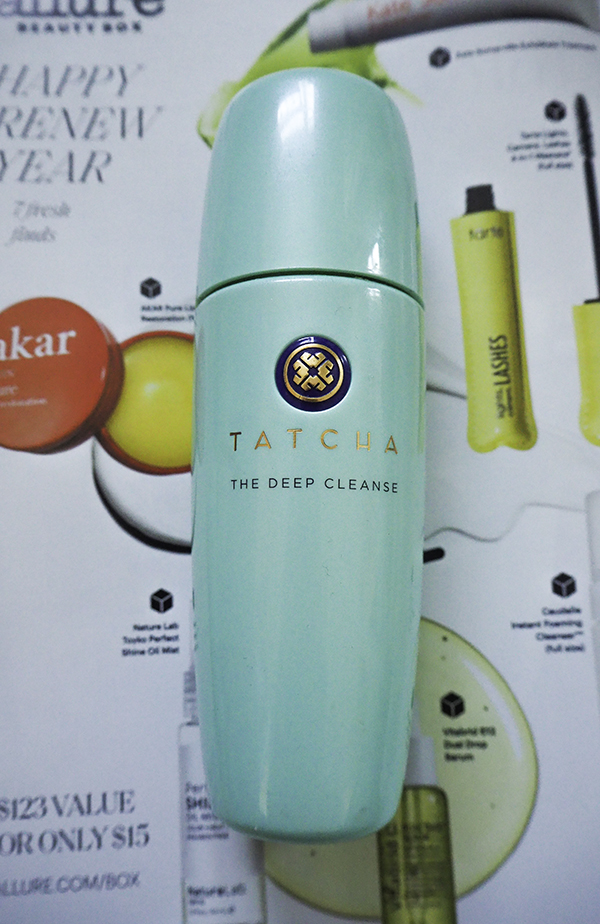 First things first, I love the turquoise bottle. It's pretty and stands out from the other skincare products I own. Something about it just screams luxe as well, you know?
Although, there's one gripe I have about the packaging. The hole at the top of the bottle where you squeeze the product out is fairly large, which means it can be quite hard to control how much product comes out. There were several times where far too much cleanser came out.
When I first tried Tatcha The Deep Cleanse, I liked the scent. It's not heavily fragranced but just smells fresh and clean.
After wetting my hands and face, I applied an almond-sized amount into my palms and rubbed them together so it lathered up. It wasn't as creamy as other gel cleansers I've tried, which was a bit disappointing if I'm honest.
However, when I massaged the product into my skin, the cleanser was light, refreshing and very gentle. I liked how it felt on my face. It didn't blow me away but it was a nice little gel cleanser. But I needed more time to assess if it benefited my skin at all.
A few months in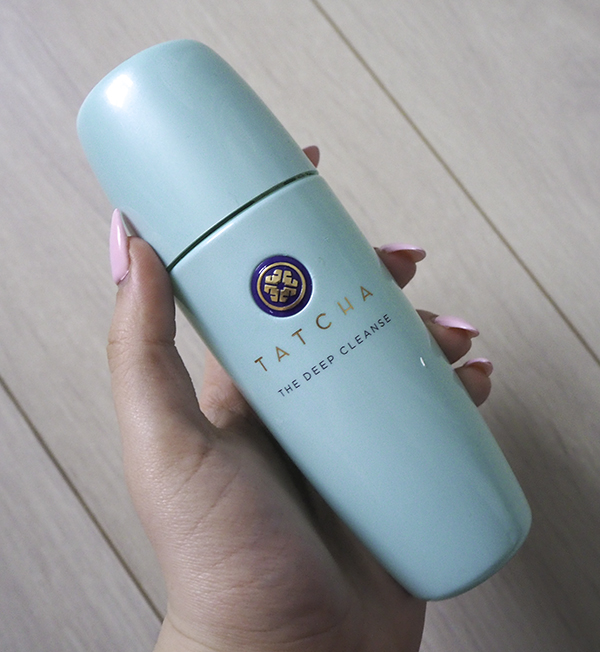 I've actually finished the entire bottle now, so I think that's well enough time to fairly review the cleanser.
Over time, this gel cleanser has really grown on me. I love how gentle it is on the skin and my skin feels wonderfully refreshed after using it. I've never had any skin problems when using the product.
I agree with the product claims that it lifts away impurities and dirt, leaves my skin hydrated and soft, and has helped smooth my skin. Interestingly, I think it's contributed to my skin's clarity too, which is not one of the product's claims but it's been kind to my skin.
I'm not convinced this has done much for my pores or texture but it's still a lovely little cleanser.
I find it really interesting that this cleanser is targeted at people with oily skin because I think it would work well for all skin types, including sensitive, as it's not harsh.
As much as I've enjoyed using the cleanser, it's still not my favourite. Admittedly, Tatcha The Deep Cleanse is up against a tough crowd because I've used a lot of great cleansers. It's good but I still prefer the Dermalogica Special Cleansing Gel.
If you're looking for a gentle and soft cleanser, I think the Tatcha gel cleanser would be a great choice.
Where to buy
You can buy Tatcha The Deep Cleanse from Space NK. It costs £41 for 150ml.
Final thoughts
Tatcha The Deep Cleanse is a nice gel cleanser. It's gentle, removes impurities and dirt, is soft and hydrating, and has improved my skin's clarity. It's not helped my skin texture or pores but I'm still happy with the results.
It's definitely not the cheapest gel cleanser out there but it's also not a rip-off. I'm really into my cleansers so I'm happy to pay a bit more for them.
Rating: 4.5 stars
A great cleanser. It's not outstanding but it's enjoyable to use and I'd happily purchase it again.