Last Updated on 30th December 2019 by Sarah Sarsby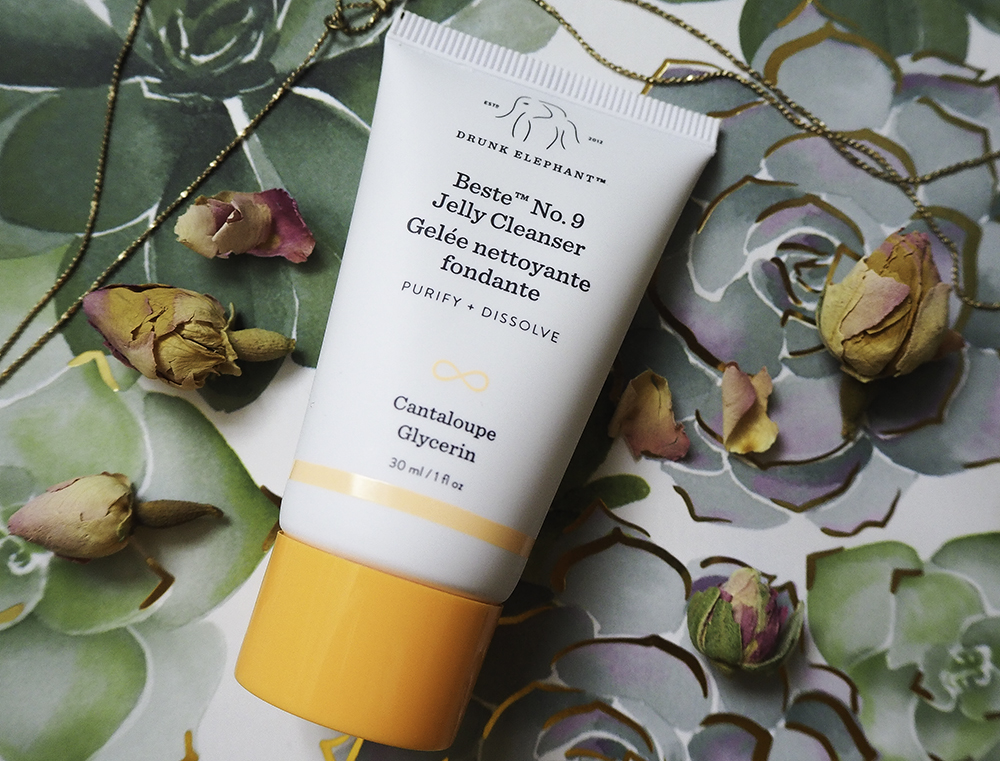 Today, I'm going to share my first ever review of a Drunk Elephant product – the Beste No. 9 Jelly Cleanser.
I mentioned in my America beauty product haul that I managed to get a mini version of the Drunk Elephant Jelly Cleanser. I've been trying it out every day for the last few weeks (I've almost finished it now), so thought I'd share my honest opinions about the cleanser.
Let's dive in…
What is Drunk Elephant?
Drunk Elephant is a high-end and luxurious skincare brand that has lots of hype around it. It promises to deliver clean skincare products that work for all skin types.
Importantly, all of its products are fragrance-free, as fragranced skincare can cause problems for sensitive skin.
Here's what the company says: "Drunk Elephant is committed to using only ingredients that either directly benefit the skin's health or support the integrity and effectiveness of our formulations.
"You won't find what we call the "Suspicious 6" in our products (Essential Oils, Drying Alcohols, Silicones, Chemical Sunscreens, Fragrances/Dyes, SLS) making them, in our opinion, appropriate for all skin."
Product ingredients and claims
Non-irritating and suitable for all skin types, the Beste No. 9 Jelly Cleanser is an innovative gel cleanser that is supposed to remove all traces of makeup, excess oil, pollution and dirt.
Key ingredients in the jelly cleanser are: virgin marula oil for its nourishing properties and to help boost the cleansing and makeup removal power, glycerin for hydration, and cantaloupe extract for soothing and hydrating.
First impressions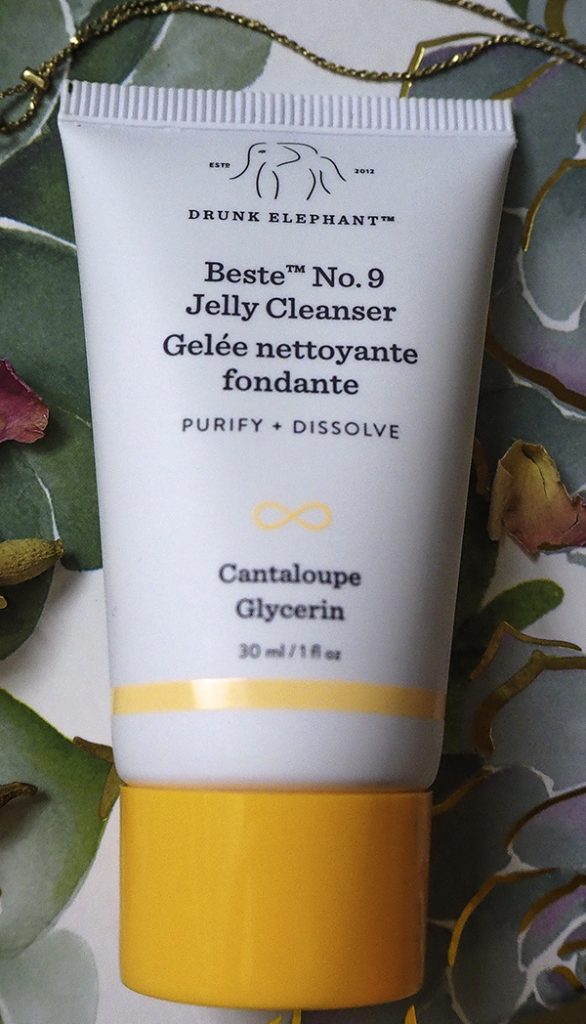 I like the simple packaging, nothing too fancy but it has the cute Drunk Elephant logo at the top.
One of the first things I noticed about the Drunk Elephant Jelly Cleanser is how well it lathered up. When you squeeze some of the cleanser into your hands and add water, it lathers up beautifully and easily. This means you don't need to use much product at all for it to go a long way.
As I swirled it around my face, the cleanser felt gentle and refreshing. After rinsing and drying my face, I was left with clean and soft skin. So far, so good.
Two weeks in
Okay, so I've been using this Beste No. 9 Cleanser for a while now and I like it. It doesn't irritate my skin, it's gentle and easy to use, and leaves my skin soft and smooth.
Importantly, it does a great job of getting rid of any dirt, excess oil or product that might be lingering on my skin after a long day. I feel confident using this cleanser as I know my skin is going to be refreshed and clean afterwards.
However, and I feel this is important to say, it isn't my favourite gel cleanser. I don't like it as much as the Dermalogica Special Cleansing Gel or the Kiehl's Ultra Facial Cleanser because, with these products, I noticed an improvement with my skin's clarity, but as of yet, I've not truly noticed an improvement in my skin with the Drunk Elephant Cleanser.
Nonetheless, the cleanser meets its claims and leaves my skin clean and soft – which is what a cleanser is for, after all. For me, it just doesn't quite have that same 'wow' factor as the two cleansers I mentioned above.
Where to buy
Drunk Elephant doesn't ship to the UK (boooooo), however, a 150ml tube of the Beste No. 9 Jelly Cleanser can be purchased from Cult Beauty or Space NK for £27.
For the amount of product you get in a 150ml tube and compared to the price of some of the other products in Drunk Elephant's range, I think £27 is reasonable.
Final thoughts
The Drunk Elephant Best No. 9 Jelly Cleanser is a neat little cleanser that I'm glad I've had a chance to try. It's gentle, non-irritating and leaves my skin soft and clean after using. It's priced fairly and meets all of its product claims.
Rating: 4.5 stars
It's not a 5-star product, in my opinion, as I've used other gel cleansers that I prefer, but, it's worth checking out and I've enjoyed using it.
---
What are your favourite Drunk Elephant products or the ones that you are dying to try? Let me know in the comments below