Last Updated on 23rd September 2023 by Sarah Sarsby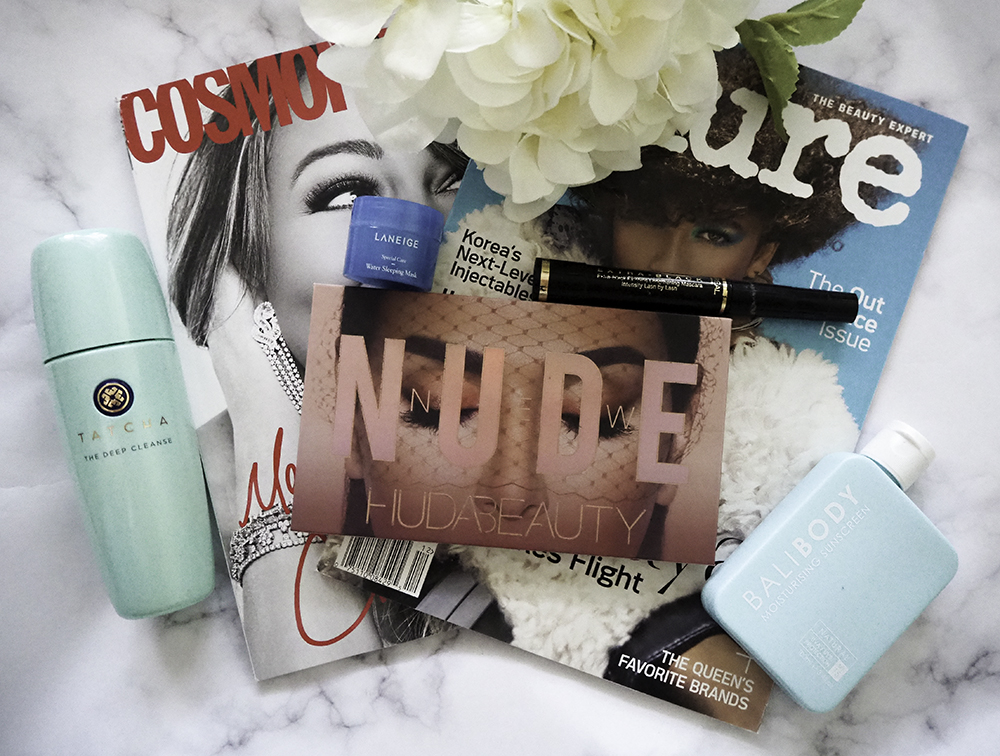 I'm back with another instalment of my monthly faves and this post focuses on my top 5 beauty products for November.
I'm going to be honest and admit I've been a bit out of the loop with my blog recently. Work has been manic as I've got my magazine deadline coming up on Tuesday, so all I've been doing is working, sleeping (when I can) and eating terribly. This hasn't left any room for my lil old blog but I'm doing my best to catch up now.
November has flown by, I've been working like a fool and I think I actually found my first grey hair yesterday? Is this what being a true adult feels like?
Nonetheless, I'm still trudging along. I'm looking forward to having some normality and getting back into a proper routine next week once my deadline has passed. I like to feel like I'm achieving in all areas of my life but as it stands, I'm just achieving in the work department. My sleep, relationships, fun, blog, exercise and healthy eating departments have all taken a hard hit.
But, here's my first step towards getting back to normal. I hope you enjoy this post on my monthly faves for November!
** This post contains some affiliate links. This means at no extra cost to you, I earn some commission if you purchase a product through my link. All thoughts are my own, though, as always. If you want to find out more, visit my affiliate disclosure page **
1. Tatcha The Deep Cleanse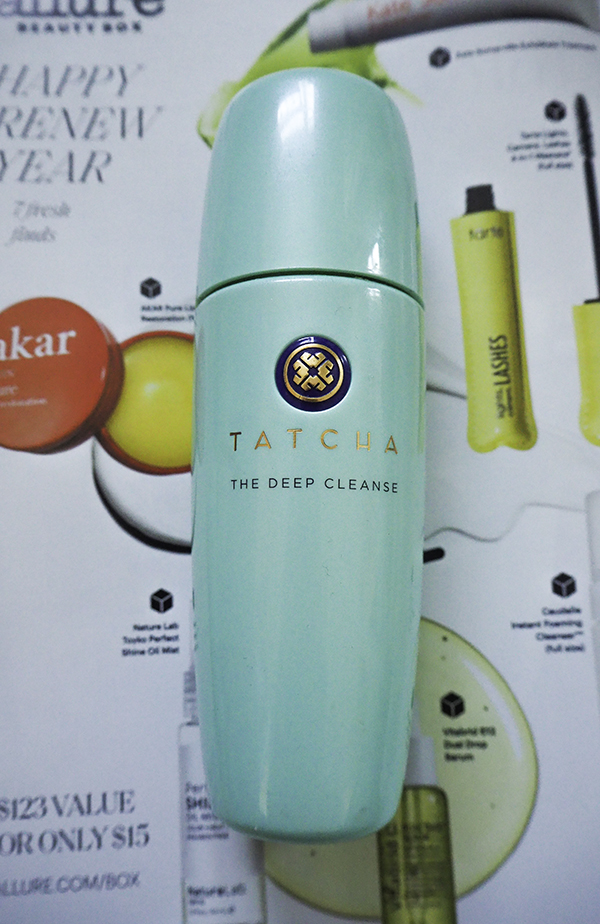 I'd been DYING to try Tatcha The Deep Cleanse ever since I mentioned it in my America beauty haul post as it's one of the most talked-about cleansers. I've been using this product for about a month now and I can confirm that it's amazing.
Tatcha describes The Deep Cleanse as: "A daily gel cleanser with natural fruit exfoliant that deeply but gently lifts impurities and unclogs pores, while leaving skin soft and hydrated."
I actually wasn't that in love with it when I first tried it. I've used other gel cleansers which lather up better, which I find satisfying. So when I put The Deep Cleanse on my face, it wasn't as creamy, which made me a bit more sceptical as to how much I'd like the product. As it doesn't lather up as well as some other gel cleansers, like the Kiehl's Ultra Facial Cleanser, you also need to use a bit more product on each use.
For me, though, I'd rather use a cleanser that isn't quite as satisfying to use but gives excellent results. And the Tatcha Deep Cleanse does just that.
After using it for just over a month, my skin looks clear and bright. When I wash off the cleanser, my skin feels soft and hydrated. You can tell it exfoliates just a little bit as my skin always feels rejuvenated after using it.
Whilst I don't get spots often, this cleanser has definitely contributed to my skin's clarity. All in all, this product meets its claims and has left my skin looking and feeling great.
Where to buy
Normally retailing for $38 for 150ml – just under £30 – you can buy The Deep Cleanse directly from Tatcha's website. However, you either pay £27 shipping to the UK (yikes!) or you need to spend the equivalent of £194 to qualify for free shipping. Both of these options seem pretty extortionate, so you're either faced with an expensive shop or you don't get the product *cries*.
The Deep Cleanse is currently selling on Amazon for £66. Considering the product retails for just under £30, these prices seem ridiculous and I'm sorry but you don't need to pay in excess of £60 for a decent cleanser. You just don't.
Rating
Based on the results alone, I'd give Tatcha The Deep Cleanse 4.5 stars. It's a lovely little cleanser and I love how my skin looks since using it.
However, it's still not my all-time fave cleanser and due to the fact you need to apply more product on your face each time, this will run out faster than some of the other gel cleansers on the market. But, I've loved trying it and would definitely repurchase (only if I visited America and avoided the shipping costs).
2. L'Oreal Paris Telescopic Mascara in Carbon Black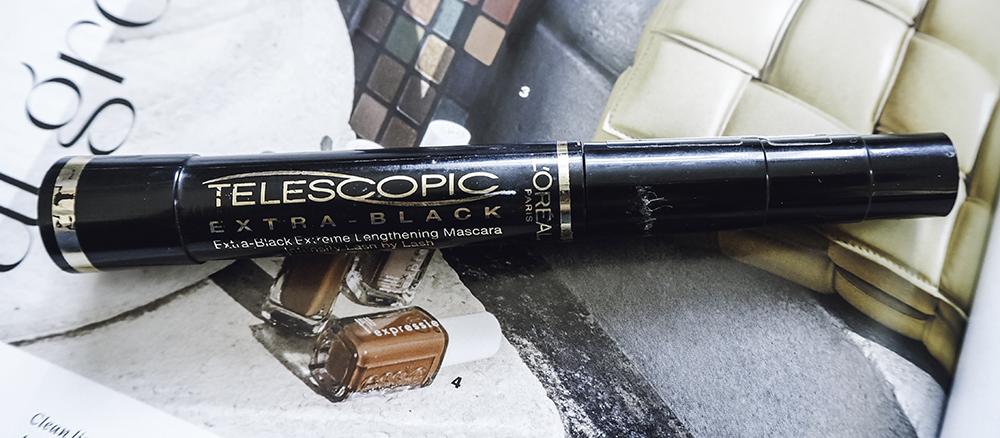 The L'Oreal Paris Telescopic Mascara is a really popular product amongst makeup enthusiasts due to its lengthening effect.
In the past, I'd always opt for volumising mascaras as I liked the added drama. However, I now prefer lengthening ones as my eyelashes aren't particularly long and I find lengthening mascaras more wearable. Now, if I want drama, I just apply false lashes.
The wand on the Telescopic Mascara is really interesting as it's small, thin and made from plastic. I wasn't sure how it would work but I find it adds a lot of length to my lashes without making them look clumpy.
Also, the formula doesn't smudge. I hate mascaras that transfer (like the Dior one I mentioned in my '5 beauty products I'm unimpressed with' post) because you end up looking like a panda. However, the Telescopic Mascara is buildable and gives me much longer lashes.
Where to buy
Retailing for £10.99, you can purchase the L'Oreal Paris Telescopic Mascara from Boots or Superdrug.
Rating
Even though I like the Telescopic Mascara, it still doesn't quite have that 'wow factor' for me. I've used mascaras in the past that I prefer, but I'm definitely glad I purchased it. For these reasons, this is a 4-star product in my opinion.
3. Laneige Water Sleeping Mask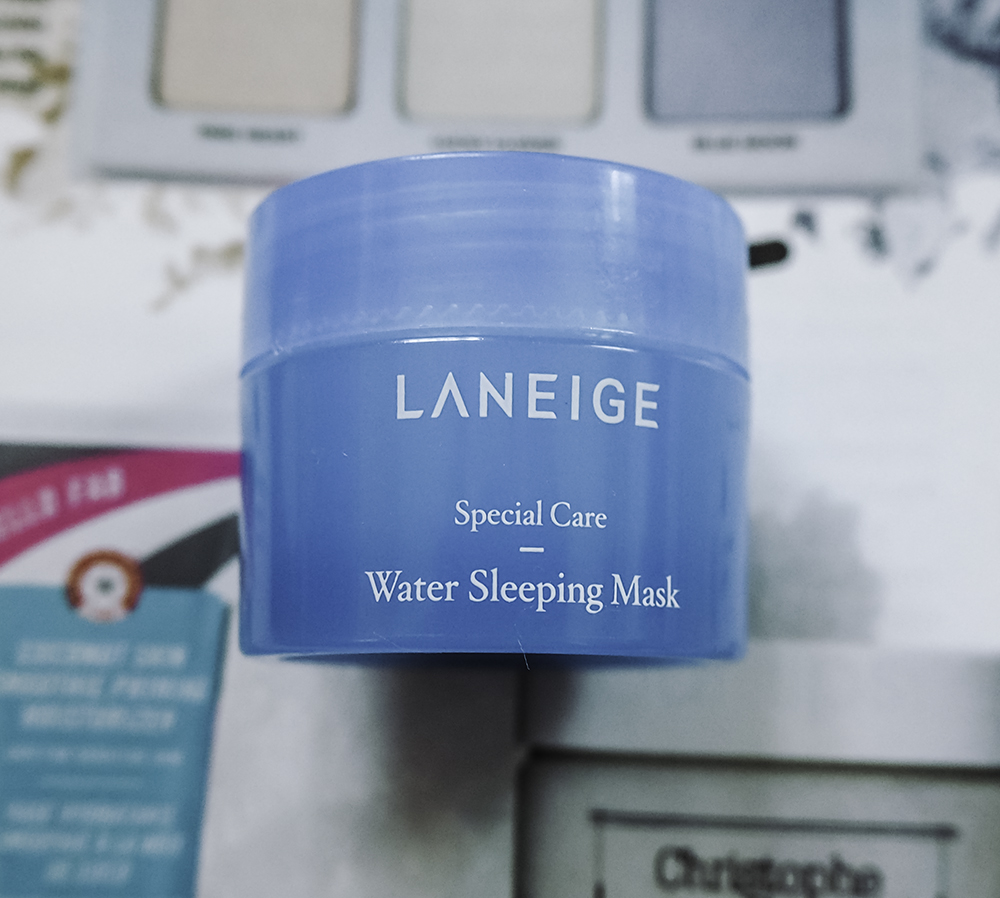 I mentioned the Laneige Water Sleeping Mask a while back on the blog but have tried it a few more times now to give a fairer opinion.
And here it is: I really enjoy using this sleeping mask. It feels cooling and refreshing on my face but gives a welcome hydration boost during these colder temperatures.
Skincare is one of my biggest passions and when I find a good face mask, cleanser, moisturiser, serum etc. I feel great. This Water Sleeping Mask is one of those times and I don't have anything bad to say about the product.
This isn't the best overnight mask I've ever used, in fairness, but it provides hydration and rejuvenation and is so satisfying when you put it on your face. If you're in need of some extra hydration but don't want to break the bank, the Laniege Water Sleeping Mask could prove an excellent choice.
Where to buy
I bought the 15ml sample size of the Water Sleeping Mask for £2.45 from YesStyle. This is a great price as you get quite a lot of product in the 15ml pot and if you don't like it, then it's only £2.45 wasted and not £20 plus.
Side note: YesStyle has some really cute and unique beauty products, so it's worth having a browse.
Rating
It's a cute product which feels refreshing and hydrating when you apply it. It probably won't blow you away but it's budget-friendly which works for these colder temperatures in particular. I'd give it 4 stars.
4. Bali Body Moisturising Sunscreen SPF15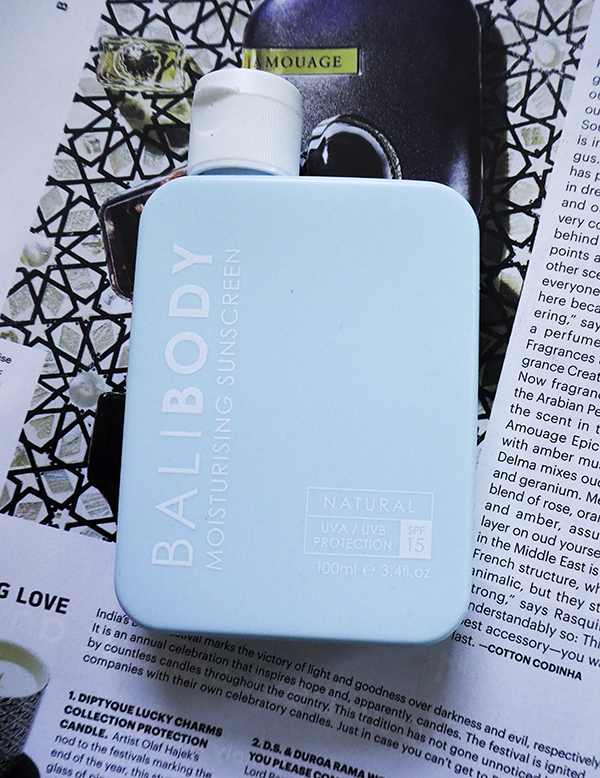 What can I say other than I adore this SPF. The Bali Body Sunscreen is the perfect mix of moisturising and blendable. I hate SPFs that are hard to work into the skin or leave residue but this Bali Body product blends into my skin easily.
I love that it feels good on my skin too. You can smell the rich shea butter in the SPF which has excellent nourishing properties. I'm so grateful that Bali Body gifted me this product as it has been my go-to SPF recently due to the harsher temperatures, which means my skin needs all the extra moisture it can get.
This SPF is great, works into my skin easily and provides some well-needed nourishment.
Rating
For those of you who read my previous post, you know I've given the Bali Body SPF 5 stars. For those of you who haven't, just know that this SPF will make your skin feel great all while getting essential protection from the sun – result!
5. Huda Beauty New Nude Eyeshadow Palette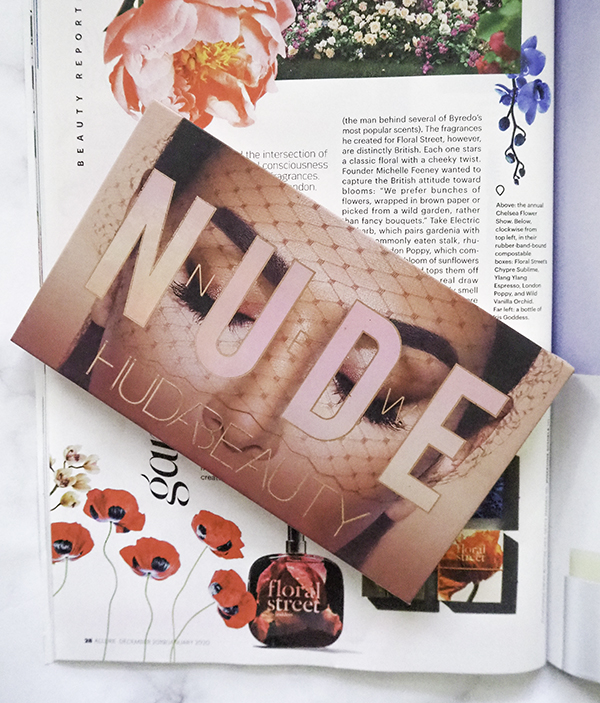 Not only has the Huda Beauty New Nude Eyeshadow Palette made my November faves, but this is also one of my fave eyeshadow palettes. Ever.
The only reason I decided to include this in my November faves is that I've used it a few extra times this month which has reminded me of my love for the palette.
I don't know how to talk about this product without gushing over it. It's just right, y'know? I love the colours, I love the formula of the eyeshadows, I love the concept, I love the packaging and I love the looks I've created from this eyeshadow palette.
The Huda Beauty New Nude Palette was one of my first product reviews on A Woman's Confidence but I still find myself reaching for this palette time and time again. You can use it for cute daytime looks, sultry evening looks and everything in between.
Pinks, purples and golds are my fave eyeshadow colours and this palette has them all. There actually isn't a shade I dislike in this palette, which is unusual. I particularly love the shimmer shades in the New Nude as they have the most fantastic reflection and make your eyes look really sparkly.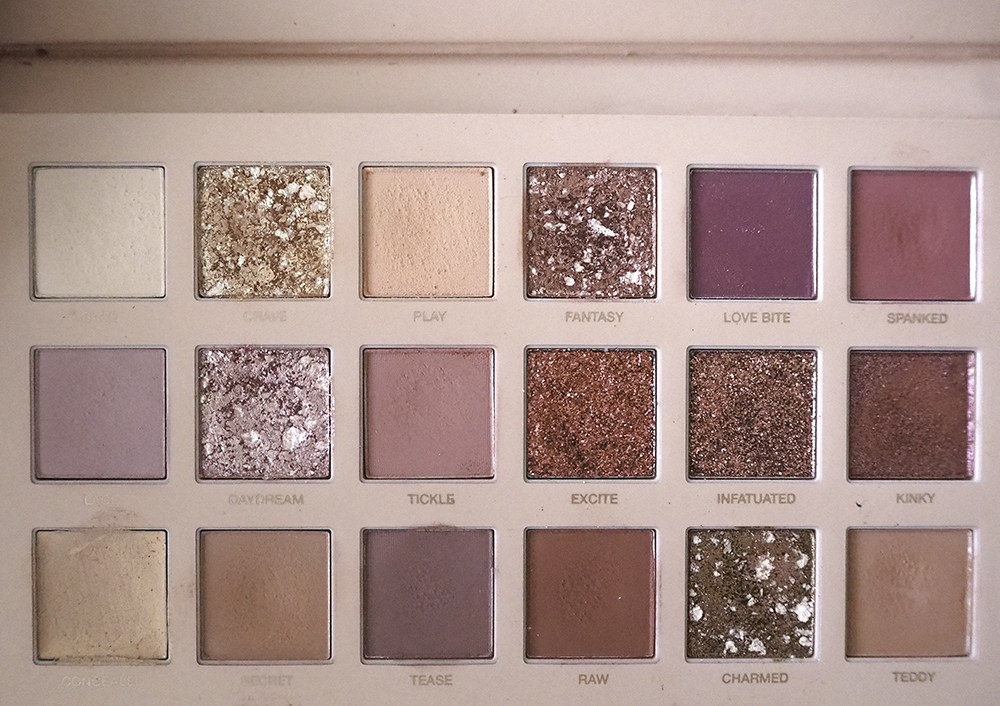 When Huda first revealed this eyeshadow palette last year, I knew I HAD to get it. Even though this is by no means a cheap product, I don't regret it at all and I'm still just as obsessed with this palette as I was when I first bought it.
I'd describe the formula as creamy, easy to work with and buildable. Even the glitters are pretty easy to work with but I'd recommend using a glitter glue and/or a wet brush for them. I also find the shades last all day and night with very minimal creasing.
All in all, the Huda Beauty New Nude Eyeshadow Palette is the eyeshadow palette of my dreams.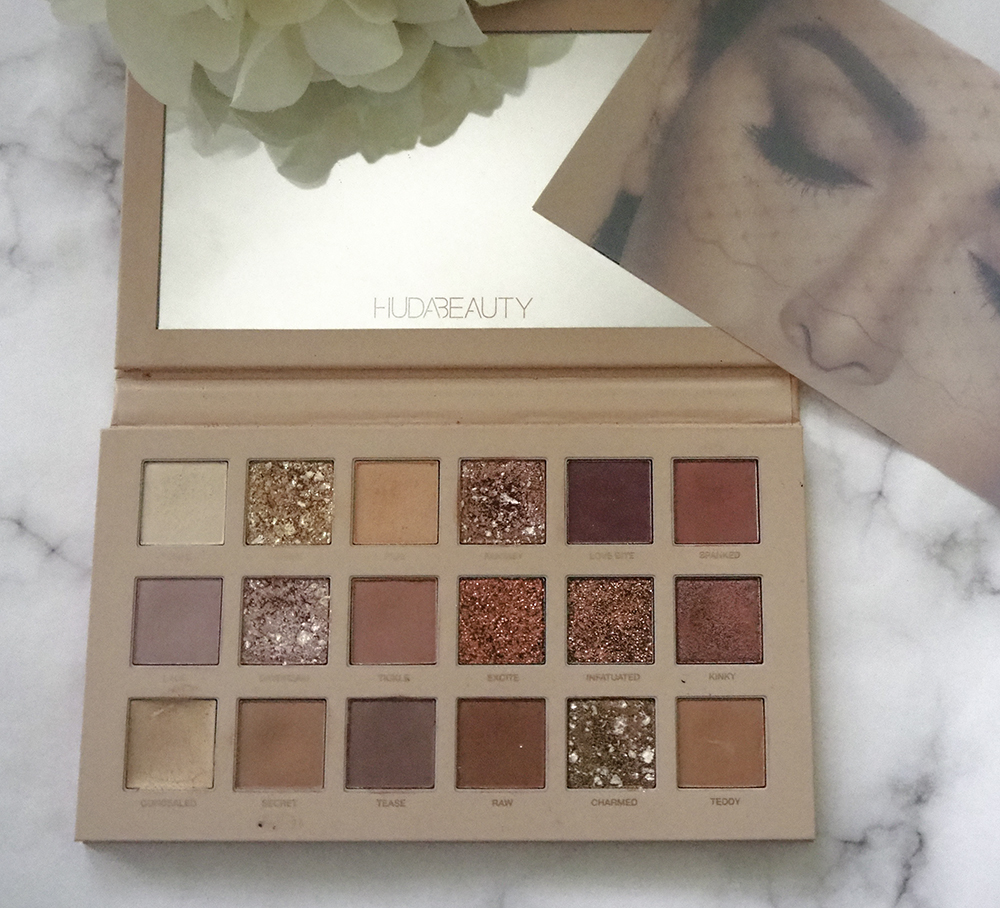 Where to buy
With a price tag of £56, this is a high-end eyeshadow palette. But, I think it's worth this price due to the exceptional results. It's pretty easy to get your hands on, too, as you can purchase it from Cult Beauty.
Rating
5 stars. You knew that was coming.
Conclusion
That's my November faves wrapped up. The next monthly faves will be in December and then we'll be onto a new year – how crazy is that?!
If you could only buy one product from this list, make it the New Nude Palette. You won't regret it and will have a stunning and sultry palette in your makeup collection that is versatile and will help you create some flawless looks.
Other than that, I hope you enjoyed another instalment of my monthly faves series. Thanks for reading!
---
What have your fave beauty products been for November? I'd love to hear your thoughts below.