Last Updated on 30th December 2019 by Sarah Sarsby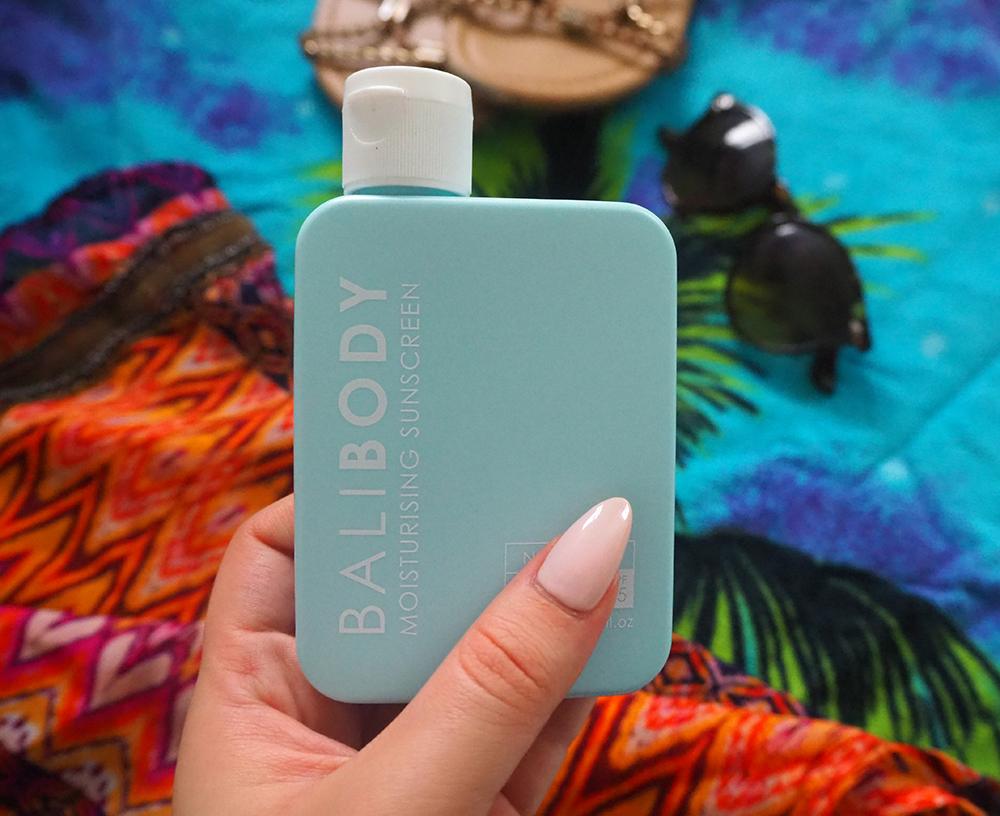 Disclaimer: Bali Body gifted me this product for review purposes
For today's post, I'm going to be sharing my thoughts on the Bali Body Moisturising Sunscreen SPF15. After having such a wonderful experience with the Bali Body BB Cream, I was really excited to try the sunscreen.
Bali Body sent me its BB Cream, Sunscreen and Shimmering Body Oil as gifts to review, which I was beyond happy about because of the great things I'd heard about them. I was not asked to write a biased review, so all thoughts are my own, as always.
Wearing an SPF is an essential part of any skincare routine as it helps prevent the skin from ageing and getting sun damage. I've been using the Bali Body Moisturising Sunscreen SPF15 for just over a week now and here's how I've been getting on with it.
What is Bali Body?
Bali Body is an Australian, vegan-friendly beauty company which creates products that are nourishing and beneficial to the skin. The company is famous for its tanning products, but it also does a nice range of skincare and suncare products.
Product ingredients and claims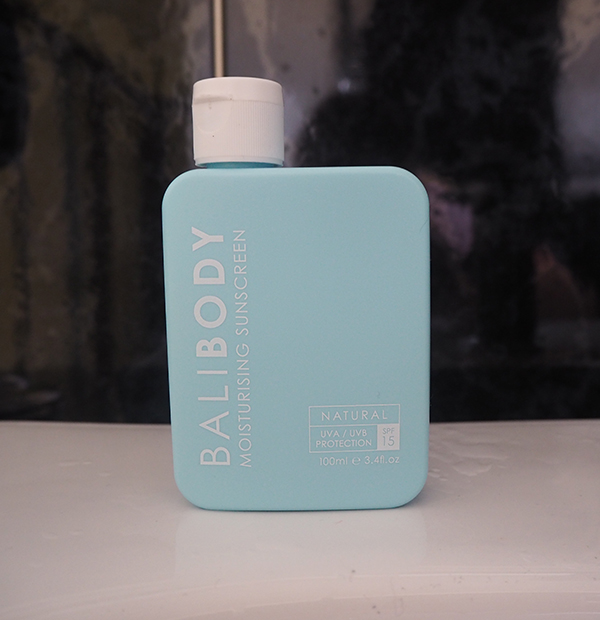 The hydrating Bali Body Moisturising Sunscreen SPF15 can be used on the face and body and provides medium protection from UVA and UVB rays. According to Bali Body, it has a lightweight and creamy formula which incorporates moisturising and rejuvenating ingredients.
The sunscreen claims to protect the skin while giving it a healthy glow.
Apply BB Moisturising Sunscreen 20 minutes before enjoying your slice of sunshine for optimal protection to the skin & a natural glow.

Bali Body
Key ingredients
Rose hip oil – Known for its hydrating and rejuvenating properties
Jojoba oil – Helps fight facial lines, skin scarring and fatty tissue
Organic shea butter – Naturally nourishing and hydrating, which helps soften and strengthen the skin
Other ingredients in the Moisturising Sunscreen include vitamin E and sweet almond oil.
My thoughts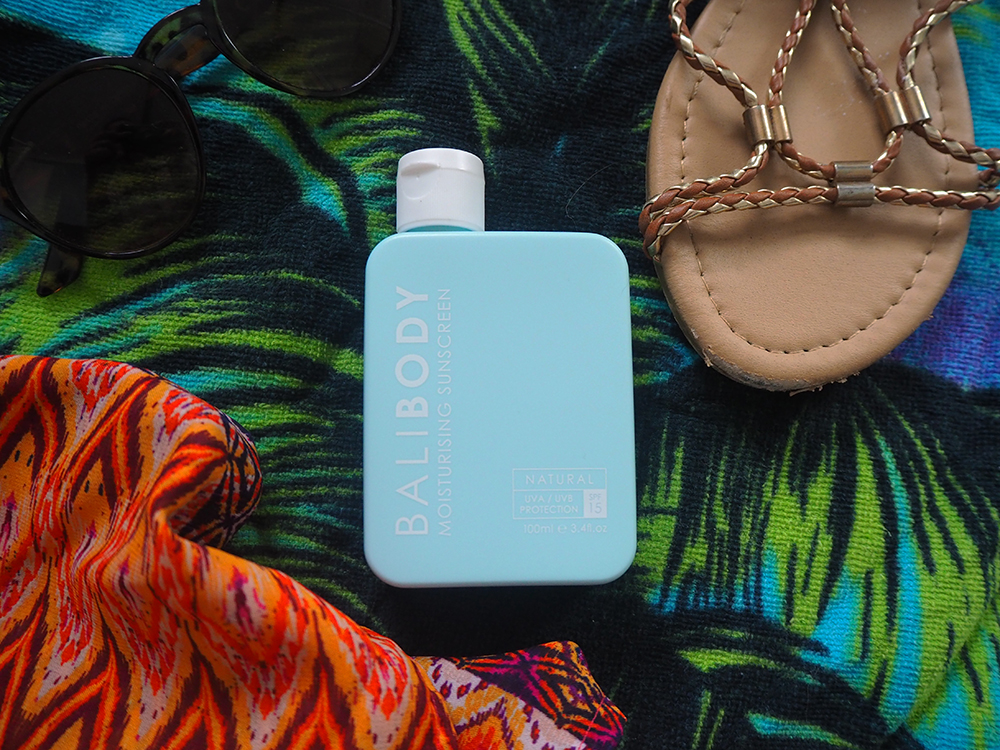 I really like the light blue packaging of the bottle. I love pastel colours so this Moisturising Sunscreen is right up my street.
As I squeezed a bit of product out, I noticed the very small hole on the lid. This is helpful as it means you don't squeeze too much product out by mistake. I've had products before where it's really difficult to get just the right amount of product out of the tube but the small hole on this SPF is ideal.
It also has such a lovely scent because of the shea butter. This makes it smell sweet and fresh.
The sunscreen is creamy and thick, so you don't need much of it to feel like you get some decent coverage across your face. I actually think this is a great SPF for winter because it's very nourishing. Before, I was using The Body Shop Skin Defence Multi-Protection Essence SPF50, which is a much lighter formula and lends itself well to the summer.
On my face, the Bali Body Sunscreen feels moisturising and hydrating, which I love. I'm using a gel moisturiser at the moment and the SPF glides over that perfectly. It easily blends into the skin too.
Do I think the Moisturising Sunscreen gives me a nice glow? Yes, I do. It's nothing extraordinary but my skin looks healthy when I wear it. Also, importantly, it doesn't leave any white residue on the skin.
I'm yet to use the product on my body but I can see it working just as well because it's moisturising and blends in very easily.
How can I tell you if this product works well at protecting my skin from sun damage and signs of ageing? I guess I can't without using specific equipment and consulting a specialist. But, in terms of the product's ease of use and how it feels on the skin, I've been really impressed with it.
Where to buy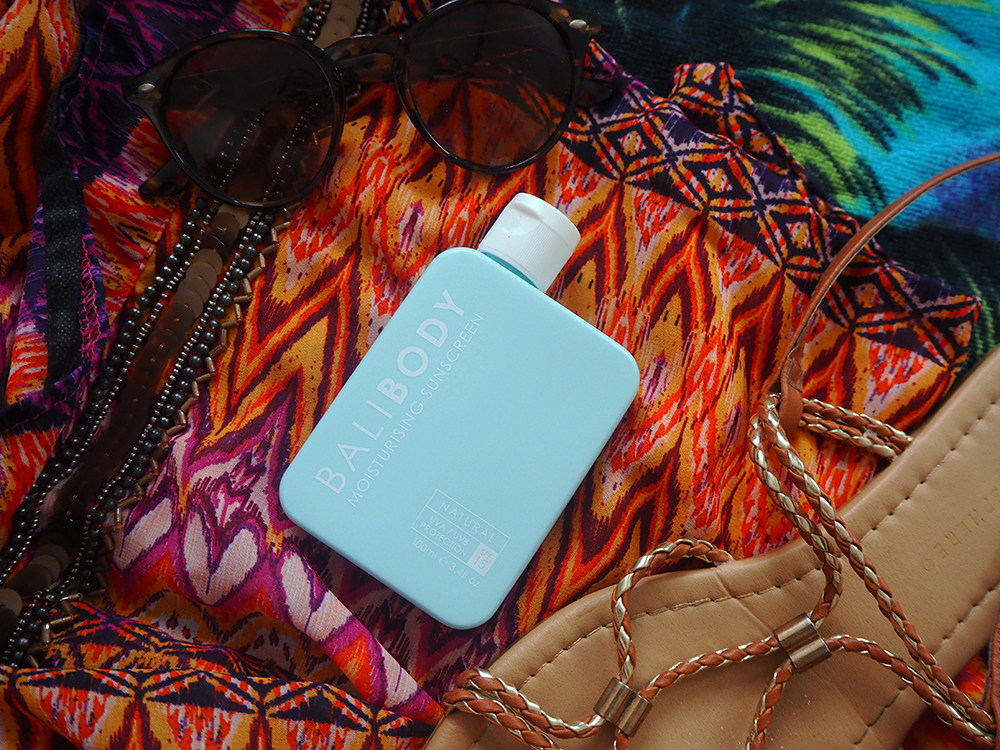 The Bali Body Moisturising Sunscreen SPF15 costs £16.95 for 100ml – which I think is pretty good – and you can get it from Bali Body's website.
Final thoughts
I love the Bali Body Sunscreen. I think it's particularly great for colder temperatures when your skin needs a bit more nourishment due to its creamy texture.
Everything from the scent, the small lid hole, packaging colour and ease of use has been well thought out and left me very impressed.
Rating: 5 stars
Here I am, giving another Bali Body another 5-star review. I've honestly been so impressed with the products that I've been gifted and think they look beautiful, feel great on the skin and are reasonably priced.
Now I can't wait to try the Shimmering Body Oil! Thanks, Bali Body.
---
What's your favourite SPF to wear during the day? I'd love to hear your thoughts in the comments section!