Last Updated on 4th November 2021 by Sarah Sarsby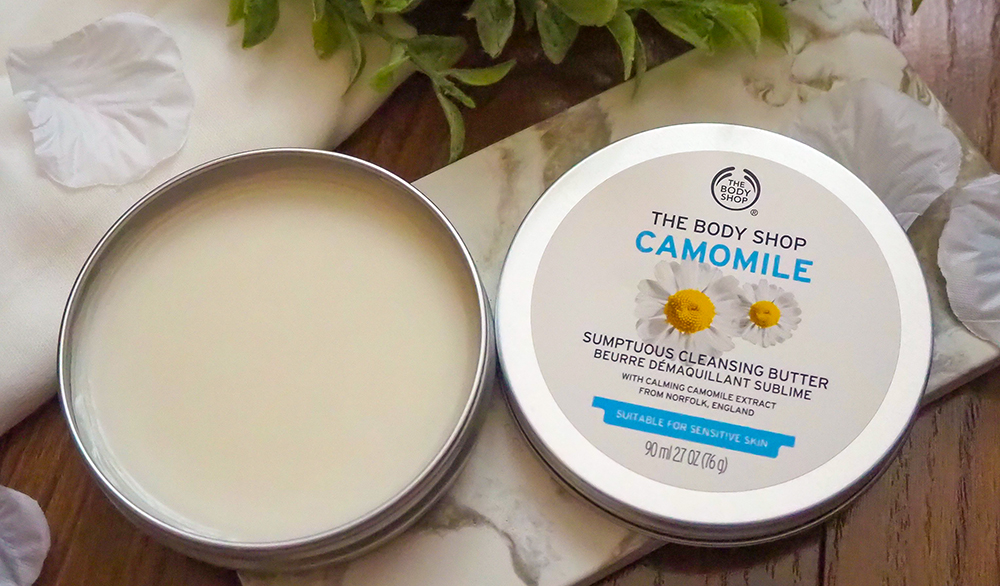 In this blog post, I review The Body Shop Camomile Sumptuous Cleansing Butter – one of the brand's most popular products.
This highly rated cleansing butter is one of The Body Shop's bestsellers. With the promise of easily removing stubborn makeup while gently cleansing your skin at the same time, this skincare product almost sounds good to be true.
But does the The Body Shop Camomile Sumptuous Cleansing Butter live up to all of its 5-star reviews? Keep on reading for my honest thoughts below.
** This post contains some affiliate links. This means at no extra cost to you, I earn some commission if you purchase a product through my link. All thoughts are my own, though, as always. This helps make my blogging dreams possible, so thank you so much for your support. If you want to find out more, visit my affiliate disclosure page **
What is The Body Shop?
You're probably already very familiar with The Body Shop but for those that aren't, the company was founded in England over 40 years ago and sells a wide range of beauty products, from SPFs and body yoghurts to fragrances and lip butters. Some of The Body Shop's bestsellers include the Hemp Hand Protector, Vitamin E Moisture Cream, Himalayan Charcoal Purifying Glow Mask and Drops of Youth™ Concentrate.
But truthfully, The Body Shop is so much more than being just a beauty company.
The founder, Dame Anita Roddick, created the company with a vision of redefining beauty standards and a view that business could be a force for good. The company took a different approach to other players in the beauty industry:
It was simple – ethically sourced and naturally-based ingredients from around the world, in no-nonsense packaging you could easily refill. Products and beauty rituals made for every body, that made women feel good in their skin – never promising to make them look like someone else.

The Body Shop
The Body Shop campaigns for many valuable causes: never testing on animals, sourcing refillable packaging and naturally-based ingredients worldwide, never exploiting anyone when making its products, encouraging self-love and self-confidence, empowering women globally by creating opportunities for them through its Community Fair Trade programme, and donating to the NHS.
This is a company that cares about ethical and social responsibilities. This is a brand we can get behind.
The Body Shop Camomile Sumptuous Cleansing Butter ingredients and claims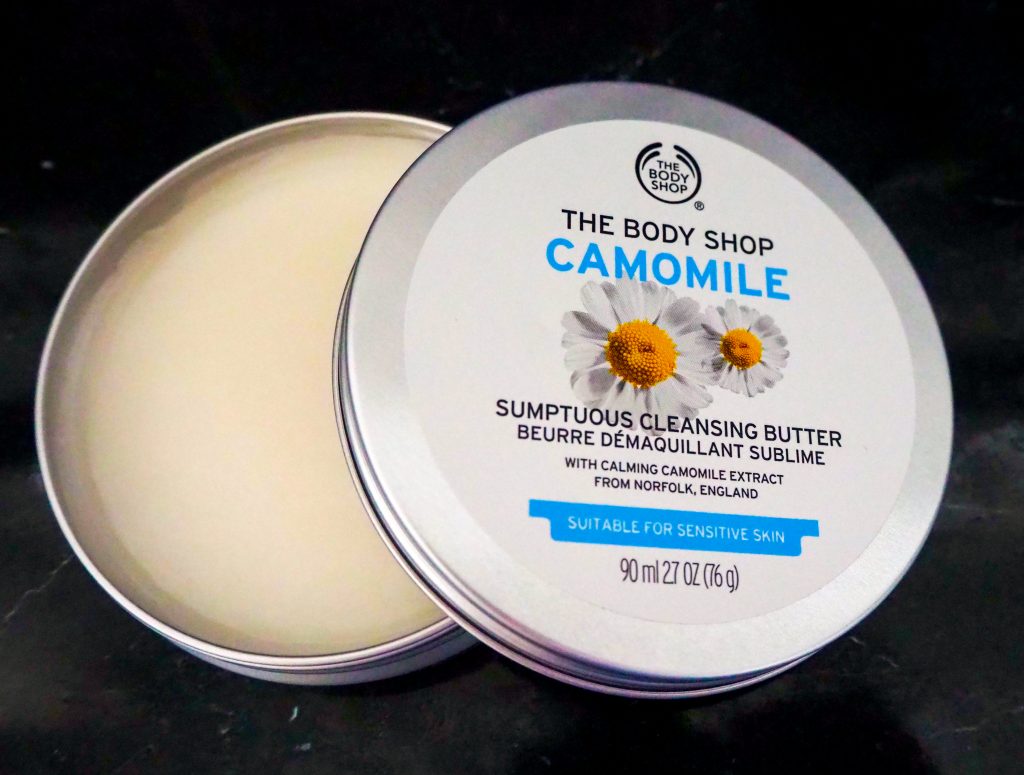 The Body Shop Camomile Sumptuous Cleansing Butter promises to effortlessly melt away all traces of makeup and impurities to help your pores stay unclogged. It claims to be suitable for all skin types, including those with sensitive skin, and leave your skin feeling cleansed, refreshed and nourished.
This buttery pot of goodness makes taking your makeup off at the end of the day a bit of fun.

The Body Shop
As with all of The Body Shop's products, this cleansing butter is cruelty-free but it's also vegan.
Key ingredients:
Ethylhexyl palmitate: a mixture of a fatty alcohol and palmitic acid that functions as an emollient (softens and soothes the skin) and texture enhancer
Synthetic wax: functions as a binding and stabilising agent
PEG-20 glyceryl triisostearate: has emollient, cleansing and skin-softening properties. It also helps oily ingredients rinse from the skin without leaving a greasy residue
Olea europaea fruit oil (olive oil): contains essential fatty acids dry skin needs, including oleic, palmitic, and linoleic acids. Functions as an emollient and has antioxidant benefits
Butyrospermum parkii (shea) butter: an emollient that has smoothing and nourishing properties for dry skin. It's also a rich source of antioxidants and skin-replenishing fatty acids
Honestly, it would've been nice to see camomile feature in the top 5 ingredients of the cleansing butter's INCI list. But due to pretty much all of the top 5 ingredients having emollient properties, this product seems like it will be very friendly to the skin.
How to use this product
I use The Body Shop Camomile Sumptuous Cleansing Butter as the first step of my double-cleansing routine at night.
You don't need much of the product to cover your entire face. An almond-sized amount is ample.
You should apply it to dry skin and then wipe it away with a damp flannel or muslin cloth. If you follow this up with a second cleanser, such as the ARK Skincare Age Protect Skin Clear Cleanser, Tatcha The Deep Cleanse or Drunk Elephant Beste No. 9 Jelly Cleanser, your skin will be clean and refreshed.
My thoughts on the Camomile Cleansing Butter
I'm just going to open with this: The Body Shop Camomile Sumptuous Cleansing Butter is simply a joy to use.
Although the butter looks quite solid, it has a very buttery texture that easily melts down once applied. This means it's not difficult to spread it across your face, which is important if you're wearing makeup. It has a faint camomile scent, which is soothing, calming and refreshing. I love this because it makes using the cleansing butter that bit more luxurious.
It also removes makeup effortlessly. I always find mascara to be the most stubborn makeup to remove but the Camomile Cleansing Butter makes it hassle-free, while still being kind and gentle to your skin.
Alongside breaking down makeup, this cleanser easily gets rid of any dirt or impurities on your face too. The result is clean, nourished and refreshed skin. As this cleanser has so many skin-loving ingredients, my skin feels wonderfully soft and smooth after using it. It never feels harsh on the skin, so I agree that this would be suitable for sensitive skins too.
Please note: I am not a dermatologist or aesthetician. All of my opinions are based on the knowledge I've acquired through my love of skincare. If you're unsure about what would best suit your skin's needs, please consult a dermatologist or aesthetician.
Where to buy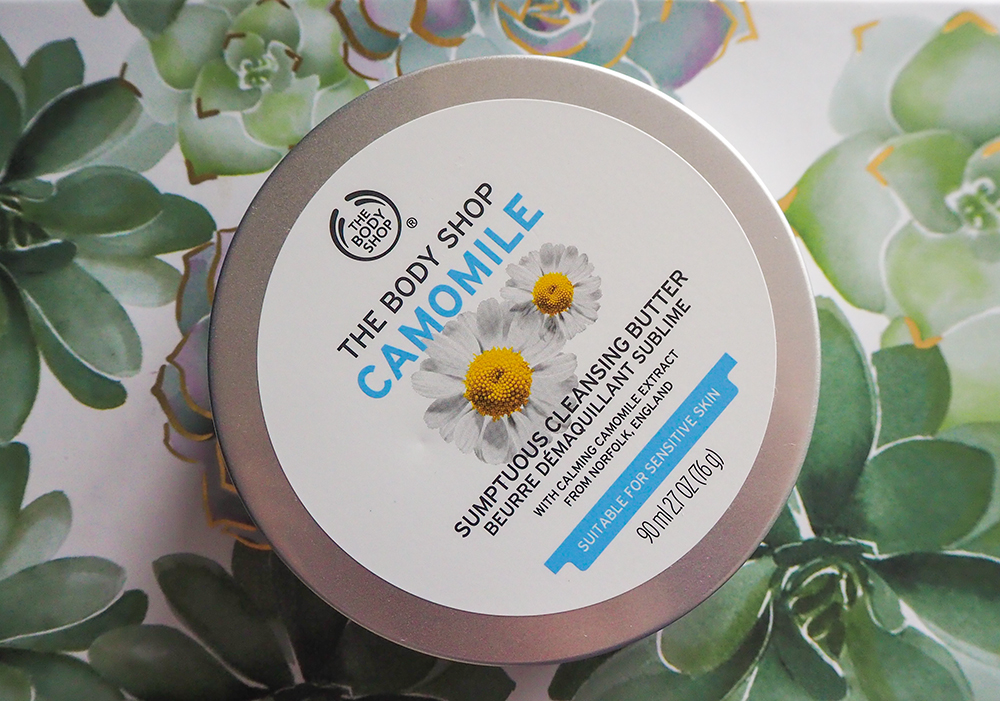 The Body Shop Camomile Sumptuous Cleansing Butter is available in 2 sizes:
Both sizes can be purchased directly from The Body Shop. This price point is incredible. Obviously, the 90ml version works out much better value for money but if you're not sure how well you'd get on with this product, opt for the 20ml version. I have the 90ml size and it lasts for months as you don't need much product for it to go a long way.
It's hard to say no to a product that is such high-quality and still budget-friendly. Caroline Hirons also loves the Camomile Cleansing Butter.
Conclusion
The Body Shop Camomile Sumptuous Cleansing Butter is divine. From its ability to quickly and effortlessly remove makeup, the silky texture and affordable price point, it's a must-try.
Rating: 5 stars
This is one of my favourite cleansers of all time. My mum and sister love it too. Is it worth all of those 5-star reviews? Absolutely!
---
Have you ever tried this iconic cleansing butter? If so, what are your thoughts on it?