Last Updated on 3rd December 2023 by Sarah Sarsby
In recent years, the drugstore has been coming out with consistently high-quality makeup products. From affordable primers and mascaras to cheap eyeliners and foundations, the drugstore has some incredible options. With so many choices out there, I've compiled a list of the best drugstore makeup in the UK for under £10.
There are some drugstore makeup staples in this blog post alongside some (hopefully) new discoveries for you, so I hope you find this list helpful.
1. Maybelline Lifter Gloss
£8.99
The Maybelline Lifter Gloss is a fairly new product but it's truly amazing. These lip glosses are comfortable to wear, hydrating, non-sticky and give your lips a gorgeous, juicy shine. They also make your lips look fuller and plumper. Pick from 8 pretty neutral tones.
2. e.l.f. Cosmetics Poreless Putty Primer
£9
The e.l.f. Cosmetics Poreless Putty Primer broke the internet. When this now-beloved primer first launched, it sold out everywhere. This affordable drugstore primer gives you an effortlessly smooth and perfected base to work with for even foundation application. It's lightweight, velvety and non-greasy. It's also a well-known and much more accessible dupe for Tatcha's Silk Canvas Primer.
3. Colourpop Super Shock Shadow
£7.27
The Super Shock Shadows are one of Colourpop's hero products. And with good reason. These single eyeshadows are incredibly pigmented and offer a stunning range of shades and finishes. Choose from matte lilac and burnt orange to shimmery mint and shocking pink. Each creme-powder eyeshadow has a unique, bouncy texture and they last all day on the lids with no fallout.
4. wet n wild MegaGlo Highlighting Powder
£5.99
If you like a more subtle and buildable highlighter, the wet n wild MegaGlo Highlighting Powder is the ultimate drugstore choice. This highlighter has a silky-smooth finish that is pearly and easy to blend for a soft-focus glow. The MegaGlo Highlighting Powder gives you natural luminosity.
5. Milani Colour Statement Lipliner
£7
Matte but not flat, the Milani Colour Statement Lipliner is ideal for giving you a more defined pout. Each lip liner is creamy and glides over the lips effortlessly while lasting all day. These £7 lip liners deserve way more attention and there are 8 shades to choose from to match your lipstick.
6. Makeup Revolution Conceal & Define Concealer
£4.99
If full coverage and matte concealer is your thing, you've got to check out Makeup Revolution Conceal & Define Concealer. This best-selling concealer is cruelty-free, vegan and helps cover up any blemishes, spots or dark circles you might have. It's long-wearing and for just under £5, this concealer is a great affordable option.
7. NYX Professional Makeup Soft Matte Lip Cream
£7
The NYX Professional Makeup Soft Matte Lip Cream is one of my favourite lipstick formulas ever. Each lipstick dries down matte but it never feels dry. It's long-lasting and won't crumble throughout the day, so you're left with stunning pigment that wears well. Whether you like a dark vampy lipstick or a classic 'your lips but better' vibe, these lip creams have got your back.
I'm currently using up a NYX Lip Cream as part of my project pan 2021. See how much progress I've made so far here
8. Maybelline Fit Me Matte & Poreless Foundation
£5.99
How could I create a list of the best drugstore makeup in the UK and not include the holy grail Maybelline Fit Me Matte & Poreless Foundation? This foundation is well-loved by makeup addicts globally as it's hailed for its lightweight, natural matte finish that lasts all day and helps keep your face oil-free. It's got a medium and buildable coverage that never looks cakey or flat, which is ideal for oilier skin types.
9. Ardell Demi Wispies
£5.99
If you like natural and fluffy eyelashes, the Ardell Demi Wispies are a no-brainer. These lightweight false eyelashes have a flexible and almost non-detectable band, which makes applying them effortless. The result? Fully, fluttery lashes.
10. Rimmel Exaggerate Liquid Eyeliner
£5.99
Boasting a sharp tip, pigmented formula and long wand for easy grip, the Rimmel Exaggerate Liquid Eyeliner is one of the best drugstore eyeliners in the UK. With the defined point, you can easily create a bold feline flick. This affordable liquid liner is smudge-proof, flake-proof and run-proof for a look that won't budge.
11. e.l.f. Cosmetics Putty Blush
£6
The e.l.f. Cosmetics Putty Blush is perfect for cream blush lovers. This blush formula is quite sheer so you can easily build up to the coverage you want, without overdoing it. It's hydrating and gives you a natural, healthy glow. Although some of the colours are pretty bold, they easily blend into the skin for a lovely flush of colour. Use your fingers or a dense stippling brush to apply this blush.
12. NYX Professional Makeup Tame & Frame Tinted Brow Pomade
£8
The NYX Professional Makeup Tame & Frame Tinted Brow Pomade is a cheaper alternative to the Anastasia Beverly Hills Dipbrow Pomade. This easy-to-use and smudge-proof brow pomade fills in sparse areas for fuller- and more defined-looking brows.
13. Colourpop No Filter Concealer
£6.46
Colourpop's affordable No Filter Concealer gives you matte, full coverage with a soft blurring effect. It's creamy, crease-proof, vegan and cruelty-free. This drugstore concealer covers dark circles, blemishes, redness and discolouration with just one swipe.
14. Rimmel Soft Khol Eyeliner
£2.99
A Rimmel liquid liner has already made it into this best drugstore makeup in the UK list but the Soft Khol Eyeliner is another fantastic and cheap eyeliner that shouldn't be overlooked. This kohl liner is soft and provides intense colour payoff. Whether you love smoky eyes or more defined eyeliner, you can create whatever look you want with this pencil. Sable Brown is a beautiful deep brown shade that isn't too warm or too cool.
15. e.l.f. Cosmetics SRSLY Satin Lipstick
£4
If you love satin lipsticks, then you need to check out e.l.f. Cosmetics' seriously cheap SRSLY Satin Lipstick. These smooth and comfortable lipsticks are so flattering as they don't sink into any lines or dryness you might have on your lips. They feel silky on the lips and give you a full-looking pout. Choose from light pink, bright orange, deep raspberry, chocolate brown and more.
16. Maybelline Lash Sensational Mascara
£9.99
Can you imagine a round-up of the best drugstore makeup without including a Maybelline mascara? No, me neither. Although all of Maybelline's mascaras are worthy contenders, the Lash Sensational Mascara is one of the best drugstore mascaras of all time. This holy grail makes your eyelashes look darker, longer, thicker and more voluminous with just one coat. The fanned brush helps avoid clumping for full, layered lashes.
17. e.l.f. Cosmetics Bite Size Eyeshadow
£4
The final product in this best drugstore makeup blog post is the e.l.f. Cosmetics Bite Size Eyeshadow. These mini eyeshadow palettes are unreal. They're creamy, super pigmented, easy to blend and deliver seamless application. Both the matte and shimmer shades perform equally as well as one another. There are lots of colour stories to choose from, such as berry, mint, cool blue, and beige. Honestly, you've got to have at least one Bite Size Eyeshadow in your life!
Check out an eye makeup look I created with the Berry Bad colour story below:
Final thoughts on the best drugstore makeup in the UK for under £10
It just goes to show that high-quality makeup doesn't need to break the bank. Drugstore makeup brands have been dominating the beauty space in recent years with loads of creamy, long-wearing and pigmented products to choose from.
My favourite drugstore makeup products from this list are the Maybelline Lifter Gloss, e.l.f. Cosmetics Bite Size Eyeshadow, Colourpop Super Shock Shadows, NYX Professional Makeup Soft Matte Lip Cream and Eyelure Demi Wispies.
If you found this blog post helpful, don't forget to save the Pin below so you can return to it at a later date.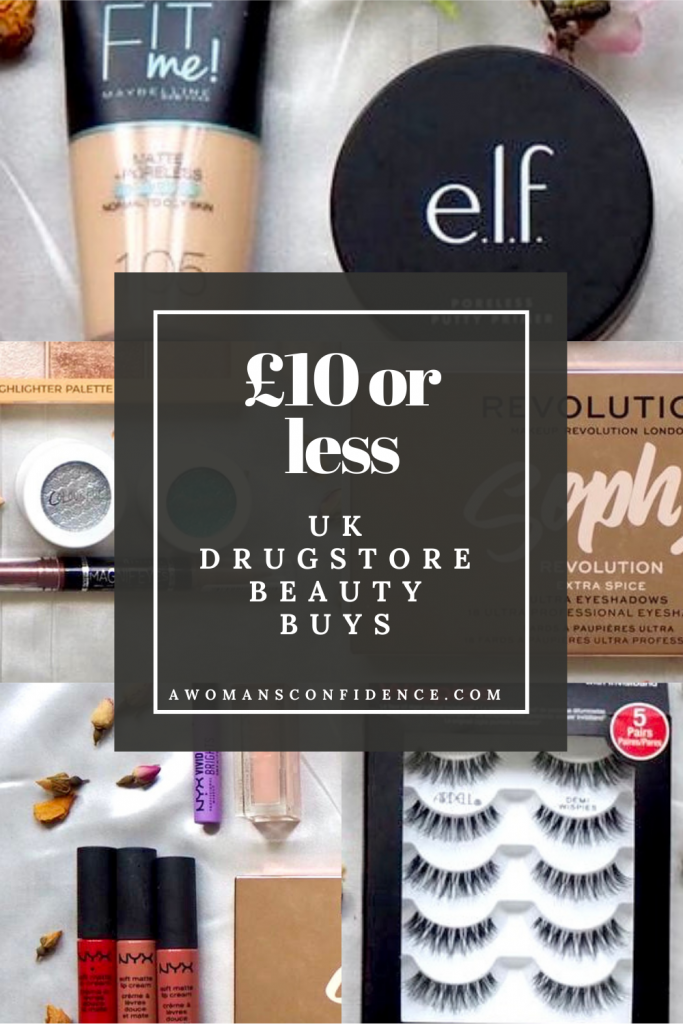 ---
What are your drugstore makeup holy grails? Are there any products you think deserve to make this list? Let me know in the comments below