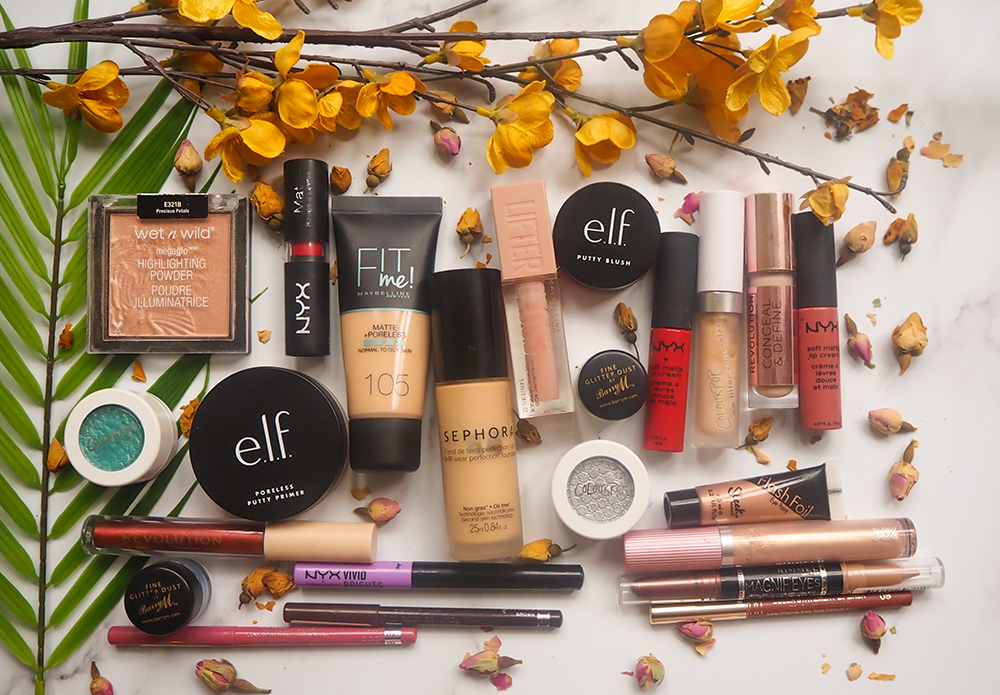 I'm going to be answering the drugstore makeup tag today – a Q&A type of post that has been doing its rounds on YouTube and the blogosphere. Nobody invited me to participate in the drugstore makeup tag but I wanted to answer the questions, so here we are lol.
As the name suggests, this makeup tag asks questions about the best and worst drugstore products and brands out there. Honestly, drugstore makeup brands have been killing it in recent years, with consistent high-quality launches that are rivaling some higher-end brands. This is great for makeup lovers as it means you don't have to break the bank for strong pigmentation, long-lasting finishes and innovative textures.
Keep on reading for my answers to the drugstore makeup tag. If you want to participate in this beauty tag, then go ahead and let me know so I can read your answers too.
1. If you could only use one drugstore/affordable brand, what would it be?
I was torn between Maybelline and e.l.f. Cosmetics for this answer but it would have to be Maybelline as I feel like it comes out with the most consistently high-quality formulae. Whereas I've tried some pretty average, and sometimes even bad, formulae from e.l.f., despite its good formulae being truly excellent.
2. What's the most underrated drugstore/affordable brand?
I'd have to go with Rimmel. I don't hear Rimmel mentioned often but it has some fab products. The brand's eyeliners and lipsticks are of great quality and very inexpensive.
3. What's the most overrated drugstore/affordable brand?
Makeup Revolution. Some of the brand's products are awesome, such as the Makeup Revolution x Soph collection, but others are inconsistent. I've tried a few of its eyeshadow palettes and whilst some of the shades are pigmented and easy to blend, others are patchy and dull. I also find some of its releases to be uninspiring and boring.
4. What's your favourite drugstore product under £5?
The e.l.f. Cosmetics Bite-Size Eyeshadow Palettes. They're incredible and there are loads of cute colour schemes to choose from. That's why I included this mini palette in my March beauty faves.
5. What is a hidden gem from the drugstore that no one talks about?
Probably the Milani Colour Statement Lipliners. They're creamy, pigmented and long-lasting. I've got the shade Spice, which is a gorgeous medium brown shade. These affordable lip liners deserve far more attention.
6. What's your favourite drugstore foundation?
The Maybelline Fit Me Matte & Poreless Foundation. It's a no-brainer for me. I included this holy grail drugstore foundation in my best drugstore makeup for under £10 blog post, alongside some other wonderful affordable makeup products.
7, What products do you tend to buy more at the drugstore vs. high-end?
Mascaras, concealers, setting sprays, kohl eyeliners and lip liners. Although I probably get more high-end lipsticks overall, I also buy plenty of drugstore lipsticks. The NYX Soft Matte Lip Cream is one of my favourite drugstore lipstick formulas.
In contrast, I generally find foundations, eyeshadows, setting powders, blushers, bronzers, highlighters and brow products to be better from higher-end brands. It depends, though, as drugstore makeup has become more innovative and comparable to more luxurious brands recently.
8. What drugstore brand do you think is overpriced?
Honestly, I don't. All drugstore makeup brands are likely going to have some rubbish products but I can't think of any drugstore brands that I'd say are overpriced. They're affordable brands for a reason.
9. What's your favourite drugstore dupe?
I think the Maybelline Lifter Glosses are a fairly good dupe for the Fenty Beauty Gloss Bomb Creams. They're around half the price and have a sticky-free, shiny formula. However, they feel heavier on the lips than the Fenty Beauty Gloss Bomb Creams, are a bit sheerer, and aren't as long-wearing. I also think Fenty Beauty Gloss Bomb Cream has a better and more varied shade range.
However, the Maybelline Lifter Glosses are still brilliant and feel incredibly comfortable on the lips. They're a great, affordable alternative, even if not an exact dupe for the Gloss Bomb Creams.
10. What's the best drugstore eyeshadow formula?
The Colourpop Super Shock Shadows are simply divine. They're super affordable too and if you're an eyeshadow hoarder like me, having single shadows helps to fill in any potential shade gaps in your collection, without the issue of having loads of duplicate shades like when you purchase different eyeshadow palettes. The pigmentation, texture, easiness of blending, and unreal shade range make the Super Shock Shadows difficult to beat.
11. What's the worst drugstore eyeshadow formula?
The Makeup Revolution Pro Regeneration Palette Trends Azure. The shimmers are quite soft and not overly sparkly, which makes them ample for daytime wear, but a lot of the mattes are powdery and patchy. I don't mind a powdery eyeshadow texture but when the shadows are hard to blend and difficult to get decent colour payoff, I mind.
12. Drugstore brand you used to love but aren't crazy about anymore?
Probably Colourpop. Hear me out, though. I love pretty much all of the Colourpop makeup products I own, with the exception of a few I didn't get on with, but I used to feel so compelled to want to try all of the brand's new releases.
I've heard some more negative and mixed reviews about the brand's recent launches, though. I also think some of the newer releases are not as well-thought-out as previous releases, nor do I think they look as captivating on the whole. I still really root for Colourpop but I'm just not as crazy about the brand's latest releases, so it's taken a bit of a back seat for me.
13. Drugstore product you didn't expect to like but totally wowed you?
The e.l.f. Cosmetics Srsly Satin Lipstick. It came as a freebie with one of my e.l.f. makeup hauls ages ago and I couldn't believe how good it was. The formula is creamy, which I expected, but it's also pigmented and incredibly comfortable on the lips.
Satin lipsticks are very flattering as they don't cling to dryness or fine lines in your lips like matte finishes can, so they are lovely. I actually think e.l.f.'s satin lipsticks have reasonable lasting power too.
14. Favourite affordable eyeshadow palette right now?
The e.l.f. Cosmetics Bite-Size Eyeshadow Palette. It's hard to believe they're only £4 per palette as the shadows are pigmented, easy to build and blend, and last on the lids without creasing. Both the mattes and shimmers perform well in the mini palette colour story I own – Berry Bad.