Last Updated on 14th January 2022 by Sarah Sarsby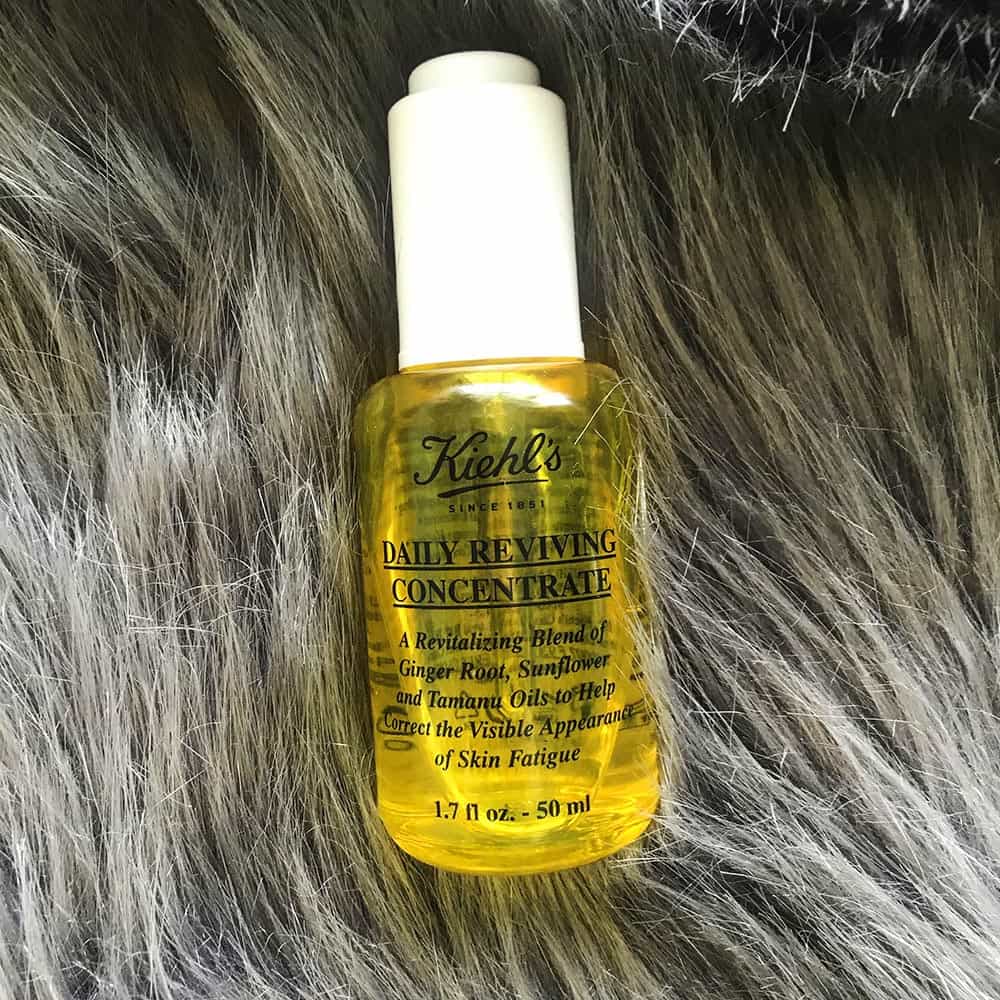 Anyone that knows me knows that I'm a HUGE fan of Kiehl's. I seriously love its stuff and have tried a lot of the company's products before, so much so, that I did a Kiehl's brand review in a previous post.
However, at the time of reviewing Kiehl's, I hadn't tried the Daily Reviving Concentrate. After loving Kiehl's Midnight Recovery Concentrate so much, I wanted to start using a daytime facial oil in my skincare routine.
My skin was feeling a bit dehydrated and needed a bit of extra nourishment, which gave me all the ammunition I needed to make another beauty purchase…
** This post contains affiliate links. This means at no extra cost to you, I earn some commission if you purchase a product through my link. All thoughts are my own, though, as always. If you want to find out more, visit my affiliate disclosure page **
What is Kiehl's?
Established in 1851 as an old-world apothecary, Kiehl's is now a popular skincare brand, which strives to give customers healthier, k radiant and younger-looking skin.
Some of the brand's best-selling skincare products include the Midnight Recovery Concentrate, Ultra Facial Cream and Creamy Eye Treatment.
Product ingredients and claims
Enriched with Botanical Oils, our antioxidant facial oil helps reduce the appearance of fatigue by strenghtening skin's defenses against daily aggressors for energised, radiant-looking skin.

Kiehl's
Kiehl's says the Daily Reviving Concentrate makes your skin look glowy and fatigue-free throughout the day. It also promises to be non-comedogenic.
Key ingredients:
Squalane: a natural component of human skin sebum, making it very moisturising
Canola oil: helps to soothe the skin
Sunflower seed oil: helps to replenish, strengthen and soothe skin
First impressions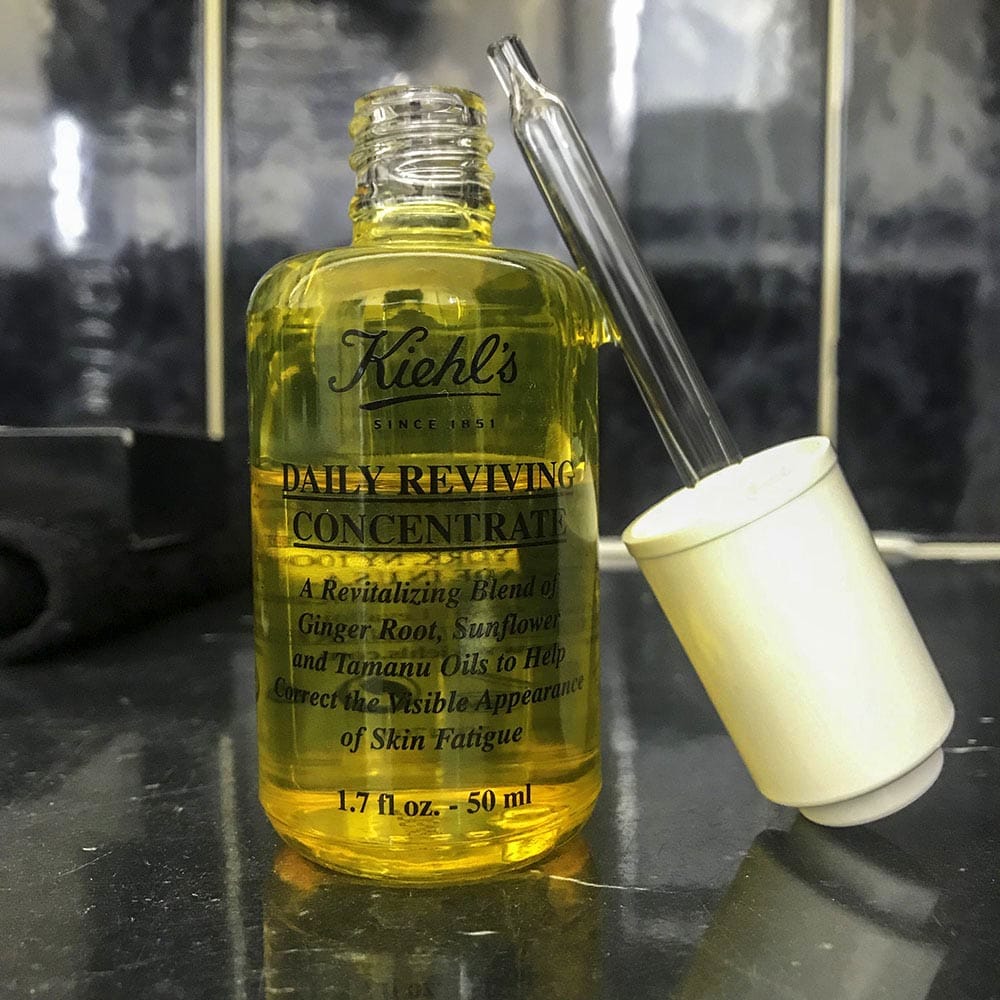 The daily oil has the same texture as the Midnight Concentrate – lightweight and it melts easily into skin – but stimulates the skin in a different way. The Daily Reviving Concentrate feels more refreshing, invigorating and energising, whereas the Midnight Recovery Concentrate is more relaxing, moisturising and calming.
The Reviving Concentrate seemed like the perfect option for a daytime oil as when you use it in the morning, it helps prep your skin for the day ahead.
In terms of packaging, I love its bright yellow appearance. It reminds me of summer and I've been digging yellow recently, so this looks great on my skincare shelf.
One month in
The addition of a facial oil into my morning skincare routine was the right choice as my skin did look a bit more radiant and felt a bit more hydrated. It has a distinct, vitalising scent, (probably from the ginger?) I know that's a poor description but it's the best one I've got.
However, it didn't compare to the Midnight Recovery Concentrate and my skin wasn't noticing the same sudden improvements as that miraculous oil.
But, I vividly remember feeling like the Midnight Concentrate wasn't doing much for me one month in and it's now one of my favourite facial oils, so I remembered to be patient.
Now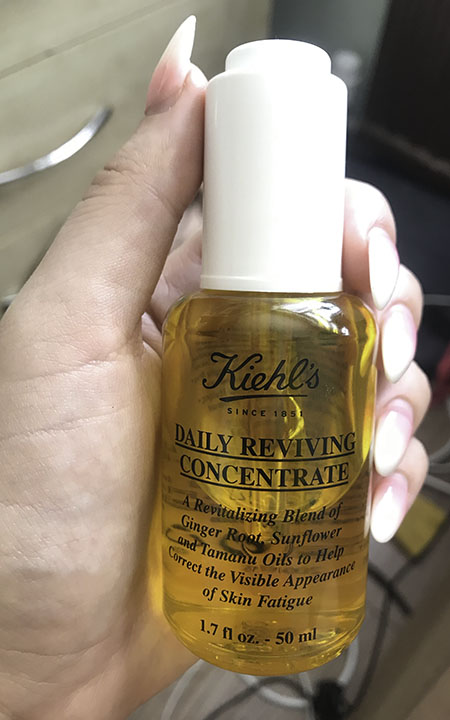 I like this little facial oil and it does make my skin feel more stimulated and refreshed in the morning, which I find really beneficial if I'm worn out. But it's not a product I'd rush back to.
Don't get me wrong, it's nice and meets its claims overall – which is to make skin look more radiant and revitalised – but I think it only does this to a certain extent. I wouldn't say my skin has hugely improved since using the Daily Reviving Concentrate and it's not the cheapest of products.
It's definitely not as good as the Midnight Recovery Concentrate, either.
Credit due where credit's due, though, it has lasted me a long time. So in terms of its longevity, I think it's good value.
Where to buy
Head over to feelunique to grab the Daily Reviving Concentrate along with other Kiehl's products on sale. feelunique has loads of great offers on, so I can't recommend doing your next beauty haul there enough.
As I mentioned before, this isn't the cheapest of products. The 30ml bottle costs £38 or the 50ml size – the one I've got – costs £49.50. Kiehl's is a higher-end skincare brand, so you pay the price. It just depends on how much you want the product and how much you're willing to spend.
IMO, it's worth splurging on good skincare because you've only got one skin, so you should look after it!
Final thoughts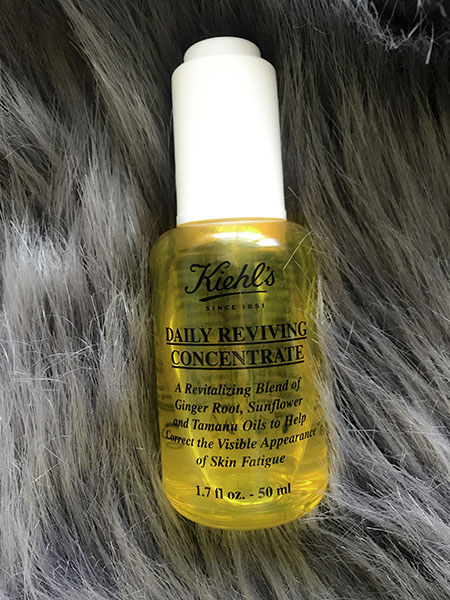 A good facial oil that does what it says on the bottle. For those of you wanting a bit of refresh in the morning, I'd recommend the Daily Reviving Concentrate because it's invigorating.
However, I can't help but think there might be better daytime facial oils out there – I'm just yet to try them. I wouldn't rush to get this again, but I'd equally be happy using it if it was bought as a present for me.
Rating: 4 stars
What the rating suggests: A good product, not outstanding.