Last Updated on 17th September 2023 by Sarah Sarsby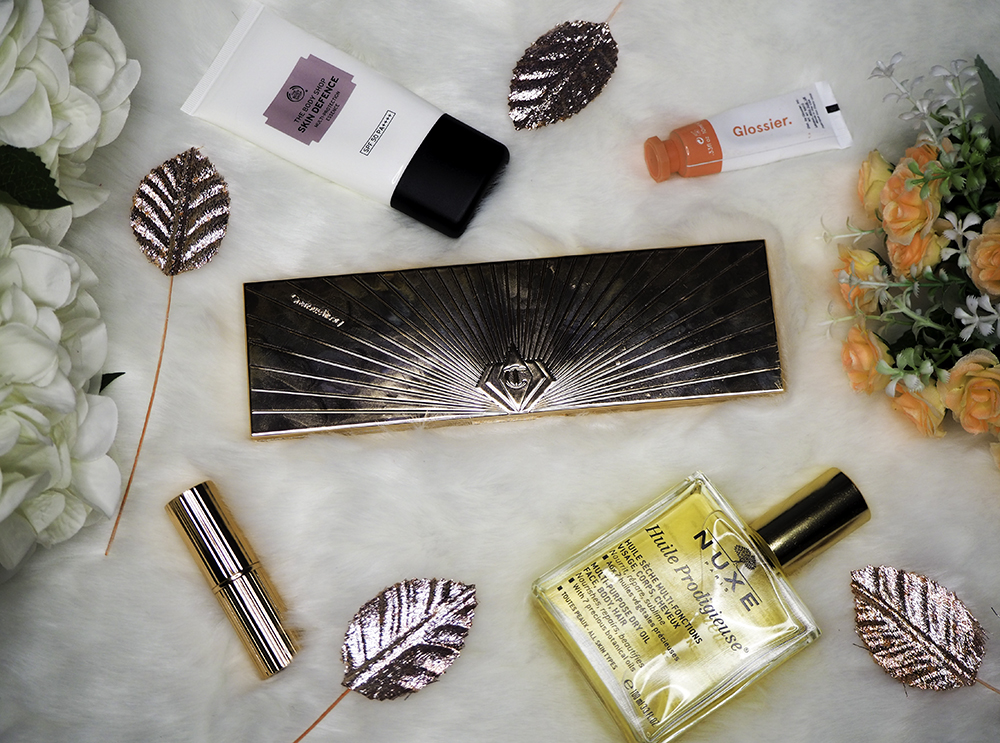 And, just like that, the first month of 2020 is almost finished. What the hell happened to January? It feels like I was only saying "Happy New Year" yesterday. Weird.
Anyway, to kick off the new decade, I'm back with my monthly faves. For those of you that are new to my blog, first of all, hi, I'm so thrilled that you're taking the time out to read this post.
Second of all, if you're not already aware, my monthly faves series is where I pick my top 5 makeup and skincare products for that month. These are either new products in my beauty collection or the ones I've been reaching for the most that month.
So, here are my January faves.
1. Charlotte Tilbury Matte Revolution Pillow Talk Original lipstick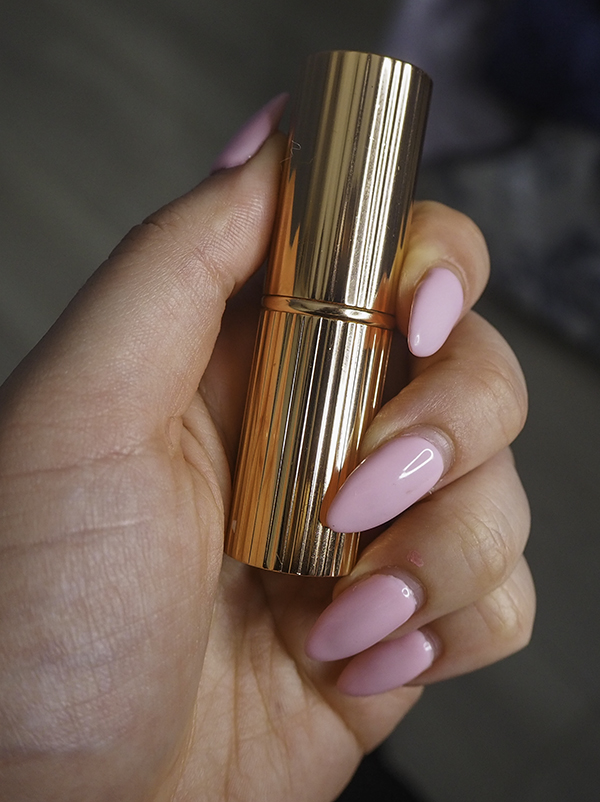 After purchasing the new Charlotte Tilbury Pillow Talk Instant Eyeshadow Palette, I've been pairing it with the iconic Pillow Talk lipstick, which has reminded me just how much I love the lipstick.
Building on the fame and success of the Pillow Talk lipstick, Charlotte Tilbury has gone and released an entire Pillow Talk collection. And it's so stunning. There are new Pillow Talk lipstick shades, a new eyeshadow palette, an eyeliner (which I NEED to get), lip liners etc.
However, the Matte Revolution Pillow Talk Original lipstick is an icon and with good reason. It's a beautiful nude pink shade that suits a wide range of skin tones and makeup looks. I love a nude lip and nude pinks are my favourite, which means the Pillow Talk lipstick is one of my top lipsticks.
As well as the beautiful shade, the lipstick has also got a great formula. Creamy, non-drying, hydrating and long-lasting – what's not to like?
Where to buy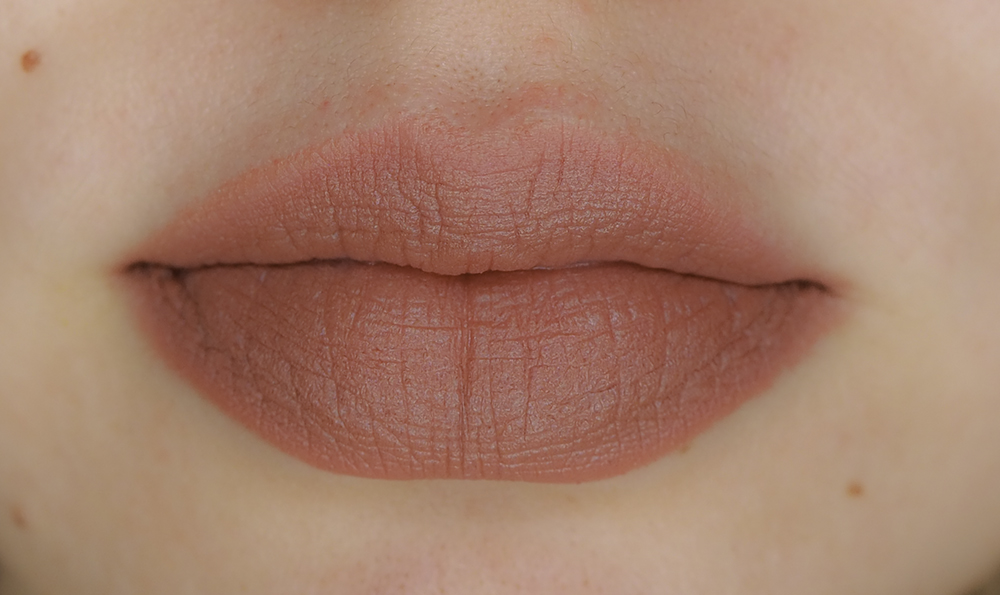 The Charlotte Tilbury Matte Revolution lipstick retails for £25 and can be purchased from the Charlotte Tilbury website.
Rating
The Pillow Talk lipstick gets an easy 5 stars from me. Beautiful shade, great formula and it works with so many makeup looks.
2. Nuxe Huile Prodigieuse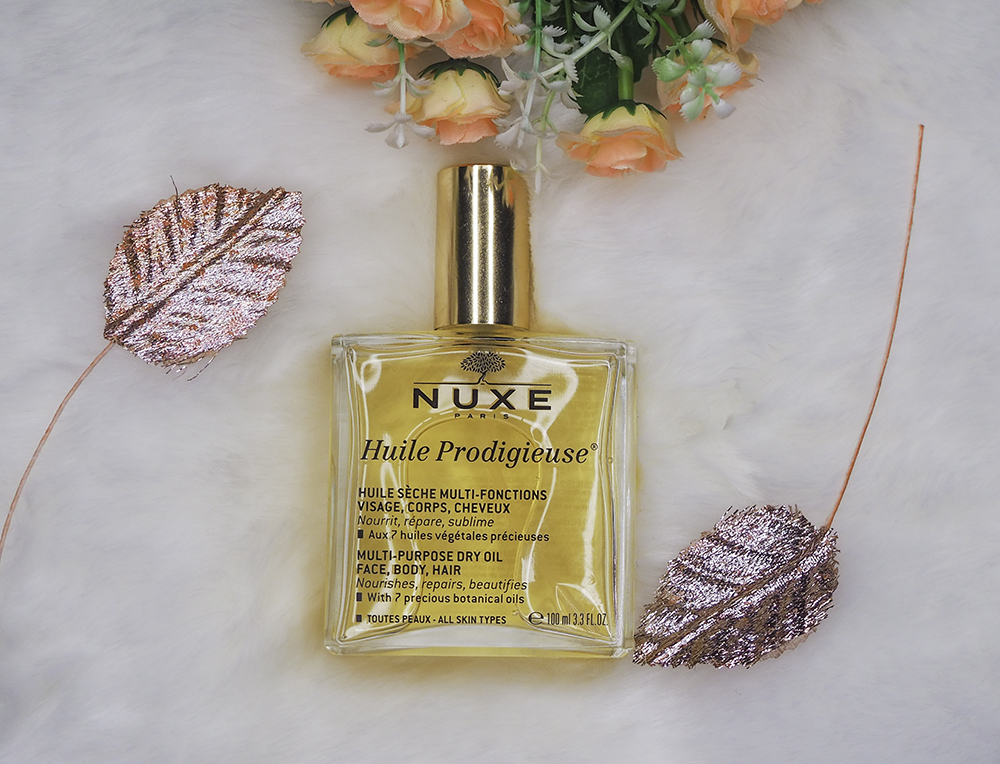 The Nuxe Huile Prodigieuse has obtained cult classic status. It's a multi-purpose dry oil that can be used for the face, body and hair. Containing 7 different types of botanical oils – tsubaki, hazelnut, macadamia, camellia, argan, borage and almond – the formula promises to be nourishing, repairing and softening.
I only ever use this on my skin as my hair is already super oily, so I never add more oils to it. Although, I think Huilde Prodigieuse would work wonderfully in drier hair or for people who want to give their hair some extra nourishment.
On my skin, the dry oil is non-greasy, lightweight and works into the skin easily. It's been great for some extra moisture during these cold winter months. It also smells divine – fresh, slightly nutty and a little sweet.
Besides adding some extra moisture, I don't think this oil does much else skincare-wise. That's not a bad thing but I wouldn't say it's my go-to facial oil. However, it is lovely and I think the Huilde Prodigieuse Riche version would be ideal for dry skin.
Where to buy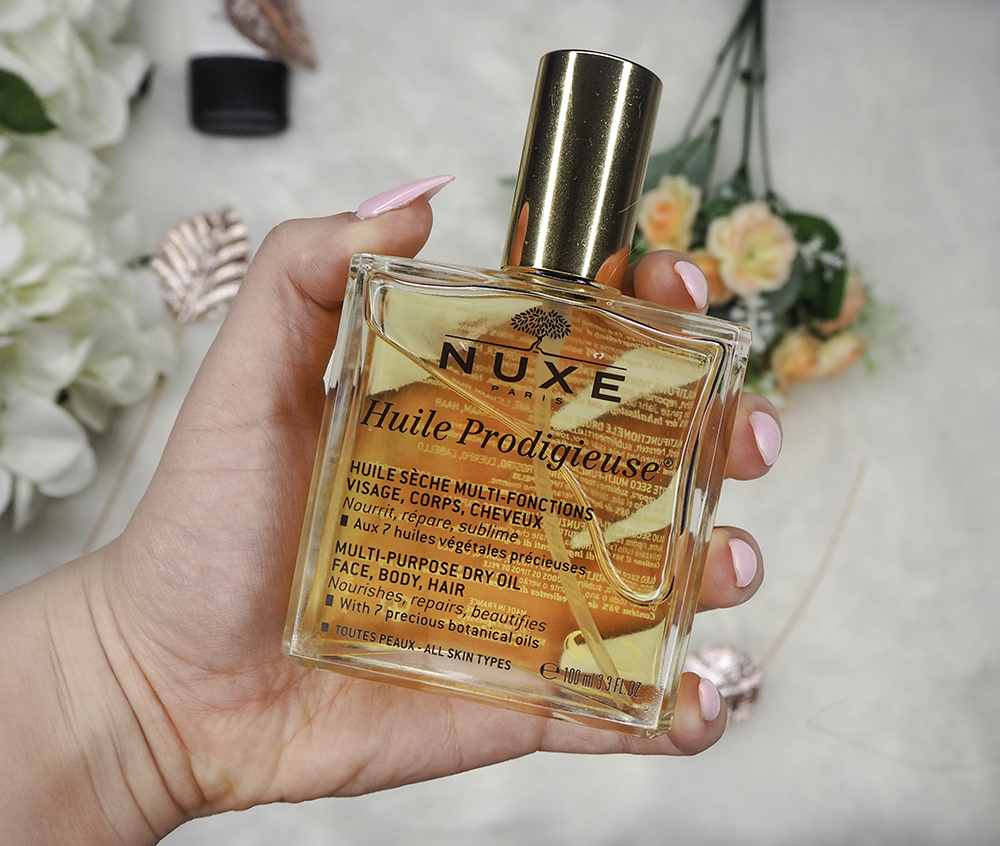 Costing a respectable £11.50 for 30ml, you can purchase the dry oil from Nuxe's website or Cult Beauty.
If you're new to Nuxe, I'd recommend checking it out. The products are reasonably priced and it's a French brand. And French skincare brands are often bomb.
Rating
I'm giving the Nuxe dry oil 4 stars because it's a nice little oil. There's nothing wrong with it, it's just not my favourite. I think it would be better for use in your hair or the Riche version would be fab for dry skin.
3. Glossier Cloud Paint in Beam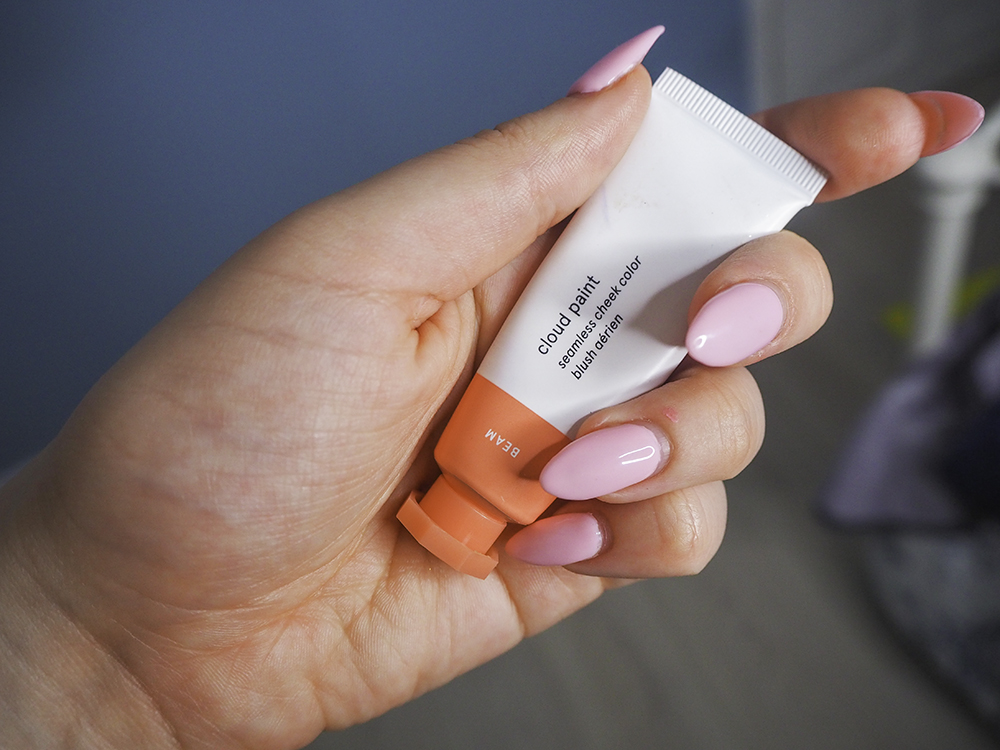 Next up in my January faves is a stunning cream blush I got for Christmas – the Glossier Cloud Paint in Beam, which is a soft, peachy shade. The Cloud Paint is one of Glossier's most popular products and after getting back into my blushers, I wanted to try it.
I love the creativity and fun shade range of the Cloud Paints and how people used them in non-traditional blusher areas, like in the area where you'd normally sweep bronzer on your cheeks.
The product is so pigmented. Like, unreal. You only need a very tiny dot of product to give your face some colour. I put a very small dot on my fingers and then lightly tap in the area I want the blusher to go, dabbing outwards to disperse the product.
I also love how the cream blusher looks on the skin. It's natural, lightweight and just give this soft, beautiful glow. I love using mine!
The Cloud Paints are a great way to experiment with blushers and break beauty rules. I love the shades Puff – a light, cool pink – and Dusk – a brownish nude – too.
Where to buy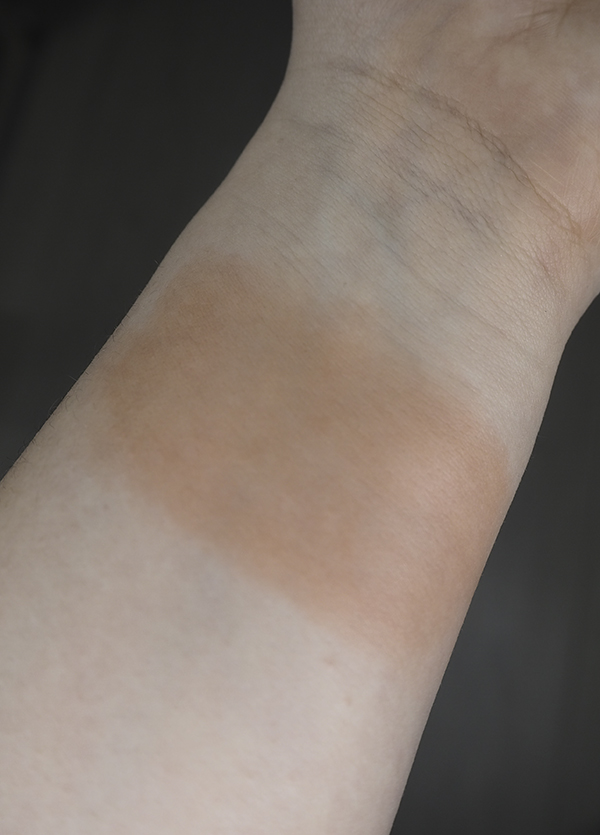 The Cloud Paints cost £15 each and are available on Glossier's website. For a blush of this quality, I think this is a good price.
Rating
The Glossier cream blusher gets an easy 5 stars from me. It's fun, pigmented, easy to use and gives a soft finish.
4. The Body Shop Skin Defence Multi-Protection Essence SPF50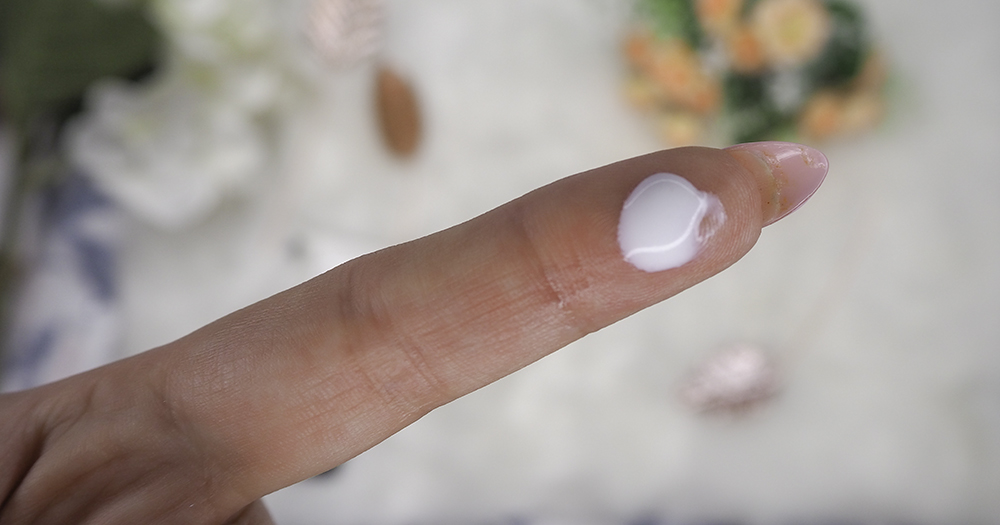 Not so much an exciting product but one that's absolutely necessary is SPF. You need to be wearing it every day, without fail, to prevent your skin from sun damage and from signs of ageing. This brings me to The Body Shop Multi-Protection Essence SPF50.
I don't know about you but when I think of SPF, I often think of sticky, greasy formulas that are hard to work into the skin and leave a horrible ashy residue. The idea of putting that sort of product on my face isn't appealing.
However, The Body Shop SPF is the complete opposite of that. It's lightweight, easy to work into the skin, non-greasy and dries down completely transparent so that you wouldn't be able to tell that you were wearing an SPF.
It also works well with the rest of my skincare routine because it's so lightweight.
I will give you the full breakdown of the SPF in a future review but just know that this SPF is perfect for your face and will protect you from the sun.
Where to buy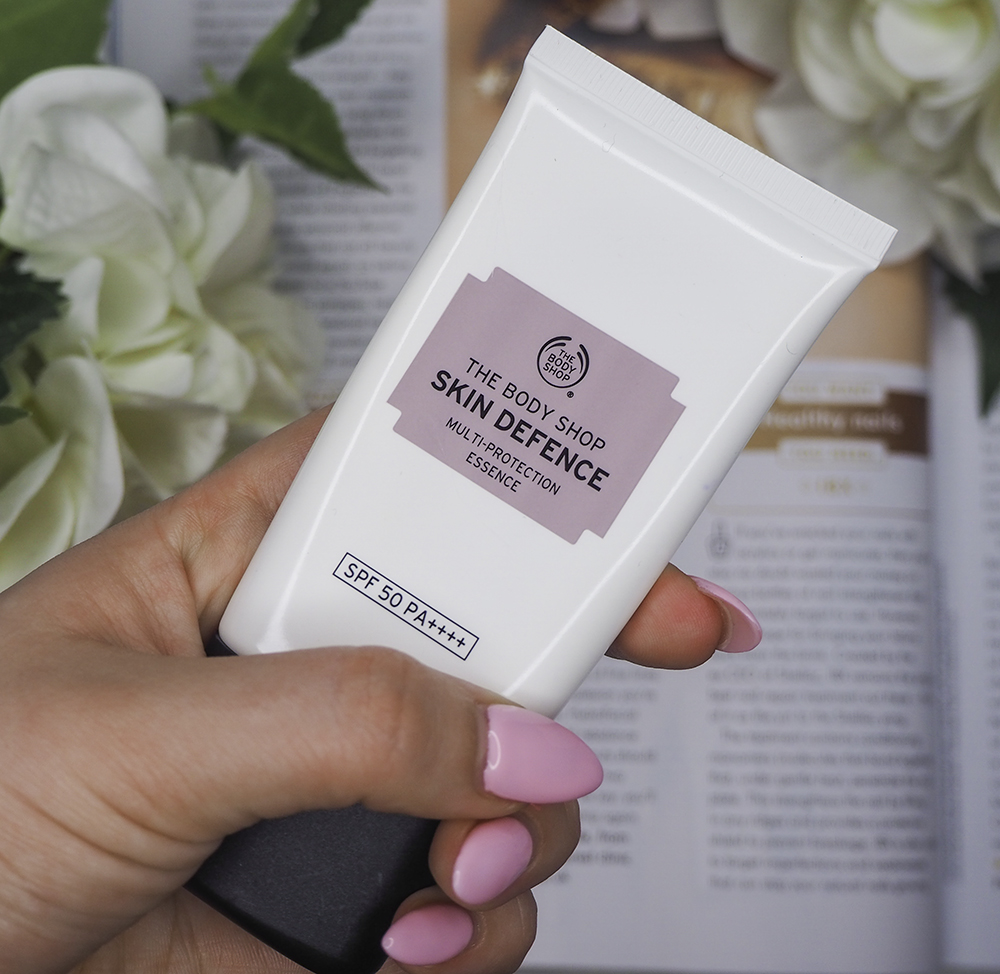 Priced at £22 for 60ml, you can purchase the Multi-Protection Essence SPF50 directly from The Body Shop website.
To stay safe from the sun and with a formula that's so lightweight, I think this is a steal.
Rating
For the sheer fact that I know this product contributes to my skin's health and safety and is so easy to use, The Body Shop's Multi-Protection Essence gets 5 stars from me.
5. Charlotte Tilbury Pillow Talk Instant Eyeshadow Palette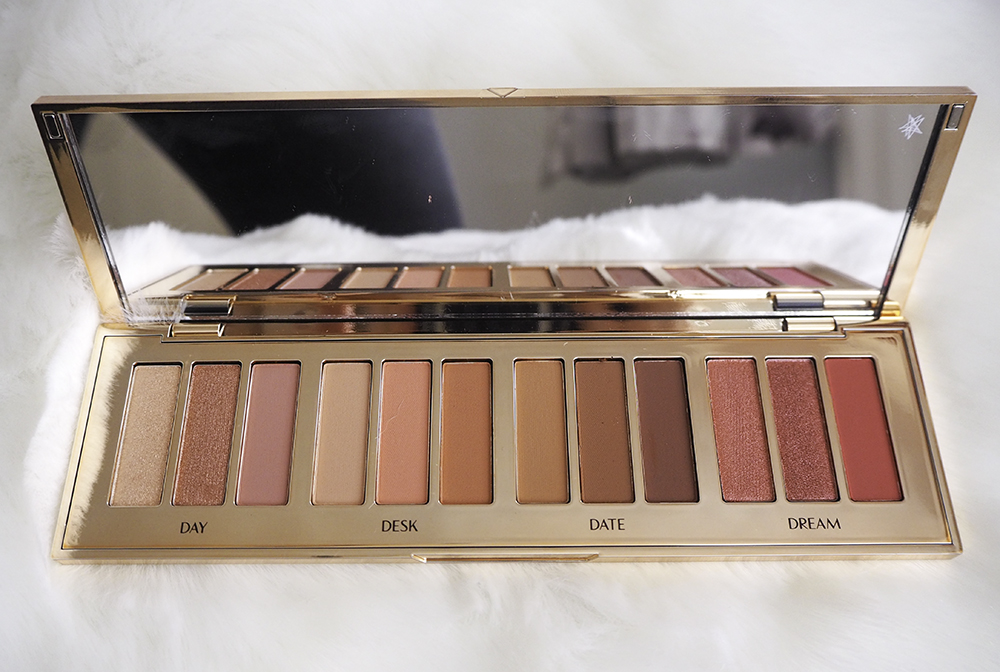 Two Charlotte Tilbury products in my January faves? Damn straight. I've had a few new Charlotte Tilbury products recently which I've been loving and the Pillow Talk Instant Eyeshadow Palette is one of favourite my makeup products ever.
I love pink, peach and nude brown eyeshadows. I think they look really flattering on the eyes and give a pretty, feminine and soft look.
When I saw the Pillow Talk Instant Eyeshadow Palette drop, I knew I had to get it. I didn't have a Charlotte Tilbury eyeshadow palette and I wanted to know how the formula would work. Charlotte Tilbury's marketing department does an incredible job of making you really lust after the products and I got caught in the Pillow Talk trap.
And I'm not mad about it.
I've used this eyeshadow palette a couple of times now and I adore it. The shadows are pigmented, buttery and blendable and I've created some soft and sultry makeup looks with the palette. It truly is a special palette.
I mentioned in my review of the Pillow Talk Palette that I love the 3-step system within the eyeshadow palette to create beautiful looks in an instant. The trios just work and I can put a lovely eyeshadow look together without any real thought. This is ideal for people on the go or for people who are unsure of how to work eyeshadow shades together.
The shadows also last well on the eyes. I found the eyeshadows to still be pigmented on my eyelids throughout the day.
Great formula, great concept, great eyeshadows, great colour scheme. Love love love. If you like pinks, peaches and nudes, this palette is right on the money for you.
Rating
I'm obsessed with this eyeshadow palette. This is one of the easiest 5 stars I've ever given out. It's made me want to purchase even more from the brand.
Final thoughts
That's my January faves wrapped up. The first monthly faves of 2020 and the first monthly faves of the new decade.
If I could only recommend one product from this list, for pure beauty and fun, it would have to be the Pillow Talk Instant Eyeshadow Palette. However, the one you should get is The Body Shop SPF. You've only got one skin so you need to take care of it people!
I think this has been one of my most highly-rated monthly faves ever as all the products – except the Nuxe Huilde Prodigieuse – got 5 stars from me. January has been a good month in terms of beauty.
Until next time…
---
Would you spend £60 on an eyeshadow palette?
Don't forget to subscribe to my emails for weekly blog post updates!