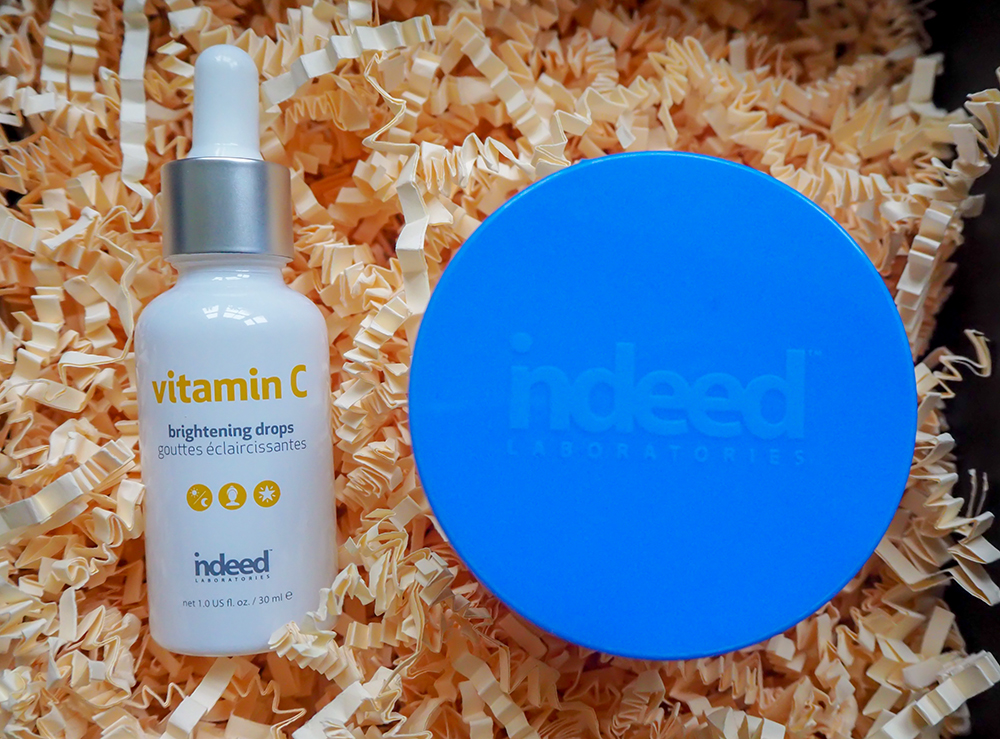 Today, I'm going to be sharing my thoughts on 2 affordable skincare products from Indeed Labs – the Vitamin C Brightening Drops and NoAcid Pads Exfoliator.
dermoi! kindly gifted me these products for review purposes. Eve from dermoi! thoughtfully picked these 2 Indeed Labs products based on my wants and needs – bright and glowy skin with something to help get rid of blackheads. She's incredibly easy to work with and very supportive, so I'd like to say a big thank you to her.
Indeed Labs is a popular and affordable skincare brand hailed for its effective formulae, so I was very excited to try out 2 of its products. But should the products become staples in your skincare routine or are you better off buying elsewhere? Please keep on reading for my sincere thoughts.
** This post contains some affiliate links. This means at no extra cost to you, I earn some commission if you purchase a product through my link. All thoughts are my own, though, as always. If you want to find out more, visit my affiliate disclosure page **
A little bit about dermoi!
Before delving into my Indeed Labs review, I wanted to share a bit of background information about dermoi! and the interesting service it offers.
dermoi! is an innovative facial treatment service. You choose what type of treatment you'd like, then a certified and vetted facial aesthetician will come to your home and deliver your treatment. Whether you want glowing skin, a treatment for acne, or help to soothe dry skin, dermoi! has a solution for you.
There is also the dermoi! shop, where you can choose from a range of skincare products and gadgets to transform your skin, from beauty boxes through to SPFs and exfoliants. Brands on the shop include Indeed Labs, Heliocare, Jan Marini Skin Research and more.
What is Indeed Labs?
Indeed Labs is a Canadian skincare brand with a goal of making people feel comfortable showing their real skin in front of HD cameras and in real life. Its products promise to be highly effective, science-backed and deliver real results, while targeting specific skincare concerns for maximum results.
We use only high-quality, proven active ingredients and remove everything else. That includes perfumes, low-quality ingredients, misleading claims, and airbrushed ads.

Indeed Labs
Each product from Indeed Labs is affordable too. Some of the brand's best sellers include the Retinol Reface, Nanoblur Instant Skin-Blurring Cream, Q10 Booster and Hydraluron Moisture Jelly.
Vitamin C Brightening Drops
£18.99 for 30 pads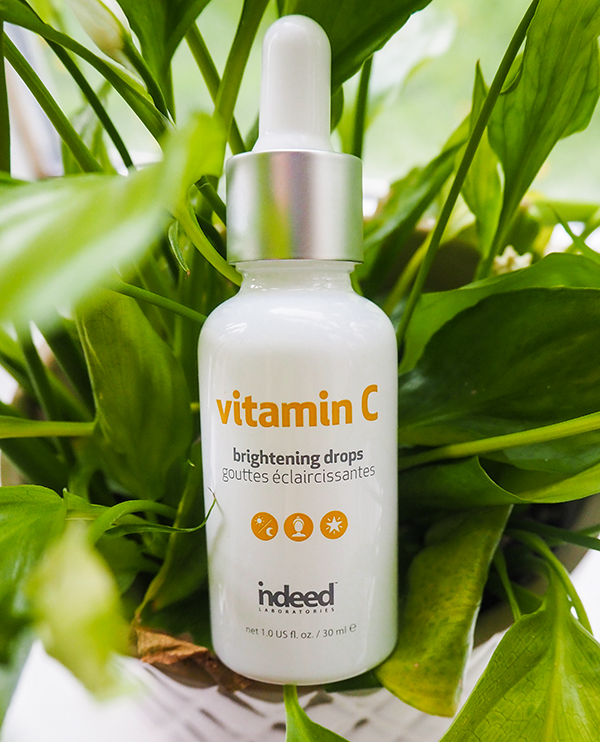 Product claims
Boasting a combination of pure vitamin C (ascorbic acid) with nourishing active ingredients, this vitamin C serum promises to restore luminosity, even skin tone and texture, and protect against ageing. It also claims to invigorate dull skin and target hyperpigmentation to reveal a healthy and radiant complexion.
Indeed Labs says the serum's consistency is lightweight and can be layered easily. The serum further claims to be suitable for all skin types, including those with sensitive and acne-prone skin.
Key ingredients
The top 5 listed ingredients in the serum's INCI list (besides water) are as follows:
Glycerin: hydrating
Cyclopentasiloxane: a lightweight and silky silicone that functions as an emollient (softens and soothes the skin) that
Propylene glycol: a humectant (hydrating)
Cyclohexasiloxane: another emollient that helps to improve a product's texture
Volcanic soil: I couldn't find much research about volcanic soil and its benefits in skincare
Personally, I would've liked to see ascorbic acid featured higher up the INCI list. Excluding water, it's the 10th ingredient listed. But, I appreciate that this serum has hydrating and softening properties for its top 4 ingredients.
The full ingredients list can be seen below:
Water (Aqua/ Eau), Glycerin, Cyclopentasiloxane, Propylene Glycol, Cyclohexasiloxane, Volcanic Soil, Phenoxyethanol, Hydroxyethyl Acrylate/Sodium Acryloyldimethyl Taurate Copolymer, Caprylyl Glycol, Isohexadecane, Ascorbic Acid, Pentylene Glycol, Citric Acid, 1,2-Hexanediol, Xanthan Gum, Polysorbate 60, Tamarindus Indica Seed Gum, Disodium EDTA, Sorbitan Isostearate, Amylopectin, Ethylhexylglycerin, Hyaluronic Acid, Biosaccharide Gum-1
My thoughts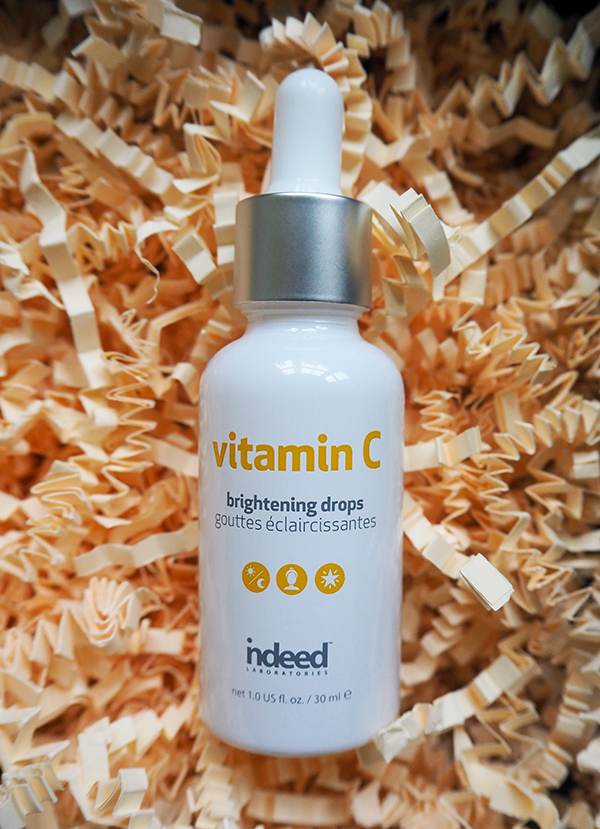 The Vitamin C Brightening Drops serum has a very interesting texture. It's thicker than your average serum and has an almost milky texture. It's not oily but rather feels soft and silky. I love the consistency and it feels very soothing on the skin.
I find this serum works well with the rest of my skincare routine. It doesn't pill or feel sticky or heavy on the skin.
This isn't my favourite vitamin C serum, though. When I go for vitamin C products, I love my skin to look really radiant and glowy. This Indeed Labs formula gives a slight glow but that's all. I also don't think this serum necessarily makes my skin look brighter, in contrast to other formulae I've tried.
Interestingly, I feel this serum actually does a better job at being nourishing and hydrating. After I've applied it, my skin feels soft and smooth. For this reason, while I'd prefer this serum to impart more radiance, I'm not mad as it makes my skin feel nice.
Rating: 3.5 stars
It's not a bad serum but I've tried other vitamin C serums that I prefer. The OSKIA Super-C Capsules are yet to be beaten.
NoAcid Pads Exfoliator
£18.99 for 30 pads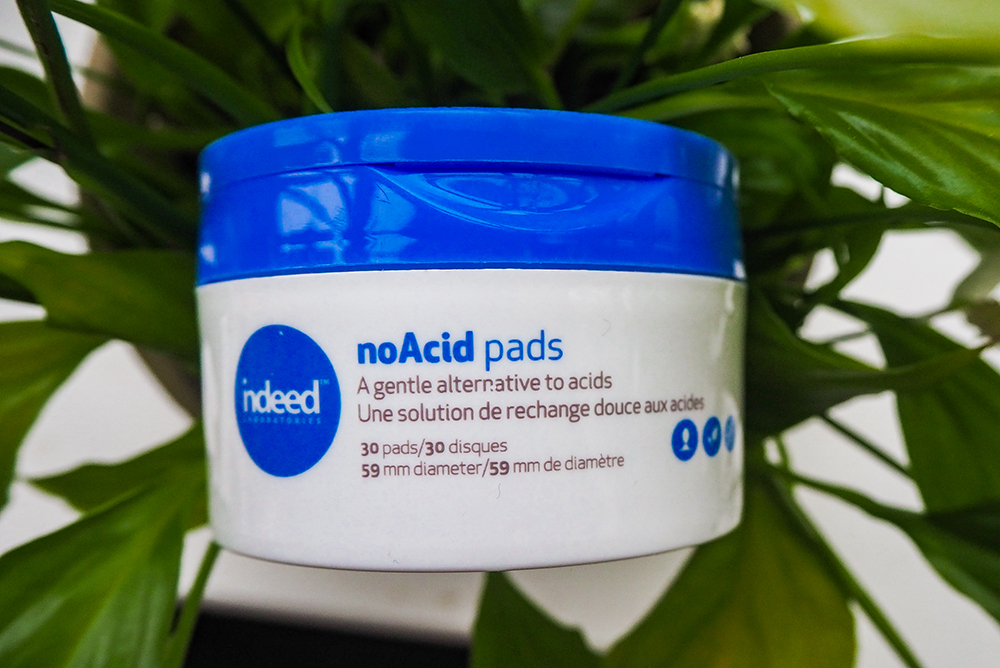 Product claims
These exfoliating pads are designed to be a gentle yet effective alternative to AHAs, PHAs and BHA. They promise to buff away dead skin cells, promote natural cell renewal, and strengthen the skin barrier.
Formulated with prebiotics, Yarrow and Japanese Cedar Extracts, NoAcid pads promote cell renewal and refine skin texture, pore size, and tone in one easy step.

dermoi!
Indeed Labs says that these pads are ideal for people with sensitive skin, who might otherwise be aggravated by exfoliating acids. The brand also claims that the pads are an effective skincare treatment for enlarged pores, fine lines and wrinkles.
Key ingredients
The top 5 listed ingredients in these pads' INCI list (excluding water) are as follows:
Lactococcus ferment lysate: a prebiotic that acts to support the skin natural microbiome, and therefore, the skins ability to produce necessary peptides, repair wounds, and undergo cell renewal
Butylene glycol: texture enhancer
Phenoxyethanol: preservative
Sodium benzoate: preservative
Pentylene glycol: plant-derived ingredient which binds well to water, making it a good skin-replenishing agent and solvent
The prebiotic lactococcus ferment lysate sounds very interesting. I'd not heard of this ingredient prior to receiving the NoAcid Pads, so I was curious to see how they'd work.
If you'd like to read more about prebiotics in skincare, I'd thoroughly recommend reading this intriguing Paula's Choice article about them and their function in maintaining optimal skin health.
See the full NoAcid Pads ingredient list below:
Water (Aqua/ Eau), Lactococcus Ferment Lysate, Butylene Glycol, Phenoxyethanol, Sodium Benzoate, Pentylene Glycol, Disodium EDTA Ethylhexylglycerin, Cryptomeria Japonica Bud Extract, Sodium Chloride, Achillea Millefolium Extract, Xanthan Gum, Sodium Hydroxide
My thoughts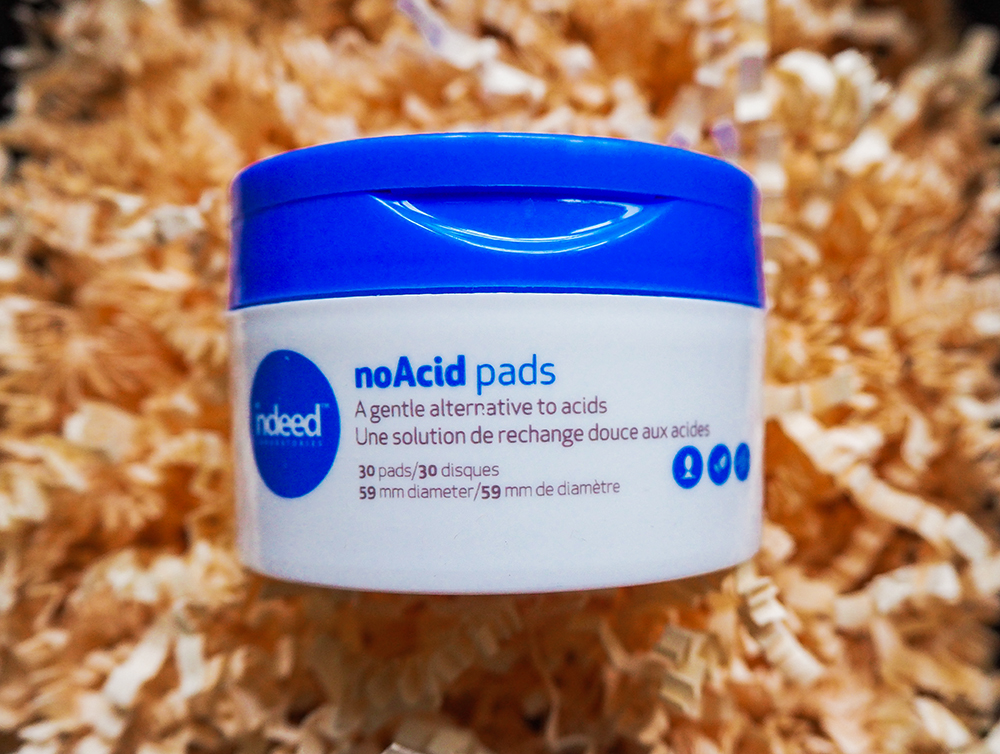 The NoAcid Pads Exfoliator feels very soothing and gentle on the skin. Each pad is soaked in liquid so they glide effortlessly across your skin. I've never experienced any tightness or irritation after using a pad.
If you don't get on with typical exfoliating acids, like citric acid, salicylic acid or mandelic acid, I think you'll love these as an alternative. They don't feel aggravating whatsoever and actually feel pretty calming.
In terms of results, though, I don't find them to be as effective as other exfoliants I've tried. Other products I've tried have done a better job at getting rid of blackheads and making my skin appear brighter and look smoother.
Having said that, there's such a thing as over-exfoliation. It can be quite easy to use lots of harsh products in your skincare routine and just because these pads don't deliver results as quickly as others I've tried, that doesn't mean they're bad.
If I wanted to exfoliate the day after using retinol, for instance, I'd 100% reach for these as a gentler option. Equallt, if my skin was feeling stressed, the NoAcid Pads Exfoliator would be my first choice.
Rating: 4 stars
These are a good yet gentle alternative to acid exfoliants. You're probably not going to get instantaneous results, so you need to be in it for the long term.
Overall review of the Indeed Labs products
I think the Indeed Labs products that dermoi! gifted me are decent. Personally, I don't think they're ground-breaking or amazing but I love that they're inexpensive. Under £20 each for some exfoliating pads and a vitamin C serum is good value for money.
I also think these products would be great for those with sensitive skin, as they feel gentle and soothing on application.
Would I purchase any of these products with my own money? Probably not. I've got on better with other vitamin C products and exfoliants. But I'm very grateful to have been able to try them and love the fuss-free messaging the brand offers.
Other Indeed Labs products to check out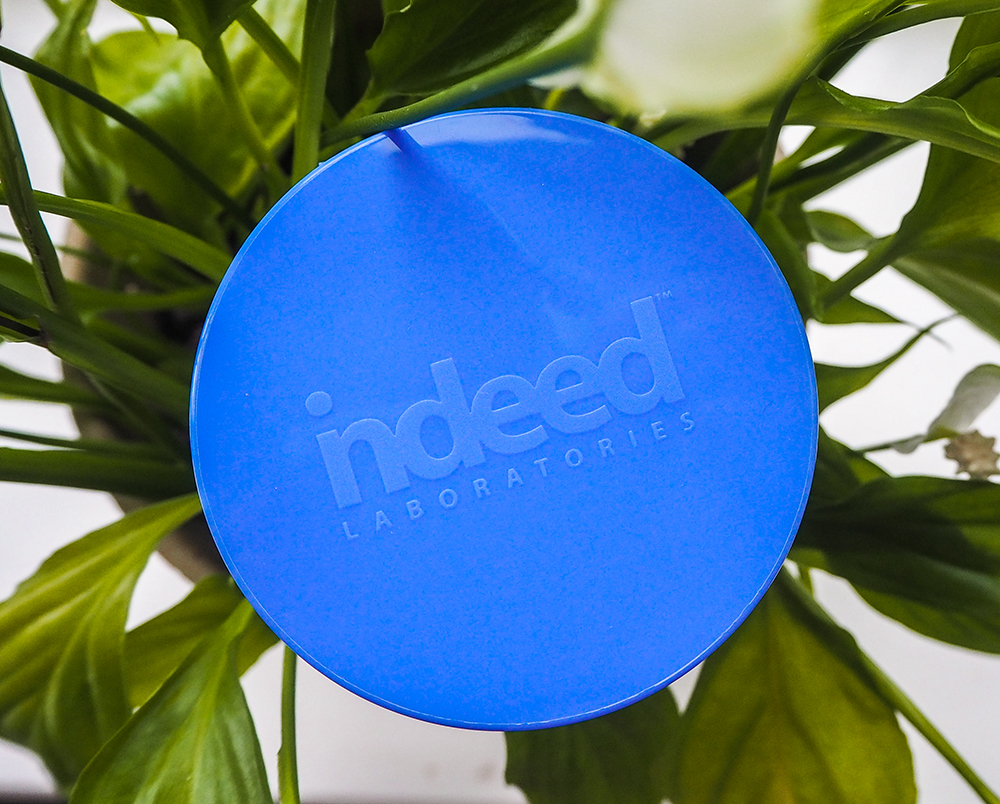 Whilst these 2 items aren't my favourites, I do have a couple of other Indeed Labs product recommendations:
Retinol Reface: This is a great retinol option for beginners. I've been using this retinol for a while now and I've not experienced any sensitivity at all.
Squalane Facial Oil: My sister let me try this squalane oil and my skin immediately loved it. On application, my skin felt soft, smooth, and instantly hydrated. This facial oil is a must-try for my hydration seekers and it doesn't feel tacky or heavy on the skin either.