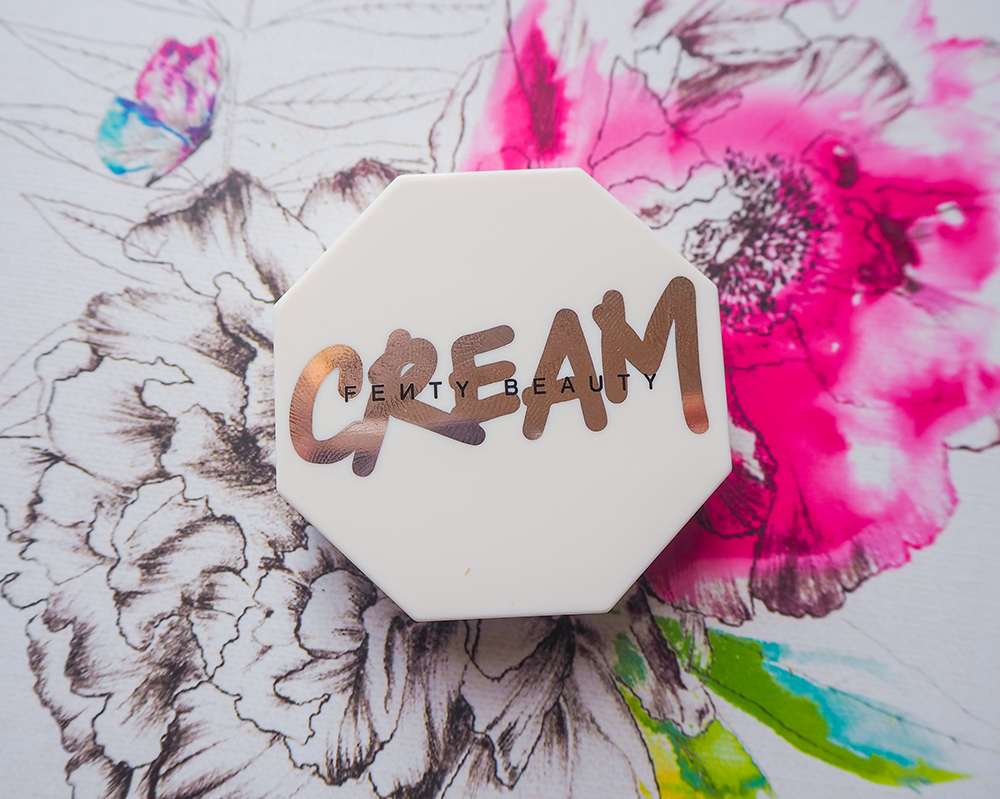 The Fenty Beauty Cheeks Out Cream Blush and Cream Bronzer launch has been one of the most hyped-about and popular makeup drops this year. Cream cheek products have made a comeback this year and hopefully for good.
A lot of makeup trends this season have sported dewy skin, a simple gloss, lots of blush and sultry eye makeup for the ultimate summer glam. I haven't traditionally been a fan of blusher but after using the Glossier Cloud Paint, I've refound my love for it.
When Fenty Beauty dropped the Freestyle Cheeks Out Cream Blush collection, I knew I had to get my hands on one. I opted for the shade Petal Poppin, which is a soft baby pink shade.
But is this cream blusher really worth the hype or are there better formulas on the market? If you'd like to find out more, please keep on reading.
What is Fenty Beauty?
Fenty Beauty is Queen Rihanna's very own makeup line, which boasts my favourite lip gloss of all time, vibrant highlighters and the foundation that changed the makeup industry forever.
Rihanna was inspired to create Fenty Beauty after years of experimenting with the best-of-the-best in beauty—and still seeing a void in the industry for products that performed across all skin types and tones.

Fenty Beauty
Although it shouldn't be ground-breaking, when Fenty Beauty first launched its inclusive foundation range for all skin tones a few years ago, it made a lot of companies realise that they weren't catering for deeper skin tones. Ever since then, companies have been dropping way more inclusive shade ranges and those that don't have been criticised or boycotted.
Product claims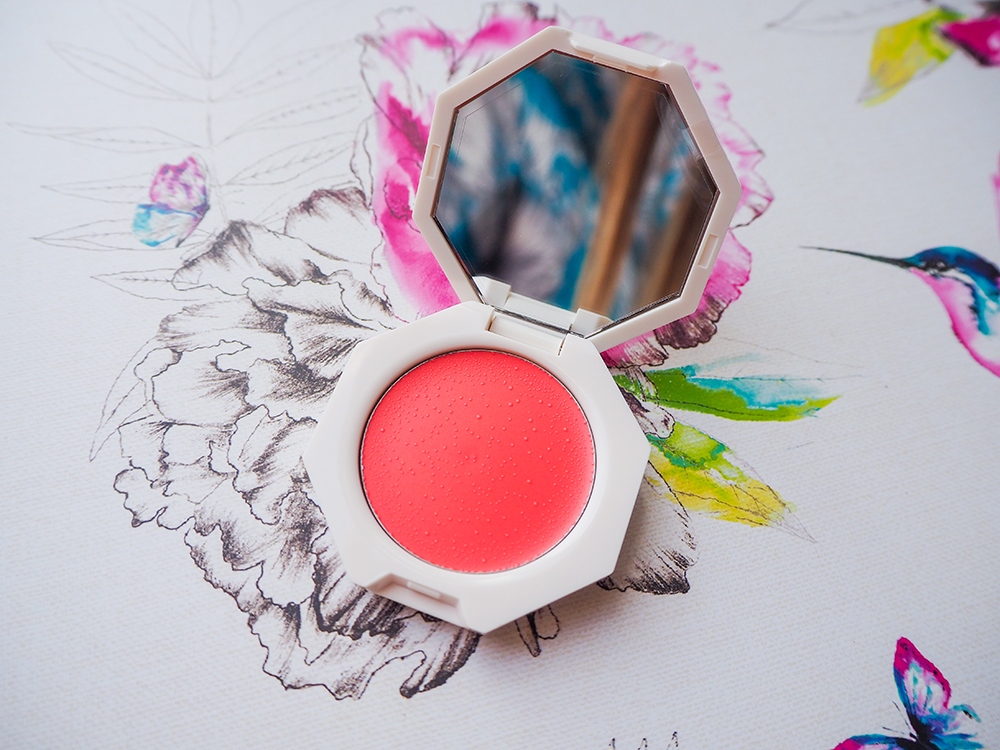 A light-as-air, non-greasy cream blush that instantly melts into skin for an effortless wash of color, giving life to all skin tones with a no-fuss, natural-looking flush in 10 sheer shades.

Fenty Beauty
The Cheeks Out Cream Blush promises to give you an effortless fresh-faced flush, which is easy to use and impossible to overdo. Fenty Beauty claims the product provides sheer, buildable coverage, which won't leave the skin feeling sticky or greasy.
Fenty Beauty Cream Blush Petal Poppin swatch
Although swatches aren't always the best way of telling how a product will look on your face, they can give you an indication of the product formula and tone before trying it out.
Here's a swatch of the Petal Poppin blusher: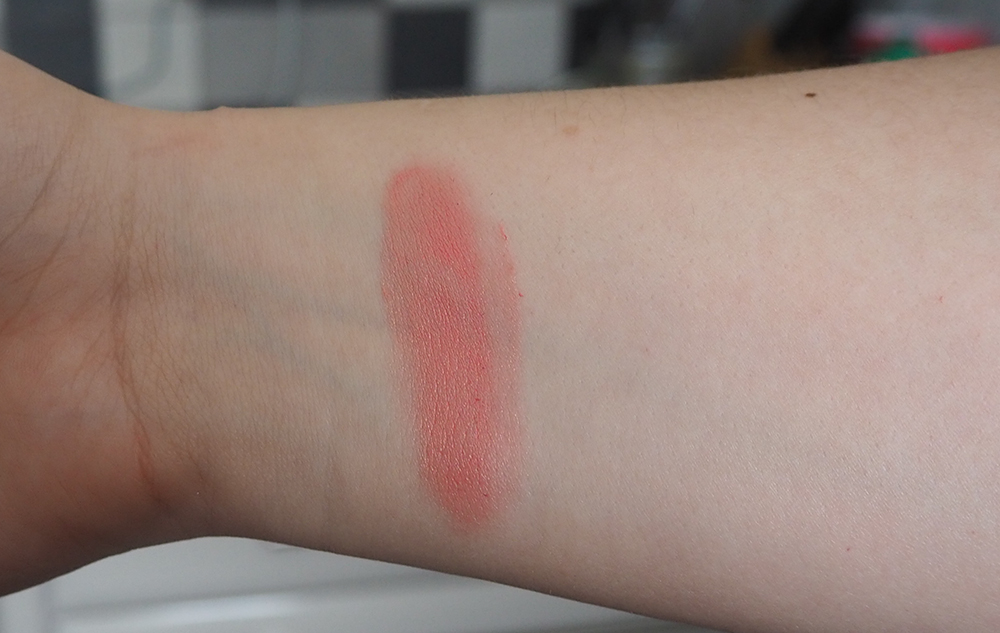 My thoughts
I genuinely adore this blusher. Like so many other people that have showered this product with praise, I truly think this blusher is brilliant.
The blusher is definitely sheer, which makes it very difficult to go wrong. If you're not confident with using blushers or have been put off in the past by ones that are too strong, you'll adore this one. The Fenty Beauty Cream Blush is very beginner-friendly and exceptionally easy to work with.
The fact that this blusher is so buildable is my favourite thing about this product. I can opt for a tiny pop of colour or go for a very flushed cheek. It doesn't matter because this product makes it so easy to get your desired finish.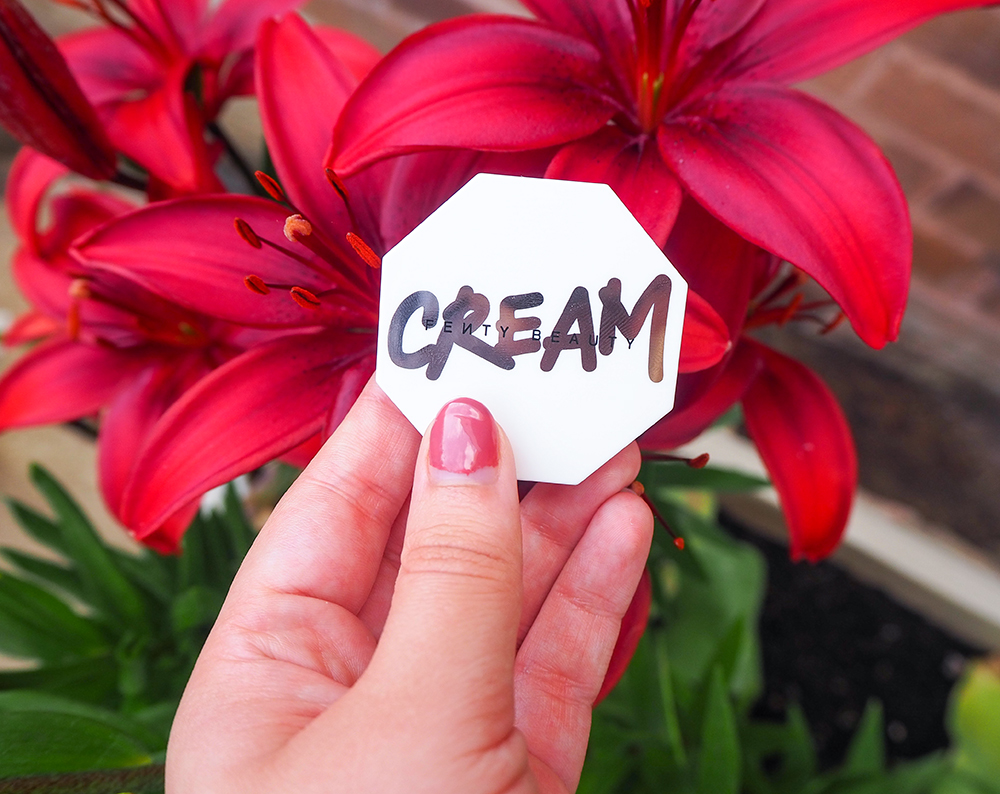 It doesn't mess your makeup either. Some cream products are notorious for budging any foundation, concealer, bronzer or powder that you might be wearing underneath. However, the Fenty Beauty Cream Blush sits on top of your makeup neatly, without smudging it.
You can also use this product with a brush or your fingertips, making it very versatile. I prefer using a blusher brush but it's great using your fingertips, too.
I don't think this is quite as long-lasting as the Glossier Cloud Paint. I think that's down to the sheerer formula. But, it still lasts a good 6-8 hours without fading. When it does eventually start to fade, the cream formula means it doesn't look patchy, which can happen with powder formulas as they tend to cling to the drier areas of your face.
The Fenty Blush gives such a natural, healthy finish too so it's ideal for adding a touch of colour to your cheeks.
Makeup look using the cream blusher
To give you a better idea of how the Fenty Beauty Cream Blush in Petal Poppin looks on, I took a quick snap for you: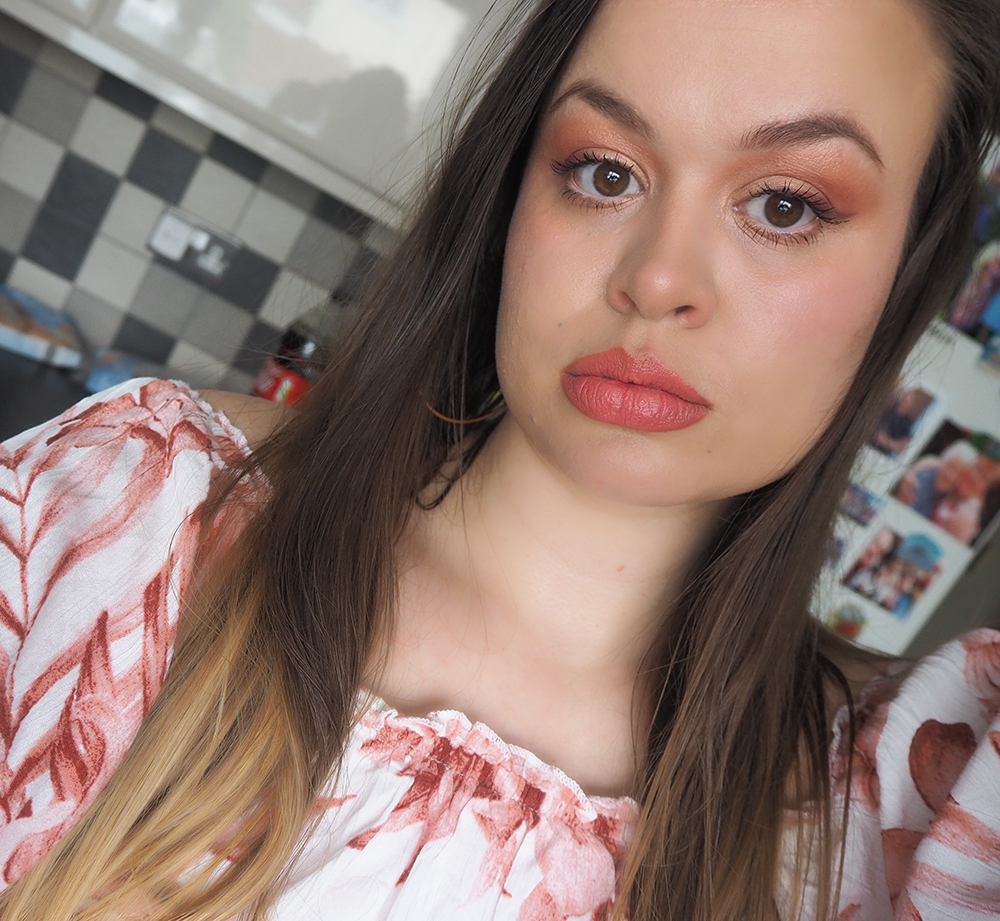 As you can see, the blusher is very natural. It provides a wash of healthy, dewy colour, without looking too heavy. Sometimes, I think pink-toned blushers can make you look flushed and not in a good way. However, I love the gorgeous natural pop of colour that the Fenty Cream Blush gives.
And isn't this shade to die for?! Obsessed.
Where to buy
Retailing for £19 for 3g of product, you can purchase the Fenty Beauty Cream Blush from Boots, Harvey Nichols or Fenty Beauty.
Some people have complained that the blusher is quite small for how much money you spend. Personally, it takes me ages to get through blushers, even if I wear them lots, so I don't think this is an unreasonable price. There's nothing worse than a makeup product expiring before you've finished it up!
Plus, the formula is unreal, so it's a great-quality product.
Final thoughts
Like so many other people, I'm in love with this cream blusher. It's a gorgeous shade, it's impossible to mess up and gives a gorgeous, healthy and radiant flush of colour to your cheeks.
I definitely like this blusher as much as the Glossier Cloud Paint, which says a lot!
Rating: 5 stars
If you're looking for a new blusher, whether you're a beginner or a pro, I'd 1000% recommend the Fenty Beauty Cream Blush. You won't regret it.