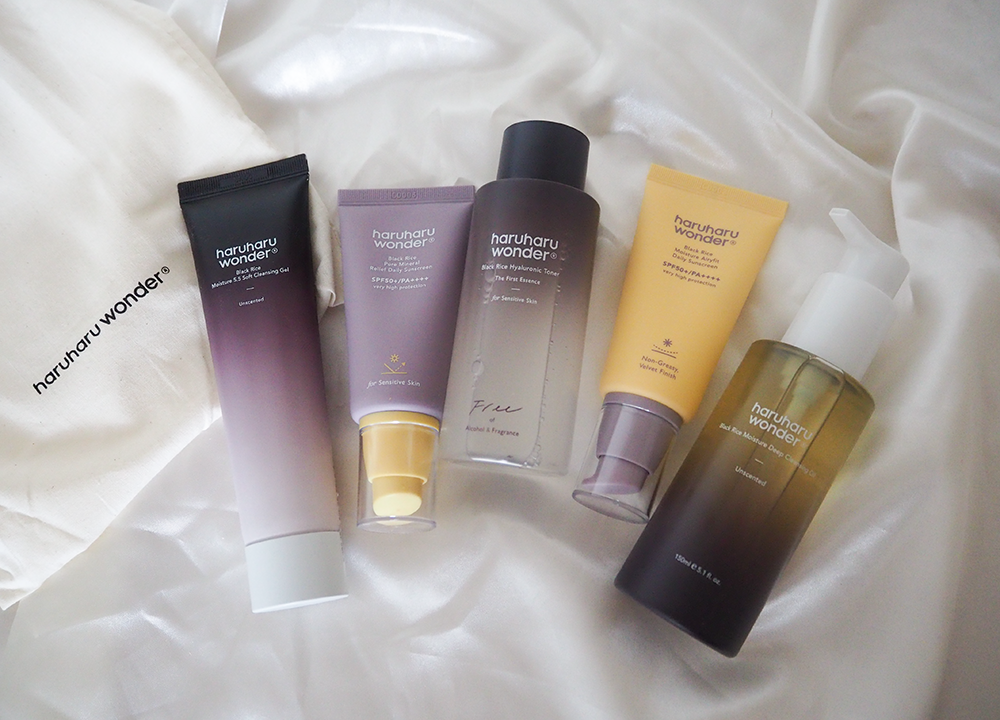 As someone with rosacea, finding sensitive skin-friendly products is essential. Although my skin doesn't react badly to products often, it recently became very red and aggravated because of a new SPF I'd tried. Looking like a tomato is not cool. And it reminded me that while my skin isn't super fussy, there are still products that simply don't agree with my skin.
Korean skincare brand Haruharu Wonder recently launched 2 new sunscreens. Both are SPF50. 1 is mineral and 1 is chemical. After my recent sunscreen disaster, I really hoped these 2 SPFs would work for my rosacea-prone skin.
Keep reading my review to discover whether Haruharu Wonder's new SPFs as well as my thoughts on 3 other sensitive skin-friendly products from its black rice line.
Shop Haruharu Wonder at Skin Cupid and get 10% off with my code SARAH10. Shop here.
* This post contains some affiliate links. This means at no extra cost to you, I earn some commission if you purchase a product through my link. All thoughts are my own, though, as always. If you want to find out more, visit my affiliate disclosure page **
What is Haruharu Wonder?
Haruharu Wonder is a vegan Korean skincare brand that offers high-performing and natural-derived products. The products claim to deliver visible results for glowing, healthy skin.
haruharu wonder's products contain only natural, plant-powered ingredients with clinically proven benefits.

Haruharu Wonder
The brand is probably best known for its iconic Black Rice Hyaluronic Toner.
Which Haruharu Wonder products did I receive?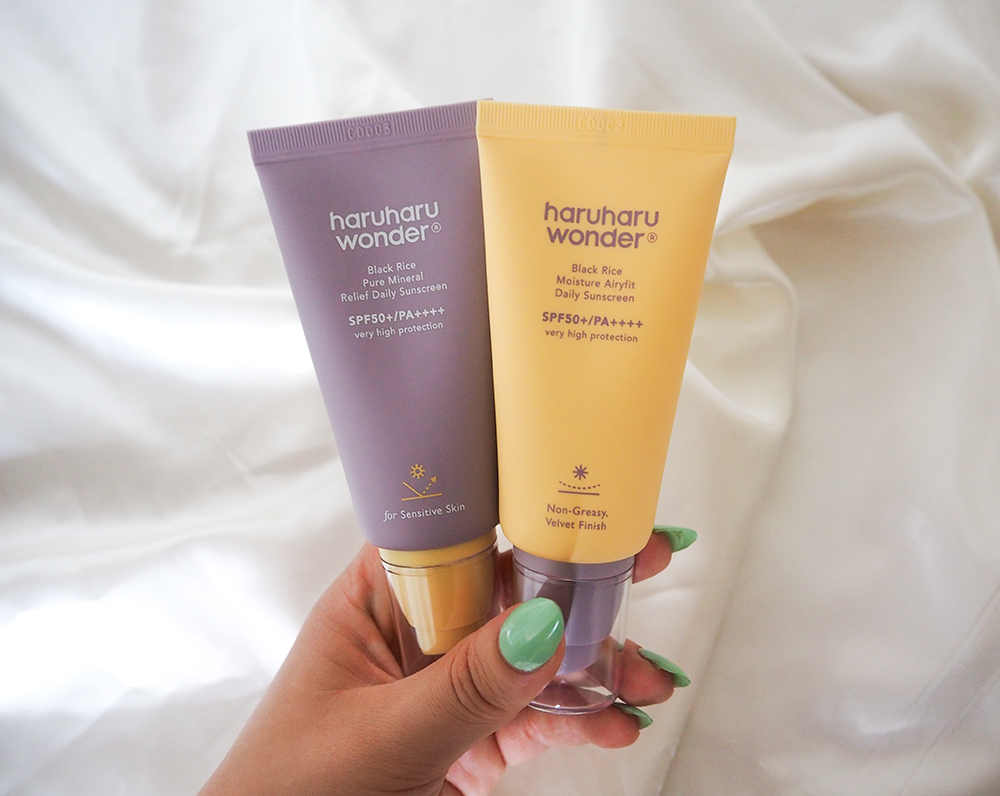 I received the following 5 Haruharu Wonder products to review:
Keep reading to find out my honest thoughts on each product, whether they work for my rosacea, and if they're worth purchasing before I move on to my overall Haruharu Wonder review.
Shop Haruharu Wonder at Skin Cupid and get 10% off with my code SARAH10. Shop here.
1. Haruharu Wonder Black Rice Pure Mineral Relief Daily Sunscreen
£17.12 for 50ml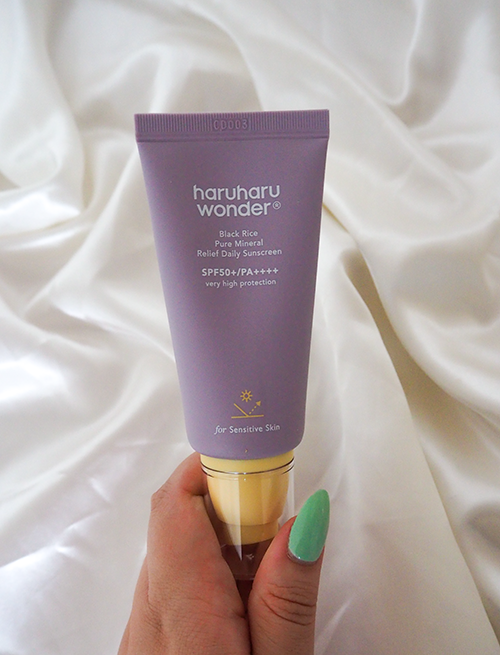 First up is the Haruharu Wonder Black Rice Pure Mineral Relief Daily Sunscreen. I have some trepidation when it comes to mineral sunscreens because they work by forming a physical barrier on the skin and reflecting UV rays. By their very nature of sitting on the skin and forming a barrier, they can often feel heavier, greasier, and look more obvious than chemical sunscreens.
However, this mineral sunscreen is great. It offers broad-spectrum SPF50 and is very lightweight and absorbent compared to other mineral sunscreens I've tried. Once applied, it doesn't feel greasy whatsoever. In fact, I can hardly feel it at all. It offers a glowy and healthy finish. There's nothing worse than a flat, matte sunscreen! But the finish of this one is lovely.
The only downside is that this SPF does leave a slight white cast. When I applied the recommended SPF amount – a line of SPF down your index and middle fingers – this cast was hardly visible. It also disappears after about 30 minutes or so. However, if you're topping up throughout the day, this cast becomes a bit more noticeable. If you're worried about UV protection and are liberal with SPF application, the cast will be visible.
For this reason, it's probably not the best option for deeper complexions.
Rating: 4.5 stars
I love the formula and finish of this mineral sunscreen. On my light complexion, the white cast is barely noticeable. It's one of the best mineral SPFs I've tried.
2. Haruharu Wonder Black Rice Moisture Airyfit Daily Sunscreen
£17.12 for 50ml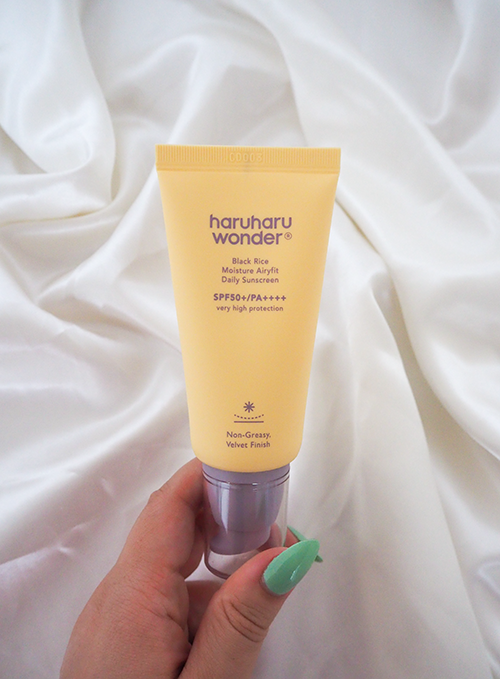 And now for the chemical SPF, the Haruharu Wonder Black Rice Moisture Airyfit Daily Sunscreen.
This broad-spectrum SPF50 is fantastic. When they get it right, Korean sunscreens are unbeatable. This one is no exception and has quickly become one of my faves.
Just like the mineral SPF, this sunscreen is lightweight, absorbent, doesn't feel heavy or greasy, and has a pretty dewy finish. It works really well with other skincare products in my routine and is completely invisible once applied. There's no white cast, and the sunscreen simply enhances my skin's radiance while protecting it from harmful UV rays.
If you've got particularly oily skin and have a hydrating skincare routine, you could probably skip moisturiser altogether when using this sunscreen, because it's moisturising without any stickiness.
Rating: 5 stars
I can't fault this SPF at all. It's so good.
3. Haruharu Wonder Black Rice Moisture Deep Cleansing Oil
£18.99 for 150ml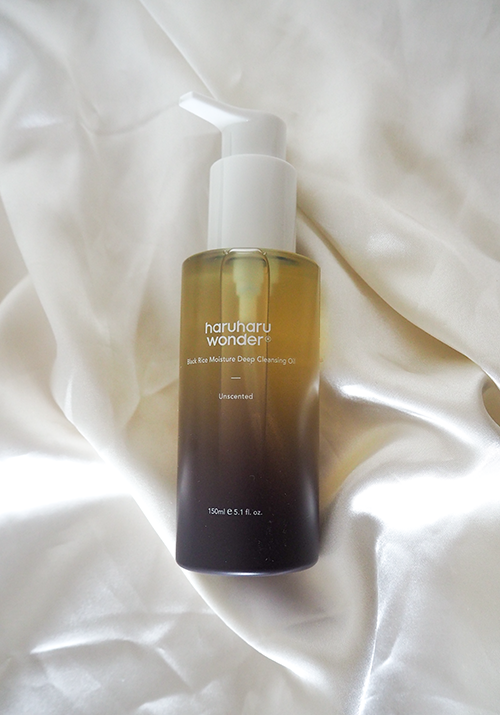 Cleansing is one of my fave parts of my skincare routine. I love the fresh feeling of washing the day away for clean and calm skin. So I truly appreciate a good cleansing oil.
Haruharu Wonder Black Rice Moisture Deep Cleansing Oil is another excellent product. It contains emollients like rice bran oil, sunflower seed oil, and capric/capric triglyceride for soft, nourished, and soothed skin. The cleansing oil effortlessly removes traces of dirt, makeup, SPF, and grease, so there's no harsh scrubbing to get rid of these. They simply melt away.
After using this cleansing oil, my skin feels so clean and soft but not stripped. It's very gentle on my rosacea-prone skin.
While you should always follow up with another cleanser to remove the traces of a cleansing oil, some cleansing oils are simply better than others. Despite being enriched with oils, the traces of oils in this cleanser are also easily dissolved with a second cleanse for a non-greasy finish.
Rating: 5 stars
This is a brilliant cleansing oil that's non-irritating and non-stripping. I love it.
4. Haruharu Wonder Black Rice Hyaluronic Toner for Sensitive Skin
£17 for 150ml
The Black Rice Hyaluronic Toner for Sensitive Skin is the sensitive skin version of Haruharu Wonder's hero Black Rice Hyaluronic Toner (which I've seen loads on social media).
This version is free from alcohol and fragrance. And it's properly free from fragrance, as it contains no essential oils. So many brands will say a product is fragrance-free and then still include essential oils, which are natural fragrances that can still irritate the skin! Props to Haruharu Wonder for truly delivering a fragrance-free toner.
There's a reason why this hyaluronic acid toner is so popular. It's super hydrating, soothing, and gentle for sensitive skin. After using it, my skin feels instantly quenched, refreshed, and soft. The consistency of the toner itself is super soft and thicker than a typical toner, but it's still lightweight and absorbent.
It's enriched with the humectant betaine, which can help improve uneven skin tone, as well as hydrating glycerin, dewy propanediol, and skin-conditioning rice bran extract.
I can always count on this toner to deliver moisture that lasts all day.
Rating: 5 stars
I have 0 complaints about this toner. It just works.
5. Haruharu Wonder Black Rice Moisture 5.5 Soft Cleansing Gel
£16 for 100ml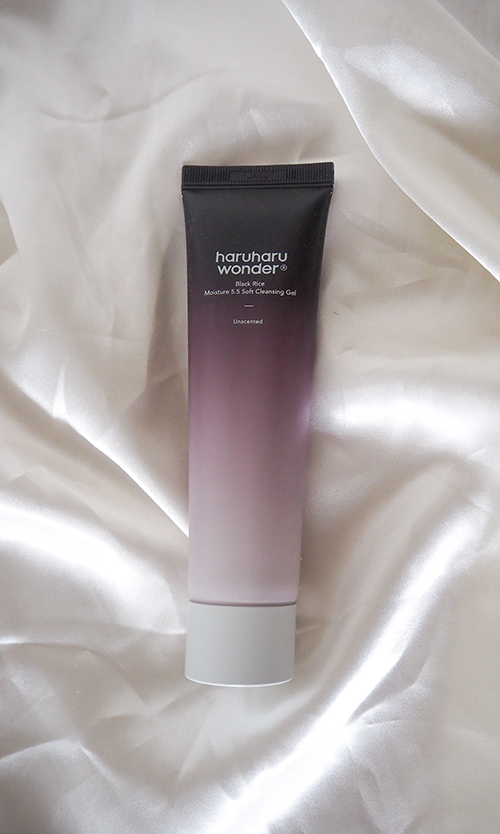 The Haruharu Wonder Black Rice Moisture 5.5 Soft Cleansing Gel is excellent. This gel cleanser works into a creamy – but not foamy – lather that's soft and gentle. It doesn't leave your skin with that tight, uncomfortable feeling after using a stripping cleanser. Instead, it makes my skin feel fresh, invigorated, and clean.
This cleanser incorporates hydrating glycerin, gentle cleansing agent coco-betaine, dewy propanediol, and humectant pentylene-glycol. After using this cleanser, not only is my skin effortlessly cleansed, but it also feels soft, moisturised, comfortable, and smooth.
The consistency of the cleanser is soft. A little bit goes a long way, as water turns it into a creamy lather. My sensitive skin absolutely agrees with this cleanser.
Rating: 5 stars
Another brilliant product.
Shop Haruharu Wonder at Skin Cupid and get 10% off with my code SARAH10. Shop here.
Overall Haruharu Wonder review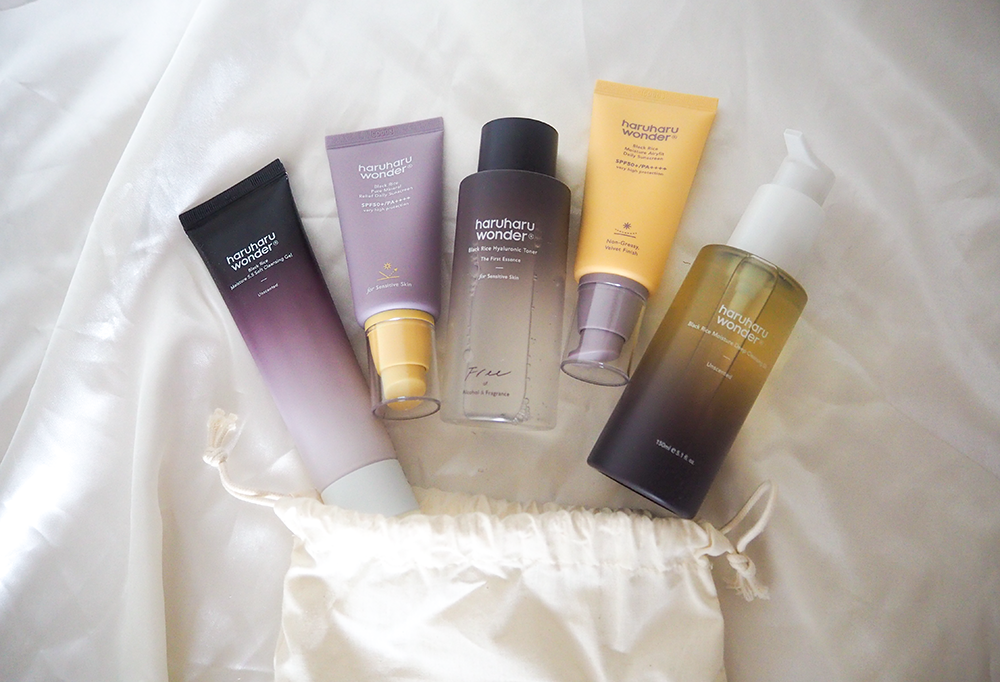 Haruharu Wonder is an excellent K-beauty brand that delivers excellent, gentle, and effective skincare products. Each product delivers on its claims, makes my skin very hydrated, and gives me a healthy and radiant complexion.
All of the products get 5 stars from me, besides the mineral sunscreen, which is still very good at 4.5 stars. They're definitely some of the nicest products I've tried, with excellent, uncomplicated INCI lists. In particular, the products are kind to my oily and rosacea-prone skin, as they're non-irritating and lightweight. They just work.
I also think the prices are very reasonable. Especially for the quality. They're absolutely worth investing in for healthy skin with a strong barrier.
I love this brand, and it 100% works for my rosacea.
Fave product
Black Rice Hyaluronic Toner for Sensitive Skin.
---
Have you tried Haruharu Wonder yet?