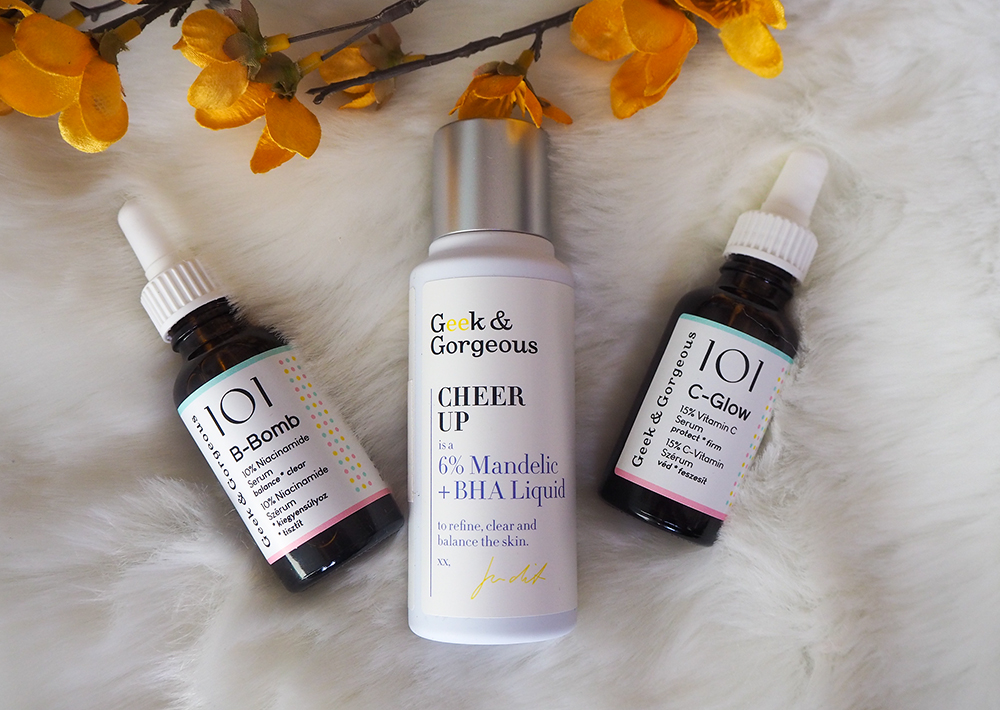 In this blog post, I'm going to be sharing my honest thoughts on a vitamin C serum, BHA exfoliant and niacinamide serum from Geek & Gorgeous.
Firstly, I'd like to say a big thank you to Geek & Gorgeous for gifting me these products to try. All of the skincare products I've been gifted are super affordable, making them a great choice for those who don't want to drop £60 on a serum. I've been trying each of the products for around 2 months to give you a fair review.
As with all of my brand collaborations, I always provide my honest thoughts about the products. If I don't think a product is very good, I will let you know!
So, if you'd like to hear my unbiased opinions about the Geek & Gorgeous skincare products I've tried, please keep on reading.
** This post contains some affiliate links. This means at no extra cost to you, I earn some commission if you purchase a product through my link. All thoughts are my own, though, as always. If you want to find out more, visit my affiliate disclosure page **
What is Geek & Gorgeous?
Founded in 2015, Geek & Gorgeous offers affordable skincare products for "beauty geeks". Each product is fragrance-, colourant- and drying-alcohol-free.
Our philosophy is based more on maximising what is good for the skin and minimising everything else.

Geek & Gorgeous
The brand aims to be transparent about its ingredient lists and the exact amount of actives in its products.
Geek & Gorgeous Cheer Up
30ml – £9/€10
100ml – £25/€28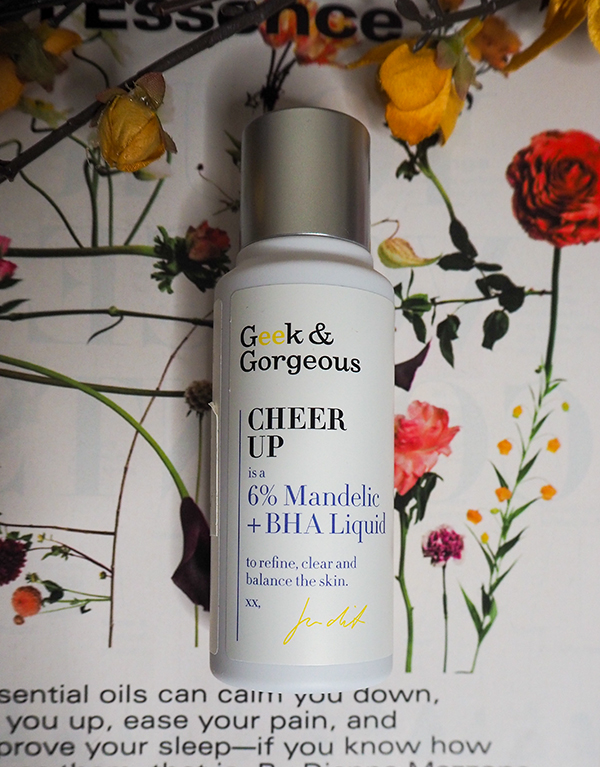 Product claims
Our medium-strong, combination skin focused exfoliant with 6% Mandelic Acid + BHA works both on the surface of the skin and inside the pores to clear and balance the complexion.

Geek & Gorgeous
The Cheer Up exfoliant claims to be lightweight and absorbent, which treats combination skin gently but effectively. It's supposed to exfoliate both the skin's surface and deep into the pores due to the salicylic acid.
With regular use, Geek & Gorgeous says that Cheer Up fights several of the typical problems of combination skin, including enlarged pores, extra oil production, blackheads, acne, and post-acne marks.
This exfoliant claims to be suitable for most skin types – including sensitive – but is particularly recommended for people with combination skin that struggles with acne, blackheads, too much oil production and enlarged pores.
Key ingredients
Mandelic acid: An alpha-hydroxy acid (AHA) known for its gentle exfoliating properties. This is a popular exfoliant for people with more sensitive skin
Salicylic acid: The only beta-hydroxy acid (BHA) that is known to help with blackheads and enlarged pores. This exfoliant is a popular choice for people with oilier skin types
Sarcosine: An amino-acid derived ingredient that helps to normalise oil production, tighten up enlarged pores and even out the skin's surface
My thoughts
I love this exfoliant. Mandelic acid and salicylic acid feature high up on the INCI list, so you know you're getting higher concentrations of the actives – 5% mandelic acid and 1% salicylic acid to be exact.
Since using Cheer Up, my skin feels softer and smoother, and my blackheads have decreased. I haven't got particularly large pores, so I don't think that needed much attention anyway. However, I've noticeably been less oily since using this exfoliant. My skin has got less oilier with age, but this mandelic and salicylic acid formula has 100% contributed to this too.
This product has quite a clinical, astringent smell. It doesn't contain fragrance, so if you prefer sweet smelling skincare products, you probably won't enjoy this. I personally love the clinical scent, so I'm all for it.
I'm really impressed with Cheer Up. It exfoliates the skin, without being stripping, and the key marketed ingredients feature high up on the INCI list. For around £9, this product is a total steal.
I'd definitely purchase this formula with my own money and would recommend it to anyone with oilier skin or those who want to diminish the number of blackheads they have.
Rating: 5 stars
Cheer Up is a fantastic, affordable exfoliating solution. I can't recommend it enough. It just goes to show that you don't need to spend loads on skincare products to get high-quality formulae.
Geek & Gorgeous C-Glow
£9.50/€10.50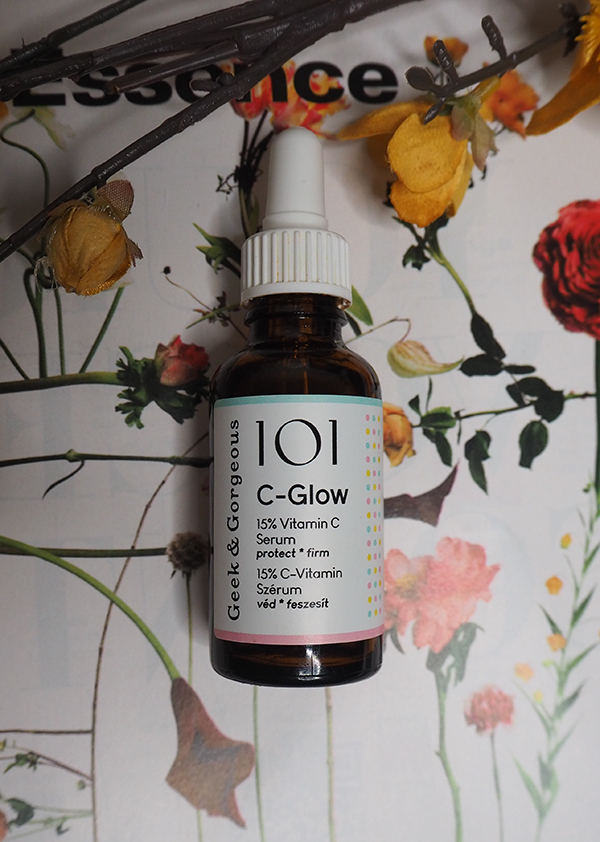 Product claims
A super-light, water-like 15% Vitamin C + extra antioxidants (Ferulic Acid & smaller amount of Vitamin E) formula to give the skin environmental protection, boost collagen and even the skin tone.

Geek & Gorgeous
C-Glow claims to be a water-light formula that aims to give the skin a healthy glow, while evening out and firming the skin's texture. It also helps with dark spots and dull skin.
This vitamin C serum is supposed to be suitable for all skin types except for people with sensitive, redness-prone skin, as C-Glow has low pH and high pure acid content.
Key ingredients
Absorbic acid 15% (vitamin C): Known to help fade hyperpigmentation, even out skin tone and gives the skin an instant glow
Glycerin: Hydrates the skin
Ferulic acid: An antioxidant that helps defend the skin against environmental assault
My thoughts
I really like Geek & Gorgeous' C-Glow serum. It's lightweight, absorbent and gives my skin a subtle glow on application.
I'm a huge fan of vitamin C as it makes the skin look gorgeously radiant. The C-Glow serum integrates fantastically into my skincare routine as it's incredibly lightweight. After absorbing into the skin, I don't know it's there, except for the subtle glow it gives me.
Geek & Gorgeous recommends that you store the serum in the fridge, where it keeps fresh at least for 3 months. Whereas at room temperature, it keeps for about 6 weeks.
I prefer the OSKIA Super-C Capsules as they give an instant and noticeable glow. Plus, the OSKIA vitamin C capsules smell like oranges, which is lovely.
However, the OSKIA Super-C Capsules are much oilier than the Geek & Gorgeous C-Glow, so people with oilier skin and those who don't likely oily formulae will most likely get on better with the C-Glow Serum.
Also, the price points are noticeably different. It's hard to fully compare as OSKIA's formula comes in capsule form whereas C-Glow comes in a bottle. For reference, 60 capsules from OSKIA cost £62, whereas a 30ml bottle of C-Glow costs roughly £9.50. So Geek & Gorgeous' formula is far more affordable and better value for money.
Rating: 4 stars
C-Glow isn't my favourite vitamin C formula, but it's a fantastic, affordable and lightweight option that gives a subtle glow. I'd be happy to use it again in the future.
Geek & Gorgeous B-Bomb
£7.50/€8.50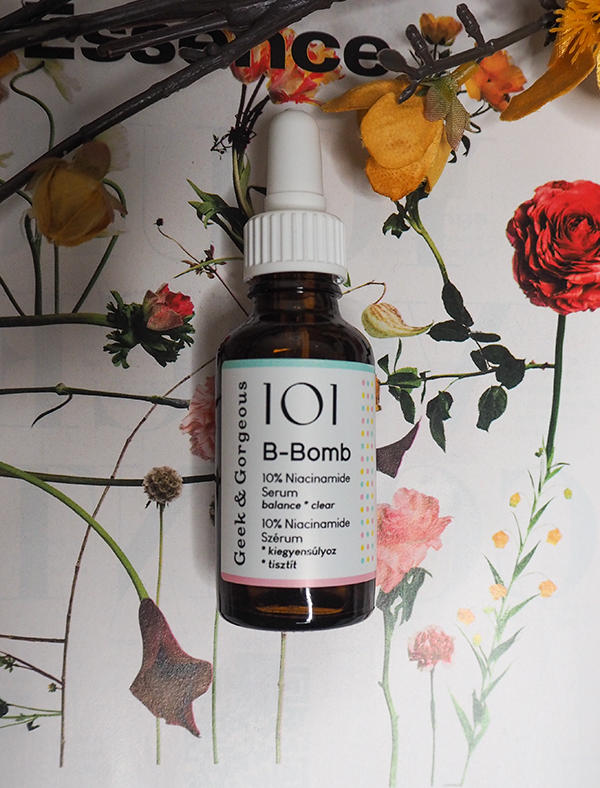 Product claims
A light and hydrating 10% Niacinamide (aka Vitamin B3), Zinc PCA and Sarcosine formula to help combination skin related problems such as enlarged pores, oiliness, and blemishes.

Geek & Gorgeous
Niacinamide is a multi-tasking powerhouse skincare ingredient that helps minimise the appearance of pores, soothe acne-prone skin, improve the skin barrier and lighten hyperpigmentation. B-Bomb contains 10% niacinamide, which promises to be ideal for improving the appearance of acne and blemish-prone skin.
Additionally, B-Bomb claims to be non-drying, lightweight and has a hydrating feel to it. It promises to integrate easily into different skincare routines due to the lightweight texture, which also makes it easy to layer this serum.
Geek & Gorgeous adds that it has a thin gel consistency that does not pill and plays well with the other products in a well-rounded skincare routine.
B-Bomb is designed to work for all skin types, but is especially recommended for oily and combination skin.
Key ingredients
Niacinamide (10%): AKA vitamin B3, this versatile ingredient helps to visibly minimise enlarged pores, tighten lax pores, improve uneven skin tone, soften fine lines and wrinkles, diminish dullness, and strengthen a weakened surface
Zinc PCA: known for its anti-ageing properties due to its ability to thwart destructive enzymes in skin that can damage its surface and lead to an aged, wrinkled appearance
Sarcosine: an oil-control agaent
My thoughts
This is the best niacinamide serum I've used. It's lightweight, absorbs quickly into the skin and plays well with other products in my skincare routine.
Niacinamide is fast becoming my favourite skincare product. B-Bomb has definitely helped even out my skin tone and make my skin look brighter. B-Bomb paired with C-Glow is a fantastic radiance-boosting duo. Although my skin isn't hugely oily anymore, since using this serum, I've noticed that foundations sit better on my skin.
For comparison purposes, I prefer B-Bomb to The Ordinary's niacinamide serum. I found The Ordinary's serum to be effective, but it had a gloopier texture that didn't always work well with other skincare products in my routine and it sometimes left a slightly sticky residue on my skin.
B-Bomb, on the other hand, never leaves a residue on my skin and works brilliantly with the rest of my routine. Geek & Gorgeous' niacinimade is £2 more than The Ordinary's niacinamide solution for the same size bottle (30ml).
Rating: 5 stars
B-Bomb is fantastic. It's helped regulate my skin's oil production, even out my skin tone and has made my skin look glowier. The best part is that it's very affordable, so I'd 100% try it again.
My thoughts on the Geek & Gorgeous skincare products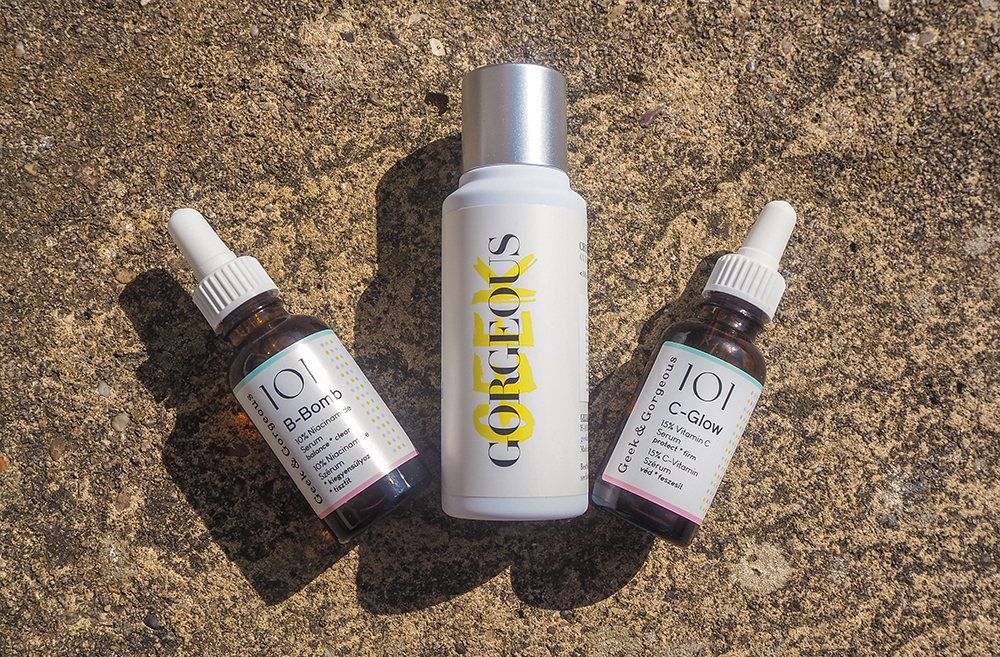 I've been really impressed with all of Geek & Gorgeous' skincare products. They're affordable, all of the marketed materials feature high up on the INCI list, and have definitely contributed to my skin look healthier.
Each product is explained brilliantly on the website too, so it doesn't leave any room for guessing. I love the transparent approach the brand takes to telling consumers exactly what's in its products. I hate it when skincare brands tell customers what's not in their products and use fearmongering tactics to push people into buying their items in the promise of 'non-toxic' solutions.
Geek & Gorgeous is different. Transparent, knows what it's talking about it, and produces high-quality formulae at affordable price points. In my experience of using these products, I prefer Geek & Gorgeous to The Ordinary.
Favourite product from Geek & Gorgeous?
It would have to be B-Bomb. I love how easily this niacinimade formula integrates into my skincare routine.
Where to buy
You can purchase any of these products from the Geek & Gorgeous website. The brand ships worldwide, with shipping to the UK free when you spend over €50 (£45).
Final thoughts on the Geek & Gorgeous skincare products
I love all of the products I've tried from Geek & Gorgeous. It's a brilliant indie skincare brand that I will certainly be trying more from in the future! This is a great skincare brand to check out and I can't recommend it enough to all skincare enthusiasts.