Last Updated on 18th October 2023 by Sarah Sarsby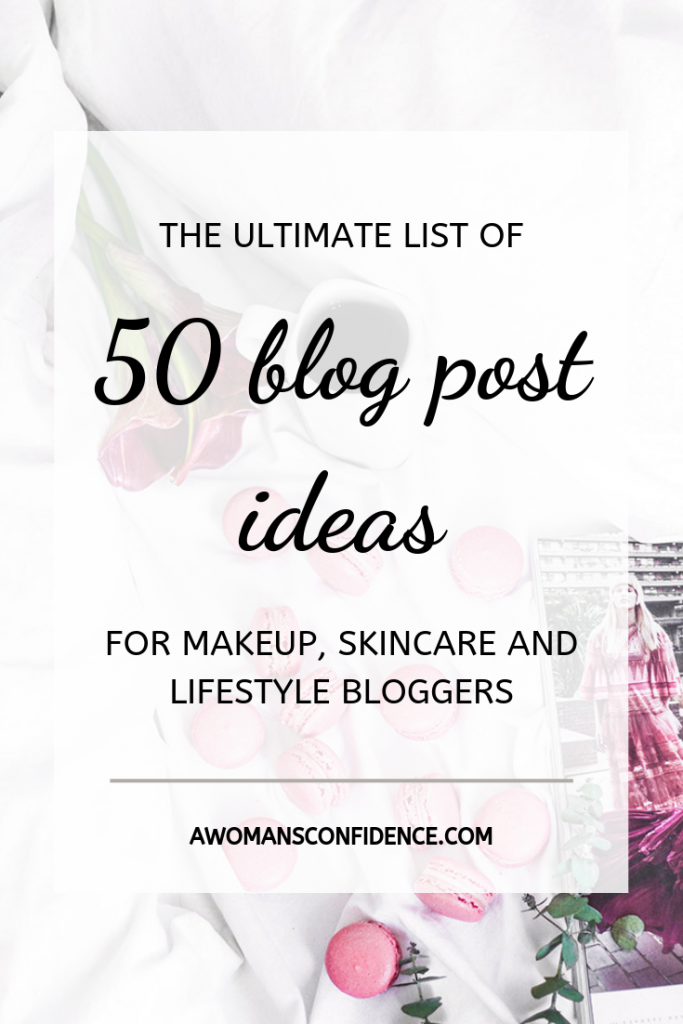 Sometimes coming up with interesting blog post ideas is really difficult, especially if you're new to blogging or you feel like you've exhausted your best ideas.
I sometimes get writer's block or feel like my writing is becoming a bit static and just need a bit of inspiration to get me back on track.
These 50 blog post ideas for makeup, skincare and lifestyle bloggers should help you on your way to creating engaging posts that keep your readers coming back for more. I hope you find some useful ideas in the list!
Makeup
1 – Product review
2 – High-end product vs drugstore product
3 – Start a monthly faves series where you share your top products for the month
4 – What's in my makeup bag?
5 – Your favourite vegan or cruelty-free products
6 – Share a recent haul
7 – Do a full brand review where you try out a load of a company's products
8 – Recreate a celebrity look
9 – What's on my makeup wish list?
10 – Seasonal makeup look, e.g. spring/summer/autumn/winter
11 – Everyday makeup look
12 – Full face using only drugstore products
13 – Share top tips for flawless makeup application
14 – Your top high-end makeup products
15 – Makeup dupes
16 – Fave products of all time
Skincare
18 – The best skincare products for oily/dry/combination/sensitive skin
19 – Product review
21 – 10 common mistakes people make with their skin and where they can get professional knowledge about skincare
22 – Try a 10-step Korean skincare routine
23 – Start a monthly faves series
24 – Do a brand review of a popular skincare brand
25 – Top 3 essential products you need to have in your skincare routine
26 – Compare a high-end skincare product to an affordable skincare product with the same ingredients
27 – Top drugstore steals
28 – Holy grain skincare products
29 – Rate your five best: cleansers/toners/moisturisers/facial oils etc.
30 – How to get flawless skin
31 – Luxury skincare products worth the splurge
32 – How to get rid of stubborn blackheads
Lifestyle
33 – How to stay motivated
34 – Why you decided to start a blog
35 – Share your fitness routine
36 – Share your top 10 tips for living a healthy lifestyle
37 – Give some simple but satisfying self-care ideas
38 – How to be organised
39 – How to be a confident and happy person
40 – Top tips for social media growth
41 – 5 ways to reduce anxiety/stress
42 – 10 things you are grateful for
43 – Selfie Sunday: Get to know me
44 – Your favourite blogs/bloggers
45 – Host a giveaway
46 – Share a day in your life
47 – How do you plan your blog content?
48 – 20 things you can't live without
49 – Top money saving tips
50 – Your outfit of the day
---
I hope you enjoyed this list of blog post ideas and that you can use some of these ideas for your own blog. Happy blogging everybody!