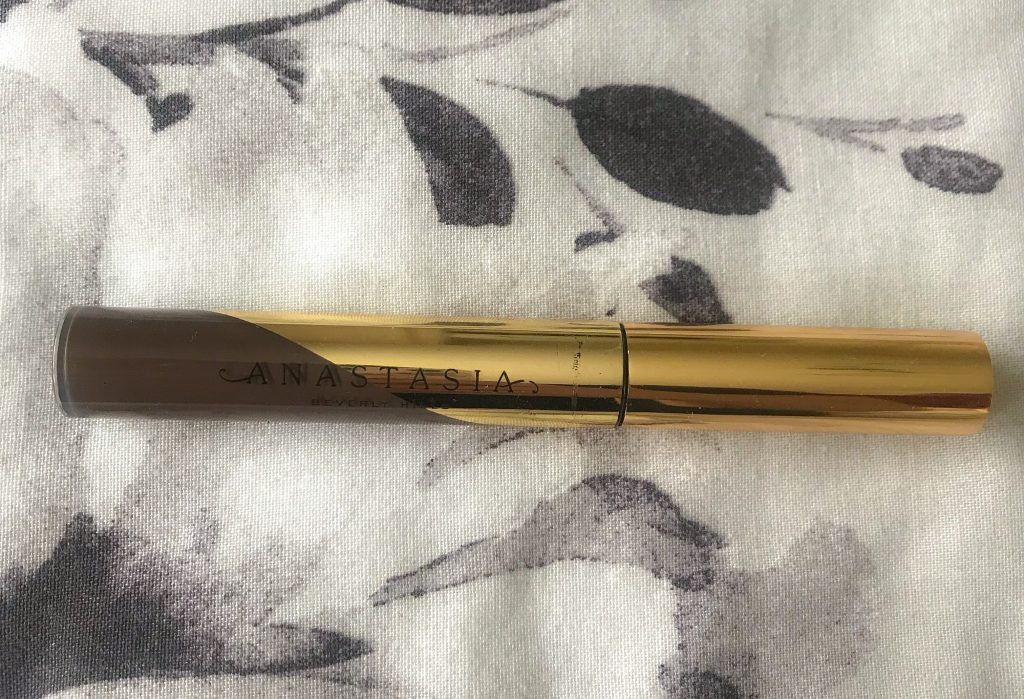 When Anastasia Beverly Hills launched the Dipbrow Gel, I was so excited to try it out because the ABH Dipbrow Pomade was easily my fave eyebrow product before.
I wrote a little bit about the Dipbrow Gel in my April faves post last week, but I wanted to provide a more in-depth review of the product.
Everyone knows that Anastasia Beverly Hills is the queen of eyebrow products, so how would its latest product live up to its eyebrow legacy?
What is Anastasia Beverly Hills?
Does Anastasia Beverly Hills really need an introduction? Anastasia Beverly Hills is a popular US-based beauty brand. The CEO, Anastasia Soare, is well-known for creating gorgeous eyebrows and is the reason that brows are so popular in the makeup world today.
Some of the most iconic products include the legendary DIPBROW Pomade, Modern Renaissance Eyeshadow Palette and Liquid Lipstick.
Anastasia Beverly Hills Diprbow Gel claims
Anastasia Beverly Hills DIPBROW® Gel is a highly pigmented eyebrow gel with a long-lasting, waterproof formula available in 11 shades to help achieve fuller-looking, more defined brows.

Anastasia Beverly Hills
The Dipbrow Gel promises to deliver a rich colour payoff to make your brows look fuller but still natural. Anastasia Beverly Hills says the product dries down to a seamless matte finish. Dipbrow Gel also claims to last for over 12 hours and promises to apply easily and flexibly.
Buying the product
As my Dipbrow Pomade had run out, I thought it would be the perfect time to get the Dipbrow Gel.
But I had some questions first.
I'd heard that the eyebrow gel was really quick to use and filled in your brows effortlessly, but could be a little messy to apply. I don't have a particularly steady hand, so this bothered me.
So, while I was at Selfridges in Birmingham, I asked the lady behind the ABH counter about the messiness of the Dipbrow Gel. She explained that it can be a bit messy, but you just need to have light hands while applying the product and use the right eyebrow brush.
She said that you need an eyebrow brush that's very thin and precise to fill in the more intricate area of your brows, like the tail, as the wand in the eyebrow gel is similar to a mascara brush.
But, after she put a small amount of product on the thin eyebrow brush (seriously you don't need much, it's hella pigmented) and applied the product lightly through my brows, I loved the look of my brows and was completely sold!
She recommended the Anastasia Angled Flat Brow Brush 7B to go with the Dipbrow Gel, which is a double-ended eyebrow brush with a thin, angled brush with synthetic bristles on one side and a mascara-like brush on the other – perfect for dispersing the product through your brows to ensure your brows aren't too heavy or harsh.
First impressions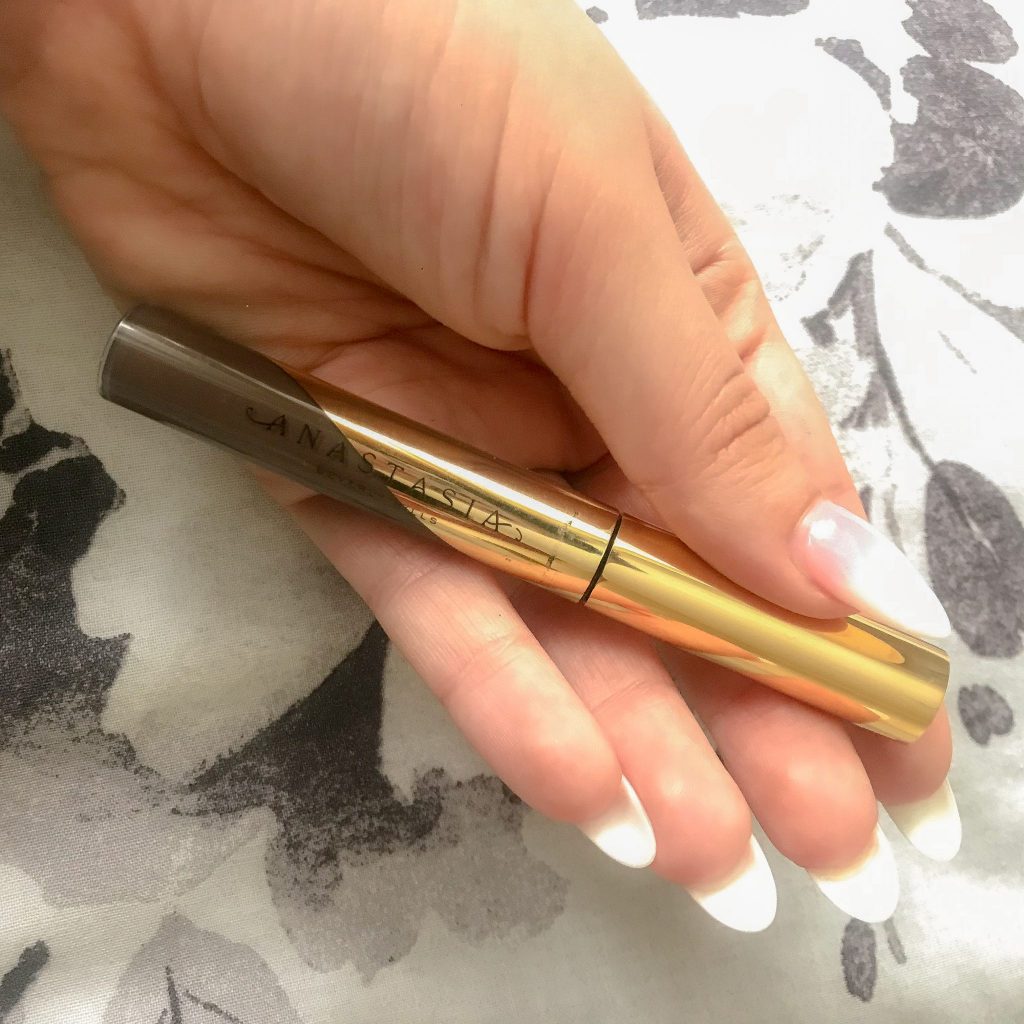 When I first tried this product, my first thought was: wow, PIGMENT.
The Dipbrow Gel packs so much colour and you only need a little bit of product to really fill in those brows, so apply with caution.
It was a bit messy to use at first as I wasn't used to having a gel-based eyebrow product, but it cleaned up really easily with a bit of concealer.
When I did the tail of my brow, I used the 7B eyebrow brush to get a bit of product on the brush. I then drew on the tail of my brow, which was super easy to do and I was really happy with how it turned out.
Although it wasn't my neatest work ever, applying the product was very quick – much quicker than using the Dipbrow Pomade – and I felt it was more a case of getting used to the gel as it wasn't hard to use at all. I'm not a makeup artist, so I have to try out different techniques to find out what works best for me.
All in all, I liked the product so far.
One month on
I feel like I've mastered the technique of applying the Dipbrow Gel now and it took me no time to get to grips with it. For me, it's just about using a precise brush for intricate details and using the mascara side of the eyebrow brush to disperse the product through the brows.
Using the gel has saved me a huge amount of time in my makeup routine. I used to spend around 10 minutes on my brows with the Dipbrow Pomade before as I felt like it was pretty easy to mess up or apply too much. Now, it takes me a few minutes.
I've found the Dipbrow Gel easier to use and if you do mess up, it's easy to wipe away the mistakes, as long as you do it while the gel is still wet. Plus, if you apply too much, dispersing this product through your brows is a breeze and means that any harsh lines disappear.
Longevity
One of my favourite things about the ABH Dipbrow Pomade is its longevity. This shit does not budge.
Dipbrow Gel won't wear off as the day goes on at all. Plus, it's waterproof. So, if it does rain or it's a warm day and you're a bit sweaty, you don't need to worry about your brows falling off your face.
The Dipbrow Gel 100% lasts as well on your brows as the Dipbrow Pomade does.
Where to buy
The Dipbrow Gel retails for a modest £19, which I think is reasonable for the quality of the product.
You can get this from the Anastasia Beverly Hills website, Beauty Bay or Cult Beauty. At the time of writing this post, the product was retailing for £17 on Beauty Bay – so get it on there if you can!
Final thoughts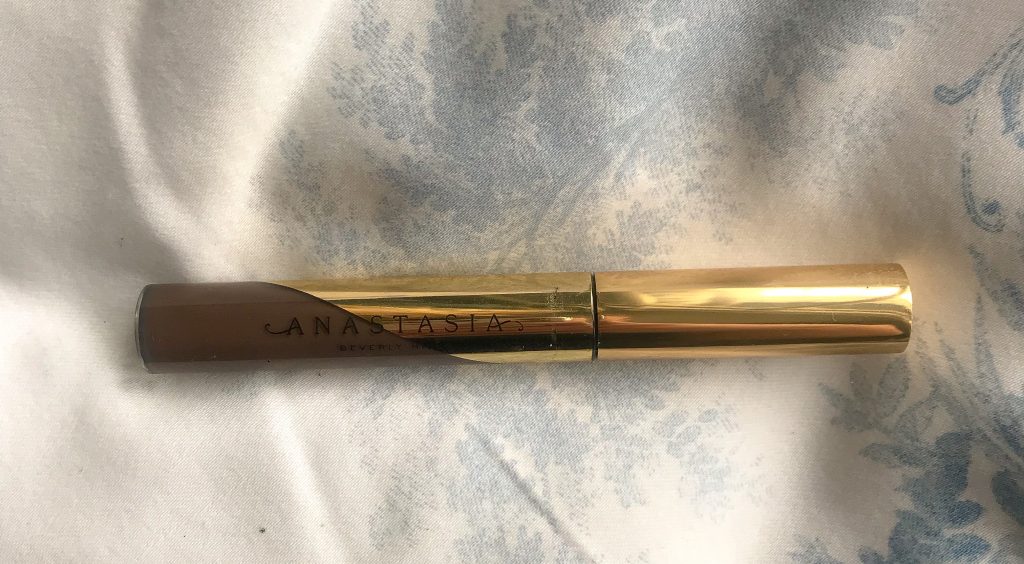 I have nothing bad to say about this product. The price is good, it lasts for ages, it's quick and easy to apply, and leaves your brows looking full and defined. What's not to like?
I definitely prefer the Anastasia Beverly hills Dipbrow Gel to the Dipbrow Pomade and I'm really pleased with it. If you're looking for a new eyebrow product, I'd recommend this one through and through.
Rating: 5 stars
It's well worth buying.
---
Would you ever consider getting an eyebrow gel? Let me know your thoughts in the comments