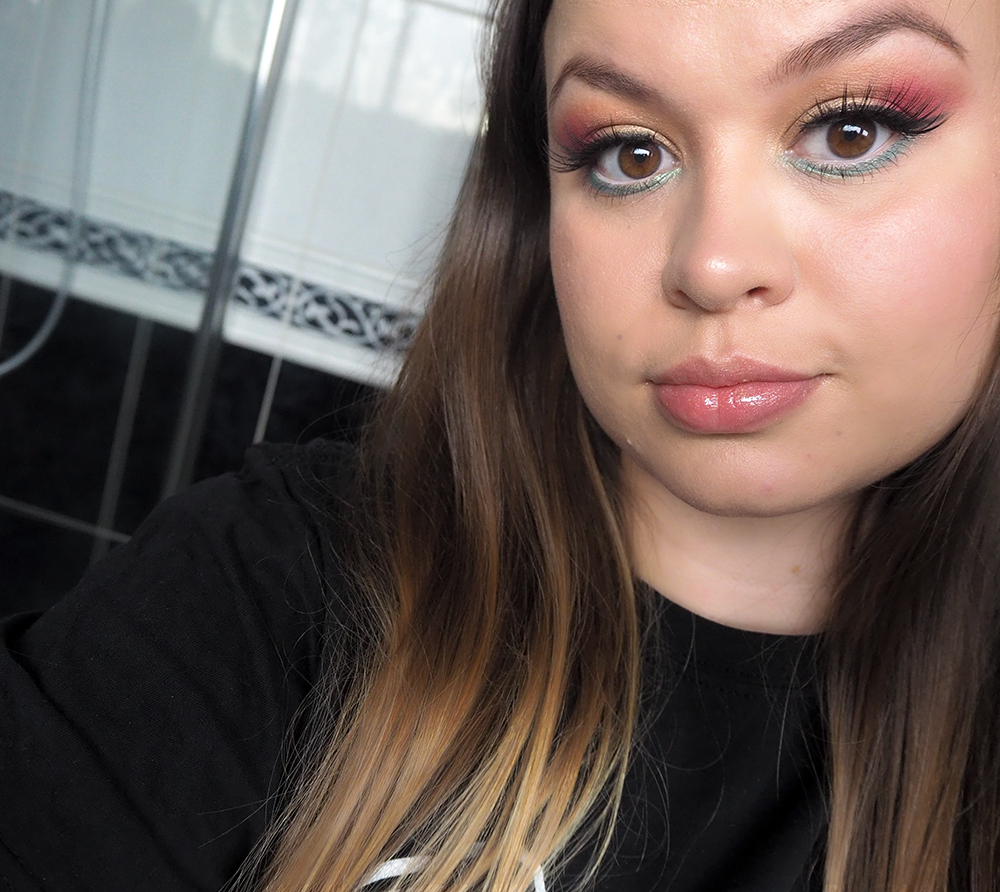 Recently, I've been obsessed with tropical makeup looks and love how people can use bright colours without being OTT. So, I wanted to create my own tropical makeup look for my blog.
I'm not always a fan of extremely colourful makeup looks. Although I can appreciate the artistry and technicality behind them, I sometimes think they're OTT and not wearable. However, I love eyeshadow looks that incorporate a pop of colour or use a sophisticated colour palette.
Tropical eyeshadow, graphic eyeliner and pastel tones have been dominating the makeup world recently. Having created a graphic eyeliner look already, I wanted to try a tropical eyeshadow look.
In this blog post, I'm going to share the YouTube tutorial I followed to create this look as well as the products I used. I hope you like it as much as I do!
Products used
Base
Primer: Smashbox Photo Finish Foundation Primer
Foundation: IT Cosmetics Your Skin But Better CC+ Cream with SPF 50 in Light
Concealer: Tarte Shape Tape Concealer in Light Neutral
Setting powder: RCMA No-Color Powder
Contour: Nip + Fab Contouring Powder Palette Light
Bronzer: Soleil Tan de Chanel
Blusher: Fenty Beauty Cheeks Out Freestyle Cream Blush in Petal Poppin
Highlighter: Anastasia Beverly Hills Amrezy Highlighter
Setting spray: Colourpop All Star Matte Setting Spray
Eyes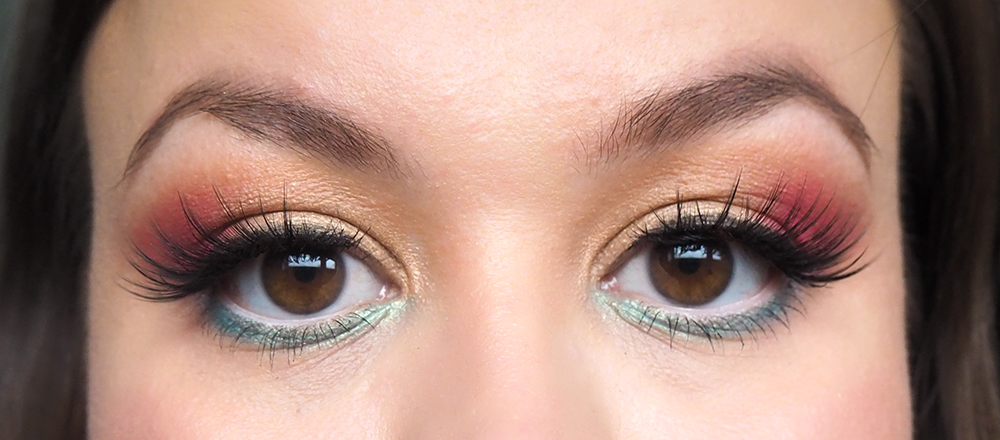 Lips
Creating the tropical makeup look
To create this playful tropical makeup look, I followed a makeup tutorial from Dulce Candy.
I love the colour palette she used. I also think the pop of pink and bright teal shadow work perfectly together. Plus, gloss for summer is a must. I've been obsessed with lip gloss recently because it complements a bold eyeshadow look so well.
Obviously the standout part of this makeup look is the eyeshadow, so I didn't do anything too wild with my base. I did some light contouring around my cheekbones, bronzed and added my new Fenty Beauty Cream Blush to my cheeks.
The pink blusher, paired with the iconic Anastasia Beverly Hills x Amrexy Highlighter – a gorgeous champagne gold shade – made my eyeshadow pop. I love cohesive makeup looks, so this made me super happy.
I used a new lip gloss from Autograph, which is a gorgeous nude peach shade with flecks of gold glitter.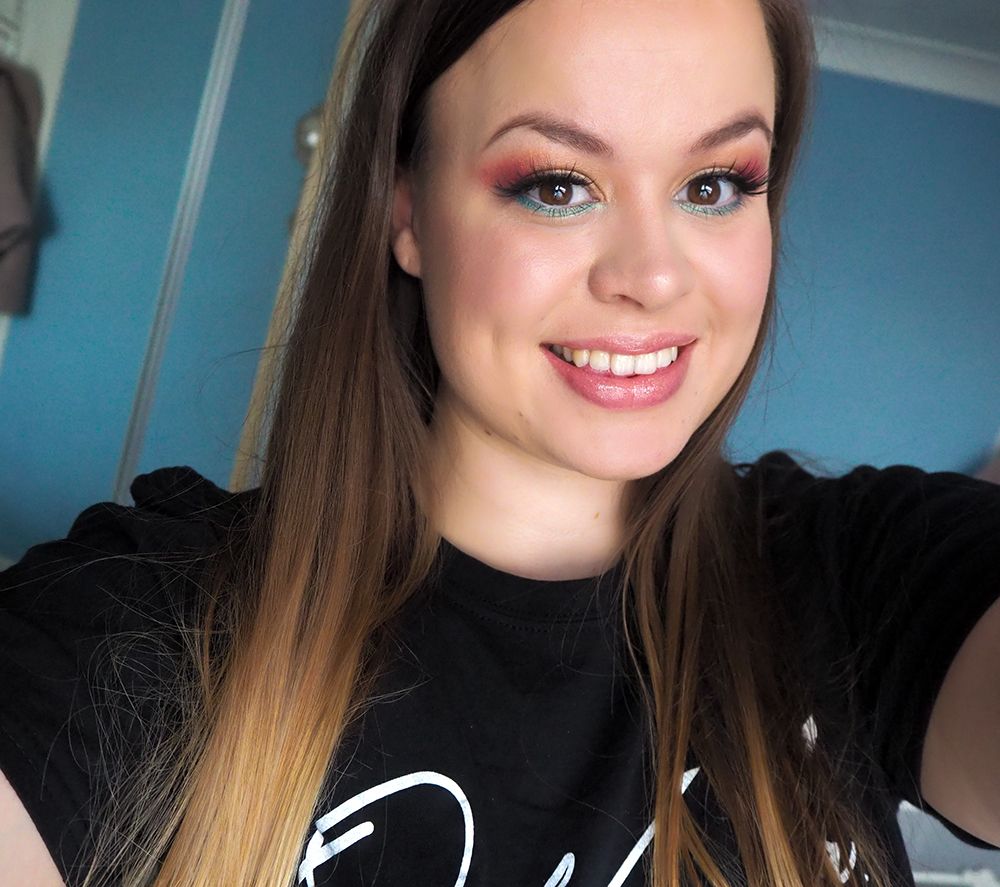 The eyeshadow look was easy to create as I just used 4 colours. After priming my eyes, I applied a gold shimmer all over my lids and up to my crease. Then, I took a neutral, matte brown shade and swept this across my brow bone and in my outer corners to add depth.
Following this, I applied two bright pink eyeshadows on my outer corners from the Beauty Bay Bright Matte Palette and Sarazaar Culture Shook Palette. To keep the intense pink tone, I only blended out the edges of the pink shadow.
Finally, I applied a shimmery teal shade under my eyes to add a pop of colour. This is my favourite part of the tropical makeup look because it's really fun but still pretty.
My thoughts
I think this makeup look is really pretty and the colour palette works surprisingly well together. This is a great look for summer and will be perfect for when we can finally go abroad again once this pandemic is over.
I love how this tropical look turned out and it's inspired me to keep playing around with different eyeshadow colours. What do you guys think?