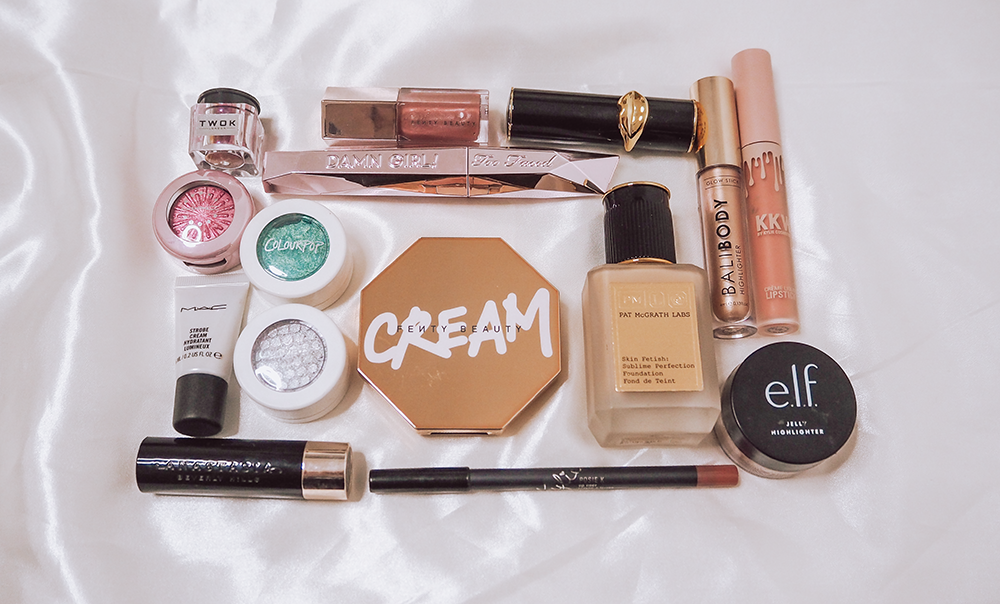 In this post, I'm going to be answering the beauty YouTuber Allie Gline's 21 Questions: Makeup edition tag, where I answer all sorts of questions about makeup.
This is a light-hearted makeup tag, where I go through a series of "21 Questions" style of questions. From this post, you can learn about my earliest makeup memories, makeup trends I hate, my favourite makeup look ever, overrated products, and so much more.
Allie's original 21 Questions makeup tag is in the video below:
I'm aware that this makeup tag was created over a year ago lol. However, I've recently felt re-inspired to participate in some makeup tags, as I find these blog posts fun to write. So, if you want to see my answers to the 21 Questions: Makeup edition tag, then please keep on reading.
Oh, and of course, if you want to participate in this tag, go for it! I'd love to learn more about you, so if you decide to participate in this tag, let me know, and then I can read your answers.
** This post contains some affiliate links. This means at no extra cost to you, I earn some commission if you purchase a product through my link. All thoughts are my own, though, as always. If you want to find out more, visit my affiliate disclosure page **
1. What is the oldest makeup product in your collection?
The original Urban Decay Naked Palette, which has since been discontinued. I've probably owned this eyeshadow palette for a good 7 years. I should chuck it to be honest lol.
2. What is your most recent makeup purchase?
The Charlotte Tilbury Filmstar Bronze & Glow contour palette. It should come as no surprise that I absolutely love this product. I'm not good at contouring, but this palette makes it so easy to do.
3. What is the first makeup product you ever used?
I think it was Maybelline mascara. Something tells me it was the False Lash Effect Mascara, so I'm going to go with that. I used to love Maybelline mascaras back in the day. To be honest, they're still amazing now.
4. What is a makeup trend that you used to love but now you hate?
Thick and heavily sculpted eyebrows back in 2016. Those slugs are not for me anymore. Although I did like this trend a lot back then, I never liked it on me. But, I did love it on other people. I definitely prefer a more natural and fluffier brow nowadays (although I'm not keen on soap brows that look a bit crazy).
5. What is a makeup trend that you used to hate but now you love?
I used to hate pink blusher. It was never exactly a "trend", but I really hated the idea of pink blusher. Now, with lots of dewy formulae out there, and some soft muted pink shades available, I absolutely love soft pink blusher. It can look really romantic.
6. What is your favourite step in your makeup routine?
Eyeshadow. Easily. Some of my favourite eyeshadow palettes are the Huda Beauty The New Nude Eyeshadow Palette, Dior Backstage Eye Palette Cool Neutrals, By Terry Terribly Paris Vip Expert Palette Paris By Light, and Anastasia Beverly Hills Norvina Eye Shadow Palette.
7. What is a makeup product you can't live without?
The IT Cosmetics Your Skin But Better CC+ Cream with SPF50. This is such a holy grail foundation for me that I think it'll always be in my makeup bag. It makes my skin look smooth, even, and glowy, without emphasising my skin texture.
8. What sparked your love for makeup?
Some of my friends back in school got me to wear some mascara and lip gloss for the first time, and I loved it. Before this point, I hadn't considered wearing makeup, but this changed everything. I was about 10 at the time. The actual makeup was utter trash, but I really liked wearing it.
9. What is the worst makeup look you've ever done?
Gosh, there are too many to mention. Some of my younger makeup looks were awful. The one below is particularly hideous:
What was I thinking? The patchy and completely unblended eyeshadow. The random and unnecessary pop of silver eyeshadow, the poorly applied lipstick… Consider yourself lucky that phone cameras took shoddy pictures back in 2010, so you don't have to witness much detail of this terrible makeup look.
The worst thing is, this definitely isn't the worst makeup look I've ever done. It's just the worst one I could find.
10. What is your favourite makeup look you've ever done?
Probably this dewy makeup look below: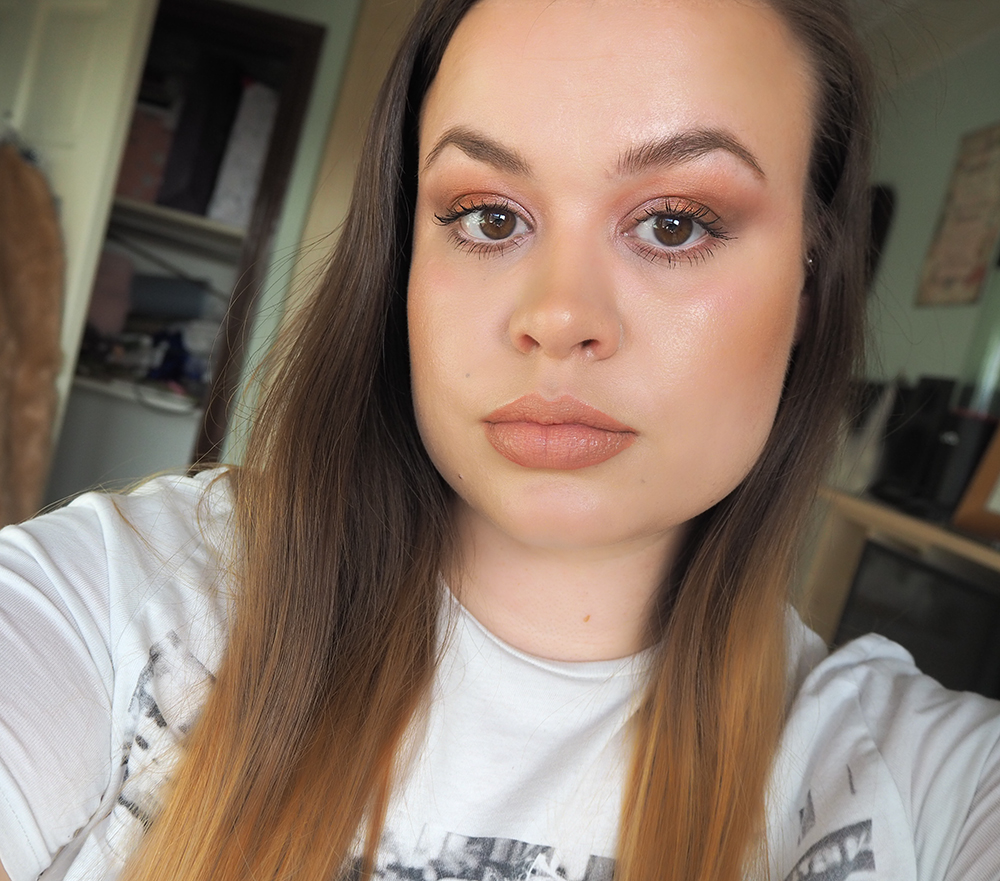 I really love how my base, eyeshadow and lipstick all complement one another. I'm particularly obsessed with this bronze/lilac eyeshadow moment. The By Terry Terribly Paris Vip Expert Palette Paris By Light is one of my favourite eyeshadow palettes ever. The colours and how they apply are dreamy.
11. What is your favourite drugstore makeup product?
The Maybelline Lifter Gloss springs to mind. I love the high-shine, no-shimmer, and non-sticky formula. I'd love to get some more shades of this gloss actually, as they all look beautiful.
Also, I have to mention the Jade Thirlwall x BEAUTY BAY 42 Colour Palette. This eyeshadow palette does it all, as it offers a beautiful shade range, buttery mattes, creamy shimmers, and crazy pigmentation. It performs as well as – and in some cases better than – most of my high-end eyeshadow palettes.
12. What is your favourite splurge makeup product?
This was a really tough question, as there are so many that I like, so I'm going to have to pick a few.
The Charlotte Tilbury Hollywood Flawless Filter is one of my favourite makeup products of all time. This dewy liquid formula can be worn as a primer for a dewy base, mixed in with foundation or moisturiser for an elevated glow, or on the high points of your face for captivating radiance.
The Tom Ford Lip Color in Night Mauve is a newer addition to my makeup collection, but this satin lipstick is simply *chef's kiss*. I love the shine, gorgeous mauve shade, and longevity of this lipstick.
I'm also addicted to the Pat McGrath Labs Skin Fetish: Sublime Perfection Foundation. This expensive foundation gives me a naturally glowy base with seamless coverage, every single time.
13. What is your most repurchased makeup product?
The Fenty Beauty Gloss Bomb. I rarely repurchase the same product twice because A) I love trying new products, and B) I struggle to get through my makeup collection due to not wearing makeup every day. However, I've already repurchased the Gloss Bomb once. This will continue long into the future too. I'm sure of it.
14. What is your earliest makeup memory?
Seeing Mum put on makeup before heading to work at Boots. This is a pretty vague memory, but this is as early as I can remember.
15. What is your favourite place to shop for makeup?
LookFantastic has amazing sales and a great selection of makeup products, so I'm going to say there!
16. What is the most underrated makeup product you own?
The TWOK London Loose Eye Shadow Pigment in Lady. I was gifted this product a while ago, and it's honestly amazing. The colour payoff is unreal, and I love the vibrant shimmery pink.
17. What is the most overrated makeup product you own?
The Diorshow Black Out mascara. This mascara got a lot of hype at the time, but it made my eyelashes so clumpy. I didn't get on with it at all.
18. What is a discontinued makeup product you wish would come back?
The By Terry Terribly Paris Vip Expert Palette Paris By Light. While the brand has released similar, updated versions of this eyeshadow palette, I don't think they compare to this one. The colour stories just aren't as special, and they all seem to lack the intriguing pink/lilac shade from the eyeshadow palette I've mentioned. I hope By Terry brings this one back, as I'd love to repurchase it when I finish my current one.
19. Where do you go for makeup inspiration?
On Instagram, I love Danessa Myricks, Katie Jane Hughes, Charlotte Tilbury, Hindash, and Hung Vanngo. These are some of my favourite makeup artists, and I love all of the different looks they create. Hindash is a personal favourite of mine, but I love all of these artists.
20. What do you hope to see LESS OF in makeup's future?
The stupid number of eyeshadow palette launches. Don't get me wrong, I love a good eyeshadow palette, but so many new releases all contain the same warm-toned or nude shades. It's boring. If you're going to launch an eyeshadow palette, make it unique.
21. What do you hope to see MORE OF in makeup's future?
Products that help you achieve the glossy lid look. This is a product area that seems to be lacking, even though I see a lot of glossy lids all over Instagram. More products that help you get this editorial look without the product feeling heavy or sticky on your lids would be amazing.