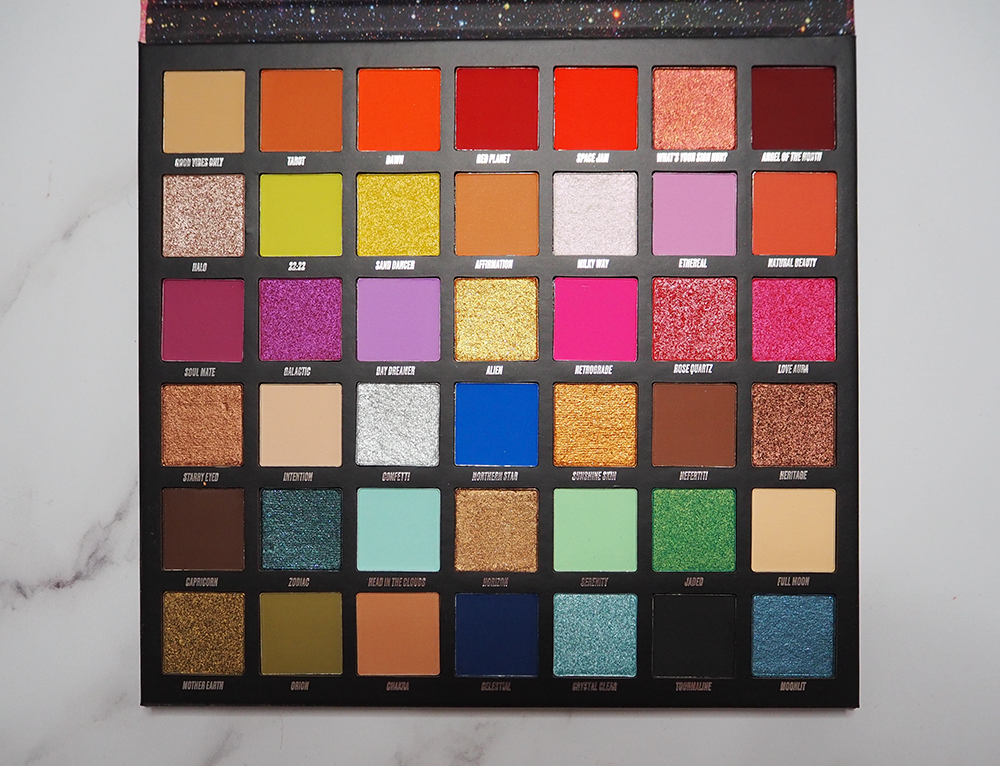 In this Jade Thirlwall x BEAUTY BAY 42 Colour Palette review, I discuss all of the reasons why this affordable, high-quality palette is such a staple in my makeup collection.
When this eyeshadow palette launched last October, I fell in love with it immediately. I loved the palette's colour story, as it has a great mix of everything. Vibrant shimmers, neutral mattes, cool tones, warm tones, dark shades, pastels – you name it, this palette has it.
I was very drawn to the palette's versatility. Some of the shades were genuinely so interesting and didn't feature in my current eyeshadow collection. Plus after enjoying the overall formula of the Beauty Bay EYN Bright Matte 42 Colour Palette, I wanted to give a newer Beauty Bay eyeshadow formula a try.
Spoiler alert: the Jade Thirlwall x BEAUTY BAY 42 Colour Palette is unreal. The quality is insane. Keep reading for swatches, some makeup looks using some of the shades, and my overall thoughts on this 42-pan eyeshadow palette.
What is Beauty Bay?
Beauty Bay is a large, online retailer of makeup, skincare, haircare, wellness, and body care products. It stocks a huge variety of brands from major multinational brands like Maybelline to popular Korean skincare brands like Dear, Klairs.
In 2018, Beauty Bay launched its own line called By Beauty Bay, which has become very popular. The cosmetics line is well renowned for its affordable yet high-performing eyeshadow palettes.
Who is Jade Thirlwall?
Jade Thirlwall is part of one of the biggest girl groups of all time – Little Mix. Not only does she have an incredible voice (she's my fave Little Mix member), but she's amazing at makeup.
Jade Thirlwall x BEAUTY BAY 42 Colour Palette claims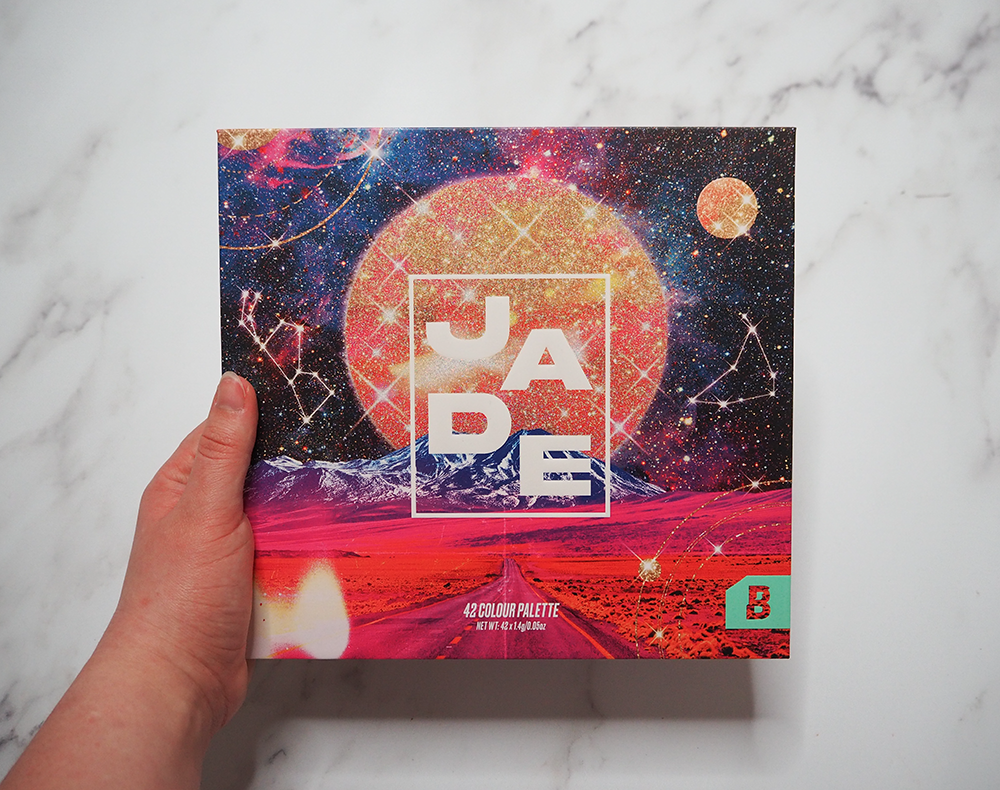 The Jade Thirlwall x BEAUTY BAY 42 Colour Palette promises to be intensely pigmented, blendable and long-lasting in Beauty Bay's "iconic" formula. It's vegan and cruelty-free with celestial matte and crystalised shimmer shades, according to the brand.
From the top left to the bottom right of the palette, the shades are described as follows:
Good Vibes Only – A dusty beige matte
Tarot – A burnt orange matte
Dawn – A bright orange matte
Red Planet – A red matte
Space Jam – A orange/red matte
What's Your Sign Hun? – A copper gold shimmer
Angel of the North – A burgundy matte
Halo – A nude shimmer
22:22 – A lime matte yellow
Sand Dancer – A yellow shimmer
Affirmation – A tan matte
Milky Way – A white/pink shimmer
Ethereal – A pale lilac Matte
Natural Beauty – A peach matte
Soul Mate – A deep purple matte
Galactic – A purple shimmer
Day Dreamer – A lilac matte
Alien – A gold shimmer
Retrograde – A bright pink matte
Rose Quartz – A peachy pink shimmer
Love Aura – A bright pink shimmer
Starry Eyed – A light brown shimmer
Intention – A cool nude matte
Confetti – A silver shimmer
Northern star – A royal blue matte
Sunshine skin – A copper shimmer
Nefertiti – A brown matte
Heritage – A brown shimmer
Capricorn – A deep brown matte
Zodiac – A deep teal shimmer
Head in the cloud – A pastel blue matte
Horizon – A bronze shimmer
Serenity – A pastel mint matte
Jaded – A jade shimmer
Full moon – A warm nude matte
Mother earth – A khaki shimmer
Orion – A khaki matte
Chakra – A deep nude matte
Celestial – A midnight blue matte
Crystal clear – A baby blue shimmer
Tourmaline – A matte black
Moonlit – A blue shimmer
Jade Thirlwall x BEAUTY BAY 42 Colour Palette swatches
Swatches should never be used as your ultimate decision as to whether to purchase a product or not as eyeshadows can perform better on the lids and makeup is very much down to the individual's preference. However, swatches can help you see how pigmented a particular product is and what the formula is like.
I swatched all 42 shades on my arm without primer: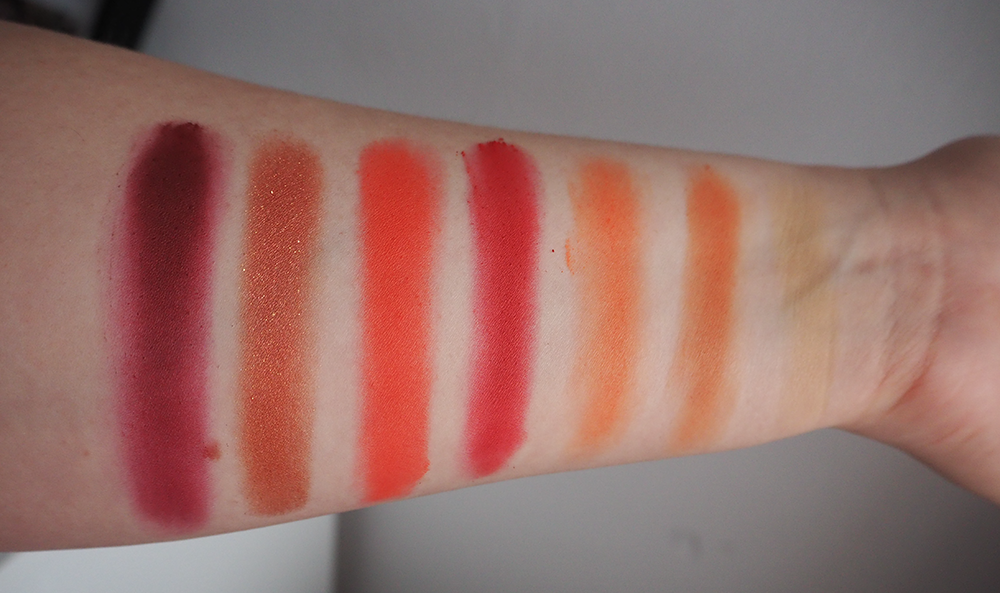 How stunning are the swatches?! With the exception of a few mattes that are a little chalky and patchy, each shade is richly pigmented and buttery smooth. I particularly loved the formula of the shimmers as they have an insane colour payoff and catch the light in the most beautiful way.
Makeup looks using the palette
I've shared a few makeup looks using the Jade Thirlwall x BEAUTY BAY 42 Colour Palette over on the 'Gram.
The first one is a classic warm-toned smokey eye paired with red lipstick. Your classic glam. I absolutely love how this eye makeup turned out, courtesy of my wonderful sister! The pop of gold shimmer really brings the smokey eye to life.
The second look is a more abstract eye with a pop of vibrant matte pink in my inner corners. Although this isn't my fave look, I wanted to experiment with some of the vivid shades in the palette as they're too good to miss. Plus, I never do these sorts of looks usually, so it was time to switch things up. I'm happy with the end result, and the mattes performed well.
Honest review
I'm so impressed with the Jade Thirlwall x BEAUTY BAY 42 Colour Palette.
Firstly, I love the whole astrology theme going on. The design on the front of the palette is stunning, and the shade names have a cosmic theme throughout. It's a very aesthetically pleasing eyeshadow palette.
Plus, the palette comes with a massive inside mirror. I pretty always opt for this palette when travelling as the mirror is so convenient.
The colour story is my favourite thing about this palette. There's a great range of shades, from wearable staples to experimental shades for when you want to push boundaries. There are also some truly unique shades. Orion, the khaki matte, is gorgeous. So is Rose Quartz, the peachy-pink shimmer, which reflects the light in a truly captivating way.
Unfortunately, there is some inconsistency with the formula. I'd say 85% of the shades have 10/10 formulation. They're buttery, pigmented, blendable and easy to build. All of the shimmers I've used have been exceptional.
However, a few of the mattes are a bit chalky and patchy. Although Orion is a shade that speaks to my soul, it's not that easy to work with. It's fairly patchy. Northern Star, the vivid royal blue matte, isn't as pigmented as many of the other shades either. It's a shame, but they're still workable.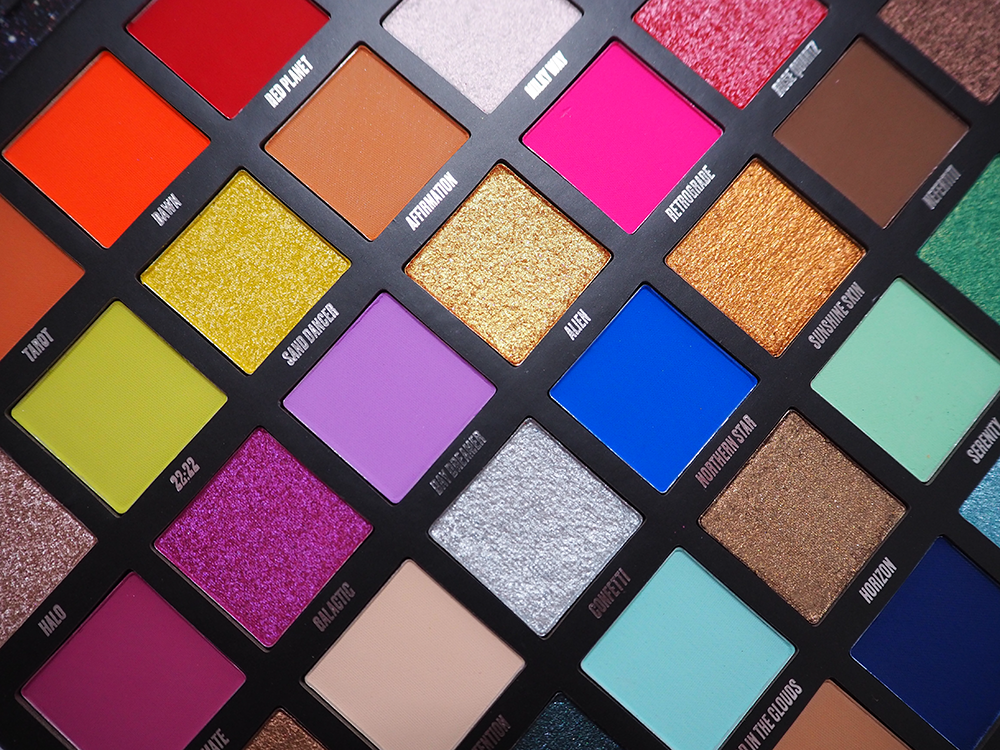 The shadows have incredible lasting power. They're some of the most long-wearing eyeshadows I've ever tried. After a full 8 hours out in Edinburgh, my eyeshadow didn't budge or fade hardly at all.
And this palette is so affordable. It costs £30 for 42 shades that are genuinely such good quality. Plus, the palette frequently goes on sale!
Where to buy
The Jade Thirlwall x BEAUTY BAY 42 Colour Palette costs £30 and is available at Beauty Bay. At the time of writing this post, the palette is currently on sale for £15!
Do I recommend the Jade Thirlwall x BEAUTY BAY 42 Colour Palette?
100%. If you're looking for a highly versatile and great quality eyeshadow palette, I can't recommend this one enough.
Rating: 4.5 stars
If the palette had a consistent formula throughout, this would get an easy 5 stars from me. I use it all of the time. However, some of the mattes are a bit patchy and powdery, so I can't quite justify 5 stars.
But this is a total steal for a whopping 42 shades. For the shimmers alone, the Jade Thirlwall x BEAUTY BAY 42 Colour Palette is worth picking up if you're an eyeshadow lover like me.
---
Do large eyeshadow palettes like this appeal to you, or do you prefer smaller palettes?