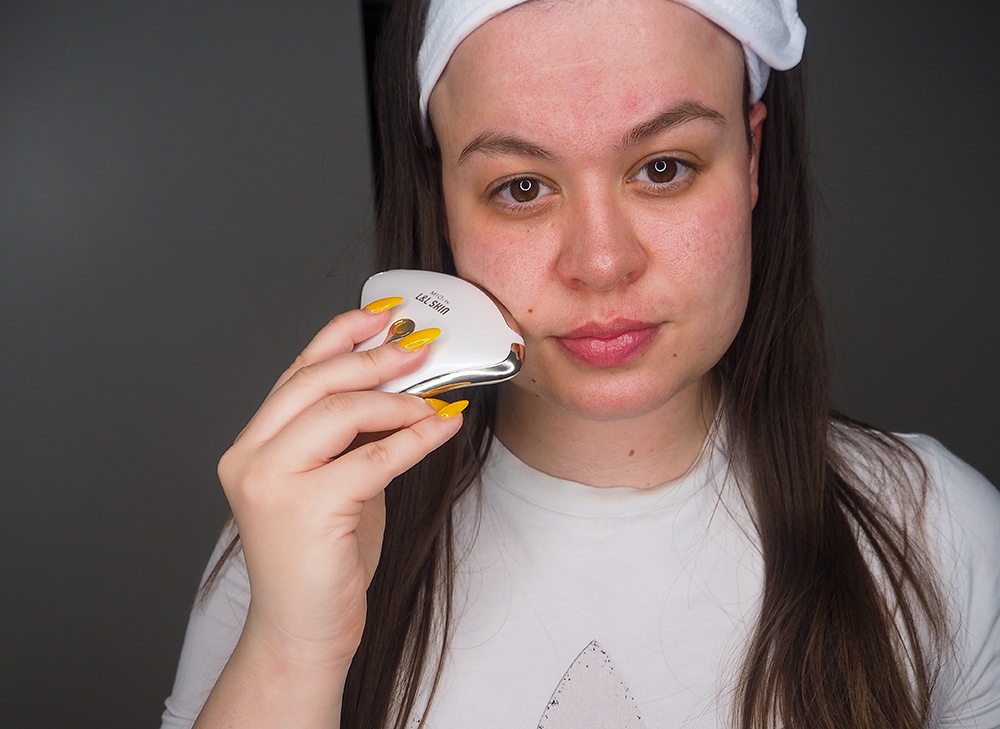 If you've ever wondered what gua sha is, how it works, and whether it's truly effective, this blog post is for you!
I was recently gifted the £200 heated L&L Skin MIO2 Gua Sha Face Lifting Device to try. This mini device has a lot of bold claims, including lifting the skin, relieving sore muscles, reducing inflammation, and promoting circulation. I was very curious to see whether this gua sha tool would meet its extensive claims or whether it's just another overpriced tool.
Keep reading to find out more about gua sha, how this electronic heated device works, and my experience with this boujee device.
** This post contains some affiliate links. This means, at no extra cost to you, I earn some commission if you purchase a product through my link. All thoughts are my own, as always. If you want to find out more, visit my affiliate disclosure page **
What is L&L Skin?
L&L Skin specialises in smart skincare devices and beauty tools that use the latest technology and promise remarkable anti-ageing effects. The Japanese firm says its devices will help your skin look healthy, radiant, toned, and firm.
What is gua sha?
Gua sha is a scraping and massaging treatment derived from traditional Chinese medicine that has been used for centuries to treat a number of different health conditions on all parts of the body.
Gua sha typically involves using a massage tool over the skin in short strokes to promote circulation and stimulate regeneration. It is designed to: relieve muscular tension, promote lymphatic drainage, make skin firmer and more lifted, and give the skin a brighter and healthier look.
L&L Skin MIO2 claims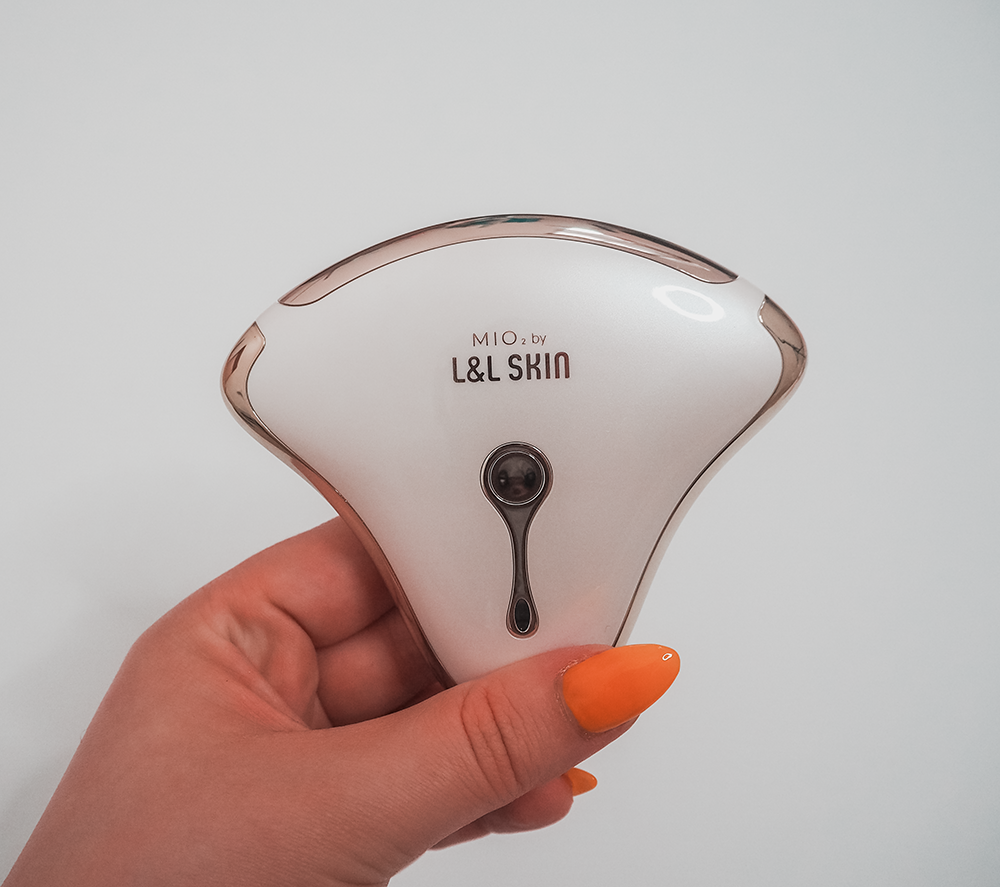 The L&L Skin MIO2 Gua Sha device is designed for the face, neck, and body. It promises to adapt to your facial contours to lift your face, while the heating system helps to make full use of your expensive serums and moisturisers.
The tool claims to relieve sore muscles, smooth fine lines, reduce inflammation, promote circulation and lymphatic drainage, and give you healthier and younger-looking skin. You're not supposed to feel any pain or have any side effects.
How to use the gua sha device
There are 2 modes available on the L&L Skin MIO2 Gua Sha: normal mode (sonic vibrating) and heating mode (heating + vibrating).
The instructions aren't very clear about when to use which mode. It seems like you're supposed to start off with the normal mode and move to the heating mode at the end of your gua sha session.
Watch the video below to find out how to use L&L Skin MIO2 Gua Sha in more detail:
To prep your skin, cleanse, then apply serums, moisturisers, and facial oils as per your normal routine. Applying a facial oil will help the tool glide across your skin, although just using a hydrating serum or moisturiser will work fine too.
You're supposed to gently glide the MIO2 across your forehead, eyes, cheeks, jawline and neck 5 times, repeating this process twice. Don't pull back and forth and never drag the device downwards on your skin. Gliding the device upwards is supposed to promote more lifted skin.
The device beeps every 2 minutes as a reminder. You're advised to use the gua sha tool for between 5-10 minutes every day.
Honest review
Below, I'm going to delve into what did and didn't work for me when trying the L&L Skin MIO2 Gua Sha. For reference, I've been using this heated device for about 1 week, I'm 26 (so not really wrinkly), and I have normal-oily skin.
What worked for me
Let's start with the positives.
The gua sha tool is very relaxing and helps relieve tension and muscular soreness. I always use the heated mode, and I feel like it literally melts the stress away – both mentally and physically. After using it on my face, my skin feels more relaxed. It also mentally helps ease any stress I have, as the whole process is very relaxing. I use the MIO2 Gua Sha as part of my bedtime routine for this reason.
I've not had any inflammation on my face since using this, but I'm very confident this device would be excellent for reducing inflammation on your face, neck, or body.
Although the results aren't game-changing, L&L Skin MIO2 Gua Sha makes my skin look a bit more radiant. It's quite a small difference – and only occurs once the immediate redness dies down after using the heated tool – but my skin does look a little more glowy after using this gua sha tool.
What didn't work for me
Unfortunately, this gua sha tool doesn't help smooth wrinkles. My skin looks no "younger" since using the gua sha device.
Similarly, L&L Skin MIO2 Gua Sha doesn't make my skin look more lifted or feel firmer. Honestly, I expected this. I've never used a skincare gadget that helps make the contours of my face more defined or give my face a lift. If I'm looking to sculpt my face, I opt for my trusty KKW Beauty Crème Contour Stick.
While I think this gua sha tool would likely improve circulation and promote lymphatic drainage, this isn't something I can test at home. To that end, there are no demonstrable benefits.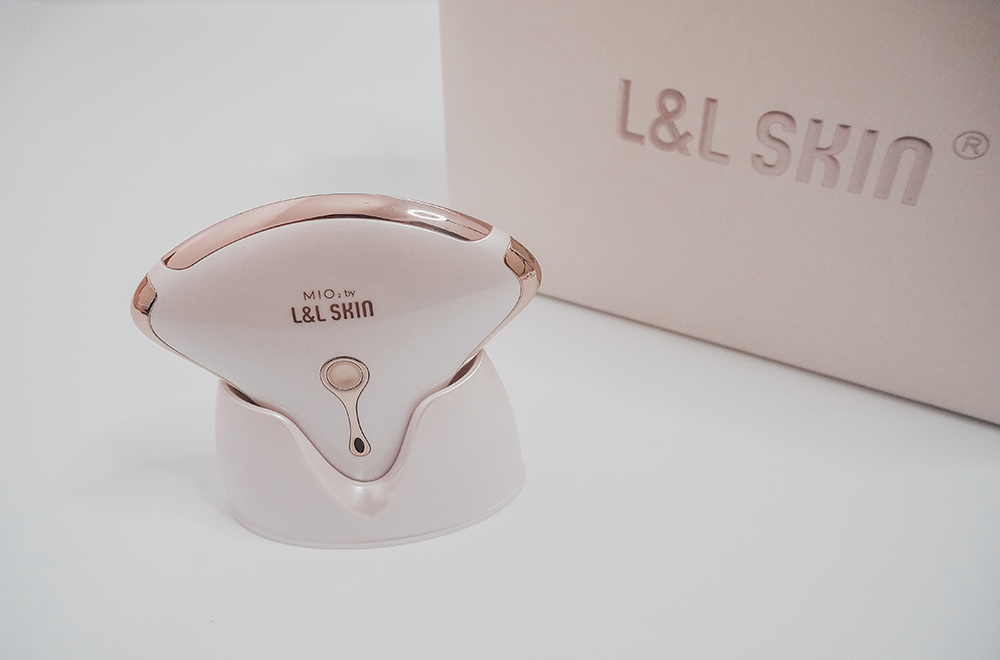 Where to buy
Retailing for £199.34, you can purchase the MIO2 gua sha tool directly from L&L Skin.
Do I recommend this heated gua sha tool?
As a stress-relieving tool, L&L Skin MIO2 Gua Sha is fab. However, it's a very expensive stress-busting device at about £200. I can't help but think you could find a much cheaper alternative and get similar benefits (except for the vibrating heated function, which is very relaxing).
As far as the anti-ageing and lifting benefits go, I don't think this gua sha device is your best option. Especially for the price point. My skin hasn't improved since using this tool.
Rating: 3 stars
I will continue using L&L Skin MIO2 Gua Sha because I find it very therapeutic and relaxing before bed. However, it's not a skincare game-changer, and the device didn't deliver on multiple of its claims.
---
What's your experience with gua sha?