Last Updated on 14th June 2020 by Sarah Sarsby
For today's post, I'm sharing some essential winter skincare tips to keep your skin healthy and hydrated during the harsh weather.
The wind is cutting, it's bitter outside and the central heating is blasting, all of which is not great for your skin. Your skin goes through a lot during the winter, so you need to keep on top of, and probably modify, your skincare routine.
But have no fear, I've got you covered with my simple winter skincare tips. I hope you (and your skin) find this post helpful!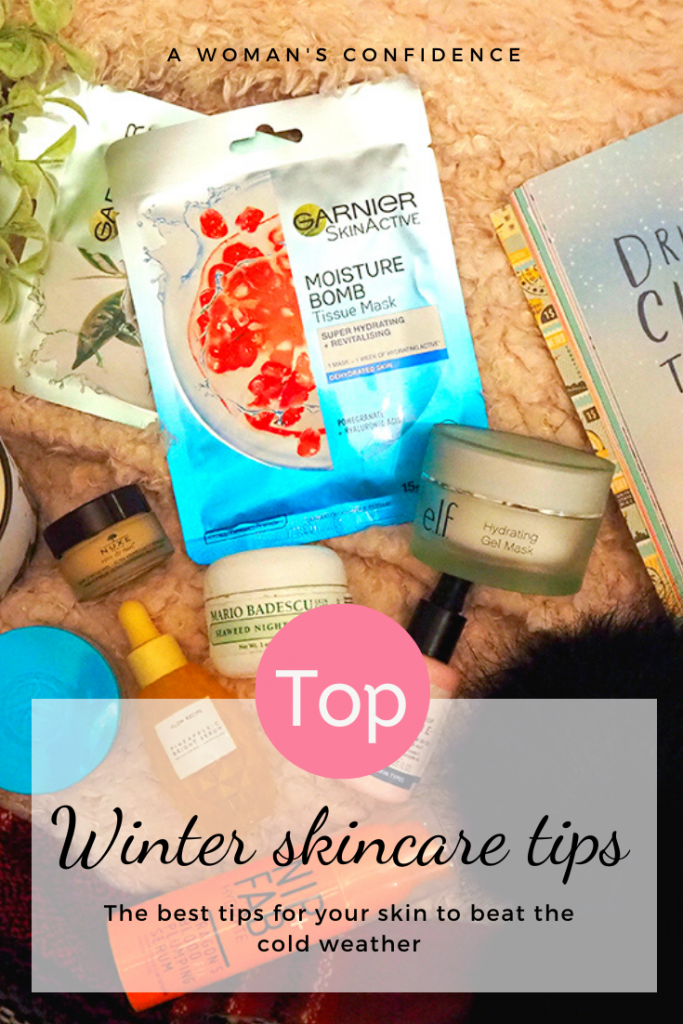 1. Switch your moisturiser
The first and most essential step is to upgrade your moisturiser during winter. Opt for something cream-based that's a bit heavier and will provide extra nourishment.
Winter can make your skin very dry, so choosing a cream-based formula instead of a gel or lotion will help restore that much-needed moisture in your skin.
The Kiehl's Ultra Facial Cream and the e.l.f. Cosmetics Hello Hydration! Face Cream (which made my May faves) are great options.
2. Invest in a good lip balm
Suffering from dry, chapped lips? Me too and I can't stand it. My lips often get dry during winter so investing in a good lip balm is vital for me. This ensures my lips stay soft and smooth.
I normally have two lip balms: one for the day which keeps my lips sufficiently moisturised and one for the nighttime for an intense overnight treatment.
For the day, my fave lip balm is the popular Burt's Bees Beeswax Lip Balm Stick. At night, I love the Nuxe Rêve de Miel Lip Balm, which has been pretty revolutionary for me. It's so nourishing and my lips always feel fresh, soft and restored by the morning.
3. Use products with hyaluronic acid in
Hyaluronic acid is well-known for its hydrating properties, which is ideal for colder weather. Keeping your skin hydrated prevents it from feeling dry or neglected, so using hyaluronic acid will ensure it gets the love it needs.
You could try the Fourth Ray Beauty Rainfall 2% Hyaluronic Acid Serum or the Nip+Fab Dragon's Blood Fix Plumping Serum, which both have a dosage of hydrating hyaluronic acid in them.
4. Drink lots of water
On the topic of hydration, ensure you're drinking lots of water. This isn't something that's exceptional to winter as you should be drinking lots of water every day, all year long. There are no excuses.
Drinking lots of water will not only keep your skin hydrated, glowy and healthy but it helps maintain the balance of body fluids, it helps your kidneys, flushes out any bad toxins, helps with healthy brain function, ensures a healthy digestion system etc… you get the picture.
Keep up with drinking lots of water. 2 litres per day should be your minimum target but aim for 3-4 litres. If you're doing lots of exercise, be sure to increase your water intake too.
5. Use nourishing facial oils
To help ensure your skin is getting all the nourishment possible, invest in some facial oils that have moisturising ingredients. These can be daytime oils or overnight oils, but both help fight away any signs of dryness.
Vitamin e, marula oil, glycerin, ceramides, rosehip oil and argan oil are your friends. Look out for facial oils containing these ingredients.
A good daytime facial oil to stave away dryness is the Kiehl's Daily Reviving Concentrate because of the moisturising tamanu oil in it. For nighttime, The Body Shop Vitamin E Overnight Serum-in-Oil is incredible, you'll notice results immediately. After using this, my skin felt so much softer, rejuvenated and smoother.
6. Invest in a gentle cleanser
You don't want to use a harsh cleanser that will strip your skin of essential oils during winter. Keep your cleanser light and gentle to ensure it stays protected from the harsh weather at all times. Bonus points if you use a cleanser that's moisturising too!
I recently tried the Drunk Elephant Beste No. 9 Jelly Cleanser, which was incredibly gentle on my skin. After using it, my skin always felt calm, so this would be a good pick for the winter.
7. Get a good hand cream
Alongside dry, chapped lips, your hands can also suffer the same fate if you don't use a half-decent hand cream. I apply hand cream at least every night and morning to make sure my hands are protected from the harsh winter environments.
My fave hand creams ever are The Body Shop ones. There's a fantastic range of different hand cream scents and they always work into the skin seamlessly, leaving no residue. Yet, they keep my hands super soft. My fave hand creams from The Body Shop are the vanilla and mango ones – yum!
8. Brighten up with vitamin C
With the lack of sunlight during winter, it's not surprising that people often complain about dull, lacklustre skin. It's not so motivating to go outside and soak up some vitamin D when it's baltic!
A quick and easy way to brighten and rejuvenate the skin is by using products with vitamin C in. Vitamin C will also give you a healthy glow, which can be much-needed during the winter!
I'm currently using the Glow Recipe Pineapple-C Bright Serum which I adore. Apparently, pineapple is a very rich source of vitamin C, so this serum is perfect for winter. It's so satisfying to use and has definitely helped brighten and awaken my skin, which is why it made my September faves.
9. Use face masks for a moisture boost
A quick and simple way to inject some extra moisture into your winter skincare routine is to use a nourishing face mask. Whether it's a sheet mask or a traditional face mask, there are plenty of options available that will give your skin some additional TLC.
The Garnier sheet masks are highly-rated and there are plenty of moisturising and hydrating choices in the range. I personally love the Lush Cosmetics Oatifix Fresh Face Mask and found this to be incredibly nourishing and luxurious, so it's a fab choice for winter.
Shop this post
Conclusion
That's my winter skincare tips blog post wrapped up. I hope this post can you help fight off dryness during the harsh, cold weather and hopefully you've learned something new too from reading it.
What are your favourite skincare products for the winter? Let me know in the comments below!
---
If you like my blog posts, don't forget to subscribe to my newsletter so you never miss a post