Last Updated on 24th November 2023 by Sarah Sarsby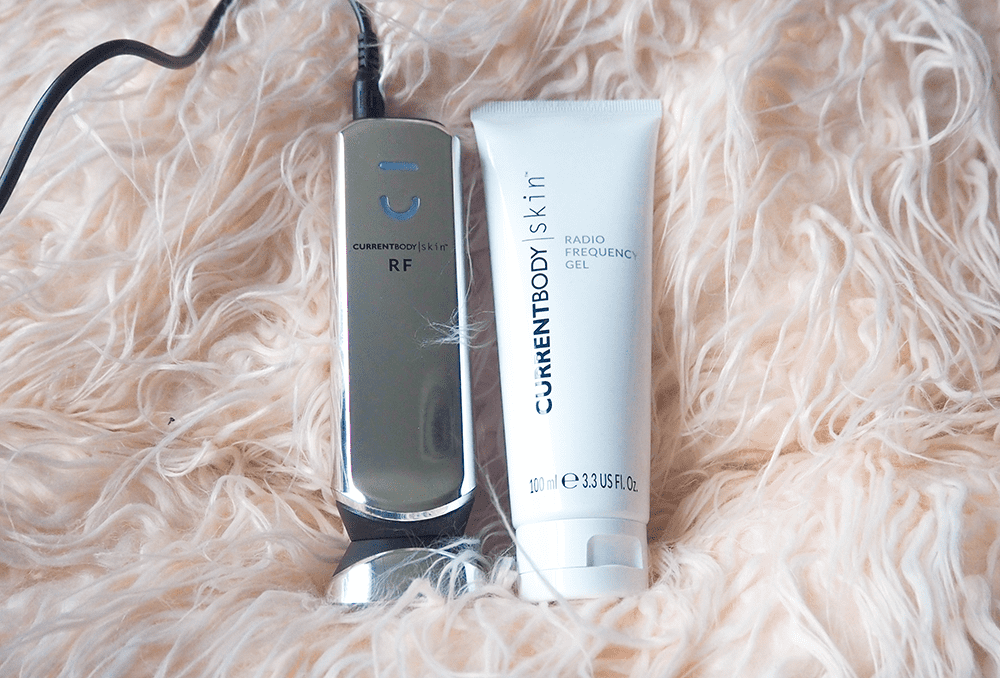 At-home skincare devices are becoming more and more popular. They can deliver powerful and noticeable results in a matter of weeks from the comfort of your sofa. Whether it's a red light therapy wand that reduces blemishes and puffiness, a microcurrent device for a more lifted look and firmer skin, or a microdermabrasion tool for smoother and softer skin, there are heaps of devices available to improve the look and feel of your skin.
CurrentBody is one of the best places to buy skincare devices. Alongside stocking popular brands like NuFace, FOREO, Braun, FaceGym, and Clarisonic, the retailer sells its own brand, CurrentBody Skin. CurrentBody Skin has some excellent products backed by independent testing.
In fact, the CurrentBody Skin LED Light Therapy Mask is easily one of the best LED light therapy devices I've tried in terms of comfort, convenience, and results.
This review covers the new CurrentBody Skin RF Radio Frequency Skin Tightening Device, with some very helpful before and after photos. If you're on the fence about whether to try this radio frequency device, this post will answer all of your questions.
Get 15% off all CurrentBody Skin devices – including the Radio Frequency Device – with my exclusive code WC15. Shop here.
* This post contains some affiliate links. This means at no extra cost to you, I earn some commission if you purchase a product through my link. All thoughts are my own, though, as always. If you want to find out more, visit my affiliate disclosure page **
About the tester
My mum very kindly tested the RF Device for this review, as she was curious to see whether it would work for her. My mum is 58 with a normal skin type. She has mild rosacea (like me) but is typically not sensitive to skincare products.
Her overall goal with this skincare device was to reduce fine lines and wrinkles.
About the CurrentBody Skin RF Radio Frequency Skin Tightening Device
CurrentBody explains how radio frequency technology works:
RF (radio frequency) therapy is a non-invasive method of tightening the skin. RF waves pass through the skin from one electrode to another. When the skin resists these waves, it heats up, stimulating the production of new collagen fibres while remodelling existing collagen. This targeted process helps to improve skin elasticity, reduce wrinkles and fine lines, tighten sagging skin along with enhancing skin tone and texture.

CurrentBody
The CurrentBody Skin RF Skin Tightening Device is designed to reduce fine lines and wrinkles, improve skin texture, enhance skin tone, and target sagging skin. It uses radio frequency waves to stimulate collagen production and targets crow's feet, brow 11's, forehead, cheeks, smile lines, jowls, and sagging skin.
It's suitable for all skin types, textures, and tones.
The device comes with an accompanying Radio Frequency Gel that helps glide the device across your skin easily, enhances energy output, and maximises performance.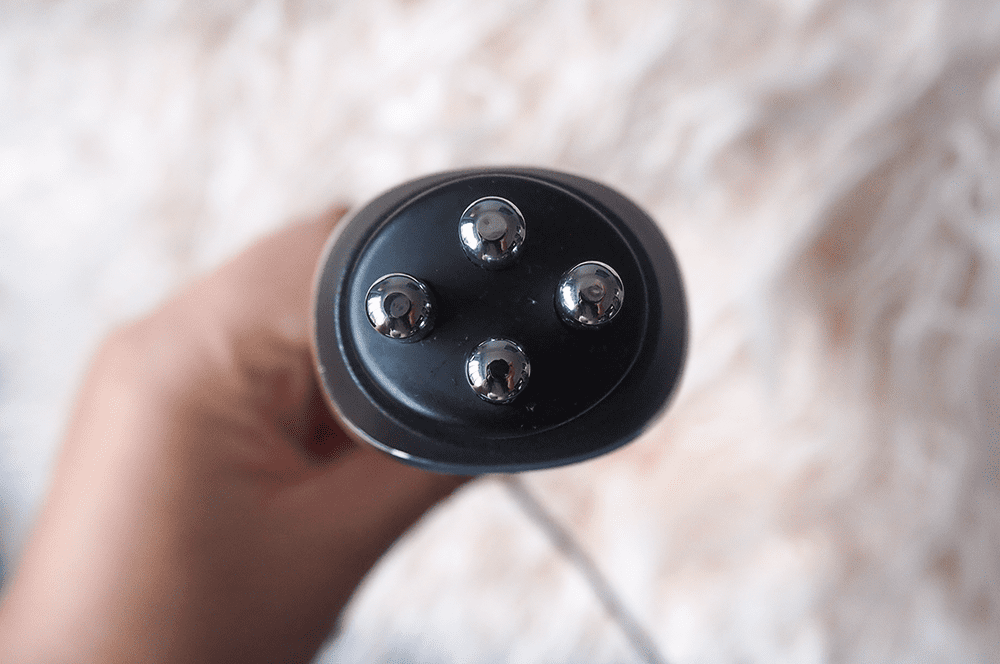 There are 3 energy levels to choose from. You're advised to start on the lowest energy level, 1, and gradually build up to level 3.
The RF Skin Tightening Device features Skin Sense Technology to monitor skin resistance to maintain a constant safe temperature for effective anti-ageing. It takes 18 seconds for the device to reach the optimal collagen-producing temperature of 43°C. Some redness directly after treatment is normal, as the device is warm on the skin.
A full list of contraindications can be found on the CurrentBody website.
How to use the radio frequency device
Using the Radio Frequency Skin Tightening Device is very straightforward. Follow the simple steps below:
Remove all jewellery from the treatment area, before applying a liberal layer of the CurrentBody Radio Frequency Gel to clean, dry skin.
Plug in the mains power cable, and turn on your device. Select your energy level, and then touch the device to your skin.
Once the green light starts blinking, move the device slowly over your treatment area.
After 5 minutes, the light will turn orange, signalling that it's time to move on to the next area.
Rinse away any excess gel and continue with your skincare regimen.
Use the device once a week for 8 weeks. Then treatments can be topped up every 4-8 weeks to maintain long-term results.
CurrentBody Skin RF Radio Frequency Skin Tightening Device before and after
Before the honest device review, these before and after photos showcase the results of the RF Skin Tightening Device.
The after photos were taken following 8 weeks of consistent use. The device was used once a week for around 40 minutes per session during the 8 weeks. My mum used the device on her forehead, cheeks, upper lip, and under-eyes.
These photos weren't taken directly after a treatment to allow any redness to subside.

From the photos, you can see that fine lines and wrinkles have softened, the skin looks tighter and firmer, and the complexion overall looks radiant and smooth. There are some noticeable differences in the before and after photos.
Honest CurrentBody RF Device review
This review is based on Mum's experience with the device and her feedback. And the verdict is that the CurrentBody Skin RF Radio Frequency Skin Tightening Device is excellent.
The instructions are easy to follow. Because the device is plugged directly into the mains, it means no charging is required, so you can get started right away.
A little bit of the CurrentBody Radio Frequency Gel goes a long way and helps the device glide smoothly over the skin. Mum didn't need to top up the gel during her 40-minute treatments.
Importantly, the device is lightweight and easy to hold. You can use the device while watching TV without getting an armache. While she was getting used to using the device, Mum used a mirror to help with more precise gliding of the device over delicate areas, like under the eyes.
Heat bursts from the device come every few seconds. Although it's warm, it's comfortable. The warmth is most noticeable under the eyes where the skin is thinner.
The device blinks orange when it's time to move onto a new treatment area, but it'd be good if it also bleeped to indicate to change area, as you could easily miss the orange light as it only lasts for 5 seconds.
After the treatment was finished, Mum's skin felt warm to the touch but not hot or burnt. It also became redder but didn't feel irritated. This redness subsided after an hour or so.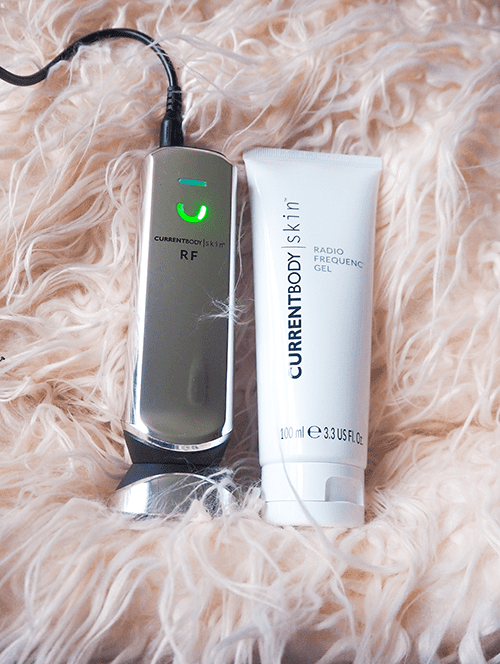 Mum said she is thrilled with the results, especially after seeing the before and after photos, and can't think of any negatives about the device.
Her makeup has been applying more smoothly since using the device; her skin looks more lifted, tightened, radiant, and smoother; and fine lines and wrinkles have softened.
Where to buy
The CurrentBody RF Device costs £299 and can be purchased directly from the website. If you use my code and shop through the link below, you can actually buy the device for £254.15, which is a big saving.
Get 15% off all CurrentBody Skin devices – including the Radio Frequency Device – with my exclusive code WC15. Shop here.
Do I recommend this at-home radio frequency device?
Although the CurrentBody Radio Frequency Device is a pretty big investment, the results speak for themselves. This product genuinely works and delivers impressive improvements in as little as 8 weeks. It's 100% worth it!
Rating: 5 stars
Me and my mum can't recommend this product enough. Mum is thrilled with the results and intends to maintain the monthly top-up treatments to maintain her skin.