Last Updated on 24th November 2023 by Sarah Sarsby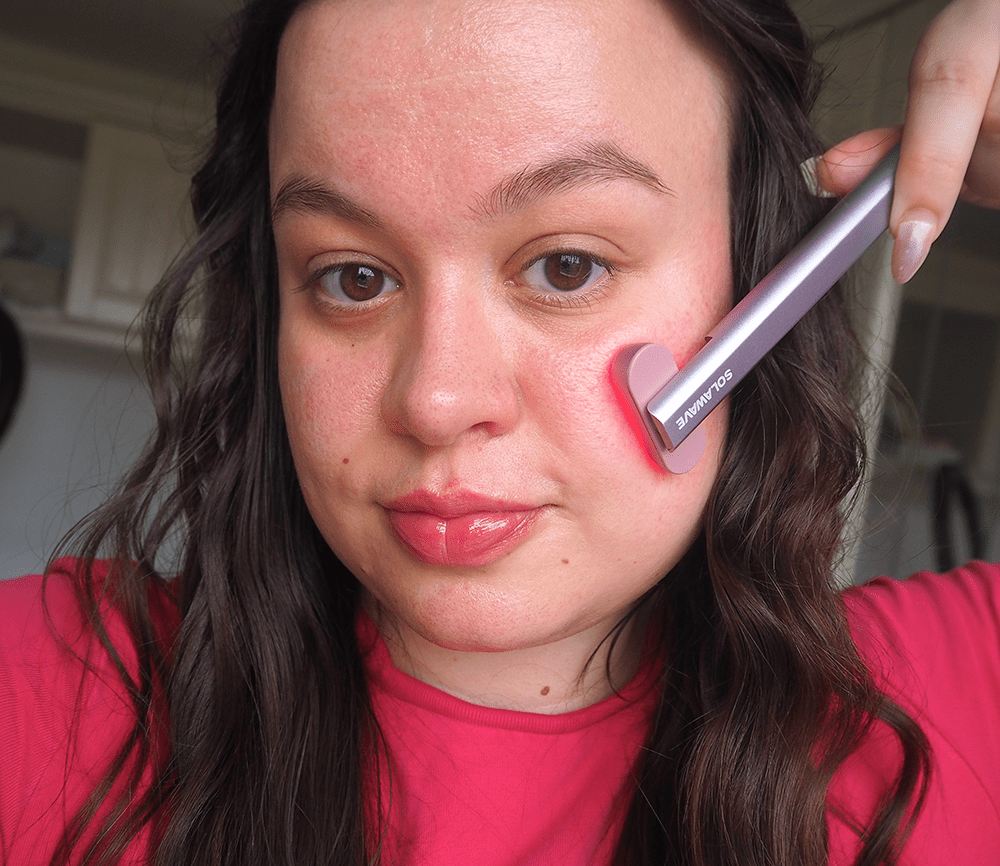 I've become an avid fan of at-home skincare devices. From powerful LED light therapy masks to convenient microcurrent devices, you can achieve visible results from the comfort of your sofa. But not all beauty devices are created equally. Some are frankly inconvenient to use and don't meet all their claims.
I've recently had the opportunity to try Solawave's hero 4-in-1 Radiant Renewal Skincare Wand. This innovative handheld device combines red light therapy, galvanic current, facial massage, and therapeutic warmth for radiant, youthful skin. It can be used at home or on the go for convenient skincare results.
After using the device consistently for 5 weeks, I'm sharing my honest review of the Solawave skincare wand. Find out whether this device is worth the money and meets its claims with my before and after photos and in-depth discussion.
* This post contains some affiliate links. This means at no extra cost to you, I earn some commission if you purchase a product through my link. All thoughts are my own, though, as always. If you want to find out more, visit my affiliate disclosure page **
What is Solawave?
Solawave is an LA-based skincare technology company. Its products focus on being science-backed with proven technology to deliver real, visible results. Solawave's solutions are designed for all genders, ages, and skin types to help people achieve smooth, glowing skin.
Solawave 4-in-1 Radiant Renewal Skincare Wand & Activating Serum Kit claims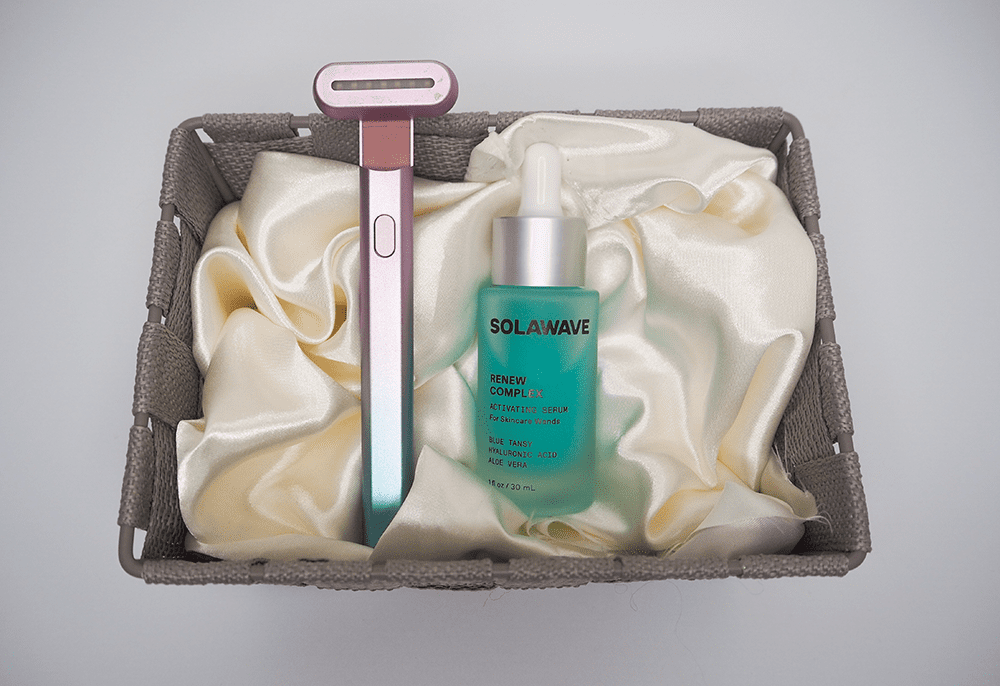 I got the Solawave 4-in-1 Radiant Renewal Skincare Wand & Activating Serum Kit, which contains the device and an accompanying serum. I'll go into both of the products' claims below.
4-in-1 Radiant Renewal Skincare Wand
The Solawave 4-in-1 Radiant Renewal Skincare Wand claims to reduce the appearance of fine lines, dark circles, blemishes, and puffiness. The non-invasive tool is designed to give a spa-like treatment from the comfort of your own home. Expect youthful, firmer, and more lifted skin in as little as 2 weeks.
It combines 4 treatments in 1 handheld device: red light therapy, galvanic current, facial massage, and therapeutic warmth.
LED red light therapy helps to reduce the appearance of wrinkles, fine lines, and blemishes; galvanic current is a non-invasive form of energy that helps boost absorption of other skincare products so they work more effectively; facial massage helps to decrease puffiness and boost the skin's natural glow; and therapeutic warmth can help to temporarily depuff the skin.
Renew Complex Activating Serum
The Renew Complex Activating Serum is designed specifically to work with the skincare wand and enhance its results. Formulated with hyaluronic acid, aloe vera, and blue tansy, the serum absorbs easily and spreads across the face evenly. It's vegan, cruelty-free, and fragrance-free.
Need-to-knows
Before getting started with the device, there are a few things to be aware of:
DO NOT shine the device directly in your eyes. Only turn the device on when it's in contact with your skin.
Fully charge the device before use. It takes about 2 hours to fully charge.
Before using the device, do a patch test on a small area of your skin with the serum, like on your wrist, to ascertain any potential irritation or sensitivity.
The wand rotates 90 degrees in either direction for the perfect angle on your skin.
Immediately stop using the device if you experience any adverse reactions, like discomfort, discolouration, irritation, burns, bruises, or dizziness, and contact a health professional.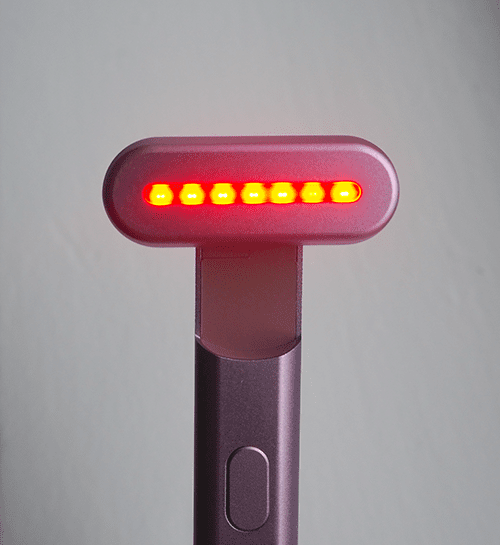 How to use the Solawave skincare wand
Using the Solawave skincare wand is very straightforward. Follow the steps below:
Cleanse your skin and pat dry.
Apply a thin layer of the Solawave Activating Serum. Reapply if the product dries prior to starting the treatment. You can also use other serums and moisturisers.
Hold down the power button for 2 seconds to turn the device on. At this point, the red LED lights will turn on.
Start using the device on your skin, gliding it gently and slowly across each treatment area (forehead, neck, under-eyes, and cheeks). Always work in outwards and/or upward motions when gliding the device across your skin.
Use the device for 3 minutes on each treatment area. The wand's vibration will turn on and off at the end of each 3-minute treatment cycle to indicate to move on to the next area.
The wand can be used for a max of 12 minutes, at which point the wand automatically turns off. You can turn the device off at any point during the treatment by holding the power button for 2 seconds.
And you're finished! Be sure to clean the device after each use by wiping the head with a damp cloth or spraying a cloth with an alcohol-based steriliser.
Use the device once a day 3 times a week for maximum results.
Solawave skincare wand before and after
Before I dive into my Solawave review, I wanted to share a few before and after photos. The after photos were taken after 5 weeks of consistent use. I used the device around 3 times per week on my cheeks, forehead, and under-eye area for 3 minutes on each area for a total of 9 minutes per session.
These photos weren't taken directly after a treatment to provide an indication of medium-term effects and to allow any redness to subside.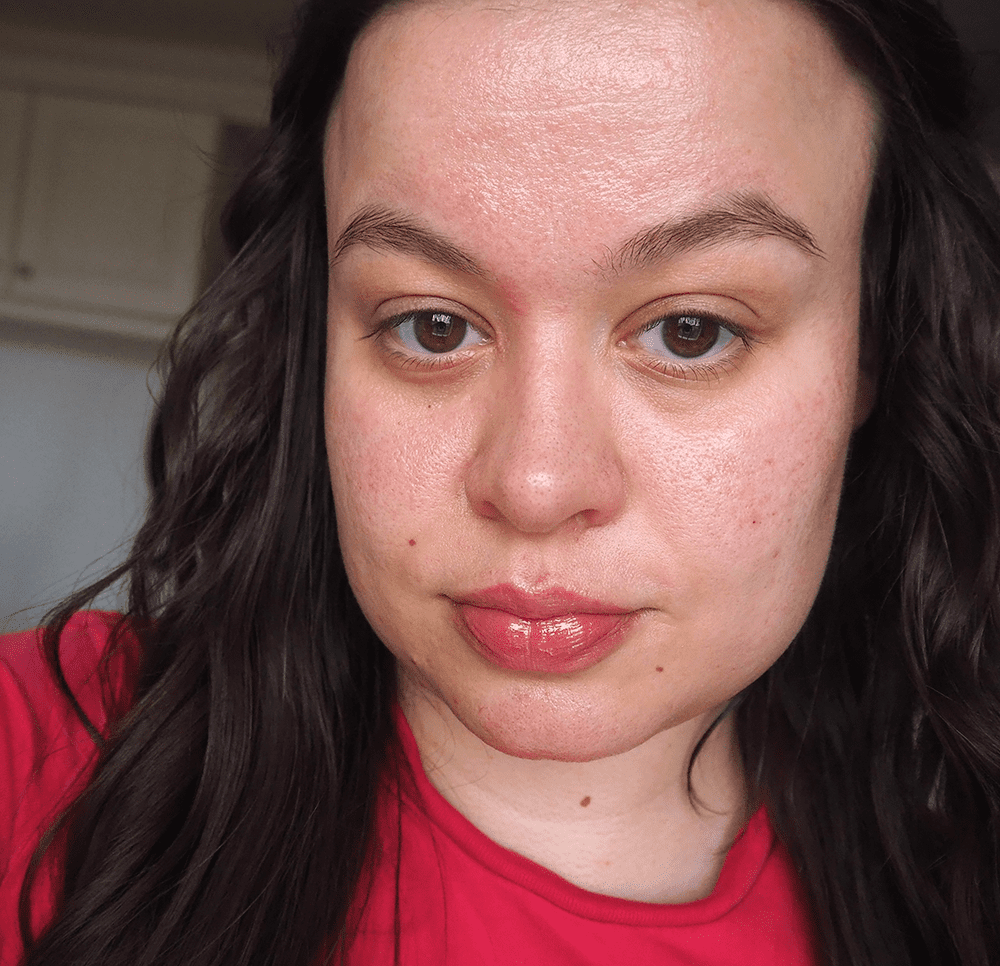 In the after photo, my skin looks more even, radiant, and smooth. Some of my blemishes have visibly reduced, my skin is less red, and my skin overall looks more radiant and smooth.
Honest Solawave skincare wand review
The Solawave 4-in-1 Radiant Renewal Skincare Wand & Activating Serum Kit is great. It's one of the best skincare devices I've tried.
The device is super convenient. It's incredibly lightweight and compact, which means you can take it with you while out and about without it taking up much space in your bag. It also comes with its own travel case. I don't get arm ache when using the wand, unlike other devices I've used in the past that become heavy when holding them in the same position for a long period of time.
The wand comes in a pretty purple-pink gradient. It fully charged in 2 hours, which meant I could use the device quickly, without waiting for it to charge overnight.
I like that the wand's head rotates 90 degrees in each direction, as it means you can get more precise with the placement of the wand. I only ever rotate the head once so that it's horizontal to the rest of the wand, as I find this works best.
The Activating serum is light, cooling, and distributes effortlessly. It's not sticky and feels hydrating. While it's not a standout skincare product, it helps the Solawave skincare wand glide over my skin easily, without irritation.
The device feels warm but not hot on my skin. It's comfortable. It feels warmest under my eyes where the skin is thinner. But the warmth is lovely and feels very therapeutic as the wand glides across my skin.
The red light is quite bright but easily avoided. The last thing you want to do is damage your eyes with a bright LED light being shone into them!
Immediately after using the Solawave device, my skin looks radiant, feels firmer, appears more lifted, and is noticeably smoother. If there's any puffiness, this instantly disappears thanks to the warmth and massaging elements of the device. My skin feels a bit warm and looks a little red immediately after. However, it's not irritating and disappears within an hour. It doesn't aggravate my rosacea.
And after 5 weeks of consistent use, I think this skincare device meets most of its claims. The device has definitely reduced the appearance of blemishes, eases any puffiness, and makes my skin look glowy. It's helped my skin feel a bit firmer and look more lifted, although these results are definitely most noticeable immediately after using the device. My complexion looks more even and less red overall too.
I'm not sure whether it's increased absorption of other skincare products. I've not noticed any difference, but this isn't something I can really test without being in a lab.
I've not noticed any improvement in fine lines. Although, I admittedly don't have many fine lines at 28! I also don't think this device improves dark circles.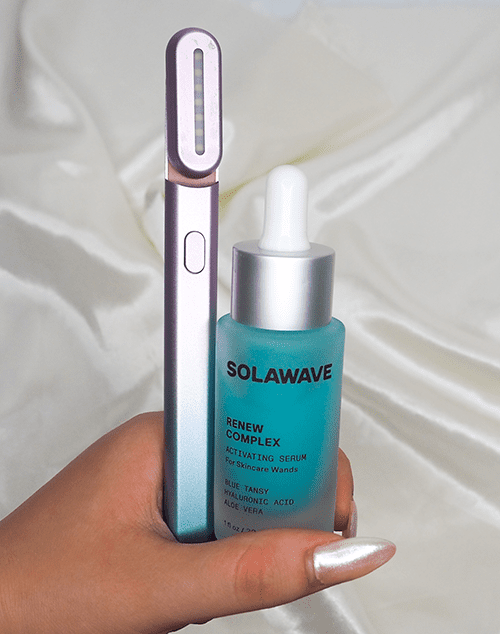 Where to buy
The Solawave 4-in-1 Radiant Renewal Skincare Wand & Activating Serum Kit retails for £142.99 or $201. I think this skincare device is very reasonably priced. You can spend well over £300 on skincare tools, and this skincare wand combines 4 therapies in 1 for under £150.
Do I recommend the Solawave 4-in-1 Radiant Renewal Skincare Wand & Activating Serum Kit ?
I absolutely think the Solawave 4-in-1 Radiant Renewal Skincare Wand & Activating Serum Kit is worth it!
The price point is great compared to other similar devices. It delivers on most of its claims. You can take the Solawave wand with you while travelling because it's very lightweight, compact, and charges quickly.
The skincare wand has noticeably improved my complexion by reducing blemishes (which you can see in my before and after photos) and overall redness, making my skin firmer and smoother, and giving it a lovely glow. It's very relaxing and satisfying to use, offering a warm massage for the face.
Rating: 5 stars
I love using the Solawave skincare wand and can't wait to see further improvements over the coming weeks.
---
Would you try this Solawave skincare wand? Let me know in the comments.