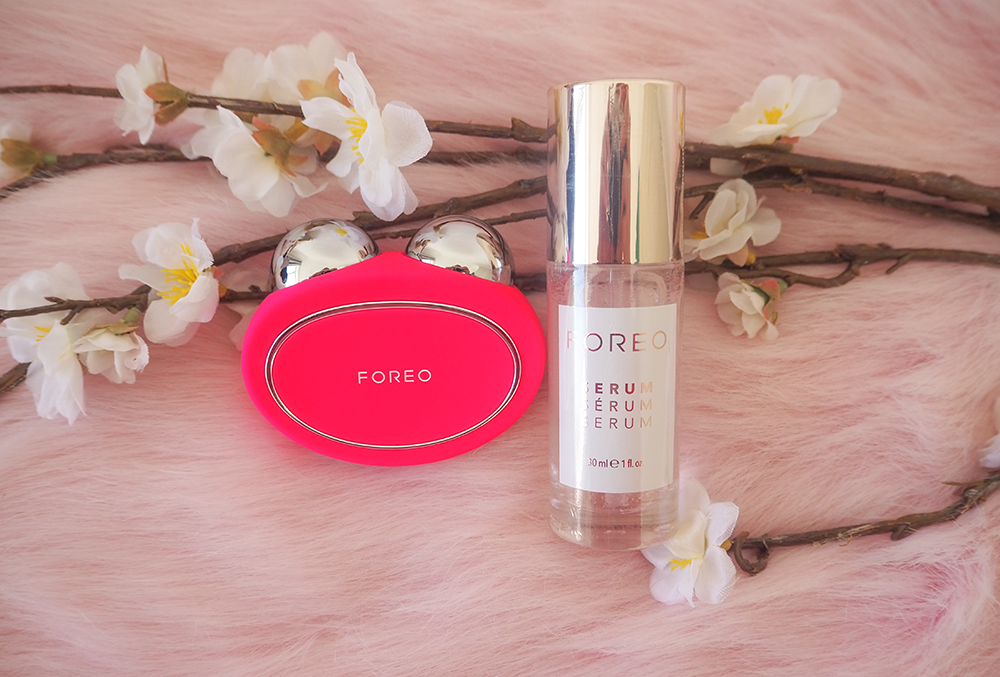 Does the promise of reduced wrinkles, improved skin firmness, and a more lifted appearance sound appealing to you? Then you'll want to stick around for this comprehensive FOREO Bear review.
FOREO Bear is one of the most popular at-home microcurrent devices on the market. This convenient device is clinically proven to improve wrinkles, fine lines, skin firmness, and elasticity in just 1 week, according to the brand.
But there's no denying that FOREO Bear is an investment, as it typically retails for about £320.
I've been trying the microcurrent device 5x a week consistently for 1 month, and I wanted to let you know whether I've seen any difference in my skin. Keep reading for my honest FOREO Bear review as well as some before and after photos to see whether this microcurrent device truly works.
* This post contains some affiliate links. This means at no extra cost to you, I earn some commission if you purchase a product through my link. All thoughts are my own, though, as always. If you want to find out more, visit my affiliate disclosure page **
What is FOREO?
FOREO is a popular Swedish skincare device specialist that offers effective and clinically tested treatments for improved, healthy skin. It's all about making self-care simple, easy, accessible, and enjoyable. Whether's it a silicone cleansing gadget, at-home spa facial treatment, LED light therapy device, or microcurrent tool, FOREO offers a wide range of skincare technologies for every need.
How do microcurrent devices work?
At-home microcurrent devices work by sending safe, low-voltage currents to your muscles that are similar to the natural electrical currents in the body. As these devices target and tone muscles, they can help to give your skin a more lifted and defined look with a fimer texture and reduced fine lines. Alongside an immediate noticeable lifted look, microcurrent devices claim to deliver long-term benefits too.
The currents aren't as strong as those you'd get done professionally, but the devices are way more convenient and affordable in the long term.
FOREO Bear claims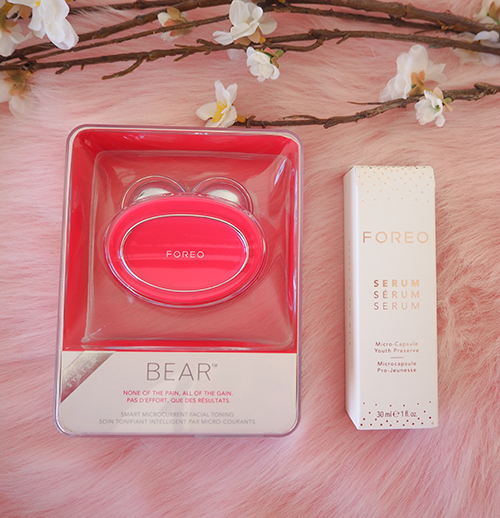 FOREO Bear is an FDA-cleared microcurrent device that promises to reduce wrinkles and fine lines, contour the face, improve skin elasticity, and firm skin in just 1 week. The device features an innovative anti-shock system, which scans and measures skin's resistance to electricity and automatically adjusts microcurrent intensity for safety and comfort.
It visibly improves signs of aging by gently energizing & firming the 69 muscles in your face & neck. Experience clinical results, thanks to science-backed technology.

FOREO
As well as delivering a microcurrent treatment, FOREO Bear features T-Sonic massage, which claims to boost microcirculation and lymphatic drainage. There are 10 microcurrent intensity levels to choose from, and you can decide whether to have T-Sonic pulsations on or off.
The microcurrent device is made from silicone and promises to be 100% waterproof. This means you can actually wash the device with soap and water, and simply pat and dry it with a clean towel. FOREO Bear is wireless and USB chargeable, so it's very convenient to travel with. You get 90 treatments per charge.
How to use FOREO Bear
Begin by gently cleansing and drying your face. Next, apply a conductive serum. The FOREO Serum is the best option, as it's designed specifically to work with FOREO Bear. Apply the serum evenly across your face and neck, and massage it until it's fully absorbed.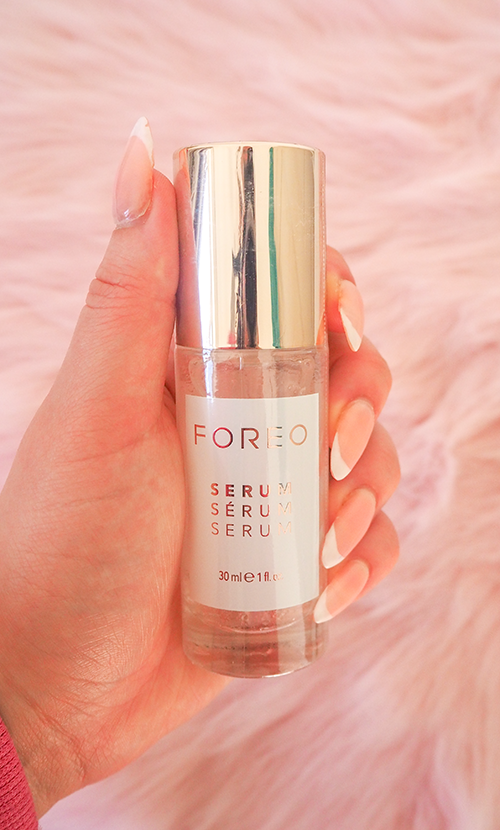 Next, it's treatment time. You can either select the microcurrent intensity yourself and get working or download the accompanying FOREO app to follow a specific treatment. All of the treatments in the app are around 2.5 minutes. I'd highly recommend following the treatments in the app, as they're really easy to follow and mean you target both sides of your face evenly. There are currently 3 treatments to choose from in the app, which target different areas of your face.
After doing your microcurrent treatment, simply follow up with your desired skincare. I typically use the device at night, so I apply a night cream after using FOREO Bear.
FOREO Bear before and after
Before I dive into my FOREO Bear review, I wanted to share a few before and after photos. The after photos were taken after 4 weeks of consistent use. I used the device around 5x per week and followed a 2.5-minute treatment from the app each time.
These photos show the before and after from the front, left side, and right side of my face. I didn't take the photo directly after following a treatment to provide an indication of medium-term effects.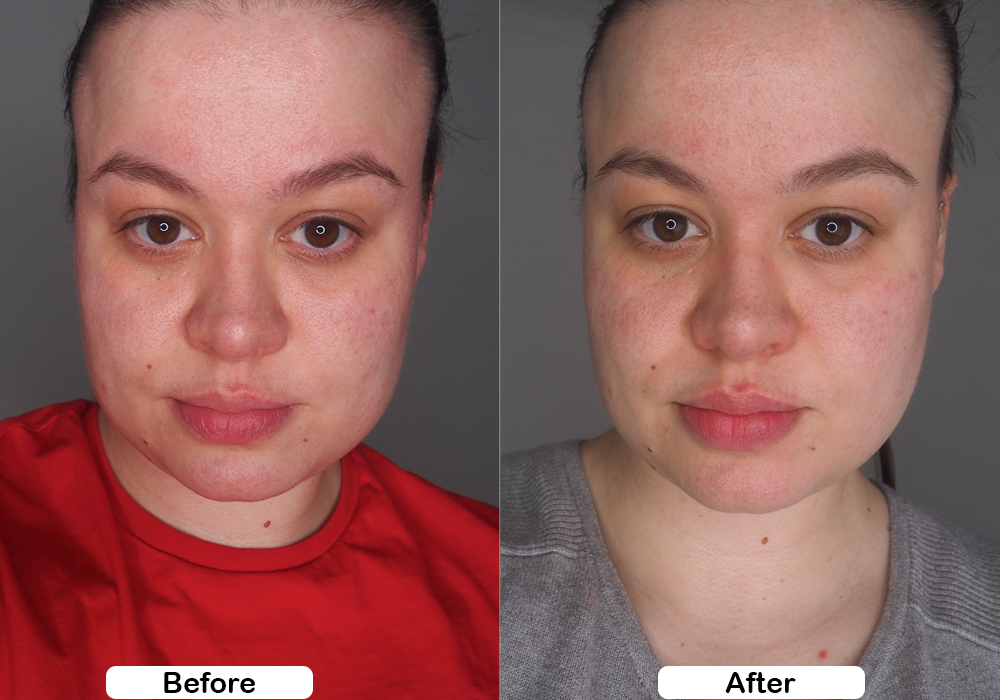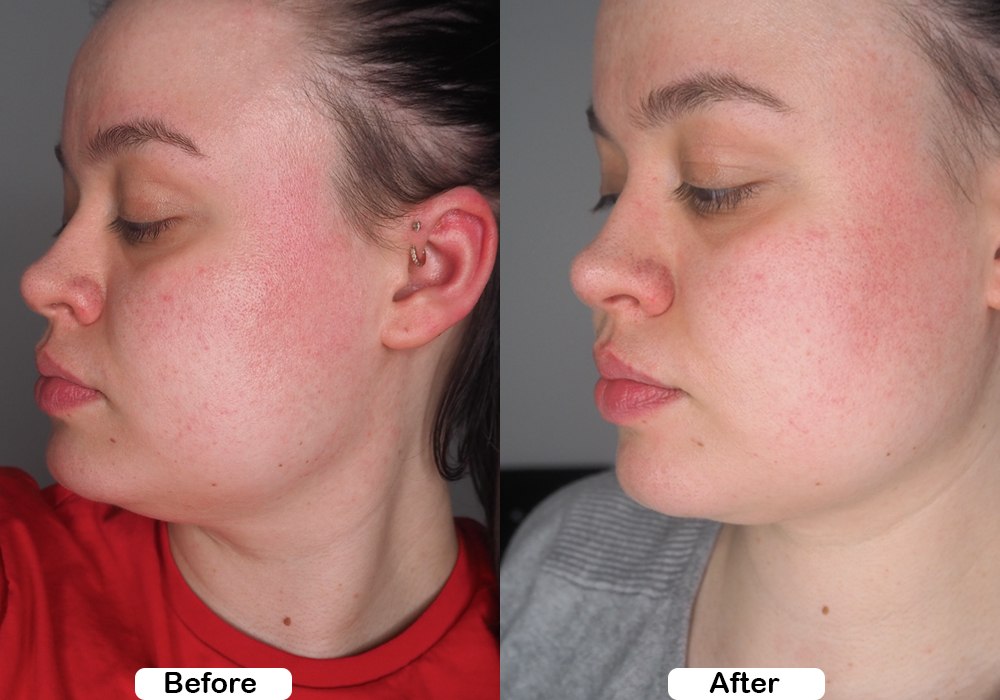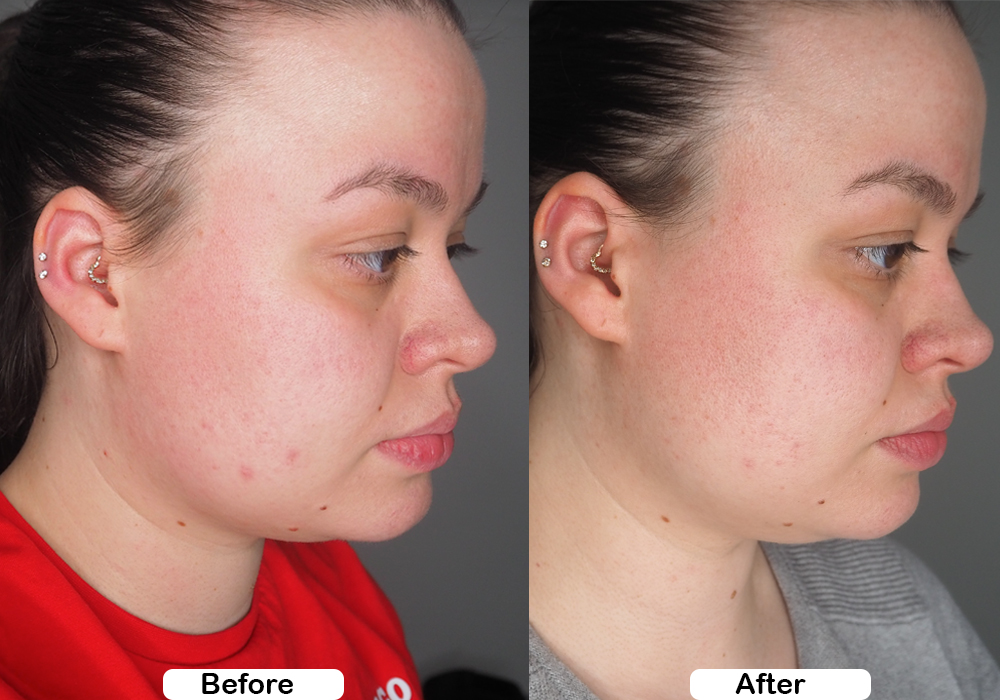 Even though there's really not much difference in the before and after photos, I've got a lot more to discuss in my review below. I think my cheeks look a bit more toned and my jawline more defined. Especially in the front photo, I think my face overall looks a bit more lifted.
Honest FOREO Bear review
I'm genuinely impressed with FOREO Bear.
Firstly, this was surprisingly straightforward to set up. I've used several skincare devices where the instruction manual is unnecessarily lengthy. This one was super easy to follow. After charging the device for a few hours and registering it on the app, you can get started.
I love the look and feel of the device. The pretty silicone pink is very comfortable to hold and is also lightweight, so you don't get any arm ache from holding up a weighty device. As the microcurrent device is small (palm-sized), it would be really convenient to travel with. I'd happily take this device on holiday!
Speaking of convenience, the battery life is fantastic. I accidentally didn't turn the device off, and it stayed switched on for about 3 days. I even managed to get a treatment done when I finally realised! The fact that you can get 90 treatments out of a single charge is impressive, especially for a device so small.
FOREO Serum is cooling and hydrating, so it feels pleasant on the skin.
Even though the FOREO Bear before and after photos may not look really impressive, I've noticed a difference in my skin. My skin is noticeably more toned and lifted immediately after using the device. Although these effects only last for a few hours, it's an effective way to make your face look more scultped quickly. And for medium-term results, my face is more toned and lifted since using the device.
But, something that my camera won't pick up is the changes in how my skin feels. I can tell that it's firmer, plumper, and smoother since using FOREO Bear.
The device also slightly reduced the appearance of the fine line on my forehead, which is fab.
I love following the app's treatments. They're super relaxing and fun. It also helps me evenly target both sides of my face.
Overall, I can definitely see an improvement in my skin since using FOREO Bear and can't wait to keep using it to see further results.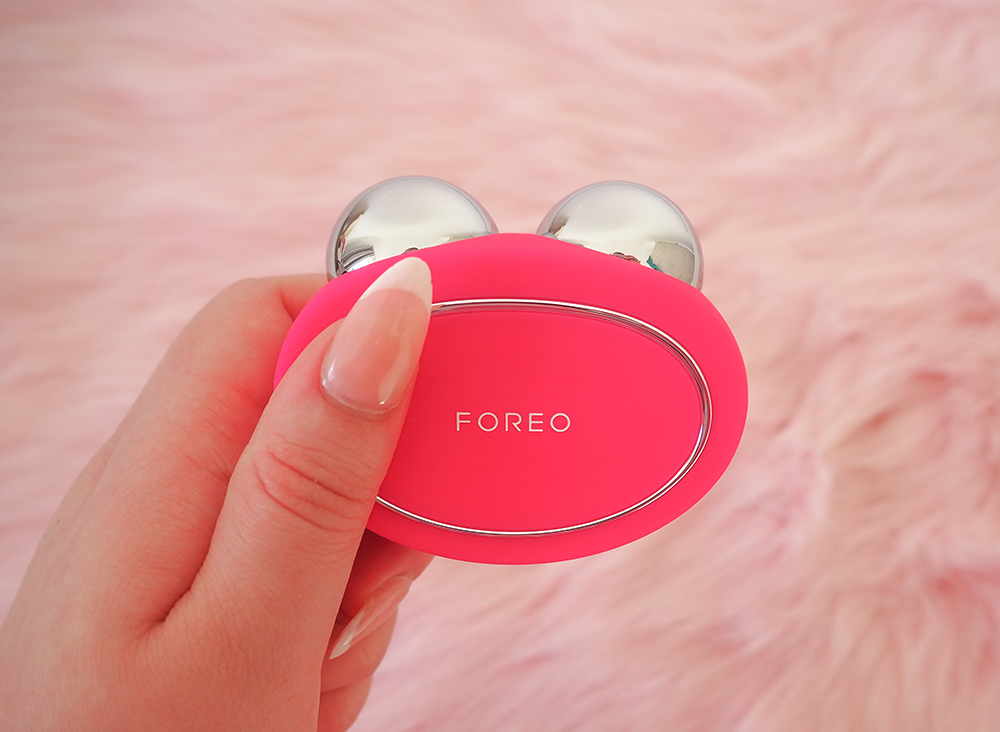 Where to buy
Retailing for £319 for both the serum and FOREO Bear, you can purchase this bundle directly from FOREO. This is the same price as buying FOREO Bear by itself, so it's definitely worth getting the serum in the bundle.
This is undeniably expensive, so if you're buying this product, you need to see it as a long-term investment. It's far cheaper and less time consuming than getting a microcurrent facial done professionally every few months.
I believe it's worth the money, as the device has made a difference to my skin. It would also make an amazing gift for a loved one!
Do I recommend FOREO Bear?
Absolutely! More mature skins will particularly appreciate the device's anti-ageing benefits, but all ages can benefit from the more toned and lifted appearance.
Rating: 5 stars
I'm really happy with my FOREO Bear results! It definitely deserves 5 stars.
---
Would you like to see a follow-up FOREO Bear before and after post in 3 months' time to see some longer-term results? Let me know in the comments!