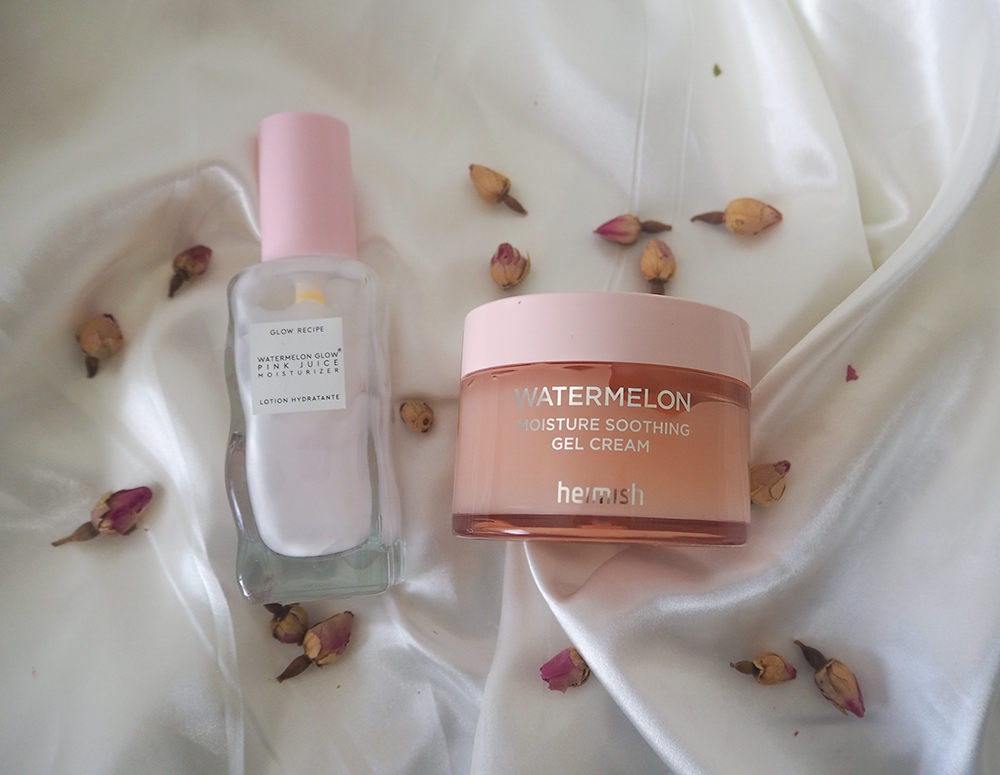 In today's review, I'm comparing the iconic Glow Recipe Watermelon Glow Pink Juice Moisturizer and juicy Heimish Watermelon Moisture Soothing Gel Cream to let you know which one comes out on top.
I wanted to compare these 2 watermelon moisturisers, as they're both from popular Korean skincare brands and have watermelon as their key ingredient. I truly love both brands, so I thought a handy comparison post might help inform your next moisturiser purchase.
In this post, I discuss the similarities and differences between the watermelon moisturisers, what benefits they deliver to the skin, and which one is my personal fave. Keep reading for an in-depth comparison of these K-beauty moisturisers.
** This post contains some affiliate links. This means at no extra cost to you, I earn some commission if you purchase a product through my link. All thoughts are my own, though, as always. If you want to find out more, visit my affiliate disclosure page **
What are Glow Recipe and Heimish?
Glow Recipe and Heimish are both popular Korean skincare brands.
Glow Recipe is all about effective and innovative skincare that delivers clinical results and sensorial self-care moments. All products are fruit-based and, as the name suggests, deliver glowing skin. This brand is viral on Instagram and TikTok, with so many products becoming ride-or-dies for people.
Heimish focuses on natural beauty, offering a wide range of gentle and subtle makeup and skincare products. Its motto is that makeup and skincare products should enhance your natural beauty, not hide it.
Watermelon moisturisers' ingredients and claims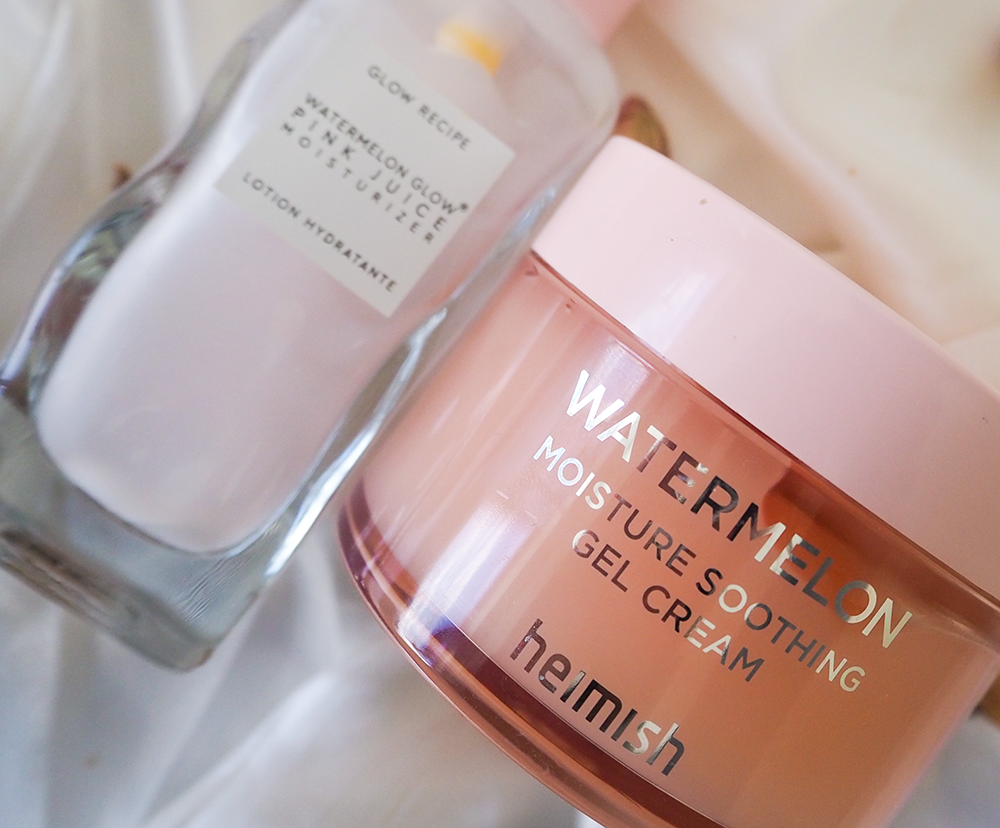 Glow Recipe Watermelon Glow Pink Juice Moisturizer
The Glow Recipe Watermelon Glow Pink Juice Moisturizer promises to be lightweight, absorbent, brightening, cooling, and calming. An oil-free moisturiser, it claims to be the perfect skin prep for makeup while helping to reduce the appearance of fine lines and dark spots.
For oily/combo skin, you're advised to use this as a day or night moisturiser. For dry skin, you're advised to use this as a hydrating serum.
The moisturiser is enriched with hydrating and calming watermelon fruit extract, soothing scutellaria baicalensis root extract, emollient cetyl alcohol, hydrating glycerin, and much more.
See the full INCI list below:
Citrullus Lanatus Fruit Extract, Aqua, Cetyl Alcohol, Scutellaria Baicalensis Root Extract, Paeonia Suffruticosa Root Extract, Glycerin, Glycyrrhiza Glabra Root Extract, Cetearyl Olivate, Glutamic Acid, Sorbitan Olivate, Hydrolyzed Wheat Protein, Hydrolyzed Soy Protein, Hydrolyzed Corn Protein, Sodium Hyaluronate, Cyamopsis Tetragonoloba Gum, Xanthan Gum, Apricot Kernel Amino Acids, Alkanna Tinctoria Root Extract, Beta-Glucan, Jasminum Sambac Flower Wax, Acrylates/C10-30 Alkyl Acrylate Crosspolymer, Brassica Oleracea Capitata Leaf Extract, Ipomoea Batatas Root Extract, Helianthus Annuus Seed Oil, Tocopherol, Butylene Glycol, 1,2-Hexanediol, Benzyl Benzoate, Limonene, Parfum.
Heimish Watermelon Moisture Soothing Gel Cream
The Heimish Watermelon Moisture Soothing Gel Cream claims to be calming, cooling, moisturising, lightweight, brightening, and absorbent. It's supposed to saturate the skin with essential moisture and restore the hydrolipidic balance.
Although it promises to be suitable for all skin types, it's best for oily/combo skin, according to the brand.
The moisturiser is formulated with hydrating and calming watermelon fruit extract, hydrating glycerin, gentle emollient dimethicone, moisturising butylene glycol, occlusive phenyltrimethicone, and much more.
See the full INCI list below:
Water, Watermelon Extract, Glycerin, Dimethicone, Butylene Glycol, Phenyltrimethicone, Sorbitol, Moringa Seed Oil, Hamamelis Leaf Extract, Hydrangea Leaf Extract, Aloe Vera Flower Extract, Ceramide 3, Aloe Vera Leaf Extract, Sodium Hyaluronate, Measles Extract, Measles Nim Tree Extract, Ivy Fruit Extract, Indian Mulberry Leaf Extract, Eggplant Fruit Extract, Shea Butter, Turmeric Root Extract, Coralline Extract, Basil Leaf Extract, Phytosphingosine, Bombicol / Glucose / Methyl Rape Enzyme Enzyme, Tocopherol, Hydrogenated Lecithin, 1,2 -hexanediol, Trehalose, Hydroxyacetophenone, Acrylate / C 10-30 Acrylic Acrylate Crosspolymer, Tromethamine, Ammonium Acryloyl Dimethyl Taurate / Vinyl Pyrrolidone Copolymer, Glyceryl Acrylate And Acrylic Acid, Caprylyl Glycol, Octyldinoltanol, Octyldinoltanol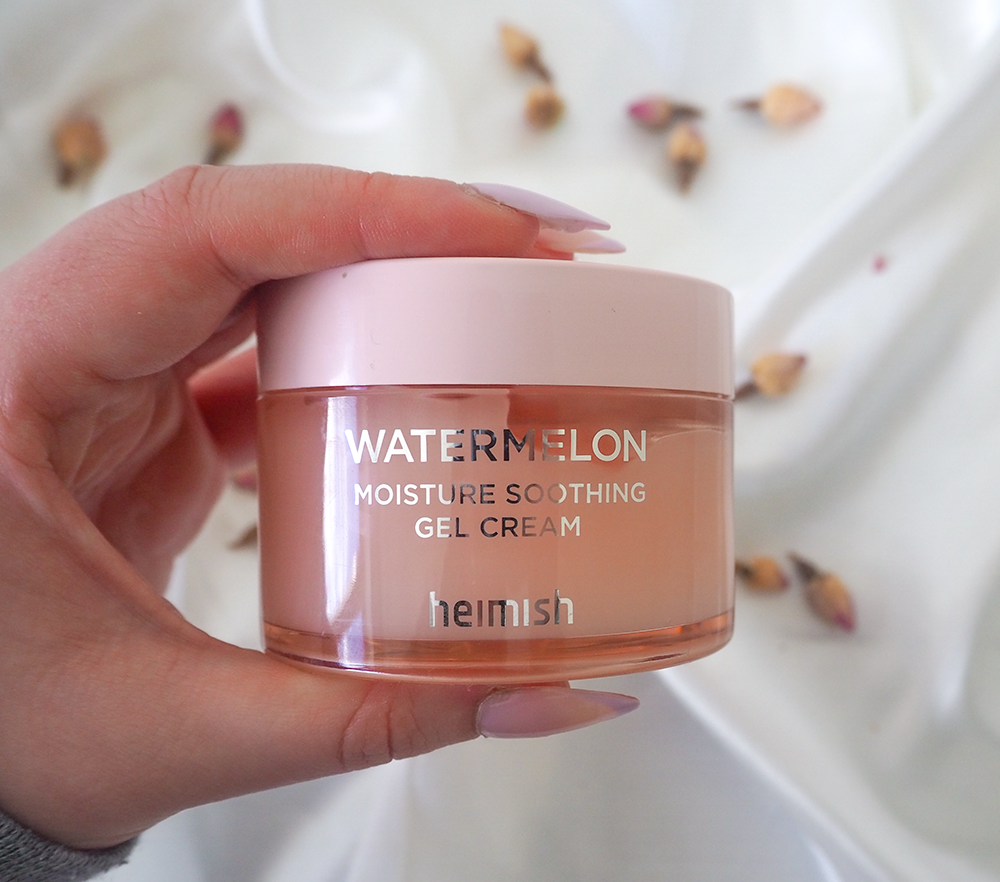 Which watermelon moisturiser is best?
To determine which watermelon moisturiser is number 1, I'm going to compare each one via a number of categories, including the ingredients, texture, skin benefits, and affordability.
INCI lists
Excluding water for the Heimish moisturiser, it's great to see that watermelon extract is the first ingredient on the INCI list for both products. There's nothing worse than a product that's advertised as containing a certain star ingredient, only for it to feature way down the INCI list. Of course, with certain ingredients, like retinol and retinoids, having the ingredient further down the list doesn't mean it's not effective. But with most ingredients, especially gentle ones, when they're not right near the top of the INCI list, you're buying into marketing.
Both INCI lists are very strong. The moisturisers have plenty of effective and proven moisturising, hydrating, and soothing ingredients, whether it's hyaluronic acid or aloe vera.
Glow Recipe's moisturiser contains fragrance, though, so that's something to be mindful of if you dislike or are sensitive to perfume in skincare.
Packaging
Even though both moisturisers have cute pink packaging, the Glow Recipe Watermelon Glow Pink Juice Moisturizer definitely wins in this area. It's instantly recognisable, has a cute wavy bottle, and is very Instagrammable. It also feels more luxe, as the bottle is heavier than the Heimish Watermelon Moisture Soothing Gel Cream.
Texture
The moisturisers have quite different consistencies, even though they might look pretty similar in the photo below.
Heimish's moisturiser is very true to its name – it's a gel cream. It's got the consistency of a silky cream moisturiser but is lightweight and thin like a gel moisturiser. It's very absorbent.
Glow Recipe's moisturiser is much runnier and thinner than the Heimish moisturiser. Think thick serum. It's highly absorbent and lightweight.
I think I slightly prefer the consistency of the Heimish moisturiser, as it feels a bit richer. But both are lovely on my oily skin.
Scent
The Glow Recipe watermelon moisturiser contains fragrance and has a delicious sweet watermelon scent. I absolutely love the smell, and it really adds to the whole sensory experience. But, admittedly, I'm happy with perfumed skincare.
The Heimish watermelon moisturiser contains zero fragrance and doesn't really smell of anything. I like unfragranced skincare too.
But in the scent department, Glow Recipe wins for me!
Skin benefits
Both of these moisturisers deliver great skin benefits but for different reasons.
I'll start with Heimish. This moisturiser provides longer-lasting hydration and nourishment. If my skin feels a bit drier than usual, I will reach for this watermelon moisturiser, as it's thicker and richer. It's also calming and soothing. This is more of a versatile moisturiser than the Glow Recipe one, IMO, as I could use this equally in summer or winter, because it's nourishing enough to protect my skin in winter, but lightweight enough to not make my skin feel super greasy or heavy in summer.
However, the Glow Recipe one wins in the cooling and radiance departments hands down. Of course, it's still hydrating, but it's just not as moisturising as Heimish's watermelon moisturiser. But the Glow Recipe one immediately makes my skin look brighter and revitalises a dull complexion. If my rosacea flares up, I'd also opt for the Glow Recipe moisturiser, because it's so light and cooling. I also think Glow Recipe is better as skin prep for makeup application because it allows dewiness to peak through your base for a natural glowy look.
I really can't decide which one I prefer in this category! Particularly oily skins will definitely prefer the Glow Recipe moisturiser, but drier skins will appreciate the Heimish moisturiser.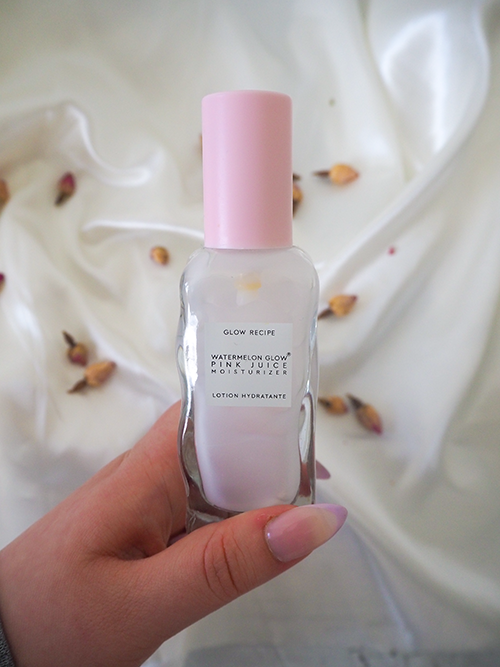 Lasting power
This is quite an easy one to decide on. The Heimish Watermelon Moisture Soothing Gel Cream makes my skin feel more nourished for longer, while the Glow Recipe Watermelon Glow Pink Juice Moisturizer gives my skin long-lasting radiance. It just depends on what I'm looking for!
Price
Heimish undeniably wins in the affordability category. It retails for £23 for 110ml, whereas the Glow Recipe moisturiser retails for £36 for 60ml. The Glow Recipe watermelon moisturiser probably gives a more luxurious experience, but in terms of INCI lists, I think they're pretty similar. So if you're on a budget or want a more affordable moisturiser that is still really effective, Heimish is the answer.
Final verdict
I genuinely adore both watermelon moisturisers for different reasons. But if I had to pick between the 2, Heimish Watermelon Moisture Soothing Gel Cream is my number 1. It's got a fantastic INCI list, feels nourishing and soothing, is pretty affordable, and I love the hybrid gel-cream texture. However, on those days when I'm craving the glow, Glow Recipe Watermelon Glow Pink Juice Moisturizer is a no-brainer.
---
What's your fave K-beauty product? Let me know in the comments!