Last Updated on 18th October 2023 by Sarah Sarsby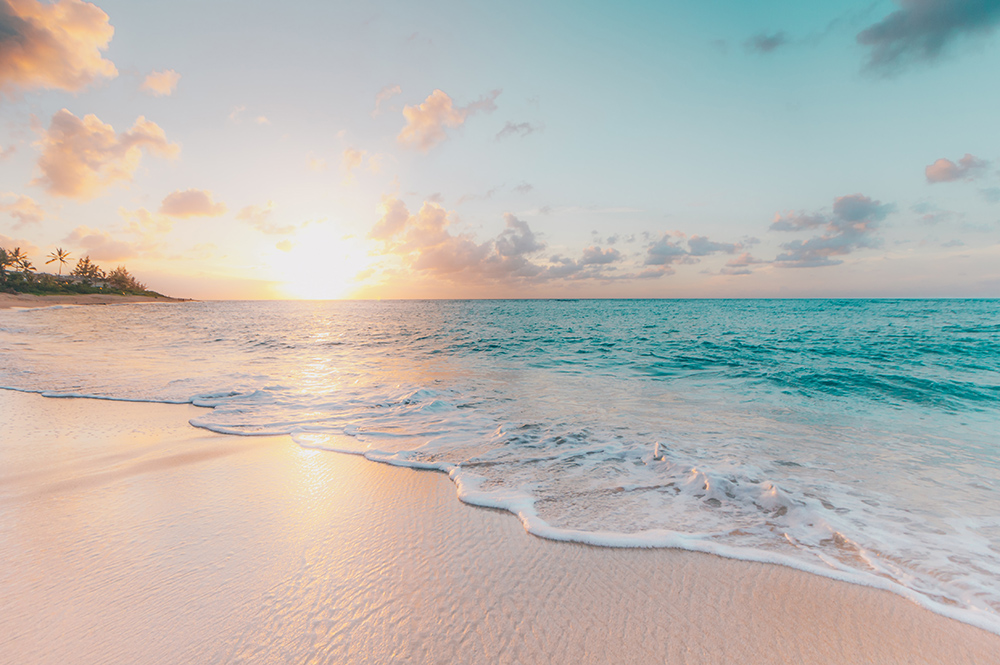 As the seasons change, so do your skin's needs. And with summer just around the corner, you should consider changing your skincare routine to ensure your skin feels comfortable during the warmer weather.
As someone with oily skin, there's nothing worse than my skin feeling heavy and greasy when the sun is out. If my skincare routine isn't lightweight, it can lead to oilier, more congested skin with increased breakouts. But for people with drier skin, there are still ways to lock moisture in while keeping your skin fresh during summer.
Keep reading for 6 simple ways to change your skincare routine during summer for healthy, happy, and comfortable skin.
* This post contains some affiliate links. This means at no extra cost to you, I earn some commission if you purchase a product through my link. All thoughts are my own, though, as always. If you want to find out more, visit my affiliate disclosure page **
1. SPF, SPF, SPF
You should wear a dedicated SPF all year round. But it's even more important to keep up with your SPF during summer when the sun is out for longer and the UV rays are stronger. This means applying and reapplying SPF throughout the day.
If you currently use an SPF30, switch it to an SPF50 for optimum sun protection. Reapply SPF every couple of hours, especially when you're outside but even when you're indoors, to avoid any sun damage.
If you wear makeup or want SPF reapplication to be as convenient as possible, why not try an SPF spray? You can spray it on top of makeup or simply on the go without worrying about blending a liquid into your skin. I love the COOLA Classic Sunscreen Spray SPF30 Pina Colada. It smells incredible, applies evenly due to the fine mister, and is completely transparent.
For drier skin, pick a lightweight SPF with moisturising properties for an extra hydration boost. COSRX Aloe Soothing SPF50 (use code LFTFBLOGSARAH for 20% off) is one of my fave sunscreens, as it's moisturising and soothing without being heavy or greasy. For oily skin, go for a lightweight SPF that feels and looks undetectable on the skin. La Roche-Posay Anthelios UVMune 400 Invisible Fluid SPF50+ (use code LFTFBLOGSARAH for 20% off) is a personal fave for summer.
2. Lighter moisturiser
In the summer, our skin stays more moist, as we're not stuck around central heating and we sweat more. For this reason, it's best to opt for a more lightweight moisturiser to ensure our skin doesn't become clogged or feel heavy. It also feels more comfortable.
For really oily skin, you might be able to skip moisturiser altogether if you use a hydrating serum or a dedicated SPF that's got moisturising ingredients. Otherwise, it's good to switch to gel moisturisers, as they're lighter. Glow Recipe Watermelon Glow Pink Juice Moisturizer is lightweight, dewy, and hydrating, which is ideal for the summer.
If you've got drier skin, you may still want to stick to a cream moisturiser, but you can just go for a lighter formula. REN Clean Skincare Evercalm Global Protection Day Cream is a great option.
You can even look for moisturisers with added SPF for extra sun protection (but you still need to apply a dedicated SPF).
3. Switch cleansers
Another easy way to keep your skincare routine light and fresh for summer is to switch your cleansers to less rich options.
Try changing your morning and second cleansers to gel cleansers. But not foamy stripping cleansers (look for ones without SLS). Dermalogica Special Cleansing Gel is a holy grail, as it's light and refreshing while still being gentle.
For first cleansers, opt for lighter formulae. Rather than a rich, thick, and decadent cleansing butter, go for a lighter cleansing butter, milk, or oil. The Body Shop Camomile Sumptuous Cleansing Butter does an exquisite job of breaking down makeup, SPF, dirt, and oil while still feeling light.
4. Incorporate vitamin C
Increasing vitamin C usage during summer is a great idea. Not only does it work to make skin look brighter and more radiant, but this powerful antioxidant increases the effectiveness of sunscreen and gives the skin better protection from UV rays.
Vitamin C is also brilliant at fighting hyperpigmentation and sun damage by evening out the complexion, including reducing the appearance of blemishes, dull spots, and redness. Although vitamin C can be used all year round, it particularly shines during the summer. I absolutely love vitamin C!
OSKIA Super-C Smart Nutrient Beauty Capsules are the ultimate splurge for the most luminous skin ever (use code LFTFBLOGSARAH for 20% off). Garden of Wisdom Vitamin C Serum is a fantastic and more affordable alternative.
5. Go easy on face oils
Face oils are a fantastic and decadent way of getting extra moisture into your skin. However, during the summer, they might start to feel too heavy and lead to breakouts.
If you've got oily skin, you might want to consider ditching face oils altogether. Or at least only use a little bit of product every few days, rather than daily, to avoid feeling greasy.
If you've got dry skin, you may still rely on face oils to give your skin a nourishing boost in the summer. But you could switch to a lighter and less rich oil to make your skin feel more comfortable when the weather is hot. Biossance 100% Squalane Oil (use code LFTFBLOGSARAH for 20% off) is moisturising but still absorbent and lightweight, so it doesn't feel as heavy.
6. Thoroughly remove skincare
If there's ever a time to double cleanse in your skincare routine, it's in the summer. Naturally, your skin is going to be greasier due to sweating more. And all of that sweat must be removed. Especially if you're wearing makeup as well. Otherwise, you're just asking for congested skin!
As mentioned previously, you should keep reapplying SPF throughout the day. SPF is designed to cling to the skin. If you've layered SPF throughout the day, this needs to be properly removed.
Start off with a light cleansing balm, butter, milk, or oil to remove any makeup, SPF, skincare, and grease. Then follow with a light cleanser, usually a gel cleanser, to remove any trace of the first cleanse. You should be left with clean, refreshed, and hydrated skin.