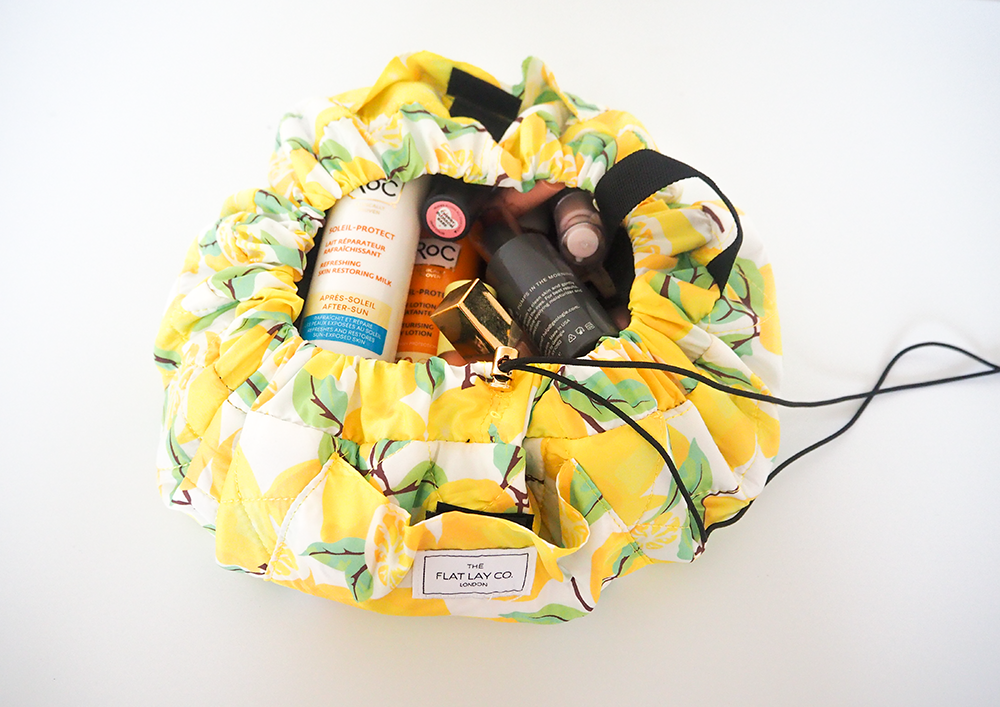 Next week, I'm going on holiday to sunny Valencia in Spain, which is where paella originated. I can't wait to go away, as it's been quite a few years since I've been abroad and I'm looking forward to soaking up some Spanish sunshine.
I thought it might be fun to share with you my must-have summer beauty products that will be coming with me. These products include glowy and fresh skincare, lightweight and non-greasy UV protection, sheer base makeup, glossy lip care, and pops of colour. Keep reading to find out which beauty products made the cut.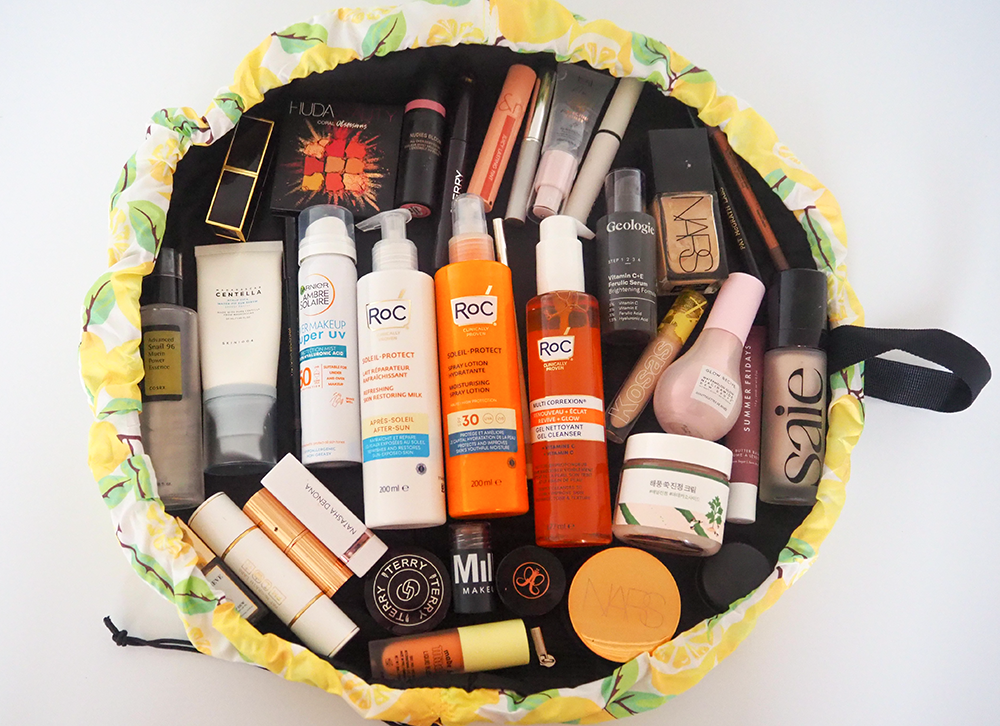 P.S. How cute is my lemon open flat lay makeup bag from The Flat Lay Co? I had to pick this adorable bag to store all of my beauty products in for holiday. It's only £18.16 with my code LFTFBLOGSARAH at LookFantastic (20% off). Grab yours here.
* This post contains some affiliate links. This means at no extra cost to you, I earn some commission if you purchase a product through my link. All thoughts are my own, though, as always. If you want to find out more, visit my affiliate disclosure page **
Skincare products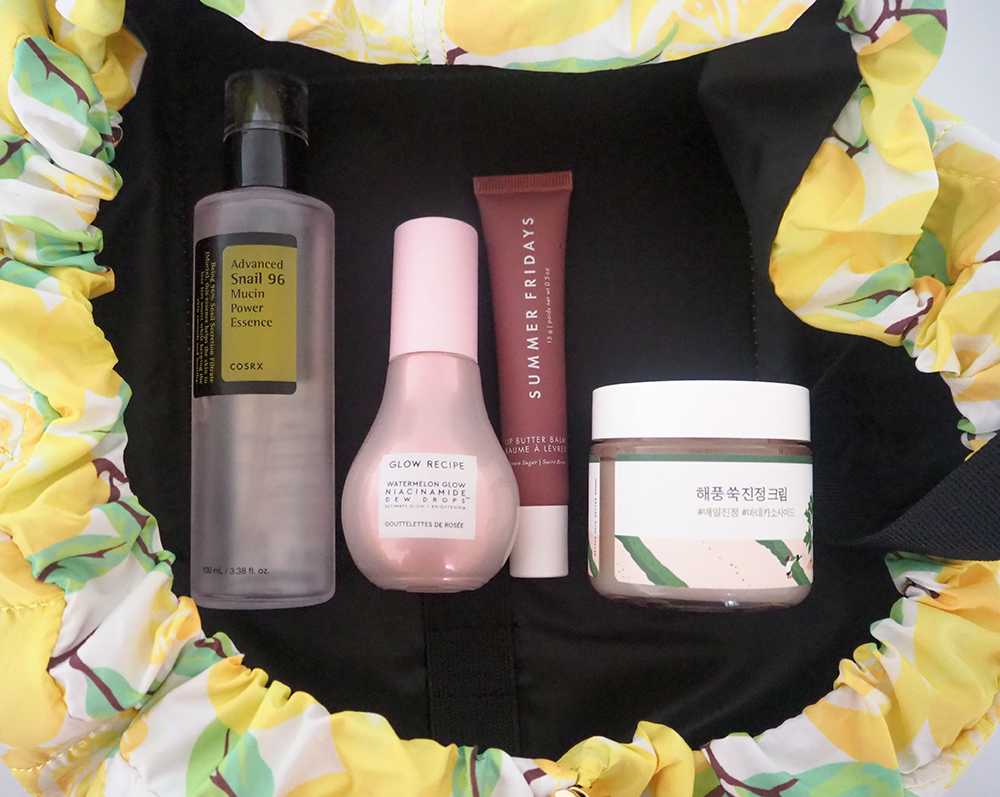 Firstly, I just have to take the COSRX Advanced Snail 96 Mucin Power Essence (20% off with code LFTFBLOGSARAH when you click the link) with me. This is essentially glass skin in a bottle and is also very hydrating. And, let's face it, who doesn't want to look radiant when they're on holiday? I love the way this looks and feels on my skin.
Also making my skin look incredibly dewy are the Glow Recipe Watermelon Glow Niacinamide Dew Drops. Obviously, this hero skincare product is coming with me. Not only does it make my skin look super luminous, but it's also infused with niacinamide for an even, bright, and less congested complexion.
I'm truly addicted to the Summer Fridays Lip Butter Balm. I can't get enough of the heavenly sweet scent, hydrating and non-sticky feel, and juicy and plump finish. This is the definition of a luxe lip balm. It looks great with no makeup, minimal makeup, and even more glamorous looks, so it's very versatile.
My current heimish moisturiser is almost finished, so I'm going to take a new moisturiser abroad with me. I've not managed to try the Round Lab Mugwort Calming Moisturizer yet, so I can't wait to try it. I've got high hopes for this!
I'm actually taking 2 face SPFs with me. The first is the SKIN1004 Madagascar Centella Hyalu-Cica Water-Fit Sun Serum. This amazing, lightweight, and undetectable sunscreen contains SPF50 to protect the skin from damaging UV rays. It's non-greasy, leaves no white cast, and doesn't clog up my oily skin. I'd thoroughly recommend this SPF to anyone.
The second face sunscreen that I'm packing is the Garnier Ambre Solaire Over Makeup Super UV Protection Mist SPF50 (20% off with code LFTFBLOGSARAH when you buy through the link). If I'm wearing makeup, I'm not going to reapply sunscreen on top. That's just a makeup disaster waiting to happen! However, having a handy SPF mist that can go over the top of makeup for extra protection is ideal. I've used this before, and it's great. It's not blotchy, is completely transparent, and doesn't feel heavy or greasy.
Vitamin C and sunshine are a match made in heaven. So I have to pack a vitamin C serum to take with me. I really like Geologie's Vitamin C+E Ferulic Serum. It makes my skin look bright and slightly luminous but is very absorbent. It also plays well with other skincare products.
I've also got 3 RoC Skincare goodies to bring with me.
The first is the Multi Correxion Revive + Glow Gel Cleanser. This cleanser is designed to visibly brighten, cleanse, and refresh the skin. The last thing I want to take on holiday with me is a heavy cleanser. There's no better feeling than cleansing your skin after a long day out in the sun with a revitalising cleanser. This one is so refreshing while making the skin look more luminous. It's giving #HolidayVibes.
The second is the Soleil Protect Moisturising Spray Lotion SPF30. This body SPF is fantastic. It's a spray formula, which means it's very convenient to apply and reapply when out and about. It's incredibly lightweight and absorbent while being comfortable and non-sticky. I like that it's slightly hydrating too, as it feels nice when I rub it into my skin. There's also no white cast – result!
Finally, I'm taking the Soleil Protect Refreshing Skin Restoring Milk After-Sun with me. In some ways, I hope I don't end up using this, as after-sun products are there for helping repair UV-damaged skin. Invariably though, my pale ass always ends up getting burnt when I go abroad, even when I'm sensible with sunscreen. So having this restoring product will help soothe and ease any burns, redness, or sun irritation. Plus, after-suns feel very calming and moisturising, so they actually feel nice on the skin.
Makeup products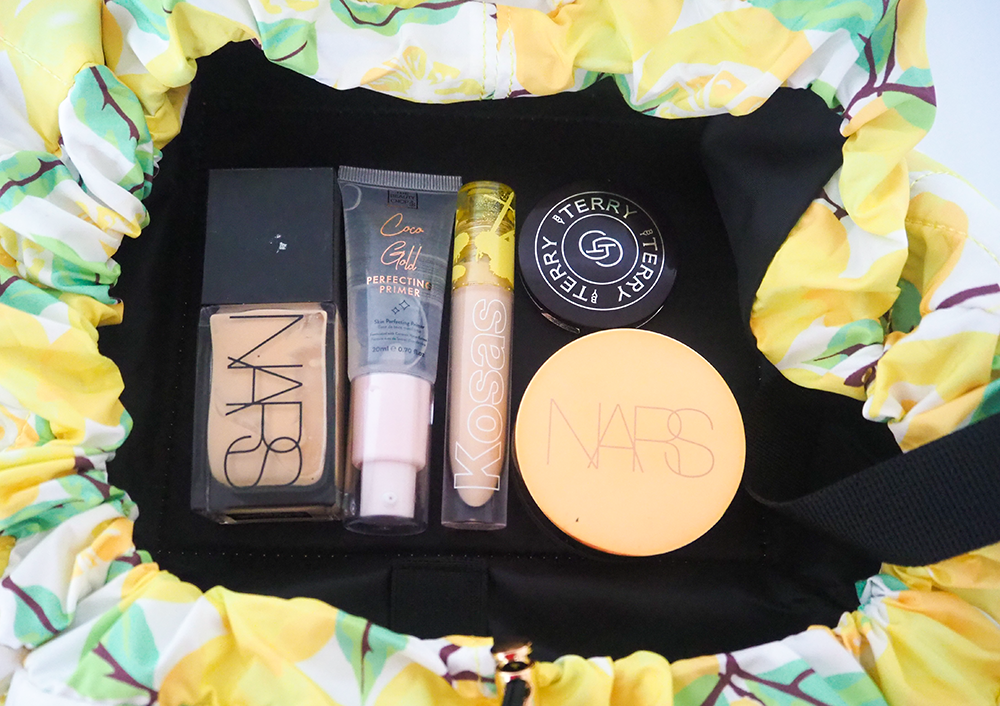 To prep my base properly ready for makeup, I'm packing The Beauty Crop Coco Gold Perfecting Primer. This glowy primer grips to any base makeup, so that it stays in place all day. I like the texture, as it sits somewhere in between grip and slip for a smooth canvas to work with.
The NARS Light Reflecting Foundation (20% off with code LFTFBLOGSARAH when you click the link) is one of my fave foundations. It offers light but buildable coverage, so I can make the coverage exactly what I want. This gives my skin a very natural lit-from-within glow too, which is my fave. It buffs into the skin effortlessly for a second-skin finish. Plus, it's super flattering, as it doesn't emphasise skin texture or cling to dry patches. I love this foundation a lot.
A fairly recent purchase of mine is the Kosas Revealer Super Creamy + Brightening Concealer. I love how creamy this concealer is and how it offers full coverage without pilling, looking cakey, or feeling heavy. This is the perfect under-eye brightener and blends effortlessly.
If you think my oily skin can stay grease-free in the sun, you are sorely mistaken. Setting powders are a must all year for me, but they're particularly crucial in hotter weather. The By Terry Hyaluronic Hydra Pressed Powder (20% off with code LFTFBLOGSARAH when you click the link) is a lovely lightweight translucent setting powder that keeps makeup shine-free for hours and doesn't have camera flashback. It's hydrating and comfortable on the skin too.
I'm also bringing the NARS Bronzing Cream (20% off with code LFTFBLOGSARAH when you click the link) with me. This cream bronzer is fantastic. It buffs into the skin seamlessly, lasts for hours, is a beautiful sunkissed shade without being orange, and doesn't remove layers of foundation off when you apply it.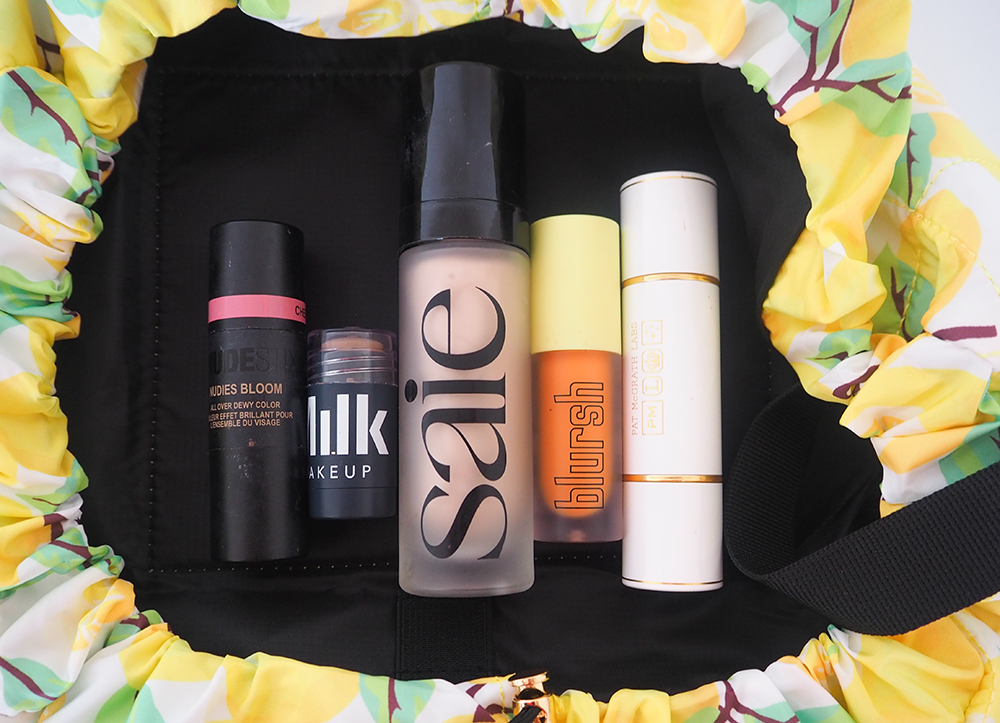 Nudestix Nudies Bloom (20% off with code LFTFBLOGSARAH when you buy through the link) is still my fave blush. This beautiful creamy stick formula gives a gorgeous dewy flush of colour. It's pigmented enough to show up on the skin with 1 swipe but not so saturated with colour that it borders on clown makeup.
The Milk Makeup Sculpt Stick is so good. This creamy contour stick is easy to buff into the skin and offers a cool-toned shade for the perfect sculpt. It's not too ashy where it looks grey on the skin, so it's very natural. I love that this contour stick is easy to build to add more definition wherever I want it.
Saie Glowy Super Gel is a pretty recent investment of mine, and I love it. This formula is quite different to other liquid highlighters in my collection because it sits in a liquid gel base, rather than a creamy liquid formula. This means the base shade is completely transparent, but it offers a gorgeous champagne glow. It's not chunky or shimmery, which means it doesn't emphasise skin texture.
I'm taking a second blush with me so that I have 2 colour choices. The Made By Mitchell Blursh feels like a no-brainer. This viral liquid blusher is fantastic and comes in the best shade range I've ever seen. It's super versatile, as it can be applied to the lips, cheeks, and eyes, plus it works well when you blend it with your fingertips, a sponge, or a brush.
I'm also packing a second highlighter. This time, I wanted a glossy balm highlighter. The Pat McGrath Labs Skin Fetish: Highlighter + Balm Duo is phenomenal for a wet-look highlighter. It adds a captivating shimmer-free and non-sticky sheen to the skin that reflects light beautifully. This balm highlighter looks so pretty in photos too. I'm addicted to it.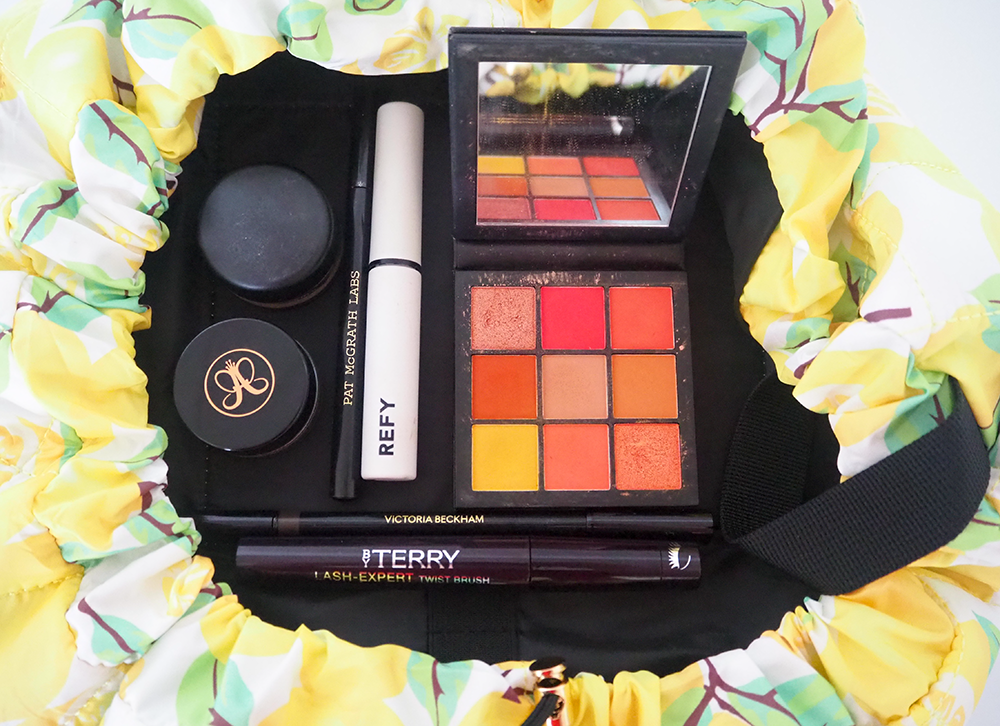 MAC Pro Longwear Paint Pot Eye Shadow is still my number 1 eyeshadow primer. I always wear eyeshadow primer, as it makes a big difference to the longevity of eyeshadow. It also prevents creasing, which is essential in warm weather.
I know what you're thinking: Didn't we leave the Anastasia Beverly Hills Dipbrow Pomade back in 2016? Honestly, rather than the thick slug, blocky brows we used to do back in the day, if you use this pomade with a very light hand and only dip a brush into it very lightweight, the results are *chef's kiss*. Try it again now with a fresh approach, and it'll be a game-changer. I've been loving this lately.
And to set my brows in place, I've been loving Refy Brow Sculpt. This clear brow gel is great for keeping brows set and ensuring they stay the same shape all day. It doesn't go flaky or crusty either and dries completely.
I actually don't wear liquid liner that much now. But sometimes, you just need a bit of drama and a sharp, dark, and precise wing. Pat McGrath Labs Perma Precision Liquid Eyeliner is perfect for this. It's super saturated, ultra-black, has a sharp and thin tip for precision, and is smudge- and budge-proof.
As well as a black liquid liner, I want to take a brown pencil eyeliner with me. The Victoria Beckham Beauty Satin Kajal Liner is unmatched. This is easily the best kohl liner I've ever tried. Although it's pricey, this eyeliner seriously performs. It's easy to smudge this out for a smoky look too. This is a non-negotiable.
By Terry Lash-Expert Twist Brush Mascara (20% off with code LFTFBLOGSARAH when you buy through the link) is also coming with me. This is a brilliant mascara for volume, drama, and length. It's not clumpy, dry, or flaky, and coats lashes evenly.
Nothing screams summer like vibrant corals, bright pinks, warm yellows, and bold oranges. It'd be wrong not to bring the summery Huda Beauty Coral Obsessions Palette on holiday. I love using these pigmented shades for a pop of colour in warmer weather.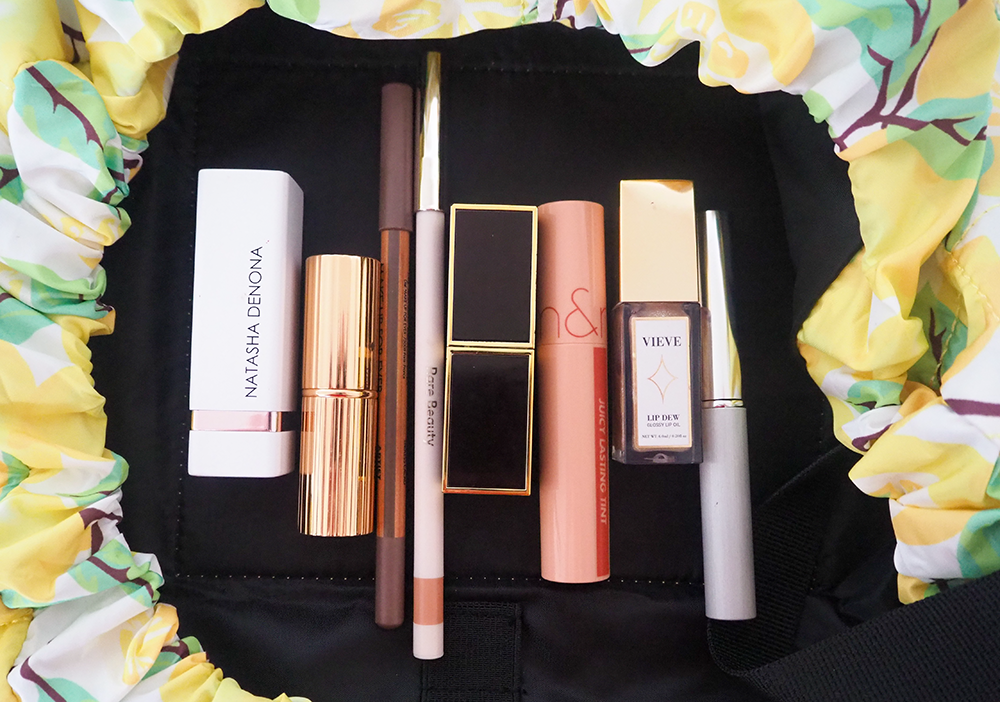 Of course, I have to bring a selection of lip products to choose from!
I want to take a standard nude lipstick that'll work with any makeup look. The Natasha Denona I Need a Nude Lipstick (20% off with code LFTFBLOGSARAH when you buy through the link) is ideal for this. It's creamy, hydrating, flattering, and comfortable with a satin finish. It feels very airy – almost weightless – which is great for warmer weather.
Charlotte Tilbury Matte Revolution in Pillow Talk is such a classic. I'm a sucker for nude pink lipsticks, and this one is my all-time fave. I knew I had to bring this with me.
I love a good lip liner, and the Make Up For Ever Artist Color Pencil is one of my faves. The shade range is sublime, and the brand offers some quite unique or hard-to-find shades. Plus, the quality of this lip liner is great because it stays on all day and is uber saturated.
For some shade variation, I'm also packing the Rare Beauty Kind Words Matte Lip Liner. This is another fantastic lip liner that's very comfortable and hydrating. It also packs some pigment and longevity.
The Tom Ford Lip Color is possibly my fave lipstick formula ever. These very expensive lipsticks have a beautiful radiant satin finish, gloss over the lips effortlessly, are super pigmented, last all day, won't sink into any fine lines or cracks, feel very comfortable, and simply look incredible. I've got the shade True Coral, which is vibrant for summer.
And sometimes, you just want a very natural and barely-there lip. The rom&nd Juicy Lasting Tint is gorgeous. It offers just a hint of colour and shine for a 'your lips but better' look. This is such a go-to lip product for everyday use. I love it and feel this deserves way more hype.
And the natural lip products don't end there. I've been obsessed with lip oils recently. I love that whole makeup-meets-skincare vibe, and lip oils are the perfect example of this. Vieve Lip Dew is great for a golden glossy lip that's hydrating and smoothing. This is another swipe-and-go product that works whether you're wearing makeup or not.
The final product I'm bringing on holiday with me is the viral Clinique Almost Lipstick Black Honey (20% off with code LFTFBLOGSARAH when you buy through the link). This has easily been one of my most worn lipsticks in recent times. It's absolutely gorgeous. The subtle berry-brown shade that enhances your natural lip shade is just so alluring and wearable.